This post may contain compensated links. Please refer to my disclaimer here for more information.
Looking for the best compression socks for travel? Travel compression socks are one of my essentials for a long flight. The keep your comfortable, prevent your legs swelling and help minimize the risk of deep vein thrombosis (DVT). I've put together a list of the best compression socks for flying as well as what to look for when purchasing them and what makes the best socks for travel. Read through my compression travel socks comparison chart below and reviews to help you find the best travel socks for your needs.
>> Don't have time to read through the whole post and just want to know the best flight socks fast? I think the best compression socks for travel are the Wanderlust Air Travel Compression Socks. They have moderate, graduated compression so perfect for long flights. They're made of polyester/nylon/lycra blend so they're light but will hold their shape. They're affordable and get excellent reviews from other travelers. You can purchase them here.
What You'll Find in This Post
Best Compression Socks for Travel 2019
So, what are the best compression socks for traveling? Let's find out.
Why Use Compression Socks for Travel?
Using compression socks while flying has some great benefits. They prevent swelling, reduce the risk of DVT and stop leg fatigue. When using compression socks flying is a more comfortable experience as the socks help to counteract some of the effects of sitting for long periods of time on the plane. You'll arrive at your destination without swollen, achey legs.
Have you ever kicked off your shoes on a long flight and then had trouble getting them back on when it's time to get off the plane? Compression socks can help prevent this by allowing fluid and blood to move up your legs when you're sitting for long periods on the plane. By simply wearing a flying sock you can prevent swelling and keep the blood circulating in your legs.
Compression socks can also help prevent DVT which is a dangerous condition that is developed by some people from sitting for long period while flying. DVT or deep vein thrombosis is when a blod clot forms in a deep vein, usually in the legs. It is a serious condition because these blood clots can loosen and lodge in the lungs. Symptons include leg pain or swelling but DVT can also occur with no symptoms present. Compression socks used while flying can reduce the risk of DVT.
Now that I've convinced you on their benefits, let's find out which flight socks are best!
What to Look for When Buying Compression Socks for Air Travel
To find the best travel compression socks you need to consider a few things. I've covered them below in my table and also in my reviews of which compression stockings are best but here they are for your information:
Pressure rating – The pressure rating of compression socks is measure in mmHg (millimeters of mercury) and, basically, the higher the number the firmer the sock. For travel, look for compressions socks with mild compression – 15-20 mmHg. If you have a specific medical condition your doctor may recommend that you use a moderate (20-30 mmHg) or firm (30-40 mmHg) compression sock. *
Graduated compression – Graduated compression socks hug the legs most tightly at the ankle and more loosen further up your leg. This helps blood and fluid move up your leg.
Sizing – Getting the right size is key when purchasing flying socks. It's essential that they fit properly or they won't be effective. If the socks are too tight they can reduce blood flow.
Check with your doctor – If you're thinking about wearing compression socks while flying for medical reason then please consult your doctor. Your doctor or specialist may have specific recommendations for you on the best brand compression socks or style.**
Reviews of the 5 Best Compression Socks for Flying
These Travelon compression socks are a great choice and one of the best rated compression socks. They are also very affordably priced when compared with other travel compression socks on the market. If you want a white compression travel sock this is your only option.
Come in one size (medium)
Available in three colors – white, black and tan
Polyamide elastane blend
Affordably priced
Gradual compression
Thick sock that will provide warmth on chilly flights
These are top choice for compression socks travel lovers choose to wear on long flights. Travelers love them for flying because they are comfortable while still providing the necessary compression to prevent swelling and leg pain while traveling. These are the  best compression socks for air travel overall. I also think that these are the best compression stockings for DVT prevention as they offer the highest rate of compression.
Two sizes M/L and L/XL
Suitable for men and women
Available in black only
True Medical Grade Graduated Compression – 25-30 mmHg At The Foot & Ankle, 15-20 mmHg At Middle Of The Leg & Calf, & 10-15 mmHG Under The Knee

Cotton 80%/Polyester 6%/Nylon 9%/Lycra 5%

Seamless Toe Box Reduces Friction & Prevents Blisters & Corns. Extra Soft Foot Padding Absorbs Impact & Ensures Ventilation. Incredible Arch & Heel Support Relieves Plantar Fasciitis. Antiembolic & Circulatory Design For Diabetics & Arthritis.
90 day money back guarantee
Price: Check prices and purchase the Wanderlust Air Travel Compression Socks here.
These top-selling socks are a real winner. They are the best compression socks for long flights because the fabric is antibacterial and breathable meaning the socks won't smell after many hours of wear. They're also quick drying so you can wash and wear if you're doing several long flights over a few days.
Two sizes S/M and L/XL
Suitable for men and women
Available in black with three color options on the heels & toes – blue, pink and grey
Graduated compression from 20 to 30 mmHg
Lycra cotton blend
Antibacterial, breathable quick dry fabric prevents socks getting smelly
Price: Check prices on the best selling Physix Gear Compression Socks by clicking here.
These are the best flight compression socks for women as they come in a variety of colors and offer good arch support. They're also made of merino which is comfortable, breathable and warm.
Two sizes – S/M and M/L
Women's only
16 colors available including black, pink, navy, green so lots of choices for women who are planning a travel wardrobe.
Graduated compression from 15-20mmHg

32% Merino Wool, 32% Stretch Nylon, 31% Bamboo Rayon, 5% Spandex

Ultra light cushioned sole, spandex throughout so sock won't stretch and loosen throughout the day, seemless toe, reinforced toe and heel for longevity and arch support
Price: Check prices and purchase the Sockwell Women's Circulator Compression Socks here.
These are the best compression socks for pregnancy travel as they are a smooth, non constrictive stocking that still provides the necessary compression for flight comfort. You don't have to just use these when flying! They're great for throughout pregnancy to stop swelling and leg discomfort. They're the best compression stockings for travel when pregnant.
Three sizes – S, M and L
Women's only
Seven colors including black, nude and grey
Graduated compression from 15-20 mmHg
75% Spandex and 25% Nylon
Stocking style rather than a thick sock so won't add bulk or heat making them the best compression stockings for flying
Specially designed elastic band at the top won't constrict leg, breathable and latex free fabric
Reinforced heel and toe for durability
Price: Fytto 1020 Compression Socks Women – Compression socks for pregnancy flying
Where to Buy Compression Socks for Travel
Wondering where to buy compression socks for travel? I would suggest purchasing on Amazon so you can order a few pairs and then send back the ones you don't like. Also, many of the retailers I've mentioned above have coupon codes for purchasing more than one pair of socks. You just need to look for it in the description box on Amazon.
Pin it for later!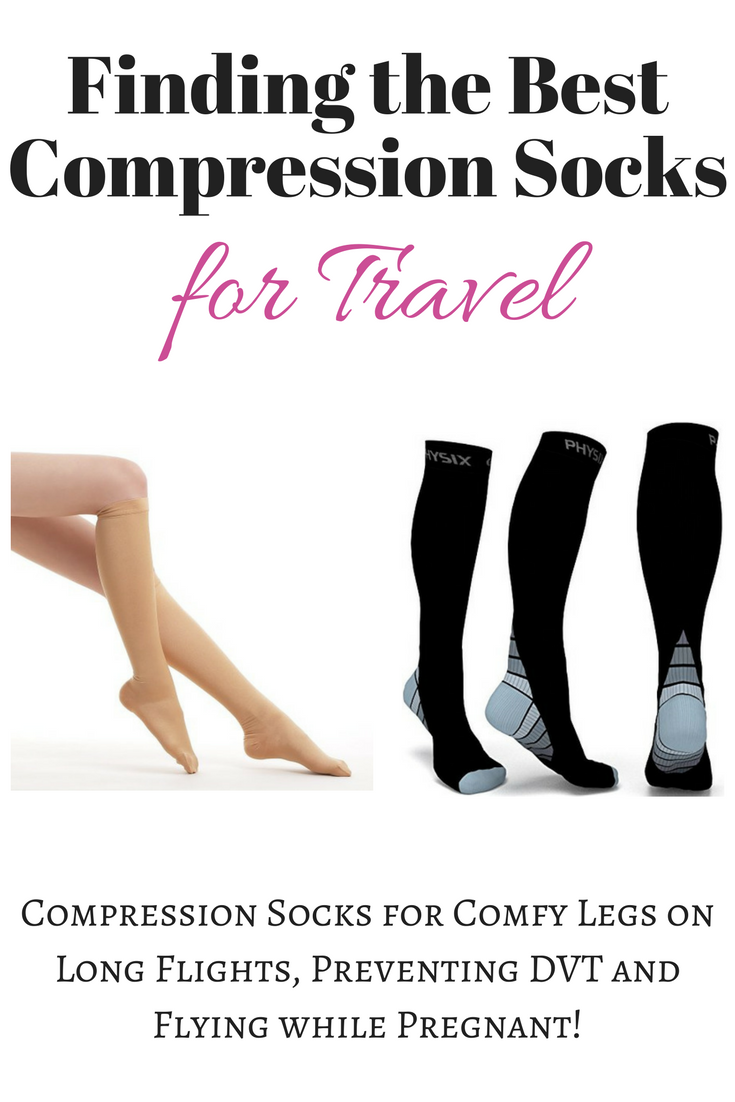 * Compression levels sourced from Rejuva.
** I am not a medical professional and this post is my opinion only. Please check with your doctor if you have a specific medical condition that requires the use of compression socks for flying.