This post may contain compensated links. Please refer to my disclaimer here for more information.
If you're traveling with babies or toddlers then you'll need to pick the best pack and play to bring along with you. Don't worry! We'll help you decide. We've laid out all the options for best pack and play for travel, for using during sleep overs at Grandma's house or just for taking naps outside or in different parts of the house. Read through my pack n play reviews and use the comparison table to decide on the best pack n play for your needs.
Why trust our opinion on the best travel play yard? Simple. We're a mom and dad who have been traveling the world with our two kids since they were little. Reuben took his first international vacation at 7 months and Hazel started traveling the world full-time at aged 4.5 months. We've used many different travel cribs in Airbnbs and hotels and have also bought several for our children. We know exactly what to look for in a pack n play!
Top Pick: Best Pack n Play 2019
Don't have time to read through our whole list of best baby pack and play options? We think the all-round best portable pack and play for travel is the Graco Pack N' Play Playard Jetsetter. It offers easy set up, two sleeping positions (bassinet or mattress). It is lightweight and easy to carry thanks to the the backpack straps… no more killing your hands with horrible handles! Best of all it's a really great price when you compare it to similar lightweight cribs by other manufacturers. A great buy and our top pick for best pack n play 2019! 
Click here to check prices on the Graco Pack N' Play Playard Jetsetter.
Best Pack and Play 2019 at a Glance (Comparison Table)
Find the best travel crib for your baby or toddler by sorting my comparison table to show the features most important to you. Once you've narrowed down your choices based on weight, dimensions etc then read my portable crib reviews to get more information on the best playards for your any need. Whether you're looking for the best playard for babies to sleep in or the best travel pack n play for easily setting up after a long flight or the best pack n play with bassinet attachments for tiny babies, we've got you covered!
Why Choose a Travel Pack n Play?
You can't always rely on a hotel having a safe or hygienic crib for your baby! We think it's best to bring your as we have personally had hotel provide old metal cribs or pack n plays that were dirty or had ripped mesh. Many hotel's often charge you an additional fee to use their cribs.
Pack n plays are great for travel because you can easily pack them up and move around with them allowing your baby or toddler to sleep comfortably and safely in a hotel, Airbnb or relative's house. They're also great for naps downstairs or outside. Pack n plays also make the best play pen for keeping your baby in once spot while you're busy around the house.
Pack n plays are suitable for children up to 35 inches who are not able to climb out so around age 3 years. Once your child is over this height you'll want to switch to a toddler travel bed. Bassinet attachments in pack and play cribs can use used until babies weigh 15 pounds or can sit or pull themselves up.
What to Look for in a Pack n Play Crib
When establishing what is the best pack and play it's important to look at the following factors to make your decision. Also evaluate what you're using the pack n play for and how old your child is.
Weight
Portability
Ease of folding
Comfort for child
Various sleeping positions
UV or light canopy
The 7 Best Pack and Play Reviews
Read through our baby play yard reviews and get the low down on the best pack and play for your needs whether you're looking for something for a newborn baby, a toddler, traveling light or leaving at grandma's house. We've reviewed the best play yard models on the market and made our packs for each of your needs. The best playpen for you depends on what you're going to use it for so use "our picks" in pink to easily establish the right model for your trip and your child. We also have a section for choosing the best play yard mattress to go with your new portable crib for travel.
Our pick for all-around best portable play yard for travel with babies and toddlers!
The Graco Jetsetter is a great little option for those that want something pretty lightweight and easy to travel with but not too pricey. If I were buying a new portable crib for us this is what I'd get as it's the best combination of price, features and portability. We love the backpack carry case and the light canopy. It also has a Suspended but roomy bassinet for babies up to 6-9 months, runs length ways rather than sideways across crib as some pack n plays do. Bassinet has two-speed built in vibration for lulling babies to sleep.

Advantages:
Packs up 20% smaller than traditional Graco Pack n Play portable travel cribs
Backpack straps so easier to manage when traveling
Vibrating bassinet
Mattress at base of play yard for older babies & toddlers but not lying on the floor like other lightweight cribs
Light shield over the top for sun protection or using to get baby to sleep in the dark. Great for avoiding baby jet lag!
Disadvantages:
At 20 lbs it's not as lightweight as more expensive Baby Bjorn and Lotus travel cribs…. but about half the price!
Price: Check prices for the Graco Jetsetter travel crib here or

Watch this video to see why we like the Graco Jetsetter so much!
Our pick for best baby play yard on a budget!
This model is the top selling on Amazon and the best playyard for those on a budget. It gets great ratings, is comfortable and easy to use. The main downside to this crib is the weight and bulk. It's still an excellent choice if you have a restricted budget and aren't planning on having to carry it around a lot. For this reason it's our pick for best pack and play for grandparents house too.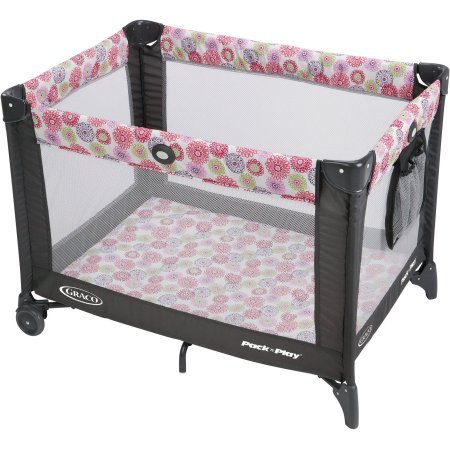 Advantages:
Feet and wheels automatically fold in when packing up
Sturdy, durable frame
Disadvantages:
Size when packed up isn't as small as some of the other cribs on our list so probably not the best travel playard if you're moving around a lot on your trip but fine for road trips, short vacations or using at the grandparents' house.
Doesn't come with a bassinet attachment, change table or sun canopy
Price: Check prices on the Graco Pack n Play by clicking here or 

Our pick for best pack n play for newborn babies!
The best pack and play for newborn is one that has a comfortable bassinet with the ability to rock your baby to sleep. A changing table is also really useful. This pack n play ticks all those boxes and is effectively a mini nursery that you can use set up in the living room, at grandparents house or for use when travelling. The removable rocking seat is a great place for newborns to nap and can be used clicked into the top of the playyard or on the floor. In addition to the rocking seat, it has the traditional bassinet and toddler sleeping positions also so really grows with your child. This is the best pack and play with changing table also.
Advantages:
Mini nursey set up- removable rocker with plush lining for newborns, bassinet position and toddler position.
Both the rocking seat and bassinet have vibration controls for soothing baby to sleep.
Built in diaper organiser on end next to change table attachment
5 music and 5 nature sound settings
Disadvantages:
At 32.5 lbs this is a heavy pack n play but remember you don't need to travel with the rocker and changing table if you want to reduce some of the weight.
While this is the best playard for newborn babies it is expensive.
Price: Check the price and read more reviews on the Graco Cuddle Cove by clicking here. or 
Our pick for best pack and play with bassinet!
This is the best playard with bassinet because the bassinet folds with the pack n play… no need to remove it. This makes it one of the best playard for travel as you don't need to carry extra pieces or take that extra step when packing up to depart your hotel. It's also the best rated pack and play on Amazon. We traveled with this model for 18 months and it is still going strong!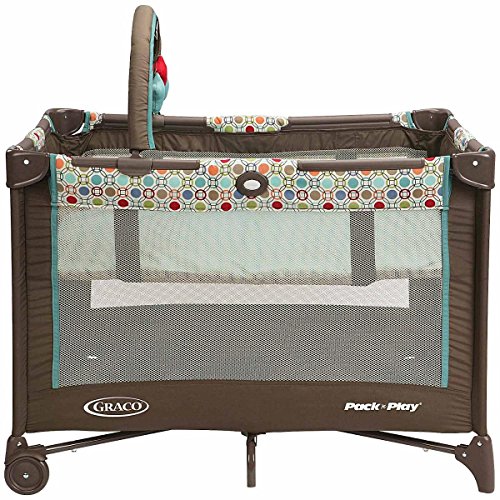 Advantages:
Bassinet that doesn't need to be removed when packing up your crib, folds right into the crib (although it takes a few tries to get used to doing it)
Comfortable and roomy for toddlers when bassinet is removed. Our daughter used this up until aged 2 years.
Affordable price
Comes with a toy bar which is nice but non-essential for travel and can be left at home
Disadvantages:
Not as lightweight as other travel cribs on our list.
Folds and packs in the traditional way with a handle rather than backpack straps. The handle is not that comfortable for carrying the crib for more than a few minutes.
No change table or sun canopy attachment
Price: Check prices and read more reviews for the Graco Pack 'n Play On The Go Playard

Our pick for best pack n play for travel overseas!
Also our pick for best pack and play for toddlers! 
This is an awesome crib for traveling with babies and toddlers. It's so lightweight and portable. The backpack carry case is a great design innovation and really saves your hands from strain compared to traditional pack n plays. We love the unique zip open side panel. For this reason it's also our pick for best playard for toddlers as it makes them feel like they have their own space when traveling. If you can afford it then it's best lightweight pack and play for travel.

Advantages:
Very lightweight at only 13 pounds!
Very portable thanks to the backpack style straps. The size and style of the carry case means you can take it as carry on luggage which is very useful if you have a long layover and want your baby to nap!
Zip open side panel is fun for toddlers but also convenient for cuddling your baby to sleep.
Disadvantages:
The cost of this crib is it's main disadvantage. It's definitely an investment you'd want to make if you're traveling overseas for a longer period or using on frequent vacations. We think the weight and portability factor makes it worth the high price tag.
Mattress sits right at the floor unlike traditional pack n plays which are slightly more elevated.
Price: Read more reviews and get prices on the Lotus Travel Crib and Portable Baby Playard here

Our pick for best portable crib for traveling light!
If you want the best travel cribs for infants and toddlers without a lot of weight or bulk then this is an excellent choice. At only 11 lbs this is the lightest travel crib on the market and the best travel pack and play for those who want to travel light.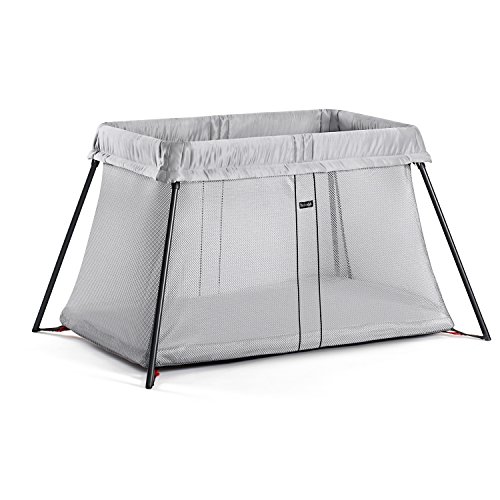 Advantages:
Very lightweight at only 11 lbs!
Briefcase style carry case with sturdy handles
Easy to set up with one swift pull up and legs that automatically pop down
Soft, comfy mattress that folds up and organic cotton sheet it's the best pack and play for sleeping comfortably (Sheet is sold separately)
Disadvantages:
Mattress sits right at the floor unlike traditional pack n plays which are slightly more elevated.
This is the most expensive travel crib on our list of playard reviews
* Note that some of the old text read this crib weighs 13 lbs but this latest version is in fact only 11bs!
Price: Check prices and read more reviews on the BABYBJORN Travel Crib Light

Our pick for best pack and play for twins!
If you have twin babies and need a comfortable yet compact place for them to sleep then this is the best baby pack n play for the job. With two side by side bassinets that run across the top of the pack n play you can easily pop your twins to sleep in your own room, the living room, at grandma's or in a hotel. Moms of multiples rave about this and say it's the best pack and play for babies to sleep close to you and each other without taking up much space.
Advantages:
Two bassinets with canopies which a great for newborns
Comfortable quilted sides on bassinets and mattress
Bassinets can be removed for use as a traditional pack n play once babies are older
Disadvantages:
At 29 lbs it's not exactly lightweight but it is still manageable to carry.
It is a little bulky and not easy to travel with the bassinets as they don't fold but if you have twins you don't have much choice!
Price: Check the price and look at adorable review photos of twins in their bassinets in the Graco Pack 'n Play Playard with Twins Bassinet, Vance by clicking here.
Quick Price Check on Best Playard Options Above
You can quickly compare the prices on all the options I've included on my list of the best playpen for babies.


(Note: You'll need to have Adblock disabled to view this section.)
Best Pack n Play Mattress
If you're looking for the best mattress for pack n play travel cribs then here are a few nice options.


(Note: You'll need to have Adblick disabled to view this list of the best pack and play mattress options.)
Tips for Using a Pack n Play for Travel
Fold or stuff your child's blankets and bedding into the carry case after you fold your pack n play up. This will save space in your luggage.
Ask hotels to provide a bed sheet and blanket to make your child's pack n play more comfortable for sleep.
Instead of carrying a separate pack n play mattress when you travel, bring along a fitted cot sheet and then fold a hotel blanket to line the underside of the sheet.
Airlines will check your baby gear like strollers and car seats for free. Some allow you to check a portable crib for free also but it pays to check their website in advance.
Once your toddler is too big for a pack n play, switch to using a toddler travel bed. There are lots of different options including inflatable beds, pop up tents and folding bed.
Get your child used to sleeping in their pack in play at home before you plan to travel with them.
We hope you've found our list of the best play yards for babies useful. Feel free to contact us if you still need help deciding on the pack n play best suited to your needs. Our 2019 best pack and play guide was updated this month.
Pin this post for later!