This post may contain compensated links. Please refer to my disclaimer here for more information.
Long term travel isn't for everyone. I get that. Add kids to the mix and it becomes a less desirable option for many people. The goal of my blog isn't to encourage you to quit your job, pull your kids out of school and travel full time. I'm here to inspire anyone who wants to travel, with their kids, whatever their budget. There's value here for travellers without kids too. Just read my posts on how to travel smarter. My goal is to get parents with children out of the house, give them the skills and courage to travel with their kids, no matter how long that's for.
But for those who do want to know how we travel long term with our kids, this is the post for you. Our lifestyle is wonderful. It's not easy some of (okay, a lot of) the time, but on the whole, being on the road full time with our children has great benefits. We're passionate about travel and we want to share it with our children.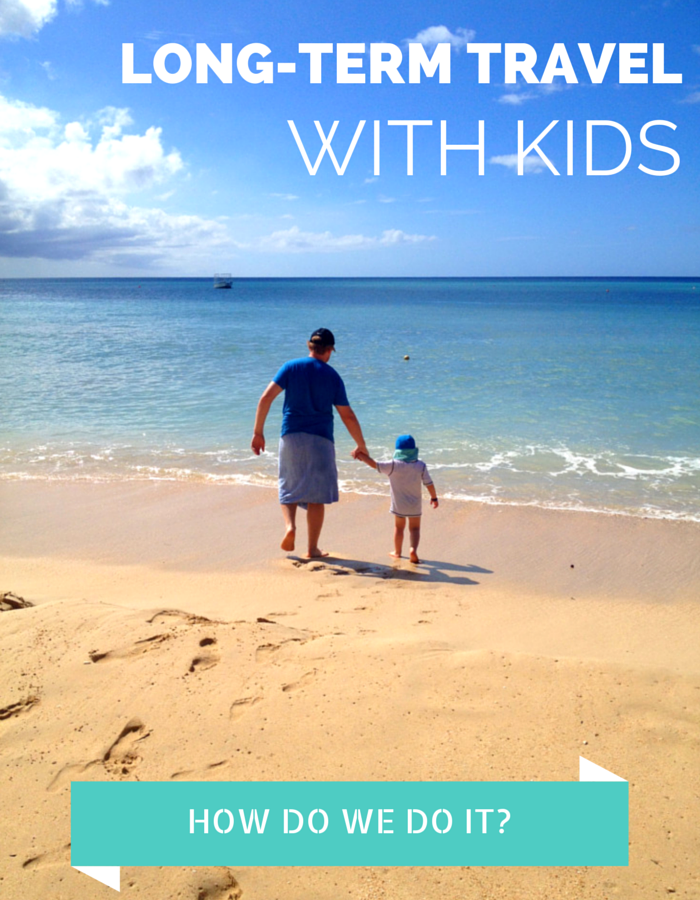 How We Make Money
I'm not one of those people who has a problem talking about money. Up until now, I haven't talked about how we generate our income on this blog as it's a travel blog, not a digital nomad blog. How we make enough money online to travel the world is an important part of this post however.
Our income can vary greatly from month to month. It's hard for me to give a dollar value on what we make each month because it varies greatly. The key to creating an online income is to have lots of small income streams feeding into a larger river. Sometimes one stream will do really well and, bam, it'll be gone overnight. In order for us have enough to travel we have to build each of those streams and constantly think of new ways to create income.
Our income sources are:
Advertising on Flashpacker Family and our other websites – Sometimes this is a really great source of income for me, sometimes it is incredibly quiet. A lot of this depends on the time of year, client budgets, what Google is doing, how site traffic is doing. There are many variables to how much this pulls in.
Consultant work – Our most stable form of income, Lee works as the online marketing and web development consultant for a family business.
Web design & development – Lee picks up web design & development work from time to time. Usually for clients at home in New Zealand. It's sometimes hard to manage clients from abroad so he doesn't do this often.
House rental – Our house in New Zealand is currently rented out but the costs of mortgage, insurance, property management fees don't leave us with much of a profit. As long as the house takes care of it's self, I'm happy.
How We Spend Our Money
Travel makes you realise how much just living costs. We estimate that our life on the road in the USA costs about 70% of what it does for us to live at home in New Zealand. I don't keep detailed track of our spending but I know roughly how much we are spending. I've just started tracking our spending daily using an app called Trail Wallet. Stand by for budget breakdowns per trip. We try hard to balance out our spending. If we have something expensive coming up like a cruise or Hawaii, we'll spend a few months before and after in cheaper places. The same goes on a weekly basis. If we have a very spendy day, doing an expensive activity or making a big purchase, we'll even it out with free activities for a few days after that. I'd like to do a challenge where we spend $0 one day a week.
I go to great lengths to minimise our travel costs. I spend a lot of time and energy finding reasonably priced vacation rentals, getting amazing deals on hotels and scouring the internet for cheap flights. All my little smart travel tricks mean that our travel costs a lot less than it would for other people. For example, we found it incredibly hard to find a cheap vacation rental in Park City over the ski season so we negotiated with a condo owner to take a condo for two months but to vacate during the two holiday weekends over that period so he could generate extra income. Or if we're in Las Vegas for a week we hotel hop between three or four hotels so that we're getting the best rate we can. Priceline has become my best friend.
We aim to spend under $3000 USD per month on accommodation costs. Here in America this gets us nice two-bedroom apartments on Airbnb or a good deal on a four-star hotel. A lot of the time, when we're road tripping, we'll spend less and stay in $50 a night hotels. Sometimes we'll splurge for a night or two and spend up to $200 a night for something really special. Want to try out Airbnb? Click here to get a $25 off coupon.
Our food costs are high. Probably too high. One of our favourite activities is eating out at restaurants. We ate through a lot of money when we were in Las Vegas for two months by spending $40-60 a day on restaurant meals in addition to $40-60 a day on groceries from Whole Foods. Now that we're in Park City we realised just how much we were spending on eating out and have curbed that spending. We probably only eat out once a week here, preferring to cook most of the time. If we're road tripping, we'll fill our cooler with ham, cheese and yoghurt and do picnic lunches. On average I'd say we spend $60 a day on food. Remember that is for four of us, including one very picky four-year old with specific needs, and eating mostly organic food.
As we're road tripping around the USA, our only transportation costs at the moment are gas and insurance. Gas is really cheap here in Utah, only $1.85/gallon, that's about a quarter of what we paid for gas in New Zealand! Our car insurance on the other hand is wildly expensive. For the first six months we had our car here in the US we were paying $425 a month for insurance. This is due to having a foreign license. We've just changed insurance providers and managed to slash that by $200 a month. In New Zealand our car insurance was only $50 a month.
Interested in what other people spend on long term travel? I know everyone doesn't have or need the same comfortable budget we have. Here are some other posts that give budgets for long term travel:
Two Scots Abroad – This post has lots of long term travel tips and daily spend amounts for countries in South America, North America and Europe.
Travel Junkies – Their site has detailed budget posts on what they spent per month for a two-year round the world trip with one child.
How We Plan Our Travel
We have learnt, from experience, that planning our travel more than a few steps in advance doesn't work for us. We both have personality types that make us comfortable operating this way. We feel happier when we're not locked into something months in advance.
Usually we know the general direction we are headed in and have some ideas about what we're going to do but nothing is booked very far in advance. The furtherest in advance we book onwards flights and our recent cruise is about six weeks. If we're road tripping, we like to have flexibility to go with the flow, sometimes only booking a hotel the night before or the morning we need it.
Through trial and error, we've worked out that about 4-6 weeks of fast travel followed by 4-6 weeks in a fixed location works best for us. After around four weeks, everyone starts to get a little scratchy. We get sick of living on top of one another in a hotel room. We miss quiet time, alone time and even get overstimulated. We also have to build time into our itinerary to allow ourselves to work. Especially if Lee's got a big project that he's trying to get across the line. Conversely, if we're in one place too long, we get bored. My kids need outings at least 5-6 days a week. Sometimes Hazel is literally banging on the front door requesting to go out by 9am! If we're in one place to long we simply run out of things to do with them.
Travel planning is 100% my role. I look to Lee for input on options I've selected but all the booking falls on me. It's a big job when you're travelling it full time. I estimate that I spend an hour a day planning onward travels. 
Websites we use for travel planning:
I try to pay for all our travel with Paypal to avoid maxing out our credit cards and losing money by withdrawing funds from Paypal to our NZ bank accounts.
What We Pack
We travel with one suitcase. Yes, that's right. Just one. It's easier for us to manage one big suitcase than it is to have several smaller ones. When we're in airports, we need one parent to handle luggage and one to handle children. We each have a different colour packing cube for our clothes to keep us organised. We have a mesh laundry bag for dirty clothes and use a large Ziploc bag for toiletries. We have one backpack for our laptops, other electronics like Reuben's iPad and our Apple TV, as well as our passports. It has lots of pockets to keep things separated and organised.We've got a diaper bag, an Ergo baby carrier and a stroller for Hazel. The kids each have one small case full of toys and books as well as a small shared backpack. If we're travelling via plane we limit the toys to the small backpack. Road tripping has meant we've accumulated a bit more stuff on the way, things like two car seats, a cooler, a bag of groceries and some big bottles of water. We have another big canvas bag stuffed with our ski gear and winter clothes. And three snowboards. Our winter gear won't be coming with us after Park City but I've got no idea what I'm doing with it!
Read more: How to pack for a family with just one suitcase
What About Insurance?
We bought a year-long travel insurance policy from Travel Insurance Direct before we left New Zealand in August so we're good through to the beginning of August this year. This is one of the only companies we found that would allow you to a) extend a policy after 12 months and b) purchase insurance from overseas. (World Nomads does too but TID has vastly better coverage. You can read a comparison post here.) Our travel insurance costs $1667 USD per year. So far we've only had to claim on it for a couple of minor illnesses for Hazel.
How We Parent
Travel makes us happy and I think we're better parents when we're on the road because of this. Our parenting style is pretty easy going. We've never been super strict on bedtimes, mealtimes or chores. Again, our personality types mean that we're comfortable this way. As are our children. We do recognise that they have a limit to how long they can travel for and when they need to settle in for a little bit. Luckily they've both learnt to be "home" anywhere.
Meltdowns can and do occur. These are little kids we're talking about after all! For some reason, it's always when we've travelled a long way to do something special or spent a lot of money on entrance fees to an attraction. It's just the way things are. Little kids have tantrums, they'd do it if we were at home! It's no excuse not to travel.
How We Educate Our Kids
At the moment our kids are too young to attend traditional school. That doesn't mean we're not educating them already!
We are with our kids all the time which I think has great benefits in itself. We're always talking to them all the time. Reuben is always asking us questions about what things are and how they work. Travel presents lots of opportunity to talk about different things. For example, on our road trip around the Pacific Northwest we talked at length, every day, about trees, forestry, logging trucks and skunks. If Reuben is interested in a topic, we talk about it or teach him about it. What other four-year olds are getting Photoshop lessons at their own request? It's child interest-lead and unstructured which I guess makes it unschooling or worldschooling. While Reuben has always had at least an hour of stories every night, he's only just now expressed an interest in learning to spell and read so we've bought a Leapreader, flashcards and downloaded some apps to help.
We're not against the idea of schooling. I can see us turning to school for some of our children's education. I just don't see it being a traditional school back home in New Zealand.
How We Manage Family Relationships
Our extended family are very important to us. We connect with many members of our family on a daily basis via Skype, email and Facebook. The time difference between the US and New Zealand & Australia can make it hard to talk on Skype especially with early bedtimes for little children.
My sister lives in Las Vegas which is part of the reason we go there often. Lee's parents are keen travellers and have run their family business in the UK location-independently since they moved to New Zealand in the late 90s. We just spent a month with them in Mexico and even managed to have Christmas together. My mother likes to travel and meets up with us somewhere in the world when she has holidays from work but not as often as she or we would like.
We're lucky in that most of our family members are understanding and supportive of our choice to travel full time. We do get complaints sometimes from family at home that we're not around for important events or that they miss the children.
Got Questions?
I'll gladly add and answer your questions into this post. Just leave them for me in the comments.