This post may contain compensated links. Please refer to my disclaimer here for more information.
I love sandals. I live in them. They're my go-to travel shoe. Over the years, I have gone out of my way to find the most comfortable sandals for travel. A quality shoe can really make the difference on a long travel day.
If you're planning a trip this summer, whether you're off to Europe, a resort in Mexico or on a cruise, you'll need a pair of comfortable sandals for walking. So if you're after stylish walking sandals for travel, have a look through the list of sandals that I use personally and recommend.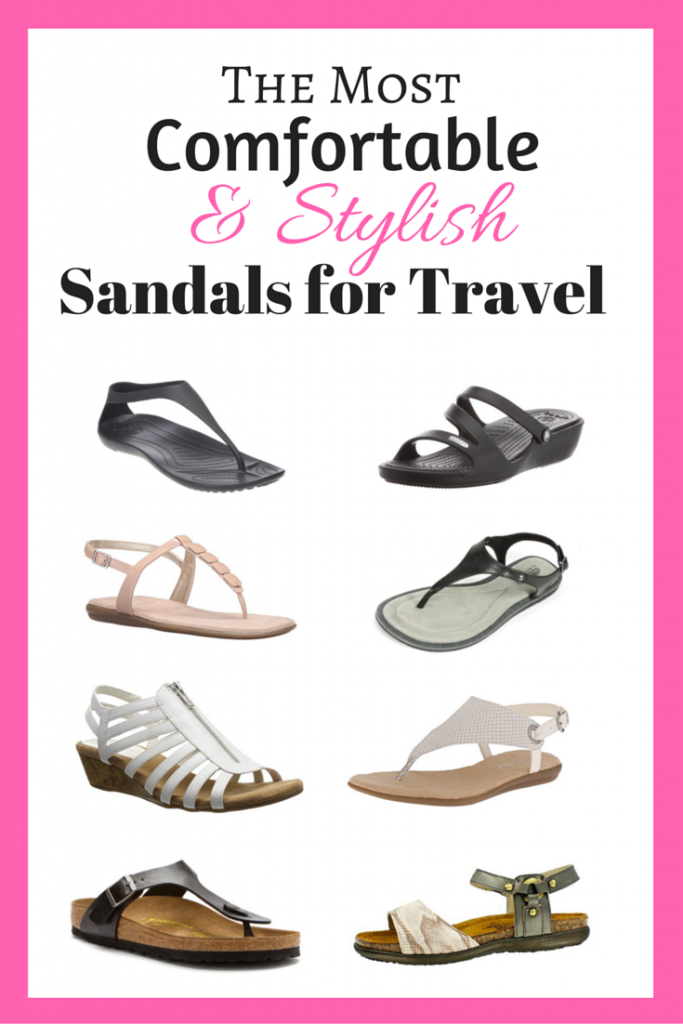 Most Comfortable Sandals for Travel (2019 Guide)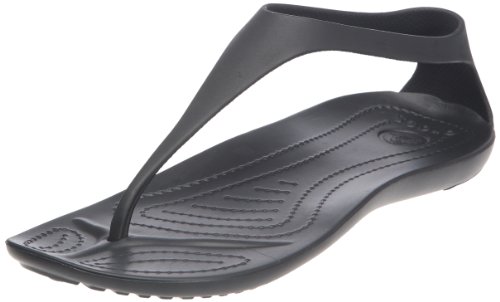 If you're looking for a beach sandal that is also a pair of comfortable sandals for travelling, Crocs are a great choice. These ones are super lightweight so fantastic for travelling carry on only. I wore them in Hawaii, the Philippines and Hong Kong and they were extremely comfortable. They're also totally waterproof and beachproof so you can wear them on boat trips or beach days with no worries. The only downside is they are not as quick to slip on as regular flip flips because of the ankle.
Click for more details on prices, colours and sizes available.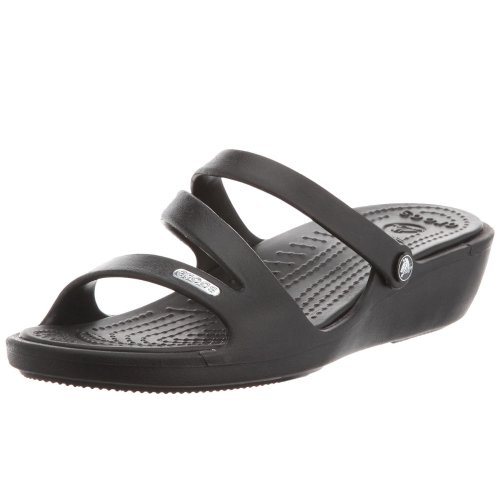 I've worn these Crocs sandals for years. They are, without a doubt, most comfortable sandals for walking that I have found. I can literally wear them all day, day after day, and never get sore feet or tired legs. Perfect for travel! I couldn't even start listing the places I've travelled with them. They're great for beach, city, trekking, cruising, Europe… basically any type of trip you can think of!. They're not the most stylish sandals but sometimes practicality wins out. They do come in lots of fun colors like pink, blue and purple as well as brown, black and white.
Click for more details on prices, colours and sizes available.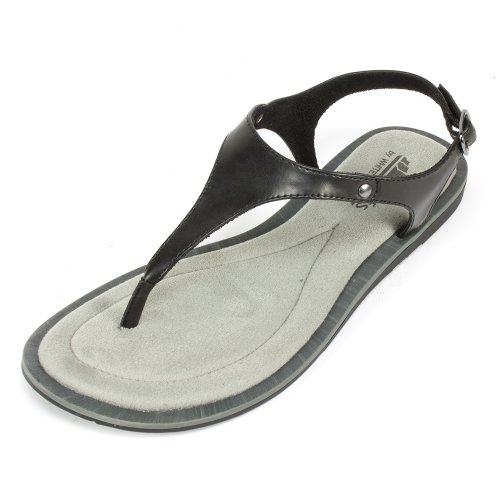 These are a great pair of comfortable sandals for travel. I've had two pairs of these sandals, in white and in tan. They are great for beaches, cruises and city travel. I wore them all over Europe with a pair of white jeans in the Spring. I've taken them on a Caribbean cruise and teamed them with skirts & dresses. They're incredibly comfortable and have some cushioning and arch support. They have a bit more material than the average strappy sandal and the higher ankle strap means you get a bit more coverage on your foot.
Click for more details on prices, colours and sizes available.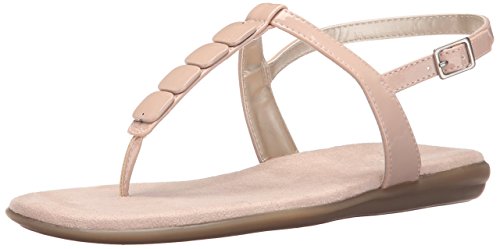 I love these sandals because they are a little more showy than the above sandals. The heel is about three quarters of an inch at the back so they're not completely flat like some sandals. Another reason I love them is the beaded strap down the center. It makes the sandals feel more grown up and not at all hippy-ish. These stylish walking sandals come in a range of colours including pink, blue, gold, silver, black and white. I wore them on our second Caribbean cruise, on a trip to Hawaii and all summer in Australia and New Zealand. Because they're made by Aerosoles, the sole is incredibly comfortable. As it's made from double padded memory foam it's both supportive and squishy at the same time.
Click for more details on prices, colours and sizes available.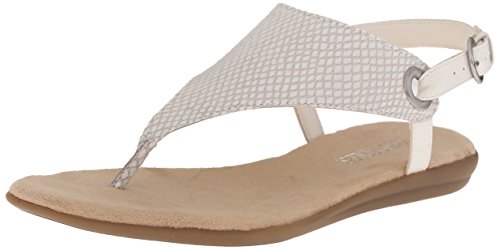 I don't own these sandals personally but they are next on my list to buy because I've heard from many women that that's comfortable stylish walking sandals. Again, because they're Aerosoles they are guaranteed to be comfortable because of the double padded memory foam sole. They come in black, white, coral & tan plus two prints – a floral and an animal print. They're similar to the Cliffs ones above as they have a lot of material so your foot is quite covered from above but I think they're slightly more stylish.
Click for more details on prices, colours and sizes available.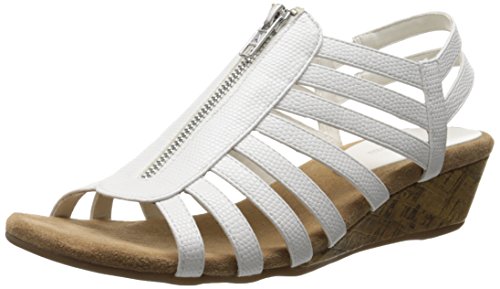 If you're looking for more stylish walking sandals for Europe and want a little bit of extra height without sacrificing comfort then this is a great choice. The 2 inch heel makes it a comfortable walking sandals stylish enough for day or evening. I actually have an similar version of this sandal called the Serenyeti Wedge Sandal which I love but sadly they're not making it anymore. The Crown Chewels Wedge Sandal is another similar option.
Click for more details on prices, colours and sizes available.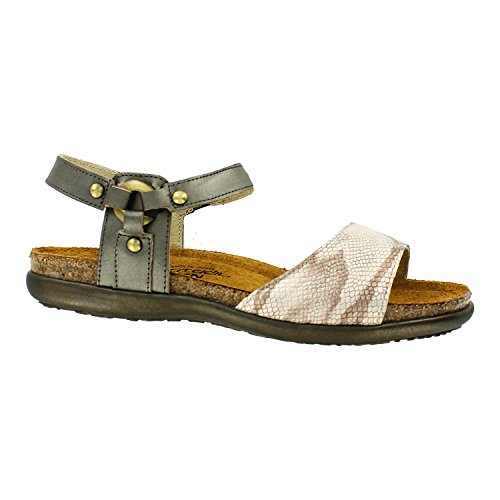 If you've got a slightly bigger budget, check out Naot sandals. I know a lot of women that rave about them. I don't have them personally but they are on my wish list to try. Naot sandals boast anatomic cork & latex footbeds wrapped in suede which molds to the shape of the foot with wear. What does that mean? They would make very comfortable sandals for walking in Europe and they're stylish to boot. If you've tried them, then I'd love to hear your feedback.
Click for more details on prices, colours and sizes available.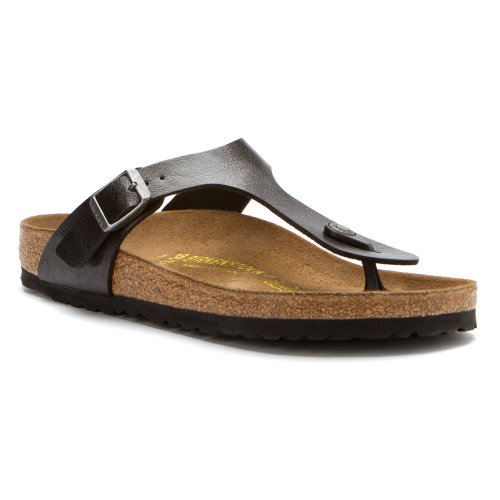 Other pair of comfortable stylish travel sandals that I've seen other women wear are Birkenstocks. I have a pair of black patent leather ones on my wish list for next summer. They're a classic style with a contoured cork footbed that is extremely comfortable to wear. Easy to slip on and off too so great for the beach or travel in Asia.
Click for more details on prices, colours and sizes available.
My Pick!
The most comfortable stylish sandals for walking are definitely Aerosoles. No doubt about it. If I had to pick just one pair of travel sandals from this list it would be the Aerosoles Women's Conchlusion Gladiator Sandal. Simple, classic, comfortable sandals that look stylish enough to wear by day to the beach or around cities and dress up for evening.
Let me know your thoughts! What are your most comfortable travel sandals?