This post may contain compensated links. Please refer to my disclaimer here for more information.
Looking for the best toiletry bag for travel for an upcoming trip? I can help you find the right one! Having the best travel toiletry bag to suit your needs lets you pack quickly, stay organized and find what you need when you need it.
Whether you want a cheap clear toiletry bag, a hanging toiletry organiser, a travel make up bag or a simple men's Dopp kit, this list has all the options for best travel toiletry kit.
Our Top Pick: Best Toiletry Bag 2019
The overall best travel toiletry bag 2017 is the eBags Pack It Flat Toiletry Bag. It's the best hanging toiletry bag that I've ever use for travel. The way it lays flat makes it easy to pack. Despite it's flat appearance it is actually a large toiletry bag with compartments for keeping your travel toiletries organized. I also think it's the best toiletry bag for families and it's the one I've continued to use again and again for our family's travels. It's also available in quite a few cool colors.
Click here to check prices or purchase the eBags Pack It Flat Toiletry Kit.
Best Travel Toiletry Bag 2019 – Comparison Chart
Travel Toiletry Kit Types
TSA-Friendly Clear Toiletry Bag – A simple zip up clear plastic pouch to keep carry on sized liquids in when you travel with carry on only.
Hanging Travel Organizer – A travel toiletry kit that you can hang is useful as often hotel, cruise ship or vacation rental bathrooms don't have a lot of counterspace to lay out a toiletry bag. A hanging toiletry kit let's  you see all your toiletries at eye level too which is very useful.
Dopp Kit – What is a Dopp Kit? A Dopp kit is a men's style toiletry bag with a central zipper at the top of the bag. It's simple but that's what guys tend to need.
What to Look For in a Travel Case for Toiletries
Waterproof material – Toiletry bags go from your bathroom counter into your suitcase with your clothes so they need to be made from waterproof material both to stop your toiletry bag getting wet from the outside and making everything else in your suitcase damp and to keep the contents from seeping out from the inside in the event of a spillage.
Spill proof pouches or sections – The best travel wash bag has at least one compartment that is completely spill proof and lined with plastic, preferably zippered and separate from the rest of the bag so you can place things like shampoo which are prone to leakage.
Compartments for organization – Keep your toiletries organized with a toiletry case that has several different compartments for things. It will help you find what you need quickly and easily without having to dig through the whole bag. It's easy to lose little items like tweezers or nail clippers if they're not in a zip up pouch.
Top Rated Toiletry Bag Reviews
Below are my picks for the top rated toiletry bags. We've listed the best wash bags in each category. You can quickly identify the best toiletry kit for your needs, whether you're looking for a simple mens' Dopp Kit or a large toiletry bag for a family or trying to organise your makeup with the best travel cosmetic case.
Best Hanging Toiletry Bag – eBags Pack It Flat Toiletry Kit
Best Large Toiletry Bag – KitMo Travel Extra Large Toiletry Organizer Bag
Best Mens Toiletry Bag – ProCase Toiletry Bag Travel Case
Our pick for the best mens toiletry bag 2019 is the ProCase Toiletry Bag Travel Case. We chose this as the best men's travel toiletry bag because it has the traditional Dopp kit style that many men love when it comes to a grooming bag or shaving bag but it also has a convenient hook.
As with any of the best mens wash bags, this one has a waterproof interrior made from high quality Nylon that is both durable and lightweight. The canvas exterior is stylish. If you're looking for the best mens hanging toiletry bag to give your dad or husband as a gift then this is a great choice. This bag also works great for women as makeup and toiletry bags.
Key features include:
Water resistant Nylon interior with canvas exterior
One main compartment and zippered mesh pocket on interior of lid
External zippered pocket for small items
Hook for hanging
Comes in black, grey and blue.
Click here to choose your color and buy the ProCase Toiletry Bag Travel Case.
Best Dopp Kit – 

Vetelli Leather Dopp Kit
The best men's dopp kit is the Vetelli Leather Dopp Kit. If you're looking for a high quality, stylish toiletry bag with a vintage feel then this is the best leather dopp kit for you.
Despite being leather, it has a high quality waterproof interior with good organizational compartments. It's also a great price and has a lifetime guarantee making it our pick for the best Dopp kit 2019.
Key features include:
Leather exterior
Waterproof lining
Zippered top section with two interior zippered compartments and two bottle holders
Separate zippered bottom section
Comes with two TSA compliant 2oz silicone bottles (similar to GoToobs)
100% lifetime guarantee
Click here to purchase or read more reviews on the Vetelli Leather Dopp Kit
Best Womens Toiletry Bag – BAGSMART Hanging Toiletry Kit
The BAGSMART Hanging Toiletry Kit is our pick for the best women's hanging toiletry bag. This toiletry bag for women will hold full sized shampoo and conditioner bottles with ease. The three large zippered mesh pouches allow you to easily see what you've packed and separate your items out. You can easily dedicate one pouch just for cosmetics and still have enough room for the rest of your toiletries.
This is the best women's toiletry bag to give as a gift to any woman who loves to travel. It comes in five colors. BAGSMART also sell packing cubes, underwear organizers and electronic organizers in co-ordinating colors so you can purchase a whole set for yourself or as a gift. I purchased their yellow packing cubes set as a gift for my aunt and they are great quality. Click here to see the rest of their gear.
Key features include:
Slim design and lightweight construction
Ripstop, water resistant polyester
Hook for hanging
Three large zippered compartments with mesh fronts
Two compartments lined with PVC to prevent spillage leaking
Will fit full sized shampoo and conditioner bottles
Click here to buy the BAGSMART Hanging Toiletry Kit.
Best Travel Makeup Bag – Travelmall Travel Makeup Train Case
If you're looking for the best travel cosmetic bag to keep your make up organized and protected then the Travelmall Travel Makeup Train Case is a great choice. It's my top choice for best cosmetic bags because it is so well organized with elasticated pouches on the top for brushes and a central divider system that can be altered to suit your needs.
This is the best makeup travel case if you want to take quite a bit of make up with you when you travel and keep it separate from your regular toiletry bag.
Key features include:
Oxford fabric exterior with water resistant nylon interior lining
Adjustable partitions
Pouches for make up brushes
Click here to read more reviews and check prices on the Travelmall Travel Makeup Train Case.
Best Toiletry Bag for Backpacking – Victorinox Slimline Toiletry Kit
If you're backpacking you'll want something small, lightweight but functional for your toileties. The best small toiletry bag is the Victorinox Slimline Toiletry Kit. While it's simple, it still has great functionality. The zippered pouch folds open like a wallet so you can easily access the contents. Internall there is a zippered spill-proof pocket on one side and three mesh pouches along the other side. There is also one external zippered pocket.
Key features include:
Three open-top mesh pouches and a zippered spill-proof pocket

One exterior zippered pocket
Bi-fold design opens out flat like a wallet
Hook for hanging
Antibacterial lining inside to prevent odor, mildew and mold
Click here to read reviews and purchase the Victorinox Slimline Toiletry Kit on Amazon.
Best Kids Toiletry Bag – Lassig Mini Washbag
Best Carry On Toiletry Bag – Cable in the Bay TSA Approved Clear Travel Toiletry Bag
Pin for later!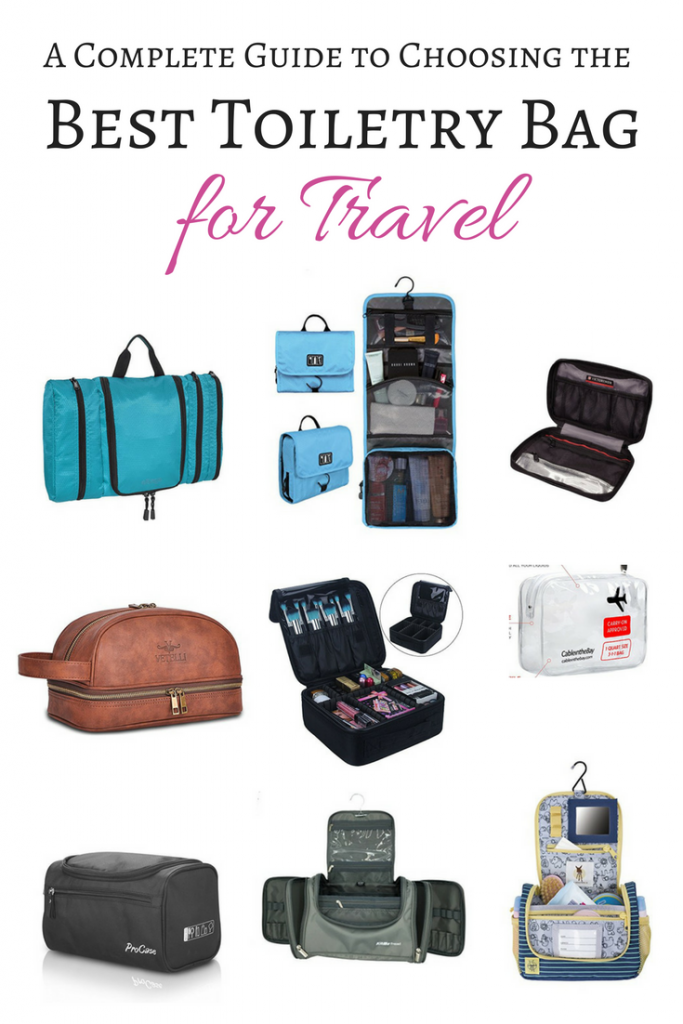 Questions on Choosing the Best Travel Toiletry Case
Got a question on finding the best toiletry case? Let me know in the comments below if you have a specific questions you'd like answered.
You can also join our travel packing group on Facebook to chat more about what you think the best toiletry organizer for travel is or tell us your favorite brand.
>>Click here to join our Facebook group – "Pack Like a Pro"<<
How to Pack Toiletries for Travel
Now that you have the best travel bathroom bag, here are a few tips on how to pack toiletries for travel:
Use GoToobs (squeezey, silicone bottles) and decant your favorite shampoo and conditioner into them to create travel sized versions. GoToobs are lightweight, squeezable and spillproof.
Keep a duplicate of all your toiletries packed and ready to go in your toiletry bag and just leave it in your suitcase. This way you'll always be ready to travel and won't have to pack & repack toiletries all the time.
Go for solids instead of liquids. They're easier to pack, won't leak and more TSA friendly. You can opt for solid perfume, solid shampoo bars and solid shaving cream bars.
Use my toiletries packing list to help you get organized!