This post may contain compensated links. Please refer to my disclaimer here for more information.
Once a staple of '80s fashion, fanny packs are back and better than ever! A fanny pack is a small bag that sits comfortably on your hips or waist, enabling you to store items within easy reach. As you plan for your travels, sports, or events, you'll likely want to find the very best fanny pack that suits your purposes. Our guide will provide you with comprehensive fanny pack reviews, so you can select a bag that fits, looks great, and stays in your budget. From a cheap fanny pack that won't break the bank to the hippest and most stylish fanny packs, read on for a no-nonsense guide that is here to help!
If you're wondering, where can I buy a fanny pack these days? We've added links throughout this article so you can click and buy fanny packs quickly and easily. Our recommendations and comparison make it simple to pick out your faves and then buy.
Ready? Let's go explore the top fanny packs!
Top Pick – Best Fanny Pack Overall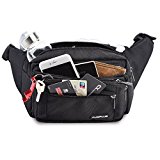 Our pick for the overall best fanny pack is this bag by Auoplus. Compact, but still boasting a large number and variety of pockets and compartments, this is the quintessential fanny pack for travel, exercise, and so much more. This multipurpose bum bag (another common name for a fanny pack) has enough space for a water bottle and compact camera, but hugs close enough to your body to avoid being bulky or cumbersome. The Auoplus fanny pack allows you to keep your hands totally free–perfect for enjoying your activities, taking photos while traveling, etc. With a durable construction and high quality zippers, it's a breeze to store and find items on the go. Click here to buy the Auoplus fanny pack.

Best Fanny Pack 2018
What are Fanny Packs? What are the Different Types of Fanny Packs?
Fanny packs, sometimes called bum bags, are small, generally compact sacks which can be worn around the waist. Whether your bag sits to the front, on your hip, or slightly to the rear, fanny packs are a comfortable and efficient way to pack items along with you—all while keeping your hands free. For a busy traveler, hiker, runner, or festival-goer, a fanny pack is an essential accessory.
There are a huge variety of fanny packs on the market boasting a range of features best suited to different purposes. Here are a few of the most popular fanny pack options:
Travel Fanny Pack – A travel fanny pack is a perfect accompaniment to your everyday adventures around the world. Best suited for touring a city or town, a travel fanny pack should have a large number of compartments or assorted sizes. These allow you to carry your Passport, travel documents, sunscreen, a small camera, or other travel necessities. Using a fanny pack for travel is a smart way to keep your belongings close at hand and very safe.
Hiking / Lumbar Fanny Pack – A hiking fanny pack is a must for all types of treks and walks. Whether you're embarking on an hour-long hike or heading out for a multi-day excursion, your lumbar fanny pack will be your best friend. This type of pack is generally more heavyweight and durable, equipped to carry water, a mobile phone, and various tools you may require on your journey. Keeping your hands free, a hiker's fanny pack lets you make the most of your walk with all your essentials ready for use.
Hunting Fanny Pack – The sport of hunting requires quick thinking and reflexes. Keeping your vital items nearby and prepped for use is extremely helpful. A hunting fanny pack can be the perfect answer to this need, storing ammunition, knives, tags, survival kits, and any other tool to help you on your hunt.
Hydration Fanny Pack – A Hydration Waist Pack is a bag geared to a single purpose: keeping you hydrated. This is ideal for a long walk, run, or hike, especially on hot days or in dry climates. The bulk of the bag on your hydration fanny pack contains a silicon (or similar) sac that holds your water. A long straw gives you easy, fast access to your water, without needing to adjust or remove the bag.
Fashion Fanny Pack – Fanny packs are back in fashion! While these useful hip-riding bags aren't always the first thing that comes to mind when one thinks of style, designers today are making fanny packs a charming accessory. These aren't about utility, but about looking great! There are classic styles like canvas and leather, or unique, bold looks boasting glitter or neon. Whatever your style, there is a fanny pack that can come along with you for an everyday, fashionable look.
Best Fanny Packs for Every Purpose!
Read through our detailed fanny pack reviews to find out the top fanny packs for every type of purpose. Whether you need a fanny pack for travel, hiking, a trip to Disney, or just a lightweight fanny pack for walking the dog each day, you should be able to find the ideal fanny pack here.
Best Fanny Pack for Travel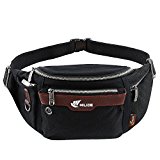 Your search for the best travel fanny pack has ended. TheMilide Running Waist Pack ticks all the boxes. Though the name of this pack might signify that it is best for running, this is an all-around top quality pack that is perfect for your next vacation.
This canvas fanny pack will go the distance with you, storing phones, keys, makeup, and even water bottles. The pack is stylish enough to keep on you throughout the day, and subtle enough to remain unobtrusive. Want to listen to music as you sightsee? Your headphones can thread through their own hole, letting you enjoy your tunes without tangled chords. Best of all, the Milide pack can be worn several different ways, making it a multipurpose pack that fits your jetsetting lifestyle.
Click here to read more reviews or to buy the MILIDE Waist Pack.

Best Fanny Pack for Running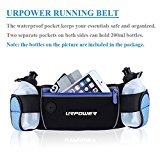 A fanny pack for a runner must be one that is truly secure. The URPOWER Running Belt leads the way as the best running fanny pack. Flexible neoprene means the pack moves with you, and stays light and dry during your run. A hole for your headphones provides a simple way to access your music. Bring along your iPod or phone to sit snugly within the zippered compartment. Of course, keeping hydrated is vital during your workout. Two leak-resistant water bottles are included with this pack.
URPOWER Running Belt

Best Fanny Pack for Hiking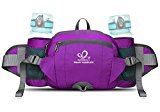 Like a running pack, a fanny pack for hiking should include specific carriage for water. The WATERFLY Fanny Pack can hold two decent-sized water bottles, ensuring maximum hydration on the trail. The pack is rated for heavier carrying, allowing you to fill your bag with food, First Aid supplies, or other essential hiking equipment. With multiple pockets and ample room for storage, this pack is all you need for a well-equipped day hike. Choose from a range of bright colors, too. This is definitely an exceptional choice for the best hiking fanny pack.
Click here to purchase or read reviews of the WATERFLY Fanny Pack.

Best Fanny Pack for Hunting
The Allen Nomad Waist Pack is certainly a top pick for the best hunting fanny pack. This adjustable pack can fit waists up to 54" and has been "Designed with only the toughest, roughest users in mind." Are you a hardcore hunter? This pack is for you.
All your basic survival tools can find a home in this lumbar hunting pack, with room to spare. The camouflage design keeps your bag subtle, and the quiet, smooth zippers help you avoid creating loud noises in the woods. There is an elastic band to secure a bottle of water. Don't be afraid for the pack to get heavy—it can support significant weight and padding on the waist provides extra comfort.
Click here to check out the price of the Allen Nomad Waist Pack.
Best Waterproof Fanny Pack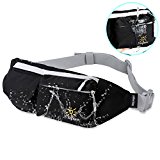 Many 2018 fanny packs are made with waterproof or water resistant materials, but the Stifter Premium Fanny Pack is a superlative choice. Right away, you'll notice the vibrant colors and fresh design with this pack. But the excellent features go beyond appearance. The Stifter Premium Fanny Pack is made with eco-friendly raw materials which are breathable and soft. Wicking away water, this is a waterproof fanny pack that is appropriate for all weather and conditions. Inside, your belongings will be kept high and dry, sorted into 5 spacious compartments. There's a small, secure pocket that is perfect for storing your phone separately. This pack can be worn around the waist or across the shoulders, making it a versatile option for any activity. You needn't fear the rain with this waterproof bum bag.
Click here to read more about the Stifter Premium Fanny Pack or check the price.

Best Fanny Pack for Disney / Theme Parks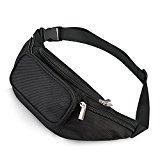 This PWGN bag is a classic fanny pack, perfect for toting along on a trip to Disney. Like other recommended fanny packs, this model is built for strength. The adjustable belt is strong yet flexible, so that individuals of any size can comfortably wear it. A water-resistant exterior keeps your items protected, so a rain shower or splash from a water slide is nothing to worry about! There are 5 zippered pockets in this nylon bag, so there's room to pack items for the whole family. You can keep your theme park essentials at hand with this fine fanny pack.
Click here for reviews and to check the price on the PWGN bag.

Best Hydration Fanny Pack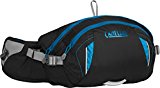 The CamelBak FlashFlo LR Hydration Waist Pack delivers the H20 you need, when you need it. This is an excellent hydrating system, especially if you're looking to carry something smaller than a full sized hydration backpack. This pack is designed to allow for a lower center of gravity, and inner compression prevents that unpleasant "sloshing" as you move. When the goal is water, the CamelBak waist pack (toting 1.5 L of it) is an ideal choice. While something of a minimalist pack, there's also a small pocket in front that has room enough for keys, phone, wallet, and other necessities.
CamelBak FlashFlo LR Hydration Waist Pack

Best Lightweight Fanny Pack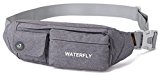 Sleek and slim indeed, this WATERFLY Slim fanny pack was created with the active individual in mind. You'll be amazed by how much you can carry along with you in this bag, though it is compact and sits snugly against the body. With three pockets in front, and a secret zip up compartment on the back/inside, you'll have room for phone, keys, money, debit card, and more. This is a top option if you're looking for a comfortable, light fanny pack that can go with you everywhere.
Check prices on the WATERFLY Slim fanny pack here.

Best Fashion Fanny Pack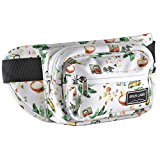 Looking for an adorable, stylish fanny pack? The BRKN Label Hip Pack comes in a funky design, making it the best fanny pack for festivals or other events. This pack has a trendy, fun look, while still being a durable bag constructed with high quality materials. There's room aplenty in the multiple pockets for your phone, sunglasses, camera, and festival tickets. If you're looking to make a splash with one of these cute cheap fanny packs, you'll love this option. And if you're wondering where to buy cute fanny packs online, Amazon has a huge array of quirky styles and looks. Get festival ready with this useful pack!
Click here to buy the BRKN Label Hip Pack.