This post may contain compensated links. Please refer to my disclaimer here for more information.
A good tote bag is so useful for travel. Whether you use it as your carry on when flying, for shopping or just to bring home additional souvenirs, a tote bag is a great item to have when you're packing for a European trip. I've put together a list to help you pick the best travel tote for Europe so you can pack smarter for your next trip.
Totes are good travel bags for Europe because they're stylish and can hold a lot but also pack down flat in your suitcase until you need them. I think a tote is the best bag for Europe especially if you're traveling with a smaller carry-on sized suitcase and want to carry a few souvenirs and shopping home easily at the end of your trip.
You can easily balance a tote on the top of a small wheeled suitcase allowing you to whip through airports and train stations with ease. Using a tote as your Europe travel bag means you don't have to carry a backpack so you'll instantly look more chic.
What You'll Find in This Post
Best Travel Tote for Europe
This Baggallini travel tote is great for travel to Europe. It's made from water resistant nylon so ideal for travel to Europe in the rainy months. It has a removable cross body strap too so you can wear it over your shoulder if it's feeling heavy.
It has six interior pockets (one with a zip) so you can easily keep your long haul flight essentials organized. You can also fit a laptop in one of these interior pockets.
There is an external zippered pocket on the front. The zippers on the back allow you to thread the tote through the handles of your suitcase for hands free carrying.
This tote comes in 14 colors so something to suit your entire travel wardrobe and look great in photographs. This is a more substantial tote however and it does not fold up for easy packing in your suitcase.
Dimensions: 12 x 13 x 6 inches
Weight: 1.4 pounds
>>> Check prices and read reviews of the Baggallini Avenue Travel Tote here.

This Baggallini travel tote is larger than the previous one. A lot more room for those souvenirs! It's large enough to carry a laptop and has a dedicated laptop pocket with a velcro strap to keep your computer in place.
This tote bag has a pocket at the back that can unzip to go over the handle of your carry on bag, allowing you to wheel the tote on top of your suitcase with ease.
It comes in nine different color/print combinations and comes with a smaller purse inside for your little items. This tote will fold over easily to pack a bit flatter in your suitcase.
Dimensions: 23 x 15 x 7.5 inches
Weight: 1.35 pounds
>>> Check out prices for the Baggallini Carryall Travel Tote here

The Scout tote has six exterior pockets, three on each side, and one interior zipper pocket. The top of the bag zips closed.
This tote has two sets of handles, one to use in your hand and the other to use on your shoulder. The woven fabric is lightweight and water resistant. The faux-leather base means you can easily sit the bag on the floor of the plane or train without worrying about it getting dirty or tipping over.
This tote comes in 15 color/print combos. It will lay flat in your suitcase easily if you have it empty at the start of your trip. It makes a great shopping tote for Europe and is also great for cruising.
Dimensions: 15 x 5 x 14.5 inches
Weight: 1 pound
>>> Check out prices for the SCOUT Pocket Rocket Multi-Pocket Tote Bag here.

Everyone knows and loves Vera Bradley's totes and bags. This tote bag is great for travel in Europe. It comes in several different prints and colors. The exterior of the bag is cotton fabric with a quilted design. It's the perfect carry on size for the plane and will easily fit under the seat in front of you.
There is one zippered exterior pocket, two exterior slip pockets and six interior pockets along main interior compartment which zips closed. There's also a charging pocket so you can use your devices while they're still charging in your bag.
Dimensions: 6 x 15 x 14.5 inches
Weight: 1.1 pounds
>>> Check out prices for the Vera Bradley Vera Tote here

If you're looking for an affordable dupe for the pricey Longchamps Le Pillage tote, then this is a great choice. It folds up into it's own small pocket making it ideal to pop in your suitcase and use as an extra bag for your shopping & souvenirs. This bag comes in 17 different colors and also has a removable shoulder strap so you can carry it on your shoulder if it gets too heavy. It's constructed with water resistant nylon fabric. It zips closed and has an interior zip pocket for smaller items and an interior slide pocket for devices.
Dimensions: 21″ x 14″ x 8″
Weight: 12 ounces
>>> Check out prices for the NANJUN Women's Waterproof Foldable Tote Bag here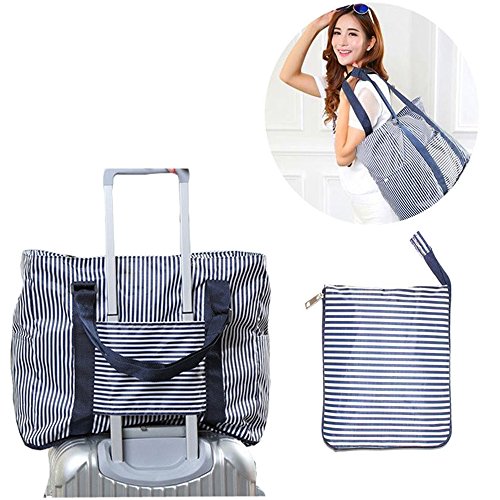 Here's another cute folding tote bag for Europe. This one has a slide through pocket at the back for balancing on your carry on suitcase which is perfect when you're whipping through a train station in Europe. This simple tote zips closed at the top and has two exterior pockets on each end. It's the ideal bag for throwing into your luggage when you head off and bringing back filled with all the goodies you purchased on your trip.
Dimensions: 18″ x 14″ x 7″
Weight: 12.6 ounces
>>> Check out prices for the Igoeshopping 20″ Waterproof Folding Travel Pouch here

Got a question about choosing the best travel tote for Europe? Leave me a comment below.
Pin this post for later!