This post may contain compensated links. Please refer to my disclaimer here for more information.
Being on a plane for 12 hours can be draining to say the least and that's why I put so much effort into choosing the best travel accessories for long flights. My list of long haul flight essentials will see you through an international flight keeping you comfy, fresh and relaxed throughout.
If you're wondering what to take on long haul flights to stay fresh and comfy, pick up these travel essentials for the plane and you will have all the carry on essentials for long flights that you need.
Living in New Zealand means whenever I travel it takes a long time to get there so I know how to survive a long flight. I've done eight 12 hour flights just in the last seven months, so take it from me, these 20 items are long flight essentials.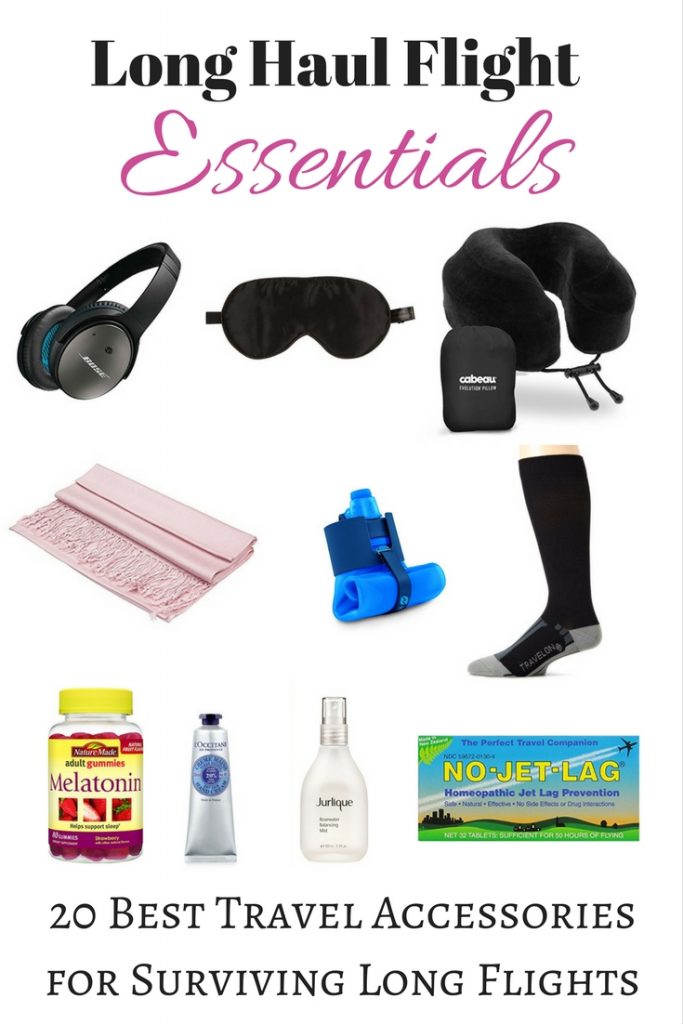 Pin this post for later!
Long Haul Flight Essentials: 20 Best Travel Accessories for Long Flights
Noise cancelling headphones
The key to how to survive a long haul flight! Noise cancelling headphones are one of those gadgets to make flying more comfortable that really work. Not just the noise from the aircraft itself but cutting out noise from fellow passenger (snorers and crying babies!) make these headphones the best gadgets for long flights. Check out these Bose QuietComfort 25 Acoustic Noise Cancelling Headphones.
Neck pillow
After sleeping so well in economy on a recent flight from Auckland to LAX, I'm convinced that a travel neck pillow is among the best travel accessories for international travel. Getting a decent block of sleep on a long haul flight is invaluable and having a neck pillow that keeps you comfortable and stops your head from slipping is absolutely key to this.
One of the best travel neck pillow for long flights is the Cabeau Memory Foam Evolution pillow because it's soft, supportive and comfortable. It also folds up easily.You can check prices on it here.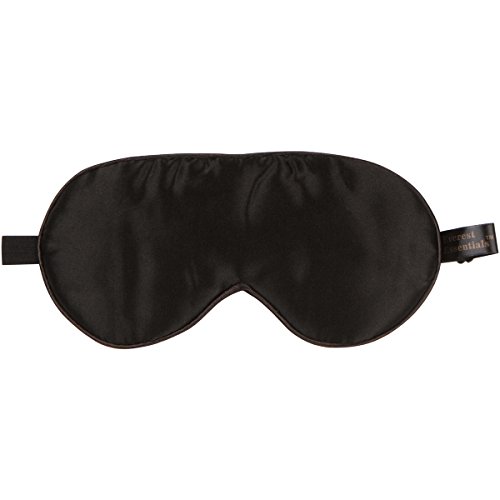 Eye mask
An eye mask can really help you get some sleep on a flight or at an airport while you're waiting for a long connection. We always keep them on hand, especially to help the kids sleep. If you've flown in business class before then you most likely have one of these lying around but if you don't then the best eye mask for travel on Amazon is this one.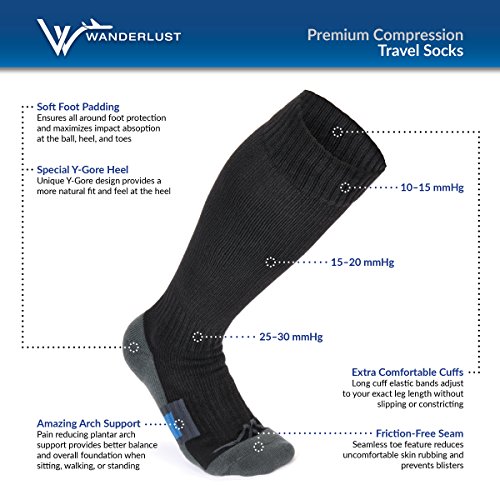 Compression socks
If you are flying long haul you really need to wear compression socks. They do wonders to stop your legs feeling tired, achey and swollen from spending a long time sitting down. Here's a link to the Wanderlust Air Travel Compression Socks above. Read my full guide to choosing compression socks and why you should use them here.
Regular socks
In addition to compression socks, one of my top long flight accessories is just a regular pair of socks. My feet are often cold on planes, even with compression socks on (which are more a stocking material).
Also, if you've been traveling a lot and have stinky feet, it's kinder to your fellow passengers to put a fresh pair of socks on once you board the plane and kick of your shoes to get comfy. Seriously, I get stinky feet and I'm so conscious of the smell. I also wrap my sneakers in the plastic bag that they give out the blankets in so that people can't smell them!
Pashmina
One of my favorite long haul flight accessories is a pashmina. Not only is it stylish but it is so functional and can be used as a scarf, blanket or pillow during the flight. Planes are also really cold sometimes and if you're flying to a warm weather destination you don't want to pack a heavy jumper or cardigan so bringing a pashmina for the plane can help you cut down on your packing. This is a cute yet very inexpensive pashmina available in a tonne of colors – Achillea Large Soft Silky Pashmina
Collapsible water bottle
One of the best long flight accessories is a collapsible water bottle. Not only is it better for the environment than those tiny plastic plane cups but it's better for your body! When flying long haul you really need to focus on staying hydrated and water bottle lets you have access to water throughout the flight. I always fill up my bottle after security at a water fountain before I get on the flight. You can also ask your flight attendant to fill it for you. This is the Nomader BPA Free Collapsible Sports Water Bottle – Foldable with Reusable Leak Proof Twist Cap for Travel (25 oz).
Hand sanitiser
Airplanes and airports can be disgusting and the longer you have to spend in them, the more gross stuff you have to touch. Hand santiser is one of my must haves for long flights.
Hand cream
A small tube of hand cream is one of my long flight travel essentials. I always find the plane very drying to my skin. Using hand sanitser also really drys out my hands so I like to use it throughout the flight and travel days. This is my favorite hand cream by l'Occitane. It's such a small tube so it's great for travel but a little goes a long way!
Lip balm
If someone asks me what to bring on long flight, one of my first answers is always lip balm. The air filtration and conditioning systems on a plane can make your lips feel very dry. Lip balm is one of my top airplane essentials for long flights.
Facial mist
Jurlique Rosewater Balancing Mist is life! This is one of the best beauty products for long haul flights. It refreshes your face and keeps you feeling hydrated and clean. Here is a link to Jurlique Rosewater Balancing Mist on Amazon but note this is a 100ml bottle which is fine for travel internationally (go metric system!) but if you're in the US TSA says 3 oz so this is slightly too big. You can decant it into a small travel-sized spray bottle like this if you don't want to risk it.
Baby wipes
Baby wipes are totally a travel essentials for long haul flights for me… and not just because I travel with kids. Baby wipes are essential for staying fresh and clean on a long flight.
Wipe of your make up once you're settled in for the long haul and your skin will thank you for it for the next few days. It's also worth wiping down your tray table, control pad and arm rest as they are often dirty.
I always freshen up in the bathroom when I wake up on a night flight so I feel fresh before we land. Doing a quick "wash" with a couple of baby wipes helps me feel semi-decent especially if I have to go sit in the airport and wait for a connecting flight.
Deodorant
It's easy to forget about this but one of my most important things to take on a long flight is deodorant. Once you've wiped yourself down in the bathroom, put on a fresh layer of deodorant.  A baby wipe off and slick of deodorant can make you feel good as new!
Folding toothbrush and travel sized toothpaste
And while you're at it, brush your teeth! It's amazing how good cleaning your teeth can make you feel! I always carry a folding toothbrush and a small tube of toothpaste in my bag of long haul travel essentials.
Here is a link to the travel folding toothbrush that I have.
I like a folding toothbrush because it keeps my toothbrush sanitary if it's in a bag with the rest of my travel essentials for the plane.
I also use this Jason travel sized toothpaste which doesn't contain fluoride.
Small packing cube
I package up all my travel toiletries for use in flight in a small packing cube or pouch so I can quickly grab them and take the whole thing into the bathroom. A small packing cube is one of the best airplane travel accessories because it keeps all your other travel essentials organized and ready for you to use quickly and discretely. If you don't have a small packing cube as part of your travel packing cubes collection thenyou can purchase a small one like this here.
For more info on using packing cubes to help you pack like a pro, read this post.
Change of clothes
If I've checked a bag, I usually carry a change of clothing in my carry on. Having a fresh pair of underwear or a clean t-shirt is the best travel gear for long flights. You never know when turbulence is going to knock a sticky drink on your lap or when your child is going to pee their pants. If you're one hour into a 12 hour flight, trust me, you will want to change your clothes!
If I'm traveling with only carry on luggage, I always put a fresh pair of underwear in my small packing cube with my toiletries that I mention above. This way I don't have to dig through my carry on suitcase and can just quickly whip out my small packing cube, go to the bathroom and change my underwear when I clean up and get ready to disembark at the end of the flight.
Snacks
Honestly, don't trust that the food on board your flight will be remotely edible. On our recent flight from Shanghai to Auckland we figured that the food would be good considering it was Air New Zealand but what we were served for both dinner and breakfast was basically inedible.
If you or your kids are fussy eaters or have specific dietary requirements like vegan or gluten free, you should definitely pack your own snacks for a long flight. Even if you've ordered a special meal, there is a chance that it won't be loaded on the plane. Always bring your own snacks!
Herbal tea bags
One of my personal in flight essentials for long haul flight is a few herbal tea bags. I like to drink a cup of peppermint tea after meals to help digestion. Steering clear of tea and coffee with caffeine in them will also help you stay hydrated on the flight.
If you're a real coffee snob then I would suggesting bringing your own coffee sachets on the plane, like a Starbuck VIA, because in general the airplane coffee is awful. If you are fussy about the coffee you drink then this will be one of your best long haul flight accessories.
No Jet Lag Tablets
These are the best things for long flights if you want to avoid jet lag at the other end. If you're flying long haul these herbal jet lag tablets are the best air travel accessories for you. You take them at the beginning, during and after the flight and they propose to help you avoid or recover quicker from jet lag. One of the best things for traveling long haul! Here is a link to the Miers Labs No Jet Lag Homeopathic Jet Lag Remedy.
Melatonin
Melatonin is the best sleep aid for long flights. If you're not familiar with it, Melatonin is a hormone that the brain releases to signal sleep. You can buy Melatonin tablets, drops or even gummies and chocolates to help you get to sleep on a flight and also combat the effects of jetlag when you arrive at your destination. You can read more about melatonin here.
I have personally used Melatonin to get to sleep on the plane and consider it one of the best long haul travel accessories. It is especially useful if you're flying long haul economy or if you have trouble sleeping on planes. I like the gummies for travel because I can just pop a few in a small Ziploc bag or plastic wrap and don't need water to take them. Here is a link to the Nature Made Melatonin Adult Gummies (2.5 Mg).
Please note I'm not a medical professional and this is simply my opinion on the best sleep aid for flying. You should consult your doctor before taking Melatonin. 
I hope you've found my list of travel must haves for long flights useful! These essentials to take on long haul flight will really help you feel clean, fresh and comfortable.
I think these are the 20 best travel items for long flights but if you've got a suggestion then please let me know. I'd love to hear what you think are the best travel gadgets for long flights. What are your essential travel items for long haul flights?
If you've got questions on things to take on a longhaul flight or how you decide what to take on a long haul flight then do let me know in the comments or join my packing tips group on Facebook.