This post may contain compensated links. Please refer to my disclaimer here for more information.
If you're looking for the best travel pants for any kind of trip then you'll love this post. As a full-time travel blogger I travel a lot. I'm away for months, even years at a time so I need to pack the right gear. After more than a decade of travel to 40 different countries, varied climates and trip types I've narrowed down what I think are the top choices for best women's travel pants. (And because I have a husband I also know the best mens' travel pants too!)
The right pair of pants are the best travel clothes because they're versatile, comfortable, hard wearing and work for a variety of situations. Here's my list of the best travel pants women love to pack and a couple of easy choices for men too.
What You'll Find in This Post
Best Travel Pants 2019 Womens & Mens – Quick Comparison
What to look for in the best travel pants
A great pair of pants are the best travel clothes for women. Here's what you should look for when searching for the best trousers for travelling.
Comfort – Hands down you need comfy travel pants when you're on the road. If you're sitting on a plane for 12 hours, sightseeing all day or spending a day hiking you need something comfortable.
Versatility – Clothes for travel have to be versatile. Pick pants that you can create several different outfits with just by switching out your tops and shoes.
Packability – You need lightweight clothing for travel but also factor in bulk. Roll up your clothes so they pack tighter and you'll also avoid wrinkling.
Wash and wear well – Ideally pick dark colors that don't show up dirt, pants that wash & dry quickly so you can wear them again and again and pants that don't lose their shape after one or two wears.
What type of pants are best for travel?
Leggings or yoga pants – Comfortable and versatile, can be worn under dresses for extra warmth, excellent for wearing on the plane
Jeans – Great for city breaks, cooler climates. Don't listen to people who tell you not to travel with jeans. If you wear jeans regularly at home, then bring them on your travels.
Active pants / travel pants – Lightweight travel pants that are specifically designed to look good, wash & wear well
Harem pants – Great for hot weather and traveling in areas like South East Asia and India. You can often buy these "hippy traveler" pants in touristy areas.
Linen pants – Great for hot weather and more stylish for older women who want to look well put together on their travels. Also great cruise clothing.
Palazzo pants – Comfy, stylish and easy to wear, Palazzo pants are a great choice for travel.
Capri pants – Perfect for looking smart in summer, whether you're in Europe or on a cruise.
The Best Pants for Travel for Women
Read through my reviews of the most comfy pants for travel and then choose the best combination of these items based on your trip type. For example, for Europe in the winter you'd probably choose the Skyler pants, jeans and a pair of leggings. Traveling to Thailand for a few weeks? Then wear your leggings on the plane and pack some harem pants. If you're packing for an extended round the world trip, go for a few pairs that suit everything you're doing.
My pick for the most comfortable pants for travel!
Leggings are the best pants for travel if you need comfort and versitility. It's what I pack most often as it works for every place except a super hot climate. Even when I do travel somewhere hot I usually pack leggings anyway to wear on the plane. These are my favourite leggings because they're super stretchy, hard wearing  and sporty but still stylish. You can wear them alone with a t-shirt because they're thick enough to be pants unlike some leggings. You can also layer leggings u If you're looking for comfortable clothes for travel on long plane journeys you can't go past leggings. You can buy these leggings here.
My pick for the all-round best travel pants for women!
Every woman I've met who owns a pair of these Anatomie travel pants absolutely raves about them. I can totally see why. You'll love the Skyler travel pants. They're stylish and sleek yet comfortable and stretchy. You can dress them up smartly which makes them the best travel clothes for Europe where you want to look good in your photos but still walk around all day sightseeing. If you can only pack one pair of trousers then these are the best travel pants for Europe. The skinny profile makes them easy to wear with sandals or cute canvas sneakers during the day. The also work with heels or ballet flats for smarter occasions. They also wash and dry overnight so you can wear them again and again. The only negative with these pants is the price is quite high and they only come in XS to XL. I wish there was a plus size version as every travel pants review for the Anatomie pants says the fit is quite small. The come in four colors – black, grey, navy and orange. You can check the price of the Anatomie Skyler Skinny Pant here.
My pick for the best black pants for travel!
Black travel pants are versatile and easy to wear. These are a budget-friendly alternative to the expensive Anatomie pants above. This quick dry travel pants are easy to wash and wear day in, day out. They're water resistant. They're stretchy and lightweight but not clingy. If you're looking for lightweight pants for travel that can take you from hiking to cities then these are a great choice. These my choice for the best womens' travel pants if you want lots of options, wearability and a great price. Available in size 2 to 18 in both regular and short length so ideal for a variety of body shapes. They also come in grey and a lighter stone color. Check sizes, colors and prices for the Columbia Women's Just Right Straight-Leg Pant here.
My pick for best travel jeans!
Live in jeans at home? By all means bring them on your travels! If you want to wear jeans on your travels then make sure you pick your most comfortable, worn in pair. For travel, dark colored jeans are better than light ones as they work with a variety of different outfit types and can be worn on a night out. They also need to be washed far less than light jeans… and washing & drying jeans is one of the main reasons they're not great for travel.
If you don't already have a good, soft pair of jeans then the J Brand Maria jeans are perfect ladies travel pants. They're soft, stretchy denim with a skinny fit and a high rise waist. They're comfortable and look great making them the best lightweight jeans for travel. Available in a variety of hues including a nice black, dark blue and white for those of us who don't travel with kids. They come in sizes 22-32 waist. Check prices for the J Brand Jeans Women's 23110 Maria High Rise Skinny Jean here.
My pick for the best travel pants for hot weather!
If you're traveling in hot, humid climates wearing pants is still a good idea. With lightweight cotton harem pants, you get coverage from the sun in the day and mosquitoes at night. You'll also avoid chaffing your thighs and remain modest for visiting temples. They're a great choice for travel in South East Asia or India and are easy to purchase in tourist areas. You'll see tonnes of women rocking these baggy, hippy pants on the road in Thailand and the likes. They're the best lightweight travel pants for women. If you do want to purchase some before you head off you can buy these Lofbaz Women's Colourful Floral Smocked Waist Harem Pants on Amazon. They come in TONNES of different colors and prints too.
My pick for the best linen travel pants!
For years, my go to travel pants for warm weather were a pair of white linen pants. Until I had children and had to stop wearing anything white because of grubby fingers that is! That said, linen pants are still an excellent choice for travel. They're light, comfortable and relaxed but still look smart. Linen is a great choice for hot climates when you still want to remain covered. These linen travel pants are a relaxed fit and are available in sizes 4 to 18 so ideal for women of many different shapes and sizes. Plus they come in some fun colors and prints. Perfect for cruising or summer travel. Click here to check out the colors and sizes of the High Style Women's Button Closure Wide Leg 100% linen pants with drawstring waist on Amazon. 
My pick for stylish travel pants!
Similar to harem pants and linen pants, palazzo pants are great travel pants for hot climates where you need a relaxed fit but want to be covered. They're super comfy and stylish travel pants too. I wore a pair of palazzo pants around Thailand and Malaysia and they were perfect for travel. Palazzo pants are a little out there so you do have to be somewhat brave to wear them but if you're a fashion risk taker or just don't care what people think then they're perfect. These ones come in a tonne of colors and prints and are available in S to XL. They're soft and super comfy. You can fold over the waistband to adjust the length if you're shorter like me. Check these Popana Damask Palazzo Pants out on Amazon.
My pick for best capri pants for travel!
Capri pants are the best travel shorts for women. They're not too short, they look smart and yet they're still comfortable. Who needs shorts when you can pack capri pants? These Dickies capri pants come in sizes 4 to 18. They're cotton with a touch of spandex to give them a bit of stretch and make them a comfortable choice for travel and they won't wrinkle when packing them. They come in black and a stone color. Check prices for the Dickies Women's Stretch Twill Capri Pant here.
Other Great Travel Pants for Women
Aside from the best travel pants womens' options I've mentioned above, there are also lots of other great pants for travel. Here are a few more comfortable travel pants I love: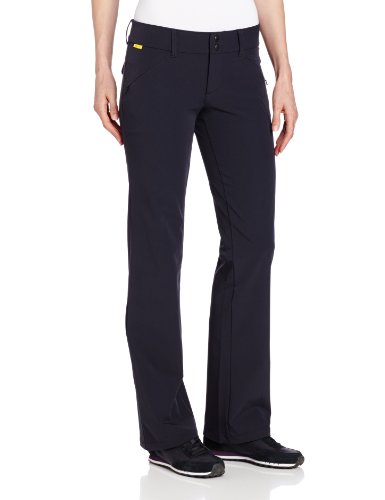 These Lole travel pants are very versatile and comfortable. They have a 33″ leg length if you're looking for tall travel pants.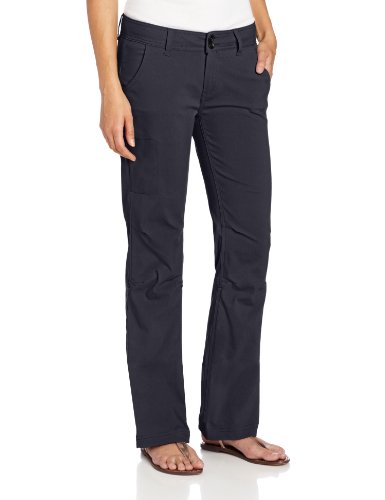 These prAna travel pants are great and come in a variety of colors in sizes 0 to 16 so work as petite travel pants and also for bigger women. They have a version with 32″ leg length too.

The Best Travel Pants Mens Edition
Travel pants for men are pretty easy to pick actually. Men can get away with just a few decent pair of trousers when they travel. Jeans are a staple for my husband when travelling. Add in a couple of pair of shorts with zippered pockets and he's good to go. In addition to shorts and jeans, either of these two pairs of mens' travel trousers are a great choice.
My pick for overall best mens' travel pants!
If you need a stylish pair of trousers for travel then these are the best travel pants men can buy. They come in a range of stylish colors from black & grey through to khaki and stone. They have two way stretch so they're reasonably comfy to wear. The fabric is UV resistant, water resistant and stain resistant so perfect for the outdoors. There's a zippered pocket for safety too. All in all, these are a great choice for men who like to travel. They come in waist sizes 30 to 44 inches and in three different leg lengths 30, 32 and 34 inches. Check prices for the Columbia Sportswear Men's Royce Peak Pant here.
My pick for best mens lightweight travel pants!
If you're looking for mens lightweight pants for travelling then these ones are perfect. They're stylish enough to wear on the streets of Europe, lightweight for hot climates and have enough stretch to be comfortable on a long flight. They fabric is UV protective and there are zip up pockets to keep your wallet safe. Definitely one of the best travel pants for men I've found. My husband loves them. The come in waist sizes 30 to 44 inches and in three different leg lengths 30, 32 and 34 inches. Check prices for the Columbia Men's Global Adventure III Pant here.
Questions + Comments on Picking the Best Women's Travel Pants and Best Men's Travel Pants
If you've got questions on what to wear for travel then let me know. I think this list covers the best pants for travel women can pack but if you've got other brands you love or ideas on good travel pants I haven't included then I'd love to hear them. What do you think are the best travel pants ever?
Pin this post for later!