This post may contain compensated links. Please refer to my disclaimer here for more information.
Spinner luggage is awesome for travel! Going through airports, train stations and hotels is a breeze with a good suitcase. The best spinner luggage for you depends on the type of trip you're taking, who you're traveling with and how much stuff you need to bring along with you. Once you have the best spinner suitcase for you, travel becomes so much easier.
We've covered the best spinner carry on luggage, full size suitcase and spinner luggage sets. Read through my spinner luggage reviews and use my handy comparison chart to find the luggage with spinner wheels that best suits your travel needs.
Top Pick: Best Spinner Luggage for 2019
What You'll Find in This Post
Best Spinner Luggage 2019 at a Glance (Comparison Chart)
Use this table to get a quick overview of the best spinner luggage 2019 and their features.
Why Choose Spinner Wheel Luggage
Easier to manoeuvre – Having four wheels at the base of the bag that spin allows for multi-directional rolling meaning you can maneuverer your bag with absolute ease through an airport, cruise terminal, train station, hotel and even on the street.
Better balance & stability – A four-wheeled spinner makes suitcases less likely to topple over than the two-wheeled counterparts. They're less awkward and cumbersome.
Easier on your body – Four-wheeled spinning suitcases put much less pressure on your shoulder and arm than two-wheeled suitcases. This makes it a great luggage option for less mobile individuals.
What to Look for in a Spinner Suitcase
Soft vs hard-sided spinner bag – Choosing a soft or hard sided bag is up to you. There are pros and cons to both. A soft sided suitcase is naturally lighter weight and more forgiving to pack if you're trying to squeeze a lot in. On the downside, they aren't waterproof or slash-proof. A hard sided suitcase are safer and more durable overall but can weigh more. They can also be more prone to mishandling by baggage handlers and can crack or break.
Size requirements – You can get spinning suitcases anywhere from 18 inches to 32 inches high. What size you choose depends entirely on what kind of travel you plan on taking. If you need a bag for short trips, weekends away and business travel then go for a small, carry on sized case. For cruises or longer trips, go for a medium sized case such as a 24″ or 25″ spinning suitcase. For extended travel or packing for an entire family, a 30″ case is great. If you intend to use your new suitcase as carry on luggage then be sure to check out the carry-on luggage size requirements for any airlines you'll be flying.
Special features – Pay close attention to the additional features bags offer like a zipper that allows you to expand your suitcase capacity, an integrated TSA-approved lock and useful internal pockets for packing.
Top 9 Spinner Suitcase Reviews
Here are my complete reviews of the best spinner suitcase 2019. Take a look through and identify which are the best spinner suitcases for your upcoming travels.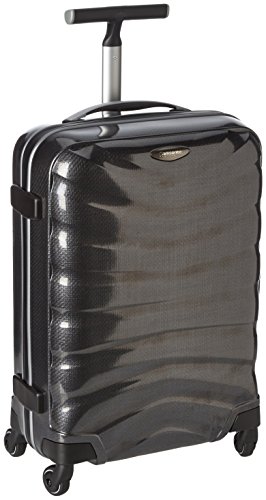 Our top pick for best hardside spinner luggage!
This amazing bag is the best Samsonite spinner luggage on the market. It's stylish, lightweight and has excellent maneuverability. The Firelite Spinner is constructed using Curv technology – a new concept in thermoplastics and it creates extremely lightweight products that offer exceptional resistance to impact. In short, it won't break or crack. There's an inbuilt lock and a integrated bungee cord on top for securing your laptop bag or purse on top while you roll through the airport. This makes it a great suitcase for people with limited mobility or strength. It's my top pick for best lightweight spinner carry on luggage.
I've listed the spinner carry on luggage here but you can also purchase the Samsonite Black Label Firelite Spinner in 28″ size and 30″ size suitcases. It is quite expensive but if you can afford it then it's the best luggage with spinner wheels available.
Prices: Check prices here for the Samsonite Black Label Firelite Spinner 55/20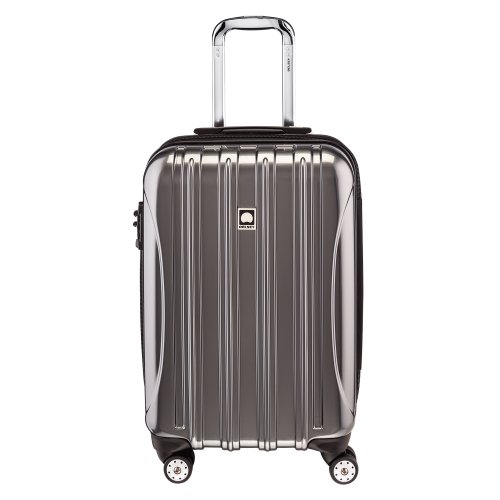 Our top pick for best carry on spinner luggage!
If you need stylish carry on luggage with spinner wheels then you can't go past Delsey's Helium Aero. While the Samsonite Black Label above is lighter, the Delsey is less than half the price and just as highly optioned. The Helium Aero is a beautiful bag. It comes in a range of stylish colors, has an integrated TSA-approved lock and great internal pockets.
Prices: Check prices here for the Delsey Luggage Helium Aero Carry-On Spinner Trolley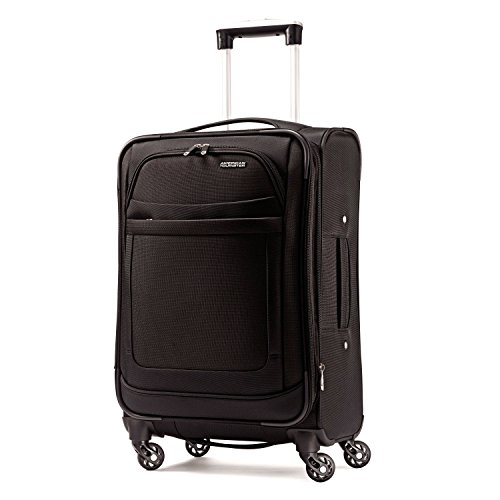 Our top pick for best carry on luggage spinner for Europe!
European airlines have stricter size and weight requirements for carry on baggage than US airlines. For example, RyanAir and Vueling allows up to 10kg with maximum dimensions of 55cm x 40cm x 20cm (or 21.6″ x 15.5″ x 8″ and 22 lbs). This makes the Delsey bag above just slightly too big for use on European budget airlines. For Europe you want to choose a lightweight carry on spinner and we recommend the American Tourister Ilite Max Softside Spinner because it fits within the required measurements for airlines in Europe. This bag is also extremely affordable and comes in a variety of fun colors.
Prices: Check prices here for the American Tourister Ilite Max Softside Spinner 21 Carry On Luggage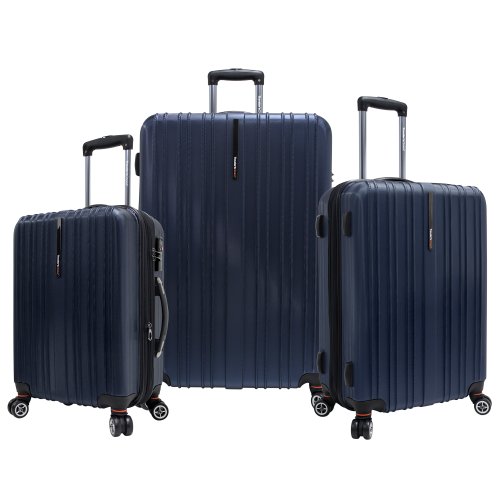 Our top pick for best spinner luggage sets – hard-sided!
If you need an affordable set of stuicases in varying sizes then this is the best spinning luggage set for you. These Traveler's Choice bags come in a set of three – carry on, medium and large which can be used for a variety of different types of trip on their own or together for a complete set of spinning luggage. The hard-sided shells are durable. There's an integrated TSA-approved lock and a strap that allows you to carry a purse or laptop bag on top of your bag as you move through the airport. The telescopic handle on these bags operates at a variety of heights up to 42″ so they're great bags for even the tallest of traveler. The bags all nest inside each other for easy storage.
Prices: Check prices here for the Traveler's Choice Tasmania Three-Piece Luggage Set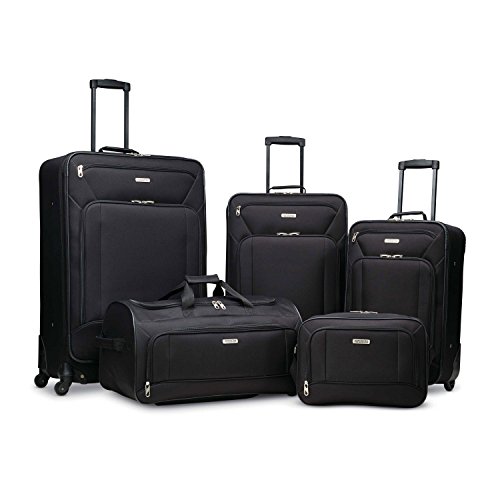 Our top pick for best luggage spinner sets – soft-sided!
For lightweight, soft-sided luggage sets with spinner wheels you can't beat this set by American Tourister. The five piece set includes a 29″ suitcase, a 25″ suitcase and a 21″ carry on suitcase as well as a wheeled duffel bag and a boarding bag that fits under your seat. This set is perfect for every kind of trip imaginable. Made from ultra lightweight 600D polyester, this set is the best lightweight luggage with spinner wheels available. It's incredibly affordable to boot. If you want choice and lightweight options then this is my top pick for lightweight spinner luggage sets
Prices: Check prices here for the American Tourister Fieldbrook XLT 5pc Set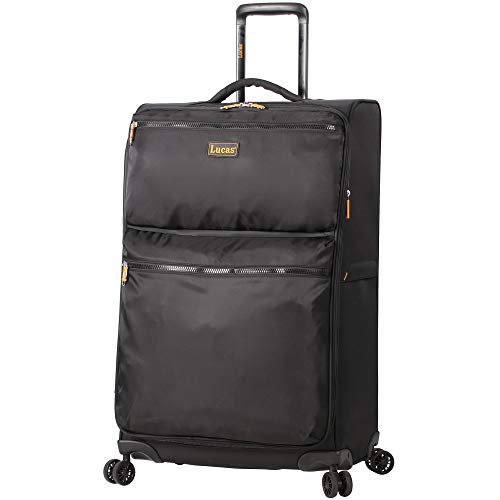 Our top pick for best lightweight spinner luggage!
If you're looking for the lightest spinner luggage collection then check out this one by Lucas. The Lucas ultralight collection has the best lightweight spinner luggage reviews that I've seen and the 6 lb weight is unbeatable. Despite being ultra lightweight it still has a proper telescopic bush button handle (not the big wide frame handle some super light bags have) which makes it easy to maneuver through airport terminals, cruise ports and hotels. You can purchase both the 24″ I've mentioned here and a 28″ version which weighs 6.5 lbs.
Prices: Check prices here for the Lucas Ultra Lightweight 24 Inch Spinner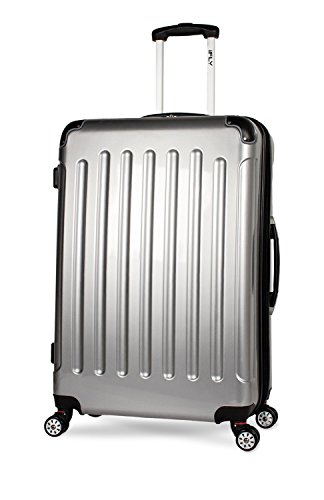 Our top pick for best spinner suitcase under $100!
If you don't have a tonne of money to spend the check out the iFLY brand for cheap spinner luggage. The 29″ model is the best 29 inch spinner luggage for can get for the money.
This model is the 29″ version but they also have a 25″ version and 22″ version which are cheaper still and just as good.
Prices: Check prices here for the iFLY Carbon Racing Hard Sided Large Checked Luggage, Silver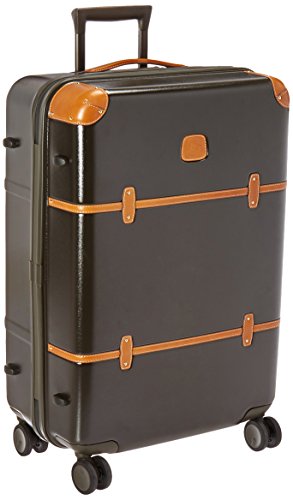 Our top pick for best luggage spinner for high end budgets!
If you're looking to purchase a suitcase that will stand the test of time and you have the fund available then consider the Bric's Bellagio spinner trunk. It is made from highly impact resistant, lightweight 100 percent makrolon polycarbonate with a shell leather trim. It also has a telescopic handle that pulls to three different stages, Japanese spinner wheels,  water-resistant sealed zipper and a TSA approved combination lock. This suitcase comes with a 5 year manufacturer's warranty. It was 8.8 lbs so is extremely lightweight for the quality.
Prices: Check prices here for the Bric's Bellagio 2.0 Ultra Light 27 Inch Medium Spinner Trunk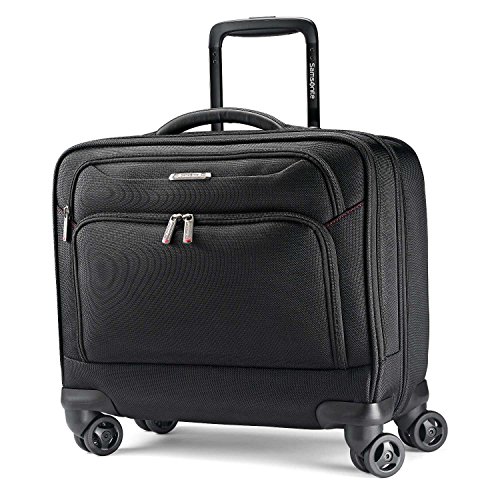 Our top pick for best spinner laptop bag!
If you're after a laptop spinner bag for business travel then this is a great choice. It's smart and very functional while at the same time being lightweight. It has a dedicated laptop pocket that can hold up to a 15.6″ laptop. There are multiple pockets for organising paperwork and enough space to store clothing for a short business trip. This bag will also fit under the seat in front of you on an airplane making it a real winner.
Prices: Check prices here for the Samsonite Xenon 3.0 Spinner Mobile Office Business Case in Black

Quick Expert Packing Tips
I hope the best spinner luggage reviews I've provided have helped you make your decision. Just remember that the best rated spinner luggage for you depends on the type of trip you plan on taking and what you want out of your bag. If you have any questions about which luggage spinner is right for you or packing for your trip, just let me know. I'm happy to help!
Pin this post for later!