This post may contain compensated links. Please refer to my disclaimer here for more information.
When you're travelling around the world on an epic adventure, or even simply heading off on a short holiday, you need to look your best. It could even be that you're travelling for work purposes, and then you have even more of a pressing need to be well turned out. We know that clothes left in a suitcase for any length of time have a habit of becoming a little creased, and that is never a good look; what is the answer? Find the best travel iron and be well turned out wherever you go!
Why choose a travel iron or steamer?
A travel size iron doesn't take up much space in your suitcase, and barely weighs anything, which makes it a must have for your packing needs. A travel clothes steamer is much the same thing, although tends to press out creases a little more effectively, rather than simply press. Where to buy a travel iron is a good question, however heading online will always find you the best deals. The best travel steamer options aren't that expensive, which means this piece of kit will not break the bank, and will last you a long time, with large named brands available, such as a Rowenta travel iron, or a Philips travel iron, for instance. When shopping around for your travel steam iron needs, whether you're going for a general travel iron, or a foldable travel iron, for example, it's important to make the right choice for you, and in that case, check out our reviews of steam iron options, as well as general travel irons.
Best Travel Irons & Steamers at a Glance
Reviews of the Top Ten Travel Irons & Steamers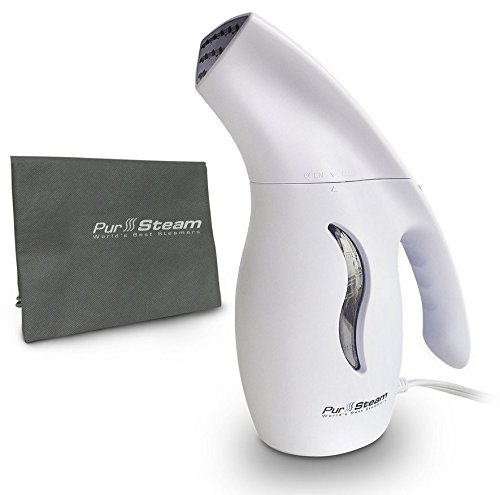 If you want the best travel iron in the business, then this option is certainly for you. Powerful and fast heating, this small travel iron means your clothes are pressed and steamed to perfection, with a design which gives more steam to the job, getting rid of wrinkles and offering even distribution of steam. There is a travel pouch included and dual voltage for your travel needs. This travel size iron heats up in just 90 seconds and can easily get to work on any kind of fabric, including delicates, such as satin and sequins. Weighing just 1.7lb, this is a great option to go for.
Click here to find prices.
This Steamfast travel iron offers good value for money. Heating up in just 15 seconds, this 420 watt travel iron steamer can eradicate wrinkles for almost any type of fabric you throw at it, and the 1.4oz water tank is plentiful. There are variable temperatures settings to choose from on this travel fabric steamer, and there is dual voltage available for your travel needs. A travel bag is included in the price, and a plastic measuring cup too. Weighing just 1.1lb, this is certainly not going to take up any space or weight in your suitcase, and is perfect for your high iron travel needs. Because there are small non-stick plates included, you can get to harder to reach areas, which makes this small travel steamer a good all-rounder product.
Click here to get prices!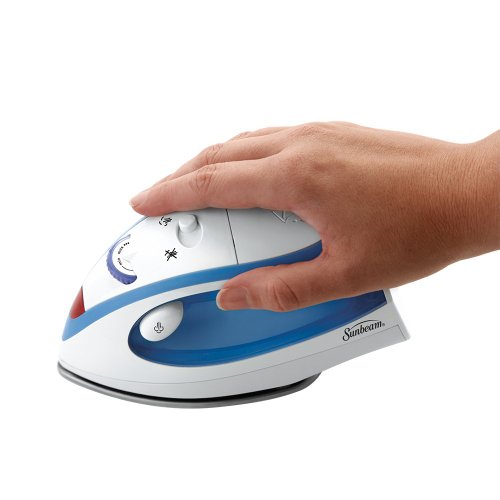 This is a true bargain of a steam travel iron to go for. The shot of steam technology means it presses out any problem areas quickly and effectively, meaning this steamer travel option is perfect for quick fixes before you head out on the town. The dual voltage takes the problem out of travel, and the indicator light also gives you peace of mind that you can see when the travel clothes iron is plugged in and hot, without wondering if you left it on or not! The variable temperature control also makes this one of the best travel steam iron products for the price, and with just a 1.4lb weight, it won't take up much space in your suitcase either.
You can find prices for this item here.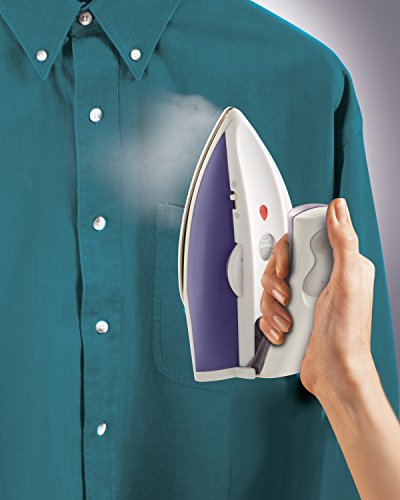 When searching for Amazon travel iron ideas, this particular product will come up towards the top of the list, and for good reason – travel iron reviews certainly give this a thumbs up. Priced affordably, the stainless steel soleplates give you effective iron travel results, and the continuous steam function means you don't have to worry about interruptions. The plates heat up in one minute, and the low weight of just 2.2lb might be higher than some others in competition, but it is still literally nothing in terms of your travel weight. If you're looking for a cordless travel iron, this may not be for you, but consider it anyway because the length of the cord is plentiful, and it certainly won't interfere with your end results.
Check prices here.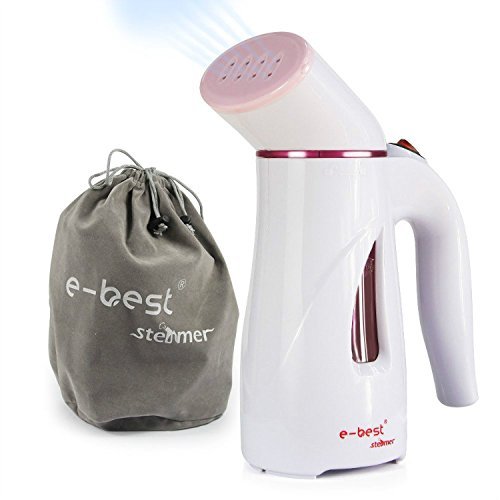 Whilst this lightweight travel iron might be slightly more expensive than some of the others on our list, that only means it is of slightly higher quality. When looking for a portable travel iron, you need to check out the best travel iron reviews, and this one comes up high on the list. This steamer costs a little more than some, but it is still a cheap travel iron when you consider what it does, and weighing just 1.2lb. All types of material are covered, and the 110ml capacity means that you get a huge 6-10 minutes of hot steam distribution, which is constant throughout that time. The downside is that you can only use this particular iron in countries which have voltage of 110-120V.
Read reviews and get prices here.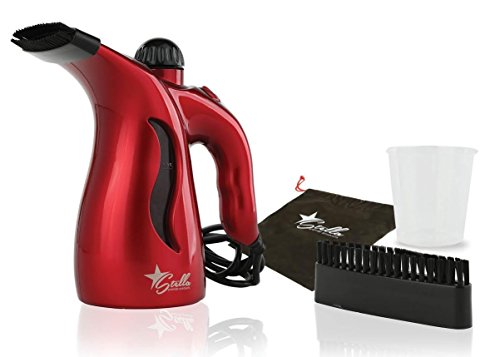 This dual voltage travel iron is the perfect choice for those who want power and high quality results on the go. At just 1.9lb in weight, this is a compact travel iron and lightweight choice, and comes with an included carry pouch, brush, and filling cup. Easy to use and with quick heating, at just 1 minute, the auto shut off system means you don't have to worry about safety, and with a 6 foot long cable, you have ease of steaming, without the cord getting in the way. When looking for an iron for travel needs, you will be asking yourself 'where can I buy a travel iron?', and again the answer is online. When you check travel steam iron reviews you will again see that this one ranks highly, which should give you confidence.
You can check prices and buy it here.
This travel size steam iron is a great mid-budget option. Weighing just 1.1lb, this is a very small iron for travelling, which will tick every box you need it to, removing wrinkles and creases from your clothes with ease. This steam iron travel option is self-cleaning, and releases powerful steam bursts whilst cleaning vents at the same time. You can also pat yourself on the back for saving the planet, as the 700 watt power means it uses less energy than some other products. If you want to buy a travel iron board to go with your new product that is quite possible when you buy travel iron online too.
Find prices and read reviews here.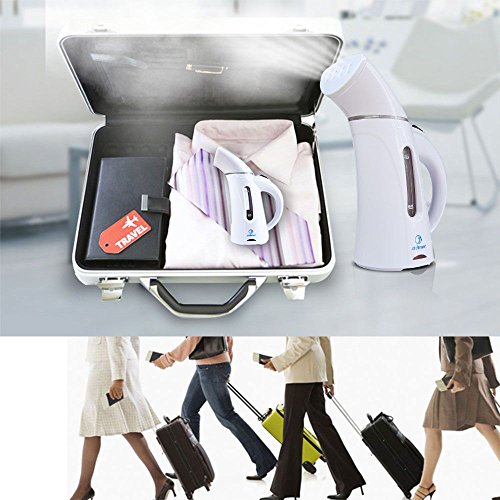 In terms of small travel steam iron choices, and when buying travel iron online, this is a slightly more expensive choice, but that is still relatively low overall when you consider what it does. Very portable, weighing just 8oz, you can use this electric travel iron on many different types of fabric, including fabric upholstery, as well as clothes. The auto shut off safety feature gives you peace of mind when the water level runs too low or the iron gets too hot, and it only takes 20 seconds to heat up overall. When you consider this travelling iron price to bigger named models, such as a Morphy Richards travel iron, it is still a very affordable choice.
Grab it here on Amazon.
This is one of the best travel iron steamer choices on our list, because of its performance level. With a 90 seconds' heat up time, and 6 minutes of continuous steaming action, this is a very effective dry travel iron option to go for, including an automatic power off feature for overheating protection, and when the water runs too low for it to work. You receive a heat resistant glove and travel steam brush with the product, and this is certainly one of the most effective travel irons for sale today.
Read reviews and get prices here.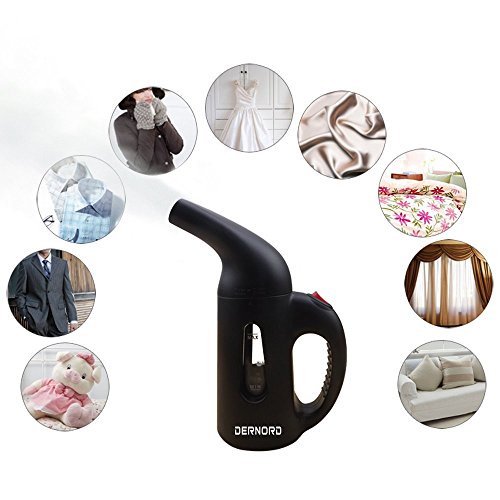 The final option on our list of the best travel iron products on the market, which its in with the other travelling irons on our list, and is a mid-priced product. With a powerful 900 watts to power this travel iron dual voltage option, it heats up in just 1 minute, and has a simple on and off switch for ease of use. This is one of the lightest travel iron products around too, at just 1.4lb, whilst also being gentle yet effective on many different types of fabric. When checking out your travel iron buy online options, don't overlook this effective and lightweight choice.
Get prices for this item here.
We have reviewed ten of the best travel irons and steamers on the market, for you to be able to choose the best option for you. Of course, there are many big named products which we haven't mentioned, because they usually speak for themselves, as well as many battery operated travel iron products, if you want something which is simple and quick to use, although possibly not as effective as an electric version.
As you can see, there are countless options to go for, but hopefully we've narrowed your choices down a little.
Pin this post for later!