This post may contain compensated links. Please refer to my disclaimer here for more information.
Looking for the best carry on backpack for your next trip? We have put together a guide to finding the best 40L backpack for traveling light. A 40L backpack is the perfect piece of luggage for traveling carry on only whether you're flying around Europe on budget airlines, backpacking South East Asia or using it for lightweight business travel. No matter where you're going, our guide to the best 40 liter backpack options on the market to help you choose the right one for your body and trip.
Read through our reviews of the best backpack for travel carry on based on your personal needs. We've covered the top five best carry on backpacks 2019 for you to choose from and made our picks on which is best all round, for women and for those on a budget.
Our Top Pick: Best Carry On Backpack for Travel (40L)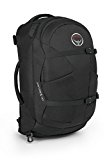 Don't have time to read the whole post? The Osprey Farpoint 40L is my top pick for the best 40L backpack for travel. It's unisex, lightweight and comfortable to wear with excellent weight distribution and backpack straps that pack away when you do want to check the bag. You can get a surprising amount of stuff inside this backpack! It also has dedicated a laptop/tablet sleeve. You can check prices and read more reviews of the Osprey Farpoint 40L here. It's the best backpack for carry on only travel for men or women.
Best 40L Backpack for Carry On Travel 2019
Here are our picks for the 40L travel backpack carry on models for travelers who want to pack light! Use this chart to get a quick look at the best carry on backpack 2019 and then scroll down to read our carry on backpack reviews.
Why choose a 40L backpack for travelling
Allows you to travel carry on only – A 40L backpack is about the perfect size for fitting within most airlines' carry on luggage requirements, even those strict budget airlines in Europe. Traveling with only carry on luggage reduces airline luggage fees and helps you get out of the airport faster. It also reduces the temptation to over pack for a trip.
Holds a comfortable amount to carry – 40 liters is roughly 10.5 gallons for all of us who aren't able to imagine metric accurately. It might sound like a lot to carry, but my 40L backpack weighs about 12 kgs or 26 lbs when absolutely stuffed to the brim, including a laptop. Most people can comfortably carry around that amount of weight in a good back that sits well and has straps that distrubute the weight evenly across the torso.
What to look for in a 40L travel backpack
To find the best 40 litre backpack for your next trip you need to consider a couple of key features before you make your purchase.
Choose a travel-specific backpack, not a hiking backpack – This is absolutely key for travelers. The best 40L rucksack for travel is one that doesn't stuff from the top, rather opens up clam-shell style so you can get a good look at the contents of your bag at each stop you make.
Lightweight – The lighter you backpack the easier it is to carry. Plus you can pack more in before you hit airline weight restrictions for carry on luggage. Remember that while weight of your carry on bag isn't restricted in the US, it almost always is abroad. For example, in New Zealand & Australia you can only carry on 7kgs or 15lbs. On budget airlines in Europe like RyanAir and WOW, you're generally allowed up to 10kgs or 22lbs of carry on luggage. You do need to check each airline's requirements individually before you travel but, the lighter the backpack you buy, the easier this becomes to meet. My Kelty Redwing weighs about 12kgs if it absolutely stuffed full!
Unisex vs Womens – If you're a man, the choice is simple, go for the unisex option when choosing a 40L backpack for travelling. If you're a woman, you need to look at whether you need a backpack specifically designed for women or if a unisex one will work for you. If you have a small frame or a particularly short (like me!) then a backpack specific to women is probably best for you.
Good straps – The straps can make or break a backpack (and your back!) when traveling. Looks for a backpack that has adjustable shoulder straps, a hip belt and a chest strap. This allows the weight of your backpack to be distributed evenly across your torso which minimizes discomfort to your shoulders and back. Also look at the "grab" handles on the bag that allow you to pick it up easily when loading into an overhead compartment or into the trunk of a taxi. They grab handles should be strong and padded for comfort.
Laptop storage and access – Good laptop storage is important if you're traveling with technology. A padded iPad sleeve also helps protect your devices. One of the biggest hassles when traveling is taking your laptop out at airport security so having a backpack that allows you to easily pull it out and put it back without everyone seeing your underwear or dirty laundry is a huge bonus.
Pin this post for later!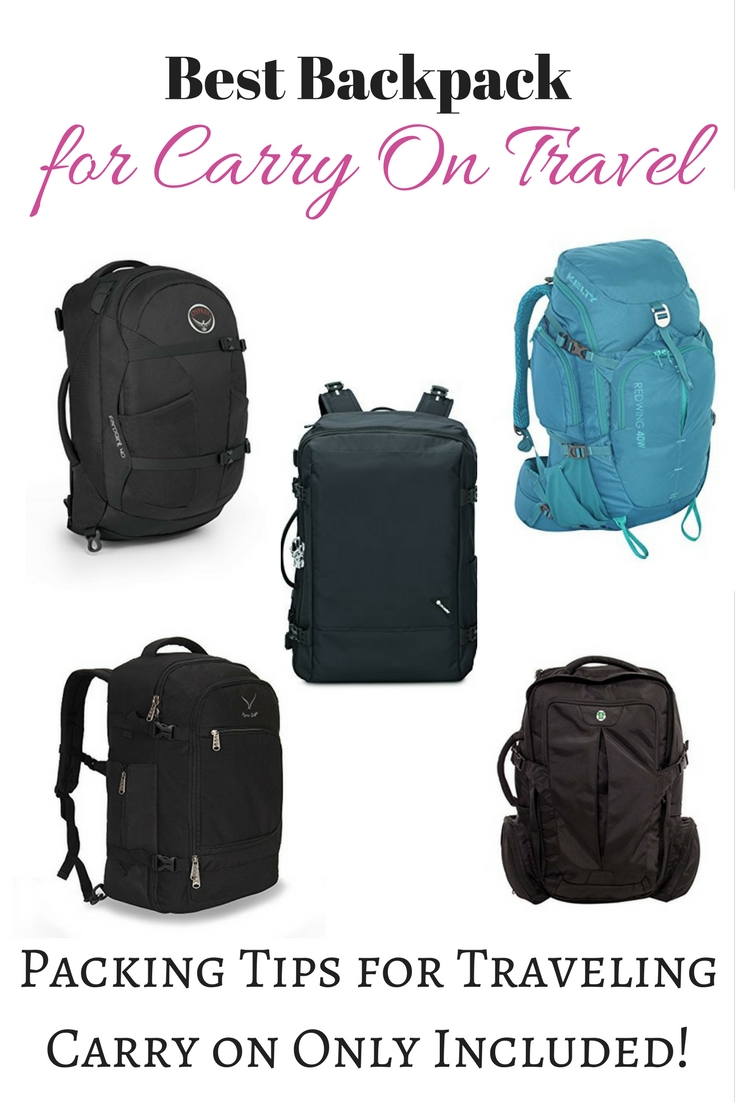 Best 40 Liter Backpack Reviews
Read through our carry on travel backpack reviews and find out what makes each of these 40L carry on backpacks great for travel.
Our pick for the best 40L backpack overall!
This 40L backpack is our choice for the overall best carry on backpack for traveling. The Osprey brand is trusted and makes the bag very durable. This is a front zip pack makes accessing your belongings easy on the go. A handy feature of the pack a flap that allows you to zip away your shoulder straps to protect them during transit. A side handle also makes for easy carrying when a backpack isn't appropriate.
Key features:
Unisex design in three different colors (black, red and light blue)
Hip belt and padded shoulder strap for a comfortable carry
Mesh back panel for ventilation to avoid the dreaded sweat patch on your back

Straps can be easily zipped away for a slimmer profile when traveling (so you won't feel like a backpacker when checking into a nice hotel or an airport lounge)

Lockable zippers of the main compartment
Front compression straps on the outside of the bag to compress your load and reduce the profile of the backpack
Laptop compartment in the front of the backpack
Check prices and order the Osprey Farpoint 40L on Amazon here.

---
Our pick for best 40 liter backpack for women!
I love my Kelty Redwing 40L backpack! As a short woman (I'm 5'2″) I definitely need to go for a backpack specifically designed for women as I'm shorter through the torso. The Kelty Redwing 40 fits me perfectly. It has fully adjustable external suspension which is so helpful if you have a smaller frame as you can get the backpack fitted correctly and not feel swamped. Although we're talking about 40L carry on backpacks here so you're not going to be too overwhelmed by any of them if you're an average height woman.
Key features:
Comes in two colors – turquoise or black
Suspension frame that adjusts to your torso

Shoulder straps, chest strap & waist belt to distribute the load across your whole torso for comfort

Ventilated back panel to keep your back cool

Laptop sleeve inside the main compartment
External stash pocket on the front of the backpack for a hoodie, jacket or travel pillow
Click here to check prices and read more reviews on the Kelty Women's Redwing 40 Backpack.

---
Our pick for best 40 litre backpack with Anti-Theft Technology!
If you're looking for a secure bag that can't be slashed or tampered with then this is an excellent choice.
Key features:
Internal laptop sleeve at front of the bag

Padded adjustable shoulder straps, padded waist and chest straps

Straps zip away from a sleek look meaning backpack can be used for business travel also

Lightweight, embedded wire mesh in the fabric helps protect against slash-and-run theft

Smart zippers that interlock and prevent pickpocketing
>> If you want a backpack with anti-theft technology that holds a bit more for a longer trip then check out the Pacsafe Venturesafe EXP45 Anti-Theft Carry-On Travel Backpack. It is a 45 L backpack so….

---
Our pick for best 40L travel backpack on a budget!
If finding an affordably 40L carry on backpack is your main concern, then this bag is a great choice.
Key features:
Comes in nine colors so great if you're kitting out a family in different colored packs but want everyone to have the same style
Mesh lined shoulder straps for comfort, chest strap but no hip belt
Shoulder straps unclip and can be stowed away
External laptop compartment at front of bag
External compression straps reduce the profile of the bag
Click here for more reviews of the Hynes Eagle 40L Flight Approved Carry on Backpack and to check prices.

---
Our pick for best carry on bag for taller people!
OK this one is slightly over the 40L mark but it's so well-designed, and so many people I know rave about it, that I had to include it in my list of best carry on backpacks for travel. A group of travelers came together to design this pack with urban travelers in mind. None of its features are too flashy but they all meet the average travelers needs. The straps stow away, the two handles are nicely padded for extensive carrying and the front loading design allows quick access to belongings.
Key features:
Padded hip belt for a more comfortable carry
External laptop pocket at back of the bag
Lockable zippers
Fixed shoulder and hip straps meaning this backpack is suitable for people with a 18-22″ long torso (great for taller people!)
Padded mesh back to prevent sweating
Straps zip away for protection and style when you don't want to look like a backpacker
44L so slightly over the 40L mark but still within the carry on requirements for airlines
You can read more reviews and check prices on the Tortuga Travel Backpack here.

---
Quick Tips for Traveling with Carry On Only
Now that you've picked the right backpack, here are a few tips to help you pack light and travel with carry on only:
Create a travel caspule wardrobe by choosing items that all mix and match with each other.
Pack layers rather than bulky items.
Pack a week's worth of clothes and do laundry on the go either by handwashing or using a hotel/Airbnb laundry room.
Roll your clothes to save space.
Use packing cubes to organize and compress your clothing. You can read my guide to packing the right packing cubes and how to use them here.
Don't pack items just because you "might" need them e.g. umbrellas or evening wear. It's better to buy them on the road when you do need them than to pack things that aren't necessary.
Simplify your travel toiletries. For a full list on what toiletries to pack read this post.
Questions on Choosing the Best 40L Backpack for Travel
If you've got a question or comment on choosing the right 40L backpack for traveling then let me know in the comment section below.
If you want  more travel packing tips or travel gear reviews or if you just want to asking a question, head over to my Facebook group Pack Like a Pro and join in the conversation.