This post may contain compensated links. Please refer to my disclaimer here for more information.
Once your toddler outgrows a portable crib or pack n' play, what do you do with them when you travel? The answer is, bring along a toddler travel bed. Portable toddler beds are great for travel and I've put together a list of the best toddler travel bed options on the market! Bringing your own bedding for your toddler will save you money and make travelling with your kids easier. Trust me! As a mom who travels full-time with two kids, I know.
Top Pick: Best Travel Bed for Toddler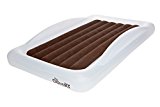 The Shrunks Toddler Bed
is my overall pick of the best travel beds for toddlers. It's the best travel toddler bed because it has raised sides so your child won't roll out in the night. It's comfy because you can tuck sheets under the mattress as you would a normal bed It inflates in 30 seconds with an electric pump and weighs less than 8 pounds (including the pump). 
You can check prices for the The Shrunks Toddler Bed here.
Best Toddler Travel Beds 2019 at a Glance (Comparison Table)
Here are the best toddler travel beds on the market. Take a quick look at this table and read more about these portable toddler bed for travel models in the reviews below.
Why Purchase a Travel Bed for Your Toddler?
We travelled with one for our three-year old son around Australia and South East Asia. It's not common to find hotel rooms with two double or queen beds outside of the US. This means you really need a kids travel bed once your child is too big for a portacrib.
It's hard to find a travel crib that is big enough for a toddler. Our almost-two year old daughter is almost too long for the standard Graco Pack n' Play travel crib. We're excited to upgrade her to her own inflatable travel bed. It's going to make things a lot easier for us too. No heavy portacrib to carry anymore!
Types of Toddler Travel Beds
Inflatabe toddler bed – These are the most common type of travel beds for toddlers. It's just like a portable toddler air mattress. They pack down easily and come with a hand pump or electronic pump.
Foldable toddler bed – This bed folds up like a camping chair. Great for camping, grandparents house or road trips. Not as good for air travel as bulkier and not as packable as an inflatable toddler bed.
Pop-up sleep tent – Quick to assemble and provides your child with a dedicated sleeping space.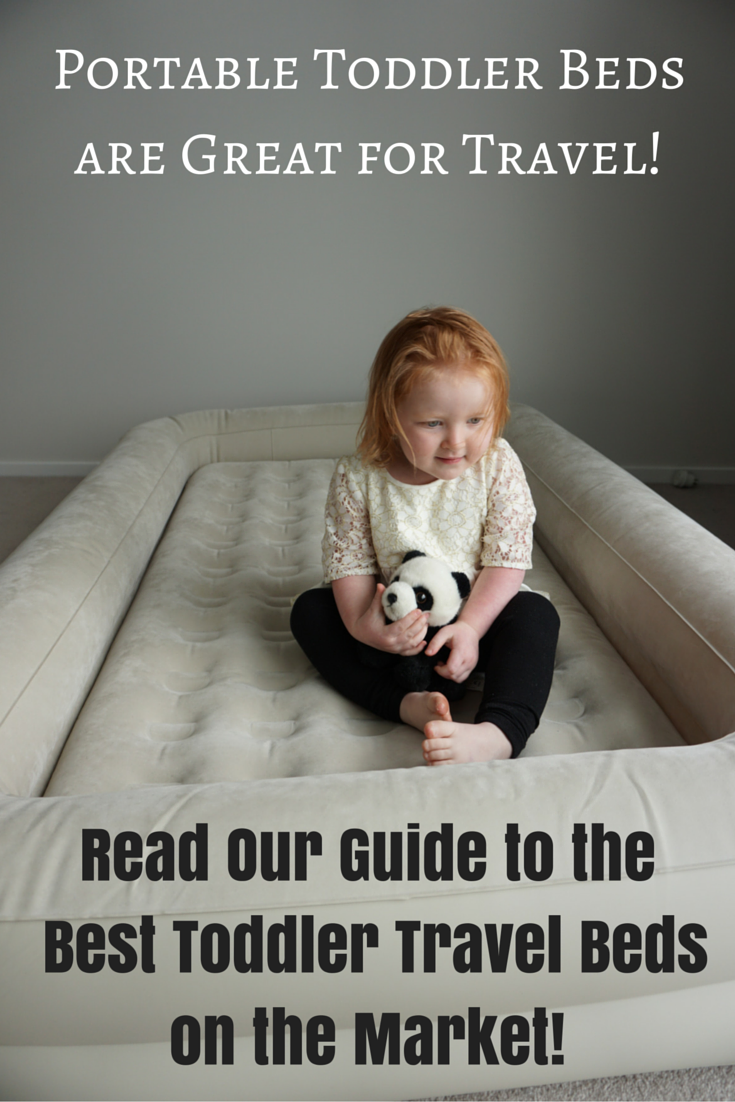 Best Portable Toddler Bed Guide for 2019
Here are the best travel beds for kids on the market at the moment. Read my list of the best portable toddler bed option on the market and see which works best for your child and travel style.
The toddler travel bed reviews should help you make a decision on the right portable toddler travel bed for you.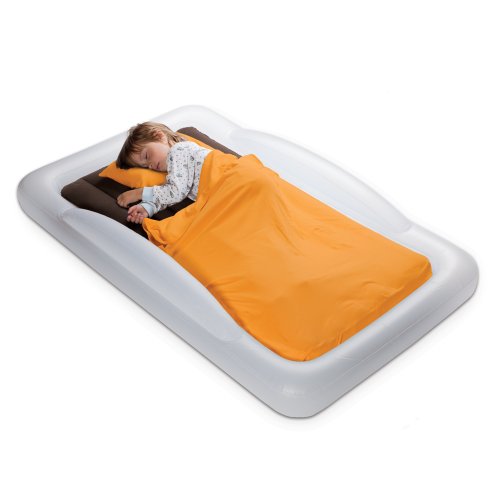 The Shrunks Travel Bed
is a popular option. It's lightweight, packs into a carry bag and inflates in under 5 minutes. It's also phthalate-safe, BpA-safe and lead-safe. The Shrunks bed is a toddler travel bed with sides to prevent your toddler rolling off in the night (which can be a problem with other inflatable beds). You have to
buy the sleeping bag separately
 or use your own sheets. We've never had a problem requesting extra bedding from hotels to use on our toddler bed.
You can also buy a larger sized Shrunks Travel Bed for older children ages 6+.
Type: Inflatable. Comes with electric pump.
Weight: 7.8 pounds / 3.5 kilograms
Price: Check prices and purchase here.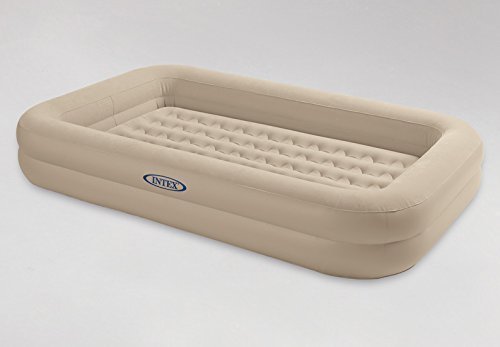 The Intex Kidz Travel Bed with Hand Pump is my top pick for best inflatable toddler bed. It's great for little kids because it has sides that go all the way around. This makes it the perfect transition from travel crib to travel bed! The mattress is separate from the frame so you can safely tuck sheets in. Comes with a carry bag for storage. We travelled around Hawaii with this bed and it was great! You can see Hazel lounging in this bed in the pictures at the start and end of this post. For sleeping we add a twin bed sheet, a pillow and a soft fleece blanket. (We travel with the blanket and get the hotel to provide us a sheet and pillow.)
Type: Inflatable. Comes with hand pump.
Weight: 9 pounds / 4 kilograms
Price: Check prices and purchase here.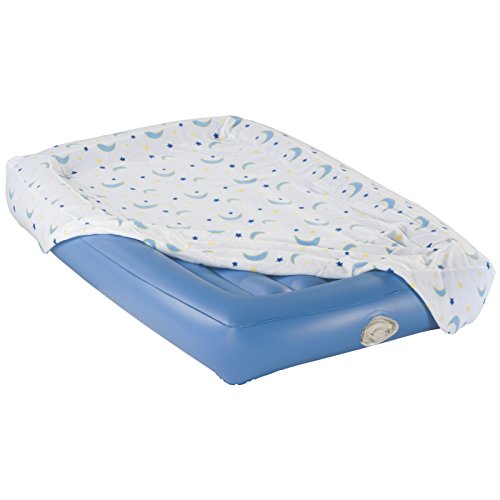 The AeroBed Mattress for Kids has a slightly raised edge to stop little ones rolling off in the night. The fitted sheet is included with this bed. The AeroBed inflates really quickly and the pump can also be used to fully deflate the bed.
Type: Inflatable. Comes with electric pump.
Weight: 9 pounds / 4 kilograms
Price: Check prices and purchase here.
My First Ready Bed (shorter with bumper, suitable for under 3 years)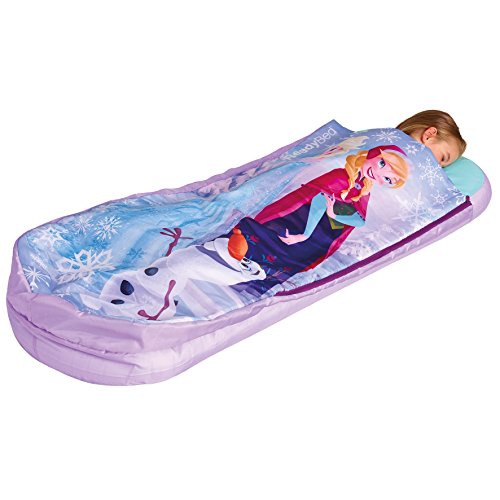 Junior Ready Bed (longer without bumper, suitable for over 3 years)
The My First Ready Bedis designed for smaller children and has a bumper around the head area to keep kids within the bounds of the bed. The Junior Ready Bed is similar but doesn't have the bumper. What we love about this travel bed for toddlers is that it comes with a built in sleeping bag and the pillow area is slightly inflated. This means you don't need to use any additional bedding! The sleeping bag is removable, washes easily and dries very quickly. It comes in a variety of prints. (We have Superman!) The carry bag is built into the mattress cover so you'll never lose it. If you want to travel light then this is the best travel bed for toddlers.
Type: Inflatable. Comes with hand pump.
Weight: 3.8 pounds / 1.7 kilograms
Price: Check prices and purchase here.This bed ships from the UK so allow extra time for shipping.
If you're in Australia, you can purchase this bed at Target or Big W for under $50!
If you're in New Zealand, you can purchase this bed at Spotlight or The Warehouse for around $80-100. If you need to buy the best toddler portable bed in a hurry, you can easily get your hands on it in a store and not have to worry about the shipping.
If you're looking for the best toddler travel bed UK, this one can be bought from Amazon.co.uk

The Regalo My Cot Portable Bed is a little different. It folds up, like a camping chair. It's still lightweight but less packable than an inflatable bed but still a toddler bed portable enough for taking in the car. For this reason, I think it's more suitable for road trips or camping when you can put it in the back of the car, rather than travel by air when you'd require fitting it into a suitcase with other items. The Regalo My Cot comes with a carry bag and a fitted sleeping sheet that is washable.
Type: Folding (hard)
Weight: 6.2 pounds / 2.8 kilograms
Price: Check prices and purchase here.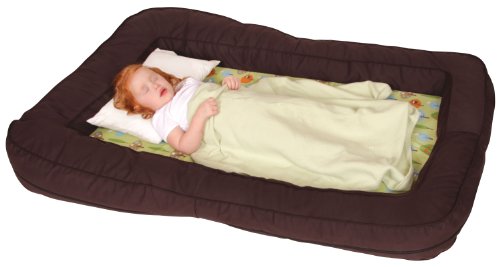 The Leachco BumpZZZ Travel Bed is a soft folding bed with bumpers all the way around the sides. It comes with a carry bag. The center pad is removable for washing. This bed takes up a lot of space and therefore I wouldn't recommend it for air travel. It would work well as a toddler bed for grandparents house, road trips or camping. It's also much more expensive than the other beds in this review.
Type: Folding (soft)
Weight: 11.8 pounds / 5.3 kilograms
Price: Check prices and purchase here.
Not just for infants, the PeaPod Plus Infant Travel Bed is big enough for toddlers to use. The PeaPod Plus is a pop up sleep tent for kids up to 5 years old. It's lightweight, comes in it's own carry bag and assembles in a flash. If you're looking for a pop up beds for toddlers then this is it! The tent aspects means your child has a dedicated sleeping space. There is a sleeping pad at the bottom of the tent which provides some cushioning for your child to sleep on but doesn't compare to the comfort of an inflatable bed.
Type: Pop up
Weight: 3.5 pounds / 1.5 kilograms
Price: Check prices and purchase here.
Quick Buy + Price Comparison on Portable Toddler Bed Options
You'll need to have any Adblock software turned off to see this section. 🙂
Other Portable Bedding Alternatives for Travelling with Toddlers
If you don't want to bring along an inflatable bed, here are some other options and alternatives you could consider when travelling with a toddler:
Kids sleeping Bag ($) – A lightweight kids sleeping bag is a great addition to any of the inflatable beds above that don't come with their own bedding. These ones only weigh 1.2 pounds and come with their own carry bag.
Nap pad ($) – If you're just travelling for a few nights, bring along a nap pad for your toddler. A nap pad is like a sleeping bag with a bit of extra padding underneath and used for sleeping on the floor. They're easy to roll up and throw in your suitcase. Request an extra duvet or blanket from your hotel to use underneath for extra padding.
Inflatable bed rail ($) – An inflatable bed rail is nifty little invention for older toddlers & preschoolers to prevent them falling out of bed. These ones by The Shrunks only weigh 1.1 pounds. You can also use a pool noodle!
Build a "Nest" – Ask your hotel for extra bedding and build a little "nest" on the floor for your toddler.
Co-Sleeping – Some families love to co-sleep. We do not but we can tolerate it for a few nights in a hotel, especially if there are two queen beds (though this is uncommon in hotels outside of North America.)
Pin this post for later!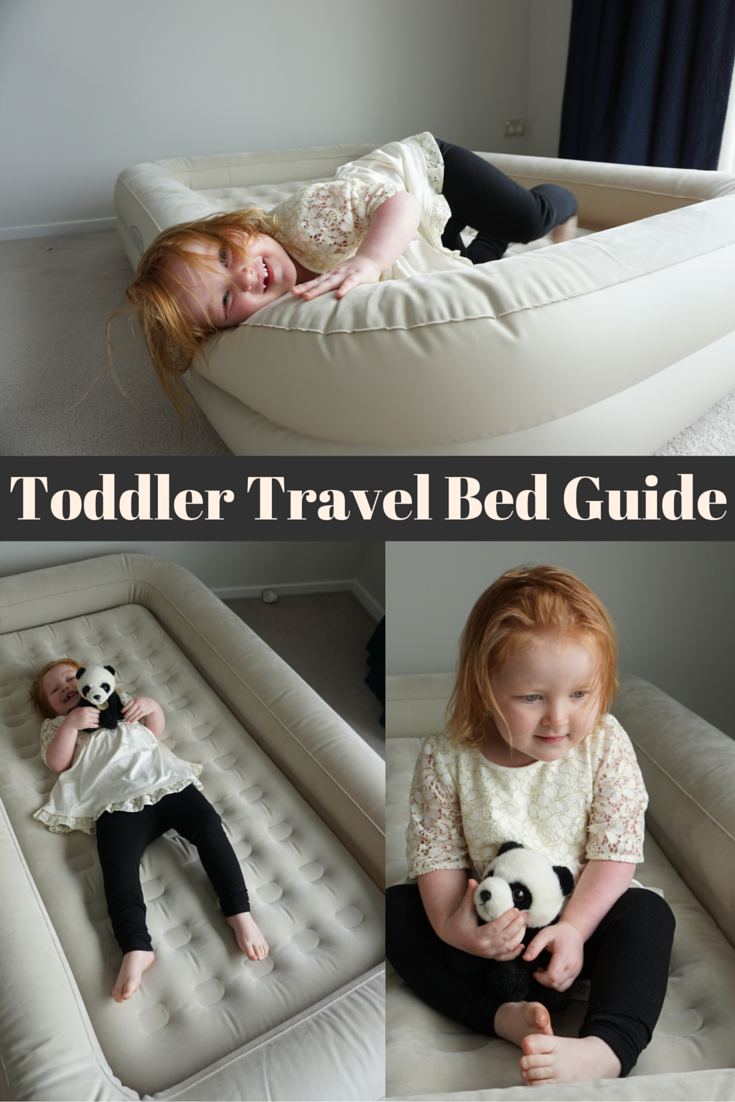 Travelling with your toddler soon?
If you're travelling with your toddler soon, check out our toddler travel tips. We have been travelling with our kids for five years now and have a tonne of advice to share on travelling with under 5s. If you've got any questions, leave me a comment below of connect with me on Facebook. I'd be happy to help with anything you'd like to know about travel with kids.