This post may contain compensated links. Please refer to my disclaimer here for more information.
Wondering what to do in Maui? Maui is a great choice for a Hawaiian vacation as it has a little of everything. It's not as busy as Oahu but a little more lively than Kauai so makes for a good compromise on things to do and relaxation time. We found it very family-friendly, easy to get around and less expensive than Kauai. There are a lot of great things you should do in Maui. I'm going to tell you all about them. The good news? Almost all of these things to do in Maui are free or less than $60.
Plus I'm going to let you in one thing you should absolutely avoid in you are visiting Maui! Really. Don't do it. Wait until you get to the bottom of this post and you'll realise why there is one thing in Maui that you really should avoid!
What You'll Find in This Post
What to do in Maui:
Here are six things to do in Maui (and one thing you really shouldn't do!!!!)

Sunset or Sunrise at Haleakala
Driving from sea level to 10,000 feet, around twisty turns, takes you up through the clouds to the crater of Haleakala, Maui's dormant volcano. The road itself is a little hair-raising as it snakes up the side of the volcano but it's well-sealed and feels very safe (as opposed to others we drove on Maui!). While many choose to visit Haleakala early in the morning to see the sun rise from the east over the volcanic crater, we decided to visit at sunset as getting up at 3am with young children just isn't a good idea. Sunset was still busy and rightly so. Watching the sun go down from above the clouds was absolutely breathtaking. Do not miss a trip up Haleakala!!

Maui Ocean Center
The Maui Ocean Center is a great way to get a glimpse at life under the tropical ocean waves without the worry of scuba diving. Beautiful tropical fish fill the tanks as well as sharks, manta rays  and sea turtles waiting to be released into the wild. There are no dolphins or orca at this aquarium (thank god) but you can still learn all about them via static displays. If you're looking for fun things to do in Maui with kids, this will do the trick!
Tip: If you book online, you can currently upgrade your 1-day pass to a 1-week pass for free! Find out more here.
Whale Watching
Whale watching season in Maui runs from 1st December to 31st March. If you've visiting Maui during the whale watching season you mustn't miss this experience! Humpback whales migrate to Hawaii's warm, tropical waters over the winter months and can be seen on daily basis during this period.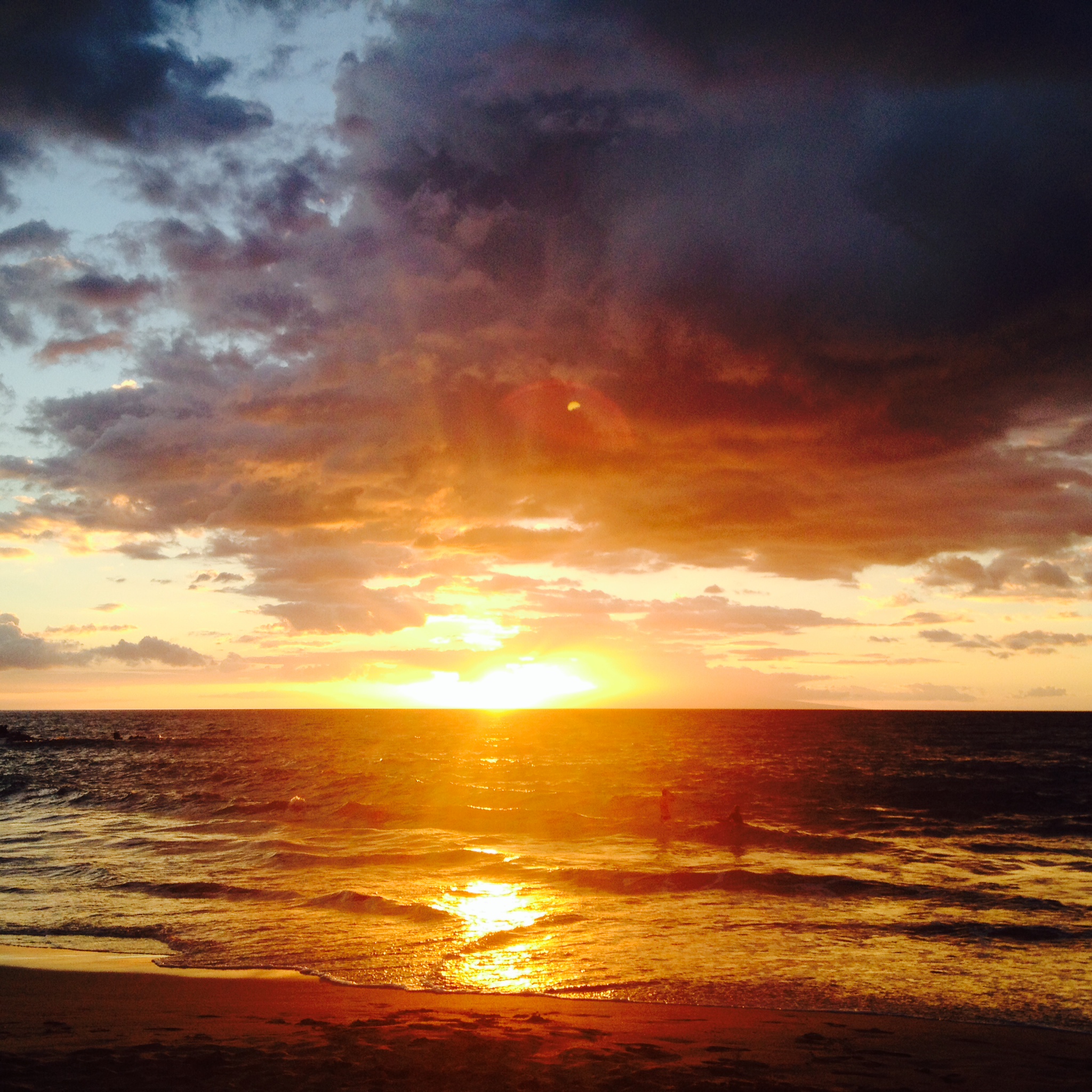 Sunset at Wailea Beach
We can't afford to spend $600+ a night to stay at the Four Seasons in Wailea. Not many people can! The beach in front of the Four Seasons is the loveliest we went to on Maui and, luckily for us, it's free to the public. It's a great beach for swimming during the day and calm enough for small children if you visit in the morning before 10am. Wailea beach is at it's absolute best at sunset and you'll get a cracking view of the sun going down across the ocean. There's no reason not to visit these amazing beaches even if you are looking for things to do in Maui on a budget.

Old Town Lahaina
Lahaina is Maui's old whaling village with cute colonial era buildings now turned into touristy shops and great restaurants. Eat at Kimo's for a great view out across the ocean to the island of Lana'i and watch the parasailers taking off. Strolling around Lahaina town is a must, as is an ice cream from Ono Gelato. Want to see a tree that takes up a whole block? Lahaina has the biggest, bendiest, craziest banyan tree! On Sunday mornings there is an artists market underneath the branches with live wood carving demonstrations.

Sunday Lunch at Hula Grill
If you don't have the time, money or patience to sit through the full Luau experience when you visit Hawaii, having lunch on Sunday at the Hula Grill in Kaananapli is a great alternative. Live music and hula dancing by beautiful, experienced dancers are a pleasure to watch while you enjoy some great food. Ka'anapali Beach is a gorgeous spot so try and squeeze in a walk or swim along this sandy stretch after lunch.
And the one thing I do not, under any circumstances, recommend….
Drive the Kahekili Highway
Terrifying, white-knuckle, spew inducing; driving around he Kahekili Highway on Maui's northern mound seemed like a good idea at the time but we had no idea what we were getting into. From Kaanapali north the road quickly climbs and the view is stunning but the further you go around the tip of the island, the more hair raising the drive becomes. The road narrows, becomes unpaved, and is only passable in one direction at many points meaning keeping an eye out for oncoming vehicles and praying there will be space for one of you to pull over. At one point, we had to back up, around a tight curve to find a passing bay in order to let an oncoming car pass. This goes on for many miles and is extremely nerve-wracking even for experienced drivers. I was so utterly terrified I couldn't take a single picture of our journey. The scenery is breathtaking is you can manage to take them off the road.  I do not recommend it!
Where to Stay in Maui
Kihei Kai Oceanfront Condos: If you're on a budget, Kihei is the best place to stay in Maui. This area has three nice beaches, plenty of dining choices and a great beachfront playground area for families. Condos at Kihei Kai come with a lanai and kitchen and prices start from $110/night. Check prices and availability here.
Ka'anapali Beach Hotel: As mentioned above, Ka'anapali Beach is a beautiful stretch of white sand on Maui's west coast. The Ka'anapali Beach Hotel is an affordable choice right on the beachfront, with rooms from $198/night. While this is an older property, the location makes up for it. There's also free nightly entertainment on site. Check prices and availability here.
Royal Lahaina Resort: The Royal Lahaina Resort sits on a nice stretch of beach near Ka'anapali Beach but slightly closer to Lahaina town. You'll get modern rooms with great views at a bargain price, when comparing to similar properties on Maui. Rooms and cottages start at $195/night. Check prices and availability here.
Four Season Maui at Wailea: Set on a gorgeous public beach, the Four Seasons Maui at Wailea is the ultimate in Maui luxury. With prices from $498/night, the Four Seasons Maui at Wailea certainly isn't cheap but f you're after a luxury vacation or planning a honeymoon in Maui, this is the hotel to stay at! Check prices and availability here.
Airbnb vacation rental apartment: Maui is a great place to try Airbnb! Click here to get a $20 off coupon. We stayed in a great two-bedroom condo in Maui that we found on Airbnb. You can see pictures of our condo and the prices we paid in this post.