This post may contain compensated links. Please refer to my disclaimer here for more information.
If your hair dryer is your go-to hair care tool and you're about to head off on a trip then of course you'll want to pack it. Home hair dryers can be bulky and heavy so I've put together a list of the best travel hair dryer options on the market. Packing light is one of my keys to happy, flexible, easy travel so I would definitely encourage you to add a travel hair dryer (dual voltage of course) to your packing list. Read through my travel blow dryer reviews and find the best travel blow dryer for your needs in a snap.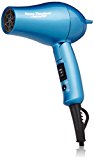 The Best Travel Hair Dryers 2018 At a Glance (Comparison Table)
Why Choose a Travel Size Hair Dryer?
If you use a hair dryer regularly at home then you'll most likely want to bring one on your travels. Getting rid of the weight and bulk of a traditional hair dryer is essential when you're packing. Many the top travel hair dryers come in under a pound so they really won't take up a lot of your baggage allowance.
If you're travelling around the US, you're likely to find hair dryers in most hotel bathrooms. However if you venture to Europe or abroad then you won't find blow dryers as readily available. Likewise if you're staying in hostels, Airbnbs or with friends then you should plan on being your own hair dryer. If you're travelling in cooler climates then you'll definitely want to bring along your hair dryer.
>>> You might also want to check out my reviews of the best travel flat irons on the market too!
What to Look for in Travel Hairdryers
Dual voltage – Dual voltage is essential if you're travelling outside of the US, Canada, Mexico or Japan. If you use a 110V hair dryer in Europe, it will fry. Likewise if you try to use a 220V hair dryer in the US, you won't get enough oomph to run at anything other than a low setting. Trust me, get yourself a dual voltage travel hair dryer.
Easy to pack – A hair dryer with a folding handle is essential for packability. Likewise you'll want to minimize weight and bulk. A retractable cord is nice to have too but you'll notice in my list below there aren't many options.
Performance – There's no point bringing along a hair dryer if it sucks. Choose a blow dryer with decent wattage (1000+ watts), cool shot settings and multiple heat & speed settings are also useful.
Technology – If you've got frizzy or hard to manage hair then you'll know the importance of ionic technology and a diffuser. Many of the travel hair dryers on my list have some great feautres.
Of course, you'll need a plug adapter to use your hair dryer for travel in countries which use different plugs. This is a great visual to work out which plug you need for while country. We recommend this universal plug adapterwhich will convert to any plug type. It's got two plug inputs so you can use it to heat up your travel flat iron while you dry your hair. Very useful for travel!
Top 7 Best Travel Hair Dryers Reviews
These are the seven best travel hair dryers 2018. You can't go wrong with any of these choices.

You'll love this Babyliss travel hair dryer! It's super quiet yet powerful so you can dry your hair quickly and efficient without a lot of noise. Great for early starts without waking everyone in your hotel room. This small travel hair dryer folds down and is very lightweight, weighing only 0.8 lbs or 350 gms. You won't even notice it your luggage and it's small enough to pack into a carry on bag. It's dual voltage and it has a 10A surge so can be safely plugged into "Shavers Only" bathroom outlets so it's a great hair dryer for European travel. At 2000 watts it's the most powerful travel hair dryer on our list.
If you're looking for a Babyliss travel hair dryer with diffuser you can purchase this diffuser as an add on. It only weighs 6 ounces so works well for travellers. The ionic technology will prevent your hair from frizzing.
Price: Click here to check prices on the BaBylissPRO Nano Titanium Travel Dryer


This Conair travel hair dryer is powerful yet small and is a bargain price. The foldable handle makes it very packable and it's lightweight at only 1.1 pounds. If you're looking for a dual voltage travel hair dryer then this is a great choice. You'll need to turn the setting from 110V to 220V with either a screwdriver, knife or coin. This ionic travel hair dryer emits frizz-reducing negative irons for smoothly blow dried hair. Great if you're in a humid climate. It has a high and low setting and a cool touch button.
Price: Click here to check prices on the Conair 1875 Watt Dual Voltage Folding Handle Hair Dryer.

The T3 travel hair dryer is a must if you want all the functionality and technology of your full sized hair dryer squeezed down into a compact package. The T3 travel dryer has tourmaline and ceramic technology which means you can gently heat your hair but dry it effectively and quickly. The ionic technology beats frizz back and locks in your hair's own moisture. Weighing only 14 ounces (400 gms) and having a folding handle makes this a great folding travel hair dryer. It also comes with a carry bag and cord tie. All this technology comes at a price though it's worth it if you have difficult to manage hair. If you're looking for a low wattage travel hair dryer this is the one to pick.
Price: Click here to check prices on the T3 Micro Featherweight Compact Folding Dryer
The Revlon 1875 watt travel hair dryer is a great option for women with curls as it comes with both a diffuser and a concentrator so you can select if you want to dry your natural curls or blow them out straight. Triple baked ceramic, tourmaline & ionic technologies means this Revlon travel hair dryer will do a great job of keeping your hair free of frizz. You'll love this Revlon travel hair dryer, dual voltage makes it suitable for travel anywhere in the world. It's foldable and relatively lightweight although the attachments of course mean it's heavier than the other options on my list.
Price: Click here to check prices on the Revlon RVDR5001 1875 Watt Ionic Ceramic Dryer
This Vidal Sassoon travel hair dryer is a bargain… and it's still packed with features. This powerful travel hair dryer has 1875 watts to dry your hair quickly and easily. All around it's a very good travel hair dryer with a cool shot and two heat/speed settings. The only negative is that it's not as light as other small models on our list although it is a great tiny travel hair dryer for the price.
Price: Click here to check prices on the Vidal Sassoon Vsdr5523 1875w Stylist Travel Dryer, Black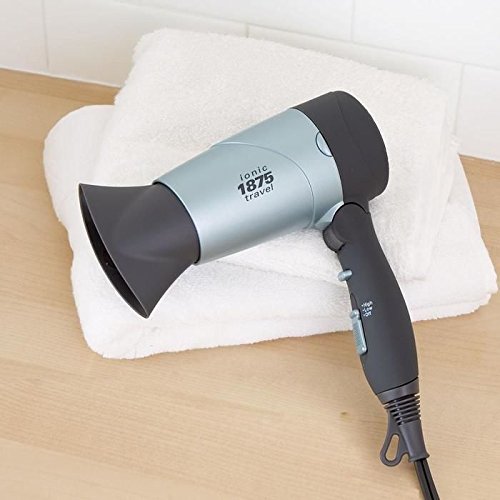 This model is easily the best travel hair dryer for Europe. This comes highly recommend as the travel hair dryer Europe travelers love. Why? Because the heat and speed settings work perfectly when switched to either voltage. With some European hair dryer travel forums suggest they don't work exactly like they do at home when switched to the 250V setting. However with this Brookstone model that is definitely not the case. You'll get perfect performance, on all setting, at any voltage. This makes it the best dual voltage travel hair dryer for those travelling in Europe. On top of this it has ionic technology for taming frizz, two heat/power setting and a cool shot button. It's very lightweight at only 0.9 pounds (420 gms). A top choice for best travel hair dryer (dual voltage).
Price: Click here to check prices on the Brookstone Ionic Dual-Voltage Travel Hair Dryer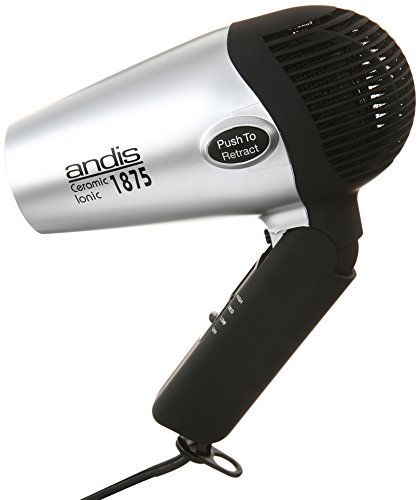 If you're looking for the best travel dryer with a retractable cord, then this is it! If you have limited space in your luggage but want to bring along the best hair dryer for travel that doesn't take up a lot of room. It has three heat/speed settings plus a cool shot along with ionic technology for a smooth, frizz free finish. The biggest issue with this hair dryer is that it's not dual voltage. Voltage is only 110-125V which means you cannot use this in Europe, Australia, New Zealand etc. It will work for USA, Canada, Mexico & Japan.
Price: Click here to check prices on the Andis 1875-Watt Fold-N-Go Ionic Hair Dryer

Quick Buy and Price Comparison
Get prices on the best travel hair dryer 2018 at a glance. You'll need to have Adblock disable to view this chart. 🙂
Post updated November 2017
Questions or comments on the best travel hair dryer 2018?
Found your pick?
I hope you've found the best travel hair dryer for your needs from my list of top travel hair dryers on the market. These are the top rated travel hair dryers that you can buy. There are of course many other brands and models available but I believe these seven are the best hair dryer travel lovers could ask for.
You can also join our travel packing group on Facebook for more advice on the best travel hairdryers for your trip or any other questions on what to pack for your next trip.
Join our packing tips group on Facebook!

Pin it for later!