This post may contain compensated links. Please refer to my disclaimer here for more information.
If you've got a flight coming up, I bet you're wondering what to pack in a carry on bag? I've put together a list of my carry on essentials to help you work out what you need for your trip. Having your bag packed with the essential carry on items will keep you comfortable on a long flight, help you pack lighter and also be organised for your trip.
This is not a packing list for travelling with carry on luggage only. I'll be writing that post soon. This post covers what to pack in a carry on bag when you're also checking luggage. These airplane carry on essentials should all fit into a small tote, purse or backpack and could be carried in addition to a carry on suitcase if you do choose to travel without checked luggage.
What You'll Find in This Post
Carry On Essentials for the Savvy Traveller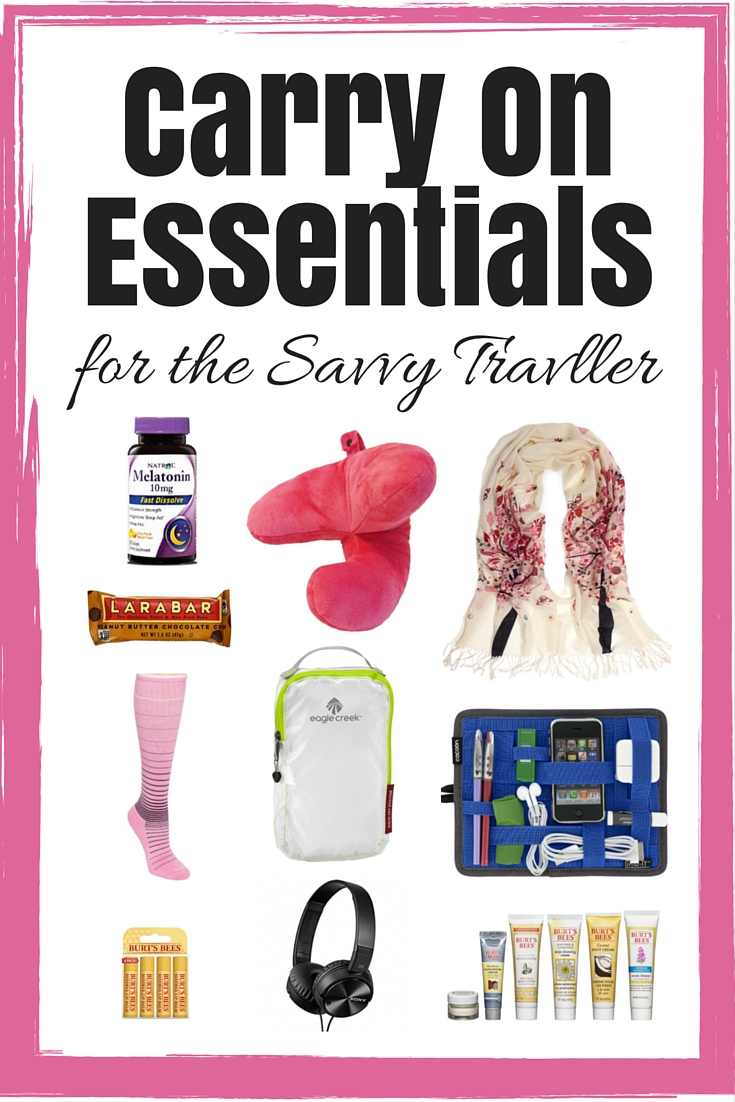 What to Pack in a Carry On Bag
Deciding what to pack in your carry on bag is important. Think about all the items you need on hand when you're onboard a plane for up to 12 hours at a time. You can download a printable version of my carry on packing list at the bottom of this post.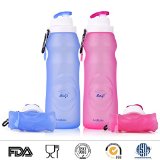 Snacks & Drinks
Water bottle – You need to keep hydrated on long flights and those little cups of water just don't cut it plus they also create a lot of waste. A collapsible water bottle like this one is great! It's one of my essentials for carry on bag.
A little snack or two – Just in case of a flight delay, a gross airline meal or an energy slump. I like to bring Lara Bars or Kind Bars and some chocolate…. because who doesn't need chocolate once in a 12 hour period!
Herbal teabags – I don't like drinking tea or coffee on flights because they can be dehydrating and airline coffee is usually gross. BYO herbal teabags to warm up and keep hydrated. Peppermint tea is great for flying. If you're a coffee drinker, bring your own sachets like Starbucks VIA. You can use the collapsible water bottle I mention above for hot drinks too. Or just ask a flight attendant for a cup of hot water.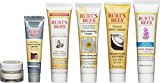 Toiletries
Toiletries are definitely a carry on essentials for overseas flight, especially if you're transiting or flying at night. Remember that any liquids you bring on board must but under 100ml or 3 oz.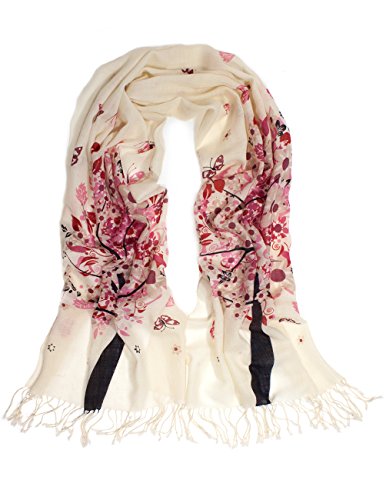 Clothes
Change of underwear – One of the most things to pack in a carry on! Always throw a change of underwear into your bag in case of accidents on the flight or if your checked luggage goes missing at the other end of the flight. I go as far as to bring a change of clothes for me and everyone in our family. If you're a parent, you never know when someone is going to vomit or poop on you! Ex-Officio makes the BEST travel underwear!
Big scarf or pashmina– A big scarf or pashmina is such a useful travel item! You can use it a multitude of ways on your travels but it's great as a blanket or rolled up as a pillow on a flight.
Cardigan or lightweight fleece –  Because planes are always freezing for some reason!
Socks or compression socks– Kick your shoes off and get comfy in some socks once you're on board. Compression socks are also great for preventing swollen feet, tired achey legs and DVT. They're also essential if you're flying while pregnant.
Electronics
When it comes to electronics, what to bring in your carry on depends on how long you're away for and your style of travel. Don't feel you have to bring everything on this list. Just add the things you feel you need for your trip. You should pack all your valuable electronics in your carry on for security reasons.
Cell phone – Download some podcasts to listen to while we're flying.
Laptop – Download some movies in case your inflight entertainment isn't working.
iPad
Camera
Kindle – A Kindle is a great tool for travel because it really lightens your load. Just load up your essential guidebooks and novels before you leave. Get a Glare-Free or Paperwhite so you can read for Kindle at the beach or by the pool when you're on vacation.
Headphones – Noise cancelling headphones are travel carry on essentials!
All chargers for your electronics – Wrap them up neat & tidy and use a Grid Itor BUBM to organise them.
Portable charger – So handy and takes up next to no space. You don't want to land and have your iPhone, with all your travel plans on it, go flat. Don't forget to bring your USB cord along. Some airlines have USB chargers in seats now too.
 Travel Documents
Passport – It's a good idea to memorise your passport number and expiry dates. Makes filling out forms before landing a lot easier!
Printed itinerary and bookings – You don't need to print everything out but it can be handy to have at least your first night's hotel booking printed out with the address for a taxi or for your arrival card. Everything else can be organised online using an app like TripIt.
Pens – Bring at least two pens in blue or black ink for filling out arrival cards.
Cash & cards – Either in a coin purse, wallet or money belt. However you feel most comfortable carrying your cash & cards when you travel.
Travel document wallet – Store all your travel essential documents in a document wallet.
Other Carry On Bag Essentials
Travel pillow – There are lots of great travel pillows on the market at the moment. Lots of people love the J Pillow– it's the #1 selling travel pillow on Amazon. The AirComfy Daydreamer pillow if also a really popular choice because it's inflatable and packs down into a bag.
Adult colouring books and pencils– Adult colouring books are all the rage at the moment. I've seen them in every flight or airport I've been on this year. They're actually supposed to be great for relaxing and meditating which, frankly, we could all use when travelling!
Magazines – If you like something hard copy to read when no electronics are allowed.
What to Bring in a Carry On for Kids
If you're travelling with your family you'll be wondering what to pack in carry on for kids. All the above items can be shared across the entire family but there are a few extras things to pack in a carry on bag to keep your kids happy. For more tips on flying with toddlers, read this post.
Colouring books and crayons
Small toys like cars, action figures, dolls and my little ponies.
Their essential comfort item – Whether it's a special blanket or toy, don't risk losing your child's favourite thing in your checked luggage. Keep it on hand so they can be soothed with their favourite item if flying upsets them.
Extra snacks – Especially if you have picky eaters! Bring sandwiches, chips and crackers for long flights. We like to freeze squeezey yoghurts and bring them on board too.
Carry On Packing List Download & Print
Download my carry on essentials list to help make packing for your trip easier. This carry on bag checklist will keep you organised and help you pack light. Print out my checklist for carry on bag packing and mark off the items as you pack.
Download: Carry on essentials checklist
How to Pack Your Carry On
Know you know what to put in a carry on bag, let me tell you how to pack it! Your carry on luggage needs to be organised so you can put your hand in your bag and pull out exactly what you need without having to dig around for ages. I like to keep my carry on necessities organised into sections using packing cubes or Ziploc bags. Read my guide to the best packing cubes here.
Put all your toiletries like your baby wipes, toothpaste, tooth brush, lip balm and moisturiser into a clear, Ziploc bag so you can easily pull it out when going through security.
Roll up your socks, cardigan, pashmina and change of underwear into a
Pop all your small electronics into a Ziploc bag or use a Grid-It organiser to keep the chargers and cables tidy.
Put your snacks and tea bags into a Ziploc bag.
Keep your documents and a pen in a document wallet, a simple plastic folder or simply dedicate one zippered pocket of your bag for these items.

Pick the Perfect Carry On Bag
Now that you know what to put in your carry on bag, here are some ideas on the type of carry on bag to bring on your travels. Here are four different options for you to select from based on what tip of trip you're taking:
Purse
All the items I've listed above should fit in a larger sized hand bag.
A cross body purse is great for travel in general as they make great bags when you're on the plane, at the airport or out & about. I have this one from Travelon which has anti-theft properties like a cable-reinforced strap, RFID blocking pockets and a slash proof pockets. This bag fits an iPad but wouldn't fit a laptop or travel pillow so it's great for a shorter trip or as well as one of the options below.
You could just take your regular, every day handbag! No need to buy anything special. If you're just zipping away for a weekend or a short trip, a handbag is all you need in addition to your luggage.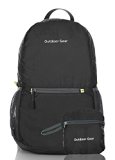 Backpack
A backpack is a great option for your carry on bag, especially if you have kids and need to keep your hands free in the airport. If you're not travelling carry on luggage only, I'd go with one of two options.
A lightweight, packable backpack is a handy item to have. They're really cheap and can fold down into a pocket when you're not using them so you can carry a larger backpack on your back when not checking it in.
The other option is a larger, more structured laptop backpack which has dedicated pockets for keeping laptops and iPads safe & secure. This is the one we use by eBags because it's slimline and looks smarter than your typical backpack.
Tote
If you're not planning on walking a lot on your travels, using a tote on the plane is a great option. They're super stylish and you can fit a tonne of stuff in them. The downside is they're not that useful as a day bag once you get to your destination. A tote plus the Travelon purse I mention above would be a great combo.
A stylish tote like this one is perfect for a carry on bag as it's large and roomy with internal and external pockets and has a compartment for your laptop or iPad. It's big enough for moms to use for a diaper bag too.
A Longchamp Le Pilage tote is one of the most popular tote bags around. I see people everywhere using it as their carry on bag! People love it because it's large and roomy plus it folds up so you can use it on the plane and then pop it in your luggage later if you don't need it. The Longchamp branded ones are expensive but there are cheaper alternative folding totes on the market if you have less money to spend. This one is about one tenth the price!

Suitcase
Everything I've included on this list of what to put in your carry on bag would more than fit into a carry on sized suitcase. I would only choose a suitcase as carry on if I were travelling without checked luggage. If you want to travel carry on only, you do get to take a personal item on board as well. I suggest using a purse for all your smaller items and squeezing your laptop into your carry on suitcase.
If you're going for a carry on sized suitcase, definitely get on that has four spinning wheels. They're easiest to manoeuvre. This one by Delsey comes most highly recommended!
You can go through more carry on sized spinner suitcases in my post on best spinner luggage too.
Questions or Comments?
If you've got questions or comments on what to put in a carry on bag, just let me know. You can leave a comment below or send me through a message on Facebook. I'm happy to answer any questions you may have about what to put in carry on luggage or packing in general.
If you've got an idea for some essentials for carry on bag that I haven't included in my list, I'd be happy to hear them. Just leave a comment below.
Pin it for later!