This post may contain compensated links. Please refer to my disclaimer here for more information.
Just because you're pregnant doesn't mean you need to pause your travels. You can easily travel if you're having a normal, healthy pregnancy. Whilst pregnant with my first child we went to Japan for a week and while pregnant with #2 we travelled constantly over the course of the first six months throughout Australia, Thailand, Vietnam, Malaysia and Singapore. If I can do it, so can you.
Here are some tips and things to be mindful of if you're planning on travelling while pregnant: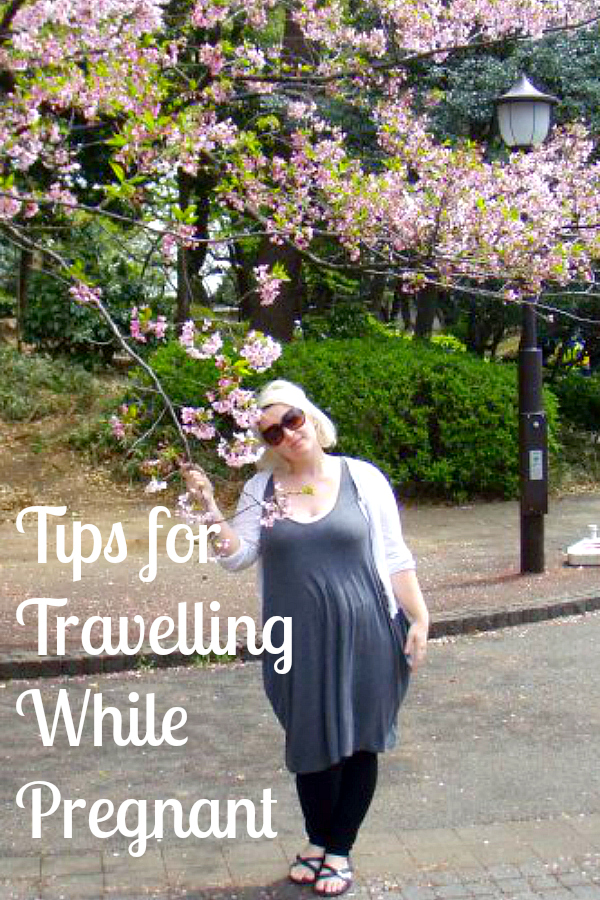 Avoid travelling in the first trimester. The first three months of a pregnancy can be difficult. Morning sickness, food aversions and low energy are not really conducive for travel. Travelling in the second trimester is great. Most women find this the easiest trimester because energy returns, morning sickness ends and you're still relatively normal-sized. Travel in the third trimester can be done but limit yourself to short trips. You'll be bigger, less mobile, more tired and need beaucoup de bathroom breaks.
Pick the right destination. This can be key to how much you enjoy your travels while pregnant. Places that are too hot or crowded can be hard work if your travelling with a big bump. You don't want to be travelling for hours by bus or car either as pregnancy can play havoc with your bladder.
Factor in flight time. Flying can be uncomfortable at the best of times. 11 hours squished into a back row, economy class seat is even less fun at 30 weeks pregnant… believe me! We had a shockingly uncomfortable return flight from Tokyo to Auckland. If you are travelling long haul, look for opportunities to break travel up into more manageable flight segments. Look into the quality and comfort of the airline, especially the seats, before you book any flights. If you can afford it, business class makes for very comfortable pregnant flying!
Stay on the beaten path. Don't plan on being too far from a good doctor or hospital just in case complications arise. It's not worth the risk.
Don't stuff your itinerary with too much activity. Plan on having downtime, naps and rest days where you just chill by the pool or in a comfy hotel room.
Think about food. I have food aversions throughout my entire pregnancy. I just spent ten weeks of my second pregnancy travelling around South East Asia and really struggled with my food choices during this time. Normally I love Thai food, curries and a bit of chilli but while pregnant all I want is plain food and dairy products. During my first pregnancy we travelled to Tokyo Japan and I really missed out by not being able to enjoy all the sushi and sashimi on offer.
Bring snacks on the plane in case the airline food isn't pregnancy-friendly. A lot of foods are off-limits during pregnancy. Unfortunately, there is no option for pre-ordering a pregnancy-friendly in flight meal as you would a vegetarian or kosher meal. Have some food in your bag in case you aren't offered anything suitable on board.
Wear compression socks on flights. Being pregnant can put you at a higher risk for blood clots. For a list of the best compression socks for travel read this post.
Find out before you leave what travel medications are safe to take while pregnant. I used to need motion sickness pills (Antinaus) while flying but these are not recommended for pregnant women.
Travel Insurance will cover you for travel up until a certain number of weeks pregnant – usually somewhere between 20 and 32 weeks dependent on your policy. Your pregnancy won't be covered if you received IVF or are expecting multiples. This doesn't mean you can't travel – it just means your pregnancy and any health complications related to this won't be covered.
Airlines may require proof that you are fit to fly. Get a signed letter from your doctor or midwife stating your due date and the date up until which you are considered fit to fly. I have been asked by this only once by an airline (Air New Zealand). Other airlines require you to sign a waiver on check-in if you are visibly pregnant (Air Asia).
Think carefully about what you pack, especially if you're on an extended trip. Every woman is different but my body usually changes quite a lot around the 20-week mark and can be rapidly different from week to week thereafter. Maternity clothes and bigger bras are not readily available in many countries so plan ahead! Bring clothes that are stretchy, comfortable and will accommodating a growning bump. Think leggings, tunics, empire line tops and maxi dresses.