This post may contain compensated links. Please refer to my disclaimer here for more information.
We've all felt it after a long flight across time zones, jet lag hurts and can take days to shake. What does jet lag mean? Jet lag is more than just being tired after a flight. It affects your whole body. Aside from sleepiness, some of the symptoms of jet lag can be include an upset tummy, fuzzy-headedness, inability to concentration, weakness and changes to urination and bowel movements.
Jet lag definitely effects babies, toddlers & children and can be difficult to manage, especially in young children who can't tell you precisely what's wrong. Baby jet lag, toddler jet lag and jet lag in children is real and it can be painful for both parents & kids.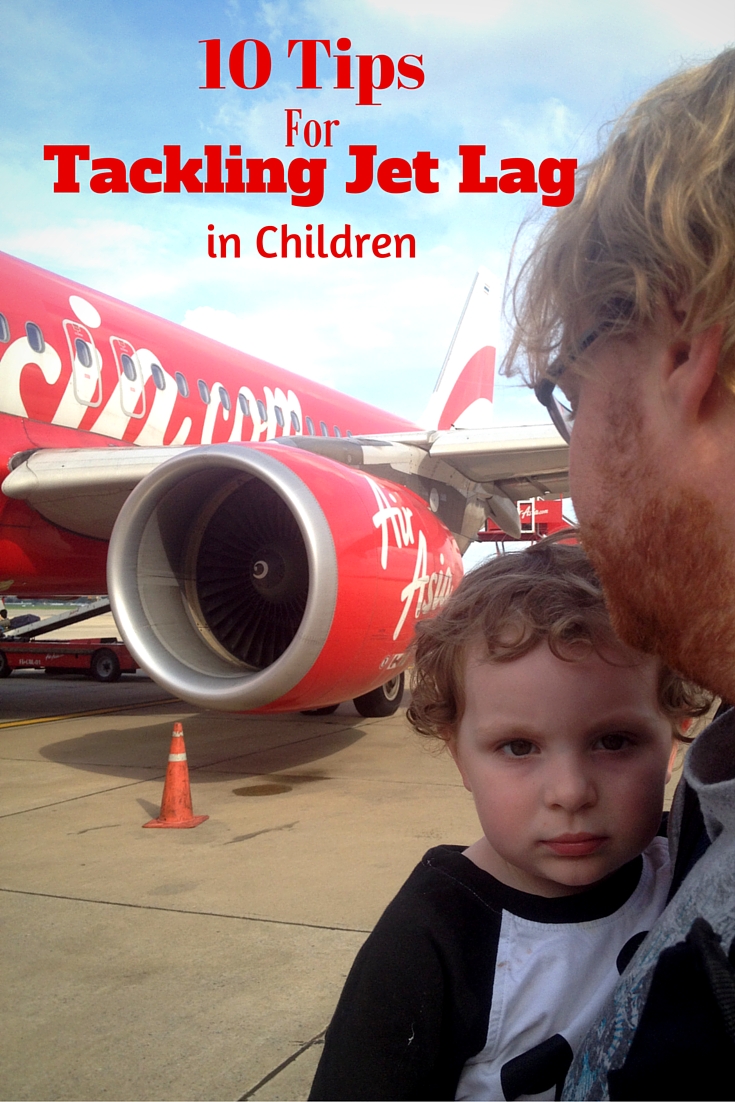 Here are ten tips for tackling jet lag in babies, toddlers & children:
1. To avoid baby jet lag, toddler jet lag and jet lag in children, find flights that travel overnight for minimal sleep disruption. It makes the concept of a time change easier to manage if you're getting on a plane, going to sleep and then waking up somewhere different at a different time. The physical act of being on a plane can be exhausting, not just the jet lag so a night flight is your best bet on waking up refreshed when you reach your destination. A night flight is especially good for preventing baby jet lag.
2. Set your watch to local time as soon as your arrive… or even better, while you're on board the plane.
3. Set your daily routine to local time. Try and eat meals at set times each days in congruence with when locals eat meals. If your eating schedule is off it can be difficult to find restaurants or cafes that are open.
4. Fresh air and sunshine are the best combatants to jet lag… not sleep! The sun helps regulate the body clock so when you reach your destination, spend some time outdoors in a garden or park.
5. Allow a nap but keep it short. Don't let your little ones oversleep during the day. It'll only take them longer to adjust especially if they're sleeping late in the afternoon or into the evening.
6.Try not to go to bed too early when you arrive at your destination. If you're travelling East to West, the temptation could be to hit the sack at 5pm but this will only throw you off for the next day. This can be hard with jet lagged babies but try!
7. Trying to keep sleepy, grumpy children awake a few extra hours until bedtime can be difficult. This can make dinner time a nightmare. Pick a hotel with a pool and restaurant so you don't have to do anything for the first few days other than focus on getting over the jet lag.
8. If you do find yourself awake in the middle of the night, don't fight it too hard. Get up for an hour or so. Let older children watch TV, read some stories and then explain that you need to get back to bed and try and sleep until morning. For jet lagged babies, play for a little bit and then soothe them back to sleep with cuddles, breast or bottle feeding and songs.
9. Be prepared for late nights and/or early starts. Have some games & toys ready, movies downloaded and snacks available. Tucking a box of cereal or granola bars into your suitcase is a great idea! There's nothing worse than being stuck in a hotel room from 4am with no breakfast and nothing to do!
10. Don't confuse jet lag with culture shock. The symptoms can be similar but if your child still hasn't settled after a week, culture shock could be affecting them not jet lag.
For more expert advice on managing jet lag in children and babies have a look at Walking On Travels post on the subject. Keryn often flies solo with a toddler and a baby so really knows her stuff!

Price Disclaimer
Let me know if these baby jet lag tips worked for you!
How do you cope with jet lag? What strategies do you have to help your little ones get over jet lag? Jet lagged babies and children are no fun but remember, it will only baby jet lag will only last for a few days so don't let that put you off travelling with your kids.