This post may contain compensated links. Please refer to my disclaimer here for more information.
For the past few years I've actually been using large Ziploc bags for my travel toiletries but recently decided to upgrade to the eBags Pack It Flat Toiletry Kit so I could keep my toiletries more organised. The design of this item is unique in that it's a flat toiletry bag rather than the much thicker, traditional shaped toilet bag so I was very intrigued to try it. So, what did I think? I tired and tested this item on my two week trip to India and you can read my eBags Pack It Flat Toiletry Kit review below.
I love eBags travel gear. Their packing cubes are awesome as are their luggage and backpacks. We recently upgraded to this suitcase and it's amazing for family travel. I purchased the eBags Pack It Flat Toiletry Kit on Amazon with my own money. This is not a sponsored review.
***Get my free printable PDF packing checklist so you can pack the right toiletries for every trip!***
What You'll Find in This Post
eBags Pack It Flat Toiletry Kit Review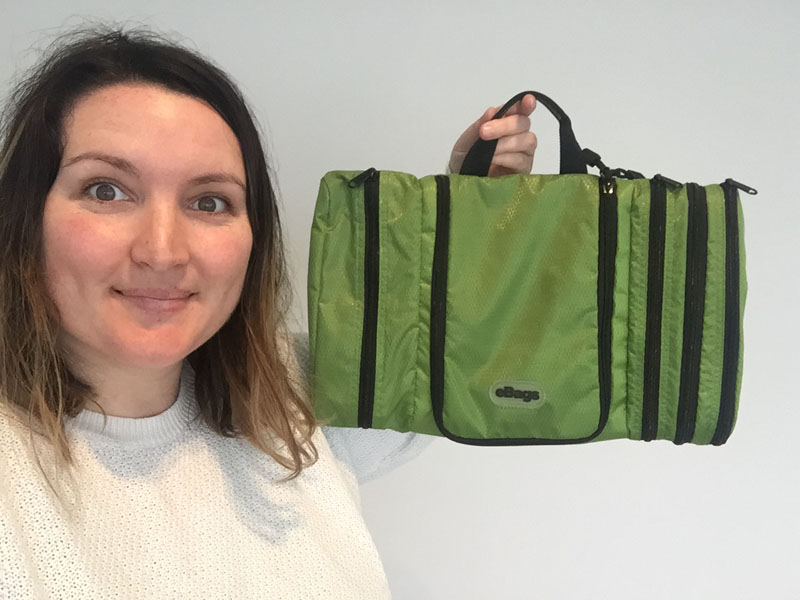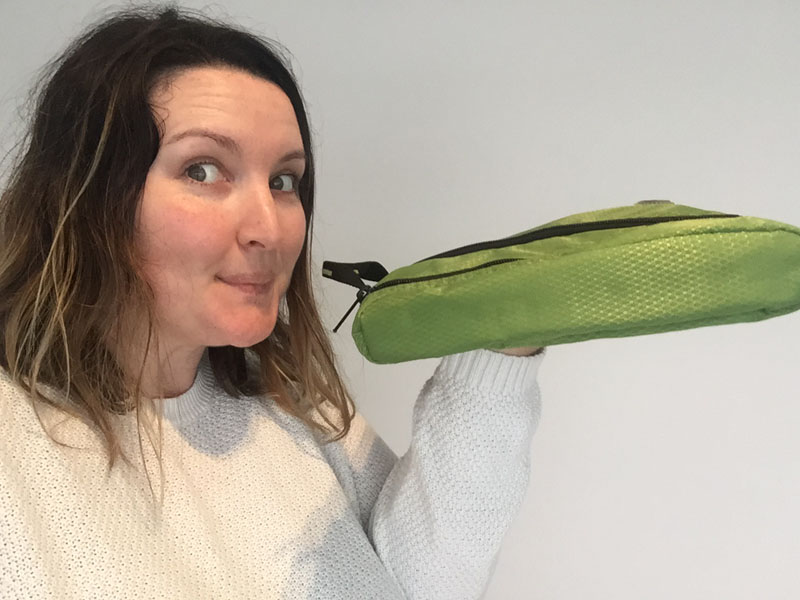 First Impressions:
I ordered the Pack It Flat Toiletry Kit on Amazon and had it shipped to New Zealand via YouShop (a parcel forwarding service that lets you order items and have them shipped to a US address and then forwarded onto New Zealand).
When I first took it out of the packaging I was surprised at how large it was! It looks enormous compared to a regular sized toiletry bag. Initially I thought I'd made a mistake and ordered something completely wrong for our travel style as we prefer to travel light, even as a family of four. In other eBags Pack It Flat toiletry kit reviews I had read online, people had the same reaction and I can totally see why.
However, once I opened up the item and started to play around with it and pack it, I realised it was actually quite cool and probably would save space in our luggage as you can lay it flat over the top of your other items and packing cubes rather than having to stuff it into it's own space. In the advertising for the eBags flat toiletry kit they state that it's designed to be now higher than a pair of folded up jeans and I would definitely say this hold true.
What I Loved:
Flat design – I have to say I loved the design of this flat toiletry bag! The flat style really made it feel like the toilet bag took up less space than a traditional toiletry bag, despite the extra size. The slim design is easy to lay flat in a suitcase but it also lays flat on a bathroom countertop. This makes it really easy to see what you have in your bag.
All your items in one layer – Because of the flat design, it's easy to locate what you need because the toiletries are all in one layer meaning you don't need to dig through to find smaller items.
Spacious central compartment – The central compartment was roomy enough for all my main bottles like shampoo, conditioner and deodorant and bigger items like my hair brush, facial wipes, soap and my small travel mirror. I used the top zippered compartment, that folds out for hanging, for my medical kit (packed in a Ziploc bag). I used the small zippered compartment at the front for tweezers and nail clippers.
Narrow side compartments – These are actually surprisingly spacious. On the left side, the compartment is a lined with waterproofing so I used this for my coconut oil and rosehip oil that I use in lieu of moisturiser. These get messy if spilled so I felt safe having them in this specific compartment. On the other side there are two zippered narrow side compartments – one expandable one which I used for toothpaste, sunscreen & insect repellent and the end one I used for my toothbrush and shower cap.
Hook for hanging – The hanging hook was useful for hotel bathrooms with limited bench space.
Lots of colors available – This toiletry bag comes seven different colors so you can pick one that suits your packing cubes and luggage. Mine is "grasshopper green". You can check the range of colors available here.
What I Didn't Love:
Not 100% practical for backpacks – The length of the toilet bag meant that it was a bit difficult to get into my 40L Kelty backpack that I was traveling with in India. At the start of my trip when my bag was packed well and wasn't completely full it slide in fine. However, once I had laundry and souvenirs in my backpack I did find it difficult to squeeze the toilet bag in and ended up having sort of fold the edge pieces under to make it more compact.
Should You Buy It?
Yes! I really liked the eBags Pack It Flat toiletry bag. If you're traveling with a suitcase of any size, be it carry on or larger checked luggage, then this is a great toiletry bag. It would definitely be large enough for our family of four to use as a family toiletry bag as there was plenty of space for an extra razor and an extra deodorant for Lee and a few more toothbrushes for the kids.
I would definitely recommend the eBags Pack It Flat if you travel with a moderate amount of toiletries. If you travel with a really small amount then this toiletry bag is probably to big for you. Conversely, if you travel with a lot of full-size bottles, lots of make up or medication then this is probably not the best toiletry bag for you either.
The one exception where I would not recommend this toilet bag is if you're traveling with just a carry on sized backpack. I think it was slightly too large and long for this purpose. I would probably just stick to a Ziploc bag if I were traveling carry on only with my backpack again.
>>>> You can check the price of the eBags Pack It Flat Toiletry Kit over on Amazon.<<<<
>>>>If you're from New Zealand, Australia or somewhere that doesn't have Amazon you can also purchase the Pack It Flat toiletry kit directly from eBags by clicking here.<<<<
eBags Pack It Flat Toiletry Kit Video Review
Here's a quick video review of the eBags Pack It Flat Toiletry Kit where I show how I packed it and an in-depth look at some of the features I mention above.
Pin for later!