This post may contain compensated links. Please refer to my disclaimer here for more information.
Eight countries in five weeks! Our family trip to Europe in Spring 2015 was a whirlwind. Fast paced, eye-opening, stressful at times but amazingly worthwhile. Exploring Europe with kids is a must. There is so much to see and do in Europe and it's all relatively close together. But if you're planning a European family vacation, be aware that it might be a little harder than you think. Family European vacations can be hard work, especially with little kids.
Fear not! If you want a family vacation Europe is still a good choice. I've have come up with a list of tips for family vacations to Europe to help you make your trip amazing.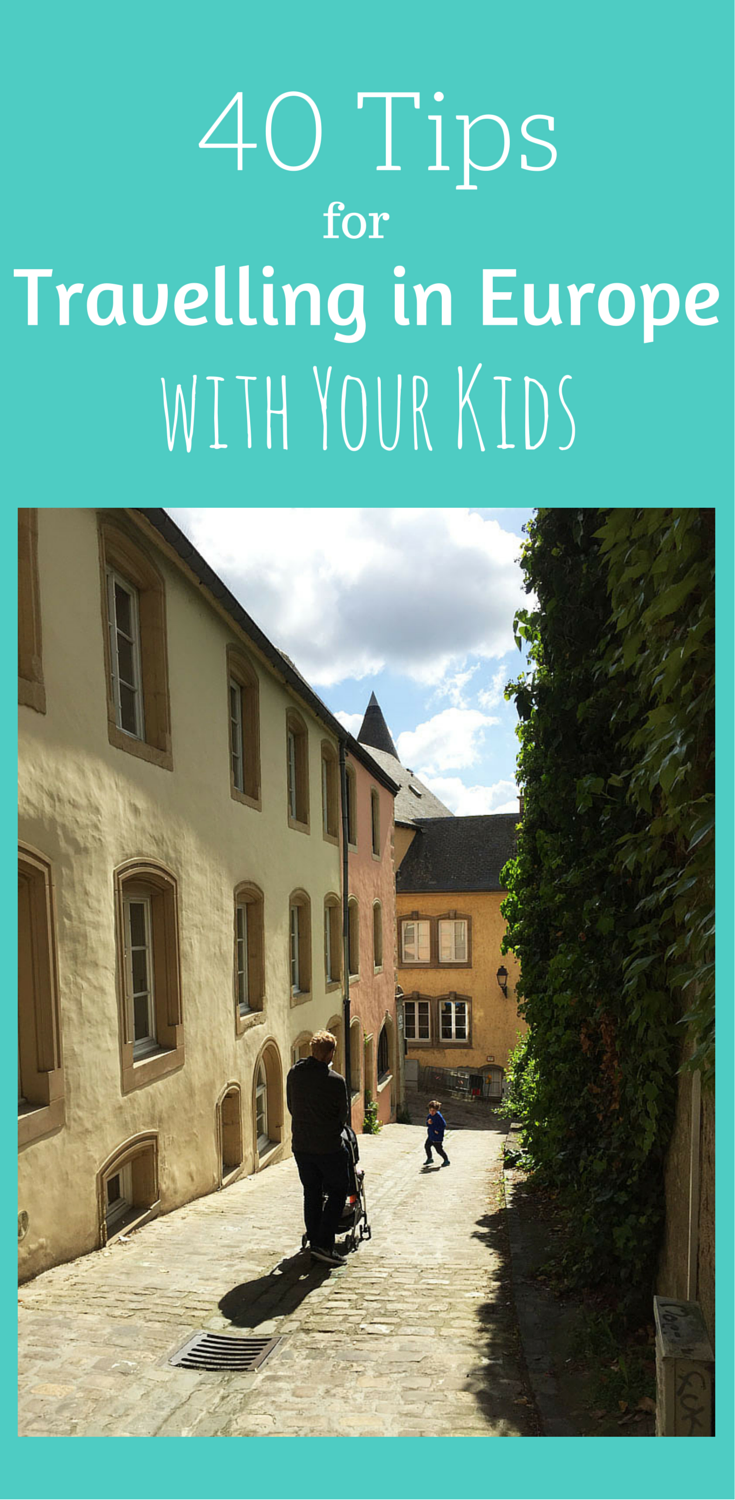 Europe with Kids: 40 Tips to Have an Amazing Family Trip to Europe!
Planning a Trip to Europe with Your Kids
1. It can be tempting to squeeze in more and more countries when you're planning your European itinerary. Try not to! We did 8 countries in 5 weeks in Europe in May and it was exhausting! Concentrating on two or three countries is better. You get to know the language, food and customs of a country rather than switching all the time and feeling confused.
2. Plan down days into your itinerary. If you think you'd normally need three days in Paris, stay for five. When travelling with kids you need time to do normal things like visit playgrounds, get groceries and do laundry.
3. Get out of the cities! While Europe is full of amazing cities, they can be hard work. Choosing smaller towns can be much more manageable and enjoyable with kids. Pick Lake Como instead of Milan, Nice instead of Paris.
Tips for Flying in Europe with Your Kids
4. If you're arriving in Europe on a long haul flight, bear in mind that you will all be jet lagged for at least the first 2-3 days. This can mean early mornings and waking for a couple hours in the night. Prepare in advance by bringing some cereal, UHT, plastic bowls & spoons in your luggage (these folding travel ones are great!) especially if you are arriving late at night. There is nothing worse than being up at 5am with hungry, cranky kids and no food!
Read this post to learn more about avoiding baby jet lag, toddler jet lag and jet lagged kids.
5. Bring your own snacks and entertainment when flying. These are extras you'll have to pay for when travelling on European budget airlines.
6. Realise that budget airlines are not always the cheapest option when you add in travelling to airports that are far from the city centre, picking seats together and adding in baggage fees. Full service airlines might end up being cheaper all in.
7. Print your boarding pass and check in online before you leave home. You won't believe how much some airlines charge if you have to do this at the airport. It's €70 for airport check in and €15 to print your boarding pass on Ryanair!!!
8. On the positive side, Ryanair offers discounted luggage and priority boarding for children.
Packing Tips for Travelling to Europe with Kids
9. Get your luggage down to one checked bag for the entire family. You'll save money on airline baggage fees and it will be a lot easier getting to and from train stations. (See how we travel the world with only one suitcase in this post.)
10. If you've got older kids who can carry their own bag, get it down to carry on only. You'll save even more on budget airlines baggage fees.
11. If you're travelling exclusively by train in Europe with your kids, try to get everyone's bags down to carry on only. We found it extremely difficult to manage a large suitcase plus kids on Europe's trains.
12. Use packing cubes to organise your luggage
. They are amazing!!! These are our favourite packing cubes. Colour-coded packing cubes for each family member are a great idea. You won't have to go searching through your suitcase for anyone's belonging when clothes are packed this way. We also do one family-sized packing cube for pyjamas and one for swim gear so we can get them on everyone quickly. Read my guide to the best packing cubes here.
13. Ziploc bags are also useful for organising toiletries. We do one for every day toiletries, one for occasional toiletries and one for first aid supplies. Ziploc bags are also great for organising toys and electronic cables.
14. If you want to bring a stroller, make it a small folding one like this
.  You need a stroller that you can fold up quickly and carry with ease. This is essential for navigating metro stations without elevators and crowded trains.
15. An Ergo baby carrier will be a lifesaver in Europe if you're travelling with babies
 or toddlers. There are a lot of stairs to navigate in metro stations, train stations and at tourist attractions so having a stroller isn't always practical.
16. Bring your own refillable drink bottles
. These collapsible ones are great for travel. Tap water in Europe is generally pretty safe to drink.
Travelling in Europe by Train with Your Kids
17. Get a Eurail pass. Kids travel free! Kids under four won't need a pass at all. Kids 4-11 years will need a pass but that's free too.
18. Pick seats near the end of a carriage so you can keep an eye on luggage & strollers placed in the luggage racks and so you can get off the train with ease.
19. Train stations in Europe are NOT stroller (or large suitcase or wheelchair) friendly. Many of them don't have elevators or even escalators and all seem to have lots of stairs in order to reach different platforms. Come up with a stroller/luggage strategy to get around this by having one parent carry the bags up the stairs to the platform and the other wait with kids and stroller for them to return and help get up the stairs.  It's the worst part of travelling by train!
20. Bring your own snacks & drinks. While there might be a restaurant car on board you can't rely on it. Our Italian train didn't have a restaurant car but did have a snack cart that went up the aisle twice on our 4+ hour journey. It was very expensive at 4€ for a small orange juice.
21. While you might enjoy gazing out the window watching Europe roll by, your kids will need a little something to do on board the train. Bring colouring supplies, audio books on your iPhone and preload a few movies on your iPad or laptop. Buy headphone splitters
so two kids can watch the same movie at once.
Getting Around in Cities in Europe with Kids
22. Coming off a long flight? Or departing on an early one? Consider booking a car service, like Taxi Barcelona, to pick you up at the airport and drop you at your hotel or apartment (and vice versa). The last thing you want to do after a long flight is navigate a metro system in a foreign city with suitcases and tired kids. You can also request car seats which is great for both sleepy kids and tired parents!
23. The good news: In most cities, kids under five don't pay for Metro tickets in Europe. Yay!
24. The bad news: In Metro stations, there's often a gate for entry and exit with strollers however there is rarely anyone around to open it, even if you push the call button. You'll have to lift them up and over the turnstiles. Have one parent go through and the other pass the stroller over.
25. Come up with a family plan for getting separated on the Metro. It can happen! If a kid gets on a train and Mom & Dad don't make it on, they get off at the next stop and wait on the platform. If a kid gets left on the platform, they wait for Mom or Dad to come back to get them. If they feel worried or scared, they look for another mother to help them. Make sure every family member knows the drill. It's also a good idea to come up with a family safe word. Something that your kids know means they can trust another adult is helping them on your behalf.
Booking Family-Friendly Accommodation in Europe
26. Hotel rooms in Europe are small and often have occupancy restrictions. Before you book any hotels read their policy on children. If you're using a booking site like Hotels.com or Agoda it's always laid out in the hotel information. Seek out hotels that say things like "Children under 12 stay for free using existing bedding" rather than "Children under 2 stay for free using existing bedding". Not only does that mean a more flexible, child-friendly hotel it probably also indicated large enough rooms.
27. Some hotels, and chains like Mecure in particular, will provide rollaway beds for free in Europe. Check before you book by calling or emailing the hotel directly.
28. If you're booking an apartment, realise that in Europe "two rooms" often means a bedroom and a living room, not two bedrooms. Be sure to read descriptions carefully.
29. If you're on a budget, look for apartments with the number of beds you need, rather than the number of rooms. If it's just for a few nights a family can take a one-bedroom apartment with a fold out couch. Or better yet, bring your own portable toddler bed. We never travel without one!
30. Check the "Elevator" box when booking on Airbnb or you might end up in a 5th floor walk up! Want to try out Airbnb? Click here to get a $20 off coupon.
Eating Out in Europe with Your Kids
31. Kids still need highchairs? You might want to bring your own with you as they aren't as common in restaurants in Europe as in North America, Australia and New Zealand. Something like this
 can fit into your luggage easily and be taken out at dinner time in the bottom of your stroller. We found highchairs few and far between in restaurants in Spain and France. They were more common in Italy and Holland.
32. Dinner is eaten late in Europe. It's common for restaurants not to open until 7pm or later in many countries, particularly in Spain. Have a late lunch out and then eat snacks for dinner back in your apartment or hotel. Or have a dinner of bar snacks & tapas over drinks.
33. You won't find kids meals in restaurants in Europe. Adult portions are certainly smaller than in North America so kids may be fine with an adult portion of pasta.
34. If the weather is good, picnicking is a great idea in Europe. Europe does ham, cheese, bread and yoghurt really well! Food in supermarkets is quite inexpensive, even in pricier countries like Switzerland.
Sightseeing in Europe with Your Kids
35. A hop on, hop off bus tour is a great way to see the highlights of the city without making your kids walk for miles and miles. Bring a jacket, even if it's warm, as the top deck can get windy and cold. Don't forget to apply sunscreen either! If you have kids headphones bring them along as many buses have an audio commentary. Earbuds are given out for use on board but they are hard to keep in kids ears.
36. Boat tours are another way to easily and comfortably explore a city with kids. Many of Europe's greatest cities have beautiful water ways running right through them. Riding a bateau down the Seine or zipping around Amsterdam in a canal boat is a fun way to explore with kids. There's usually a running commentary for the parents too.
37. Lines can be long at many of Europe's most popular tourist attractions. If you're a two parent family, have one parent queue while the other takes the kids for an ice cream or to a park nearby. If you're in Barcelona, there is a playground and ice cream kiosk right opposite the Sagrada Familia!
38. You'll probably want to visit some of Europe's finest art galleries and museums on your travels. Your kids won't necessarily love this. Go anyway! There are ways you can visit the things you want to see in Europe with your kids in tow. Power through as quickly as you can and see the highlights. Put your kids in charge of the museum map. Have them search for specific items in paintings, a mini scavenger hunt. Schedule your visit during baby's nap time. Sandwich your visit between playground visits. Bribe your kids with ice cream. Do what needs to be done mama!
39. There are carousels everywhere in Europe! Often near or right outside major tourist attractions. Riding a carousel at the bottom of the Eiffel Tower can be just as memorable as going up it.
40. Remember, you're building memories not checking off items on a bucket list. Sometimes it's not important what you see but simply that you're out exploring Europe with your kids, having a good time.
Read more about travelling in Europe with your kids:
10 Tough Things About Travel  Europe with Kids (And How to Make It Easier)
11 Best Travel Accessories for Europe
Pin this post for later!