This post may contain compensated links. Please refer to my disclaimer here for more information.
We just spent an amazing five weeks in Europe travelling with our kids. It wasn't always easy though. There are many challenges to travelling in Europe with small children. I'm not a negative person by nature so, while we encountered several difficulties, we have also identified how to make it easier on you and your kids.
Here are the 10 toughest things about travelling in Europe with kids and how to make it easier: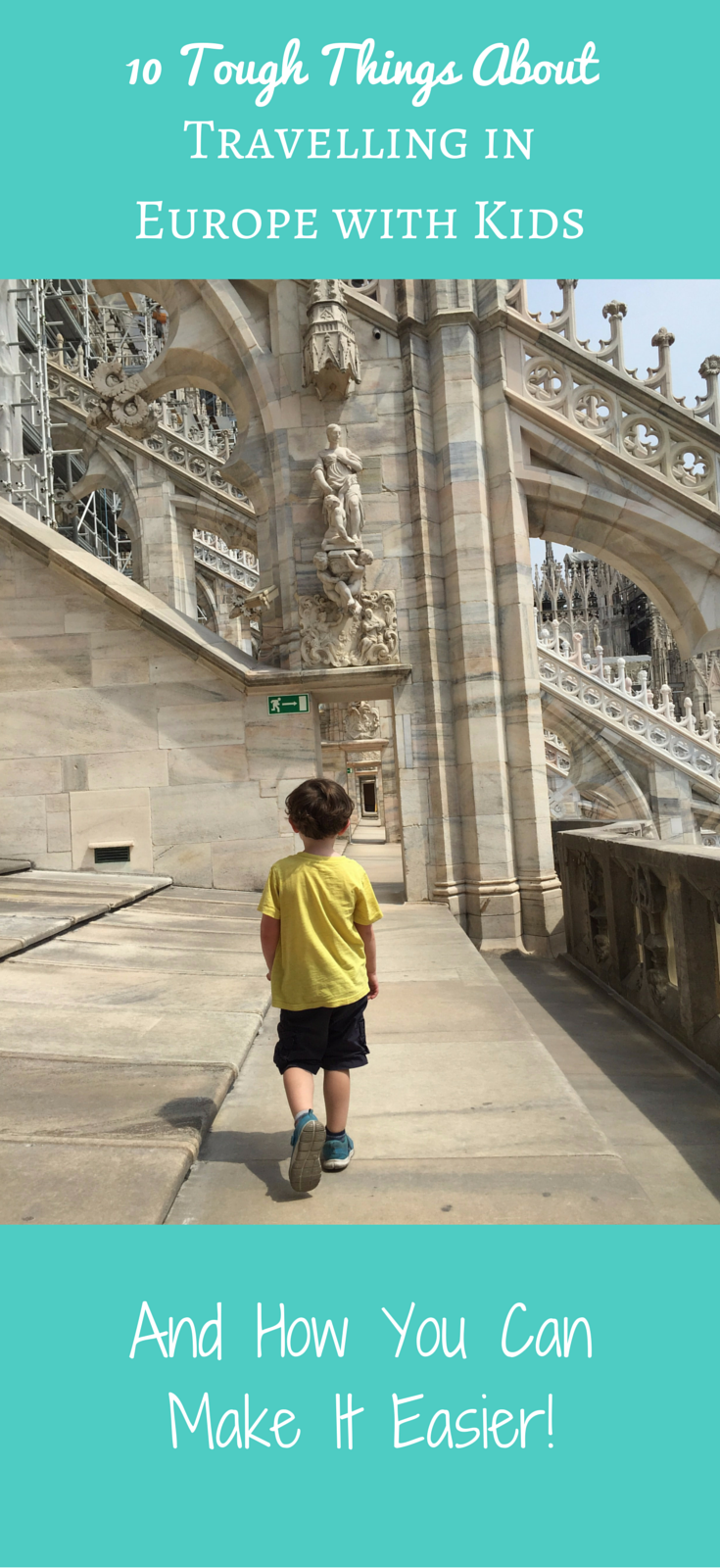 1. There's hardly ever anywhere to change a baby.
Baby changing facilities in public bathrooms are few and far between. The same goes for restaurants, trains and museums. I'm now a pro at changing a baby standing up in the bathroom of a moving train!
Bring your own changing mat but know there won't always be somewhere other than the floor to lay her. If the floor isn't an option, you'll have to change your baby while she's standing up on a bench or while you're standing up and she's hanging over your knee. Bring lots of wipes out with you on day trips or when you're travelling by train.
2. So many stairs!
There are so many stairs everywhere in Europe and often no alternative to climbing them. Elevators and even escalators seemed non-existent in Metro and train stations. In museums taking the elevator often involved a lengthy walk to a hidden corner of the building. It was frustrating for us while travelling with a stroller. With slightly older kids it might be more manageable but all that stair climbing is exhausting on little legs.
Bring an baby carrier out with you (we love the Ergo!) even if you're taking a stroller so you can pop the little one in the carrier for navigating the tough bits. We chose to bring a super lightweight stroller to Europe. It only weighs 6 pounds and folds in a flash so we could quickly whip the baby out and pack the stroller down if we could carry it up and down stairs.
3. Getting on and off trains.
Almost as frustrating as the stairs in the station! Getting on and off the trains was difficult with bags, kids and strollers. Most of the intercity trains we took, and even some of the Metro trains, required climbing up a couple of steep, narrow steps.
Again, go with the baby carrier for the times you need to get on and off trains. We would put Hazel into the carrier 5 minutes before we were due to arrive at the station so I had my hands free to carry bags and hold Reuben's hand when we were getting off trains or getting onto the next one.
4. You won't get a hand.
Except if you're in Holland. The Dutch love to lend a helping hand, so it would seem. A pleasant surprise after the rest of Europe. We found it very strange that, in almost all the places we went on this trip to Europe, people would walk past us struggling with strollers and bags going up and down stairs. No one would give up a seat on a train for a tired kid or a mother carrying a baby. Some people wouldn't even move their bag off an empty seat for you to sit down. In general, expect no help.
Pack light. Your luggage and well as your bag for each days outing. The less stuff you have, the easier it will be to get about. Choose a lightweight stroller that you can fold & carry in one hand with the baby in the other. Definitely bring a baby carrier – we love our Ergo.
5. The attitude towards kids… sometimes.
This goes hand and hand with #4. The attitude towards kids sucks in many places we went in Europe. In Paris, the South of France, Switzerland and Belgium we did not feel a welcoming attitude towards parents with small kids.
Europe just isn't as kid-friendly as North America, Australia or New Zealand. This is just a case of adjusting your expectations and knowing that you'll get dirty looks, eye rolls or be completely ignored by locals, fellow passengers on trains & planes and waiters in restaurants. (They seem to really hate kids!)
6. Lots of the things you will want to do aren't kid-friendly.
Some of the best things in Europe, the things you will want to do the most, will be things your kids won't enjoy. This doesn't mean you should skip them! You need to make the most of YOUR time in Europe and do at least a couple of adult activities. You won't get to spend hours wandering the Musee d'Orsay with an audio guide, stopping at every painting, but you can power through and see the highlights in an hour before yours kids spazz out.
Sandwich your "boring" activities with fun kid stuff. Stop at a carousel before heading into the Louvre and make promises for ice cream afterwards. You want to see Notre Dame? Great. Go to the playground at the back of the building first and then get a crepe afterwards. Do all you can to make church, museum or gallery visits fun for kids. Set them a task like reading after the museum map or put them in charge of finding paintings with cherubs or children or animals in them.
7. Small everything.
Everything in Europe is small. Small hotel rooms. Small elevators. Small bath tubs. Small washing machines. I've never seen a dishwasher as small as the one in our Barcelona apartment! Your kids won't care about this one but it just makes some tasks that little bit more difficult or time-consuming.
Pick apartments instead of the hotels unless you can afford two interconnecting rooms. Always check the policy for children in the room before you book a hotel room. Don't assume there will be space for a portacrib or rollaway bed in a hotel room as in some there will barely be room for your bags. Take small suitcases, preferably carry on sized, so you can squeeze into tiny elevators. Learn to love tiny tubs!
Want to try out Airbnb? Click here to get a $20 off coupon.
8. Speaking of small washing machines…
Travel with kids is dirty work! You don't find laundries in hotels as you would in North America or Australia. Combine this with the need to pack light so you're not dragging huge bags across the continent and the fact that little kids are so darn messy and you can have some serious laundry challenges.
Renting an apartment on your travels will certainly help with this. Intersperse apartment stays in amongst your hotel stays so you can get a chance to wash clothes. Don't expect a dryer though. Sometimes you'll be lucky to get a combo washer-dryer but they take AGES to dry a load of clothes. (In our apartment in Paris, the machine took 2 hours for a wash and 10.5 hours to dry a load of clothes!!) And sometimes, you and your kids will just have to wear grubby clothes. Deal with it!
9. Restaurants that don't open until late.
Spain, I love you! And your food is amazing. But you make it so difficult to eat out with kids! Not eating dinner until 10pm at night might work for locals but our kids are used to eating dinner around 5 or 6pm which made finding a restaurant that was open for dinner when we were ready to eat next to impossible. Other countries, like Italy and France, weren't as difficult but many restaurants there didn't open until 7pm. This is extra hard with a jet lagged baby.
We ended up eating out less than we normally would, preferring to cook and eat dinner in our Airbnb apartment. Having a late lunch, followed by a simple dinner of cheese, ham & bread or cereal at home. Bar snacks & tapas also worked well for dinner. Or, if needs must, just have ice cream for dinner.
10. Lack of highchairs in restaurants.
Only about 30% of the restaurants we ate at had highchairs available. I can live without kid menus in restaurants but at the age & stage Hazel is at, where she wants to feed herself, means I really need a highchair. I ended up balancing her on my knee while eating out which lead to me getting a fork full of pasta to the face on a number of occasions!
If you really need one, pick your restaurant based on whether or not they have a highchair. This isn't always doable though. Feed the baby while they're sitting in the stroller. Get take out and eat it back in the hotel room. Rent an apartment so you have access to a kitchen. Two of the apartments we stayed in during our trip to Europe had a highchair for us to use which was a huge bonus. Tick the "kid friendly" box when you're searching on Airbnb and ask before you rent somewhere whether they have any baby equipment you can borrow.
While Europe isn't as kid-friendly as home might be, it is definitely doable and enjoyable with kids. Almost all the difficulties we encountered while travelling in Europe with our children were solvable or tolerable for a short amount of time.
Got questions or concerns about travelling in Europe with your kids?
Go ahead and leave me a note in the comments and I'll do my best to help ease your fears and come up with a positive solution.
Read my list of the 11 best travel accessories for Europe.