This post may contain compensated links. Please refer to my disclaimer here for more information.
This is one of the most common questions asked by parents setting out on world travel with small children. There is no definitive answer on this one and, for many, it comes down to personal preference. Only you know your child and every child is different. What works for one family, won't work for another.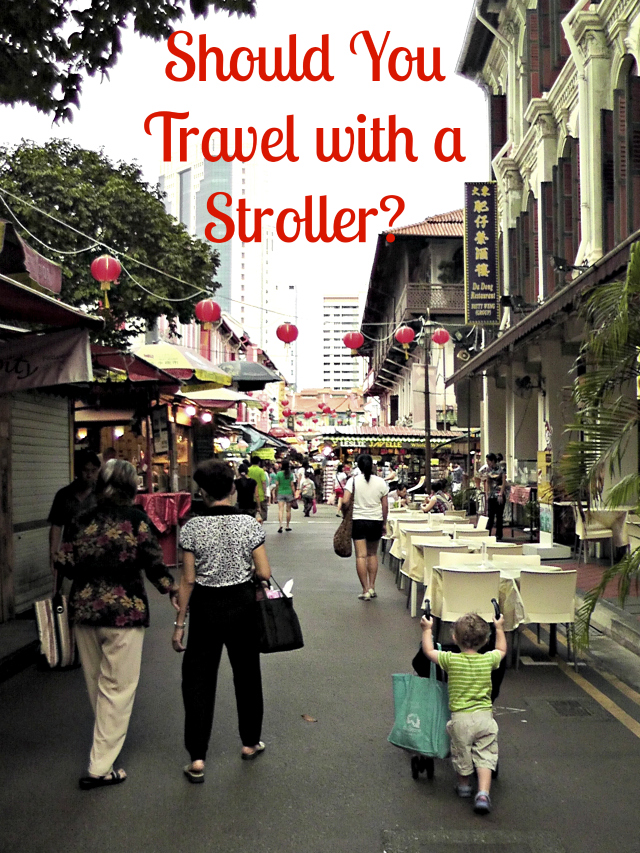 Here are some questions to help you decide if you should travel with a stroller:
Where are you going?
This will play a big part in your decision making process. Western countries, particularly the US, Canada, Australia, New Zealand and the UK, are well set up to accommodate families with strollers. Accessibility to public transport & buildings and the quality of the sidewalks mean that you can wheel a stroller pretty much anywhere. In other parts of the world your stroller won't make it very far. Where sidewalks are used as markets, motorbike parking, restaurants or just generally aren't in good shape, or where accessibility isn't a focus in society and you will have trouble getting your stroller around. Equally, if you're heading to a beach or jungle destination just about anywhere a stroller will be useless.
What kind of travel are you planning?
Are you a backpacker? Are you planning a road trip? Are you travelling to visit relatives across country? Or on a RTW trip? The type of trip you're planning will impact your need for a stroller. There are many types of strollers and you can find one that best suits your travel by looking at reviews online. Pay attention to details like weight, ease of folding and manoeuvrability.
If you're backpacking off-the-beaten path around Asia or South America, a stroller will be of little use but if you're sticking to the tourist trail you can probably make use of it a good portion of the time.
Road tripping with your own car or a rental means you can just throw the stroller in the back of the car. If you're visiting relatives, they might be able to arrange for you to borrow a stroller from a friend, saving you dragging yours across country.
If you're on a RTW trip, think about the portions of your journey where you might need a stroller and those were you won't – you can take a stroller for some of the journey and the ditch it along the way or leave home without it and buy one when you need it.
Do your kids need a stroller at home?
If you can't make it around the mall at home without a stroller, you will need one on your travels.
How long are your children able to walk for?
If your kids have stamina and can walk for several hours at a time, you can probably skip the stroller. All kids are different and it depends what they're used to at home. You may be pleasantly surprised at how long they can walk for without assistance. Practice building up walking stamina at home before you leave if you want to travel without a stroller.
Are they comfortable in a carrier?
Being able to transport your child in a carrier like an Ergo will solve the accessibility restrictions you'll come across in less developed countries. However, if it's hot, hot, hot can you bear to have a baby strapped to your front or back all day? Using a carrier does free up your hands to wheel a suitcase around so they can be handy in airports.
Are they runners? Can you manage you child in busy situations?
One of the biggest benefits for travelling with a stroller is it creates a safe place for your child in high traffic areas, busy airports and sprawling theme parks. If your child is a runner and regularly bolts away before you can catch him, strapping them into a stroller can be the safest place for them.
Do they still nap during the day?
If you're planning on lots of long days sightseeing, having a stroller on hand as a place for your toddler to nap can be a real bonus. It allows you to keep moving while they get some rest.
Can you carry them for long periods of time if need be?
Got a heavy child? Or a bad back? If you can't carry your child for long periods when they are sleepy, exhausted or throwing a tantrum then having a stroller becomes necessity rather than a luxury.
Want my opinion?
Unless your child is a diehard carrier baby, take the stroller. We always travel with a small, folding umbrella stroller. Leave your big jogging stroller or buggy at home unless you're on a short trip and travelling around by car or only in countries like the US or Australia. Even in developed countries like Japan you'll still find accessibility is limited in many situations such as temples and train stations.
Even though our son (aged almost four) doesn't need a stroller at home for any outings, we still find it useful for travel. We can whip through an airport much faster if he's in a stroller. He always seems to fall asleep right when we need to collect our luggage so not having to carry 16kg of sleeping boy on top of everything else is a essential. We also feel a lot more comfortable in busy areas with him strapped in safely without the possibility of him wandering off and getting lost.
The stroller we use currently cost $25 from KMart and has made it through two trips around South East Asia and Australia over the last two years. Buying a cheap stroller means if you don't end up using it on your travels you can donate it along the way without feeling like you've wasted a lot of money.
Do you travel with a stroller?
Why or why not?