This post may contain compensated links. Please refer to my disclaimer here for more information.
We are not package tour kind of people so when we decided on cruising the Caribbean we knew we needed to plan our shore excursions independently. Especially when travelling with children, it's much easier to move at your own pace than along with an organised tour. Organised trips become less cost-effective when you're in a larger party and renting a car or taxis  and doing it yourself becomes more affordable. Booking your shore excursions through the cruise ship is also a lot more expensive.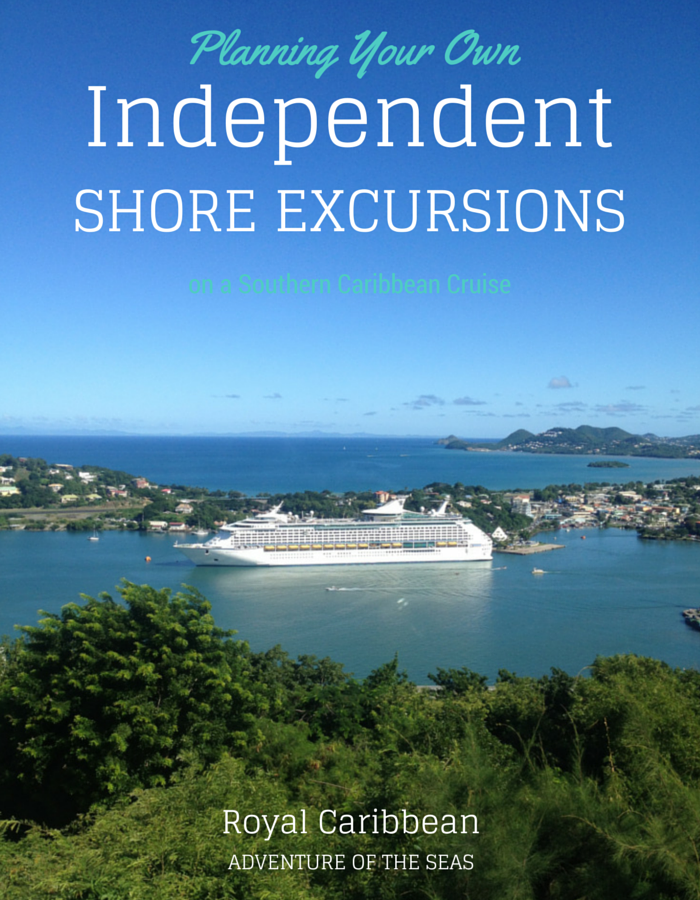 Here's are the independent shore excursions we took during our seven-night Caribbean cruise and some tips on how to plan your own:
San Juan, Puerto Rico
Our cruise onboard Royal Caribbean's Adventure of the Seas left from San Juan so we had a little more time in port than if you are just stopping to visit. Old San Juan is perfect for a day in port. Jump on board the free trolley that loops around Old San Juan and stop where you please, a couple of hours is more than enough. El Morro is a must see. Entrance is $5 per adult but free if you have a US National Parks pass.
Read more about visiting Puerto Rico before and after your cruise here.
Tip: Internet access on cruises is pricey on board so prepare before you leave. Print the port review from Cruise Critic for each port you will be visiting. They're very detailed and have info on taxi prices, excursions to go on, beaches to visit and restaurants to eat at. Even better, instead of hard copy printing, print and save it as a PDF on your phone or laptop. You'll have your own mini-guide book at the ready.
Bridgetown, Barbados
Our first port of call on our cruise. Walk out to the main gate and grab a taxi. We had a travel blogging friend Charli from Wanderlusters in town who met us and came up with a plan for our day in Barbados. We taxied to a nice beach ($20 each way), grabbed some beach chairs & umbrellas ($20) and sat with some drinks ($17) for a few hours. A great introduction to the Caribbean. Check out Charli's insider's guide to Barbados to find out more about planning your trip to the island.
Tip: You can get by in most cruise ports in the Caribbean by using USD but there are ATMs at most cruise ports we visited, some even dispense USD.
Castries, St. Lucia
St Lucia was our favourite stop on our week-long Southern Caribbean cruise. The island is exceptionally beautiful. Try and remember to get up early enough to see the famous Pitons as your ship sails in. We missed it, big regret! On exiting the cruise port you'll come across many taxi and tours.
We only had a limited amount of USD cash with us so managed to bargain one taxi down to $50 for a two-hour private island tour. Our tour guide was great, very knowledgeable about the island, it's industries and people. We drove around the town of Castries then headed up to the hills for a fantastic view across the island. We saw banana plantations, beautiful bays and learnt a lot about the island and people of St Lucia.
Tip: Get up and out as early as possible to make the most of your time on shore. Planning your shore excursions for the morning leaves your free to enjoy onboard activities in the afternoon when the ship is much quieter with everyone still on shore.
St. John's, Antigua
Antigua was a washout for us! It was pouring with rain the whole day we were in port. We got off the ship and attempted to make the best of it but ended up soaked after a short walk around St. John's. We had a big list of things we wanted to do in Antigua but the weather just wasn't good enough to attempt any of them. If you want to read about things to do in Antigua during your day in port, check out this post on Where's Sharon.
Tip: Raining days on shore aren't great if you're in the Caribbean and had your heart set on seeing the sights, sitting at the beach or doing adventurous activities. Come up with a rainy day back up plan for each port. Or just head back to the ship and explore. Our ship, Royal Caribbean's Adventure of the Seas, had lots of indoor activities including an ice skating rink, movie theatre, gold simulator and kid's club.
Philipsburg, St. Maarten
St Maarten is a unique little island. It's the smallest land mass shared two countries or territories. We docked in the Dutch port of Philipsburg and jumped on a shared taxi tour of the island with a group of other tourists ($25 per adult, kids free). There were four ships in port the day we were there so things were busy but this port is very well organised.
Our tour was a little long at 4 hours but covered the highlights of St Maarten including Maho Beach on the Dutch side, famous for being right next to the runway of Sint Maarten's major airport. We stopped here for a drink at the beach bar but there weren't any planes arriving for a few hours unfortunately. The beach was standing room only later on in the day according to some of our cruise mates.
Next we headed over the the French territory side of the island (known as Saintt Martin) to the town of Marigot. We wandered, took pictures, bought cigars and met back up with our tour 45 minutes later. It was strange to feel like we were in France for a few hours! Orient Bay was our last stop which is usaully a lovely beach but has been having a problem with seaweed as of late. There's also a nudist colony at one end of the beach. Hazel & I were photobombed by a naked tourist while taking a series of selfies!
Tip: The Caribbean is expensive, particularly for food and drinks! Planning to be back onboard the ship for lunch saves you money. 
Frederiksted, St. Croix, U.S.V.I.
I had no idea just how pretty St. Croix would be! It was our last cruise port, and not know anything about the US Virgin Islands in advance we didn't know what to expect. The other islands of the Caribbean, like Barbados and St Lucia are so much more well-known and feel more exotic but St Croix was a little gem. If you're interested in life under the ocean waves, the snorkelling in St Croix is supposed to be great.
We took a shared taxi to Rainbow beach, a short ride from the cruise port, at a cost of $6 per person round trip. Rainbow beach was well set up for cruise passengers looking to relax, swim and do water sports. The water was warm, shallow, reasonably calm and clear. We rented a couple of beach chairs in the shade for $10 each and the played beach games that were in front of the bar. Very relaxing!
Tip: Your US SIM card will work in the US Virgin Islands without any roaming charges.