This post may contain compensated links. Please refer to my disclaimer here for more information.
Newsflash: Google is taking over the internet. That's nothing new. But now they've rendered my favourite flight search engines practically useless. See ya Skyscanner. Adios Adioso. Move over ITA Matrix. Google Flights is now my "go to" for searching flights. Here's why you should start using Google Flights to plan your travels: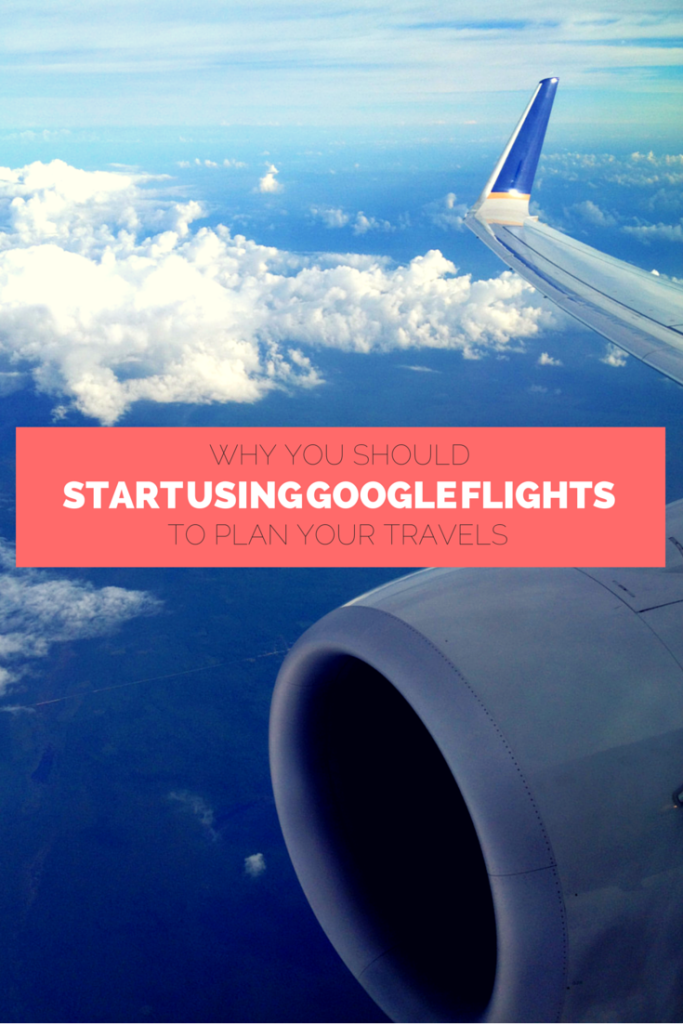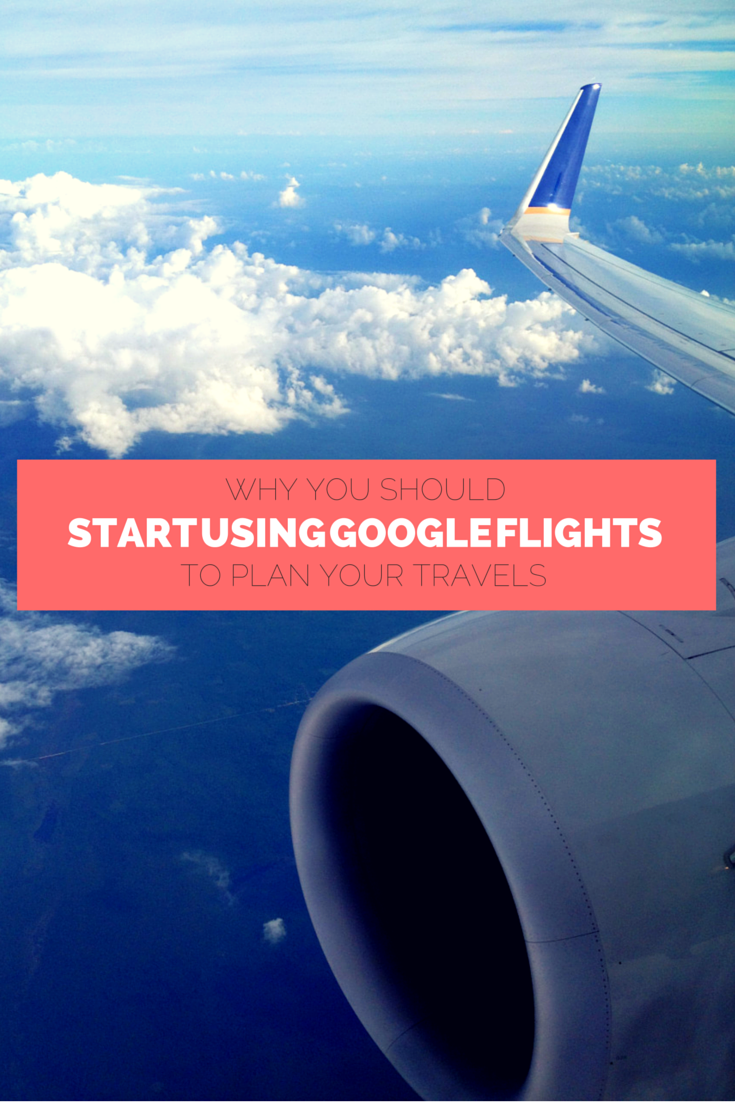 How to Use Google Flights to Find the Best & Cheapest Ways to Fly
Instantly See What Dates Are Cheapest
Google Flights makes it SO EASY to see the cheapest date to fly your desired route. One of the keys to saving money on flights is to be flexible with your dates and their calendar layout makes it easy to identify cheaper days to fly without clicking anything.
Let's say I wanted to fly from Toronto to Amsterdam on 21 May. Pop in some dates and…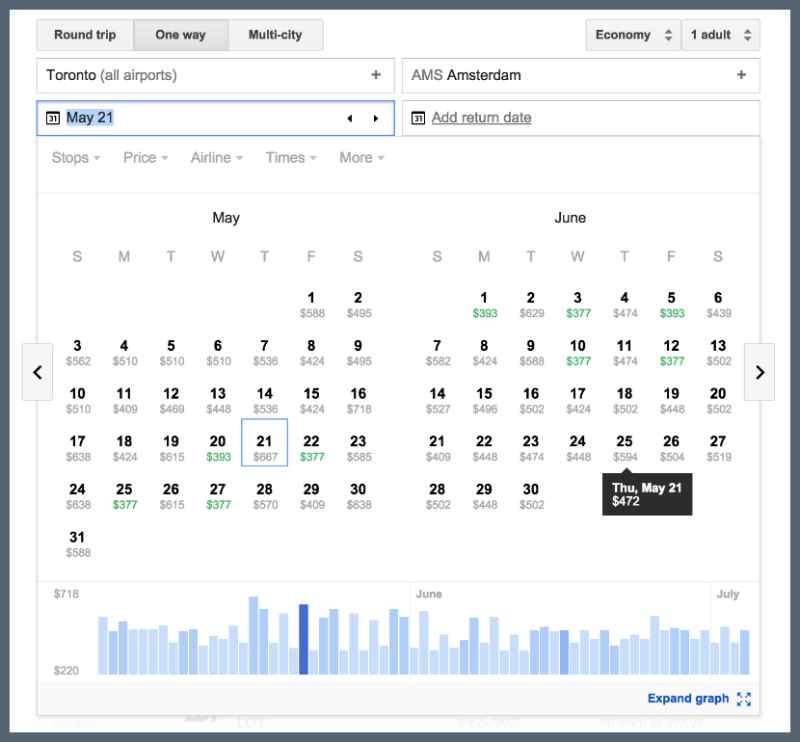 I can instantly see that it's cheaper to switch my travel plans by a day and fly on 22 May instead, saving almost $300.
Finds the Cheapest Hub
Just got a general idea of where you want to head and want the cheapest way to get there? Google Flights makes it easy to find the cheapest hub in a region. Let's say I'm a Kiwi who wants to take a trip around South East Asia. Just a casual jaunt around Thailand, Vietnam and Cambodia. As many of us do. Flights to Ho Chi Min City, well they're expensive from Auckland. Just click on the map view and, hey…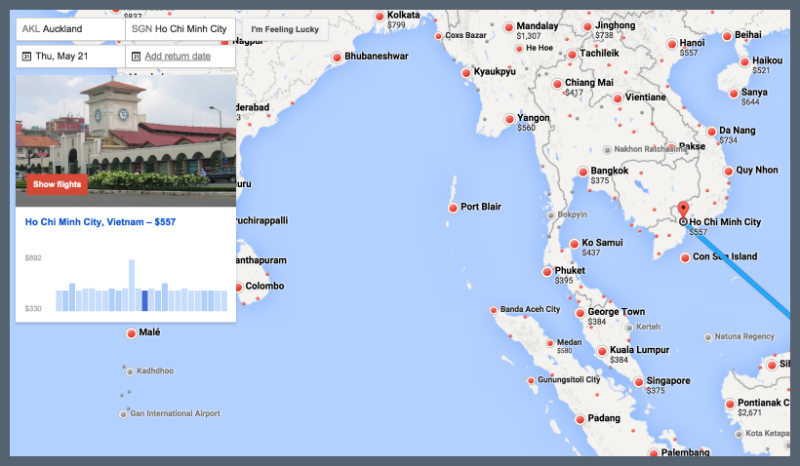 Google conveniently shows me that it's far cheaper to fly into Bangkok or Kuala Lumpur before making my way to Vietnam.
Fare Information is Up-to-Date & Reliable
Too many times have I been lured by a low price on Skyscanner, clicked on a site to buy and been told the fare is no longer available. Or even worse, when making a broad search getting the "Check Prices" button or a blank portion of their bar graph for searching lowest fares over a set of dates. I've found Skyscanner has gotten less and less reliable over recent months.
Easily See Prices for Different Fares without Running a New Search
If you're trying to find fares in higher class cabins, you don't need to run a new search to make the comparison. Just click on the button that says "Economy" in the top right corner and you'll see the cheapest option for each fare class on the route you've specified.

Wouldn't you be temped to spend an extra $400 to upgrade to Business Class on a long flight from Miami to Buenos Aires?
Offers Good Alternatives
Google Flights will also point out where you can save money by choosing to fly from a nearby airport. Just like in the example above. You can save yourself $52 by flying from Fort Lauderdale (21 miles away) instead of Miami International.
Identifies Value for Money Fares, Not Just the Cheapest
Google Flights will also let you know when there is a better value option available. You might find the cheapest fare but it'll have an extra stop. Google will tell you that, for a few extra dollars, you could go direct. Or even better, when it might actually be only a little more to upgrade to business class.
Let's You Set Up Fare Alerts
Sometimes it pays to search for flights and then monitor it over a few weeks. Fares do fluctuate as time to flight draws nearer. Sometimes it goes up, sometimes it goes down. ("They" say the optimal time to purchase is six weeks out from travel.) Create an itinerary and then, at the bottom below purchase options, click "Save This Itinerary". You'll need the Google Now app to monitor the prices and you'll get an email letting you know if prices drop so you can purchase the fare.
Looking for Inspiration?
If you're not sure where you want to go but you just need to get away, do an "I'm feeling lucky" search. Put in your city of origin plus dates, click on the map and then on the "I'm feeling lucky" button. Let's pretend I live in Las Vegas and I need a long weekend away later this month.

BINGO! $58 return to Denver. (Side note: Wow, that's cheap.) Don't like the answer? Just keep clicking "I'm feeling lucky" until you find something that piques your interest or fits your budget.
What Google Flights Doesn't Do
All you Southwest fans will still have to make a separate search on the airline's website but at least Google Flights recognising your route as a Southwest route and prompts you to check with the airline. The same goes for Easyjet in Europe.
You can't book directly with Google Flights. It's merely a tool to search for the best deal. Of course, Google will tell you where to get that deal and with a click of a button you'll be redirected to the airline (or booking engine) website where the fare will be waiting for you.
So, have I convinced you?
Get ready to harness the power of Google Flights next time you're planning a trip!