This post may contain compensated links. Please refer to my disclaimer here for more information.
Want to know how we travel the world with our kids and use just one suitcase? Let me show you how! Learning to travel with just the one suitcase makes family travel a breeze.
We have traveled across the US, Canada, Europe, South East Asia, Australia and New Zealand with only one checked suitcase between our family of four. We've flown many airlines, taken Caribbean cruises, road tripped, campervanned and travelled by rail… all with just one checked suitcase. We also usually a couple of small carry on bags for laptops, toys and inflight essentials but these are no bigger than a personal item.
What You'll Find in This Post
Why We Travel with Just One Suitcase (and You Should Too!)
Traveling with one suitcase between our whole family makes it a lot more manageable to travel with kids. One bag makes it a lot easier to move through an airport or train station with kids in tow, especially if they are little and need to be pushed in a stroller, carried or have their hands held. One parent can take care of the suitcase while the other watches out for the littlies.
Traveling with one suitcase also makes it easier for me, as the chief packer, to stay organised. I know where everything is for every body, I can get to it all quickly and keep our suitcase orderly. It's easier to pack up when it's time to move to the next destination. It's also more cost effective if you're traveling on airlines that require you to pay for baggage separately.
Sticking to one suitcase for the whole family also helps me avoid overpacking. Overpacking is a nightmare. There is no point dragging a bunch of stuff you "might" need around the globe. It's a waste of time, money and energy. Learning how to pack everyone's gear into one suitcase means we are streamlined and efficient with what we bring on our family vacations.
How to Pack for a Family with Just One Suitcase!
Now that you know why we choose to travel with just one suitcase between our whole family, I'm going to show you exactly how I pack and share the kind of luggage and packing accessories we use.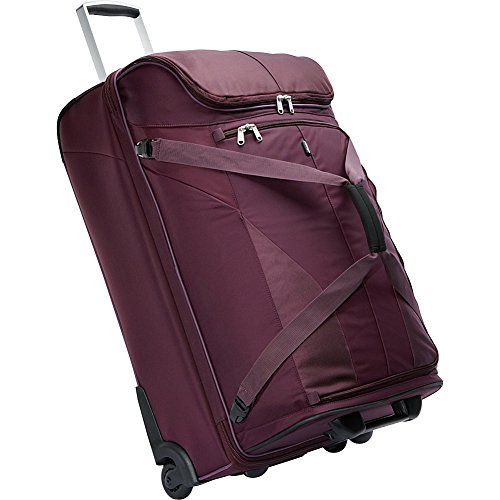 Choose a Large Rolling Suitcase or Duffel Bag
We use this 29″ high rolling duffel bag from eBags.
I like it because it has good compartments to keep our gear separated and organized and because the bag itself doesn't weigh much.
In the main compartment, I put two packing cubes stacked on either side of the shelf. In the mesh zippered compartments of the divider pockets I pack our shoes and sunhats. In the front portion of the bag I pack our sleepwear and swimwear packing cubes, toiletry kit and any extra bits and pieces.
If you would prefer a soft or hard sided suitcase a 29″ suitcase with spinner wheels would also be a great choice. I've listed some of the best spinner luggage over in this post.
Don't Overpack! Bring One Week's Worth of Clothes
Thanks Captain Obvious. Lol. But seriously, don't overpack. For trips of any length I generally pack just one week's worth of clothing and wash as I go. Pack a foldable laundry bag to make this easier.
My clothes for a week are pictured in the packing cube above. Some of the things I pack on almost every trip are a kimono-style top that can be worn over a dress or a bathing suit, a striped t-shirt dress, a black sundress and a black maxi dress, a pair of shorts, black cotton casual pants and a couple of t-shirts. I usually wear leggings, a t-shirt and a cardigan on the plane.
Keep luggage at least a few pounds or kilograms under the maximum limit for checked baggage on the airlines that you're flying. Using a portable luggage scale like this really helps eliminate the guess work and allows you to accurately weigh you bag.
Use a Color-Coded Packing Cube for Each Family Member
If you only do ONE THING from this list, make it this. Pack each family member's clothes into one large packing cube and give everyone their own distinctive colored cube. This makes it so easy to grab the right clothes for the right person, saves you riffling through your suitcase or fielding questions about "Mom, where's my….?". We have been doing this for years and it is the most foolproof way to stay organized and pack efficiently for family travel.
My complete guide to the best packing cubes to buy and how to pack them effectively can be read right here. All our clothes for a week will fit into a large packing cube as pictured above. If you want to go a step further you can even pack each person's underwear into a small packing cube of their corresponding color and nest that inside (or pack it in your suitcase).
Pack Everyone's Sleepwear and Swimwear Together
In general, when we are getting dressed for bed or for the beach or pool we do it at the same time. For this reason, it makes sense for me to pack everyone's sleepwear into one medium sized packing cube and all our swimwear into another medium packing cube. You'll thank me for this when it's 1am and you've just arrived at your hotel and have to get everyone ready for bed. Packing this at the front/top of your suitcase is also a smart idea.
If we are traveling on a long flight I also pack one complete change of clothes and underwear for all of us into one medium sized packing cube. Just in case someone wets themselves or spews all over their parents or if our checked baggage is delayed. Fingers crossed but I have never had to use it!
There's no need to have his and hers toiletry kits or separate ones for adults and kids. We share everything… except toothbrushes. Here is a full list of what I pack in my toiletry kit.
We have been using this eBags flat packed toiletry kit all year and absolutely love it. It is so easy to lay across the top of the suitcase. I've written a full review of the eBags Pack It Flat Toiletry Kit here. Trust me, you will LOVE this for family travel.
Limit Everyone to Two Pair of Shoes
For a summer or warm weather trip, two pairs of shoes is plenty. We usually wear our sneakers on the plane and the kids wear their Crocs. A pair of sandals for the beach gets packed into the suitcase. Sometimes I'll let myself have an extra pair of leather sandals but they are pretty lightweight and pack flat.
Strategically Pack Your Carry On Bags
We don't take a lot of stuff in our carry on bags. Often we have to carry a sleeping child off a plane and through customs (why do they always fall asleep right before landing!?) so having a tonne of small bags to carry on and off the plane doesn't work for us.
You can see in the image at the start of this post that we take one laptop backpack which fits our two laptops and the kids' two ipads plus all the necessary chargers, cables and travel adapters. We usually travel with a power strip too so we only have to plug in one adapter.
A take a crossbody travel purse (the black on pictured above) and sometimes a folding backpack (the green one pictured above). The crossbody bag is large enough for me to carry everyone's passports, my camera, wallet, iphone, guidebooks, inflight essentials like lip balm, moisturiser and baby wipes. (My guide to choosing a crossbody travel bag is here.) The green backpack folds up so we can use it when we need to but usually for a flight we'll pack it with snacks, coloring or work books, colored pencils, card games like Uno and the kid's special blankets that we could never pack in a checked bag in case it went missing.
List of Packing Essentials
Pin this post for later!