This post may contain compensated links. Please refer to my disclaimer here for more information.
The South of France. The French Riviera. The Côte d'Azur.  Call it what you will, this is a beautiful part of the world. Hugging the Mediterranean coastline on the Southern edge of France, you'll find beautiful towns, sparkling seas and chi-chi glamour. This region of France has some of the best weather in the world. Nice gets 300 days of sunshine per year.
I wouldn't call the South of France overly kid-friendly mind you. There are some attitude issues that come with the territory here. Kids are not always a welcome presence in restaurants, on trains or generally out and about. Then there's the dog poo. The sidewalks in Nice are literally littered with excrement. You have to be very careful where you walk (or push a stroller) or you'll be scrapping poop off your shoes.
That said, Nice is a very nice place to spend a few days. It's walkable, if you can manage dodging dog bombs as you go. There is an abundance of affordable holiday accommodation. (We rented a two bedroom apartment for $125/night on Airbnb. Want to try out Airbnb? Click here to get a $25 off coupon.) The weather is sublime. And you couldn't pick a better base for exploring the French Riviera. Nice has excellent rail connections to the other towns along the Côte d'Azur, Paris and even internationally on to Italy.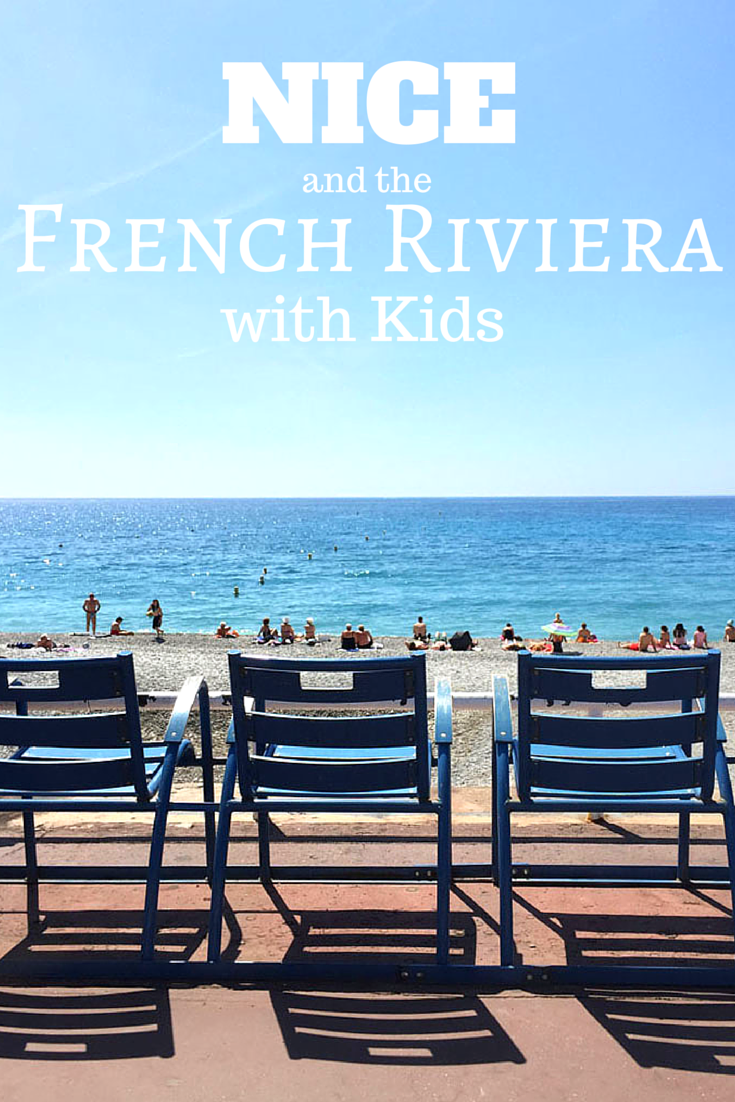 Here's what we recommend doing in Nice & the French Riviera with kids: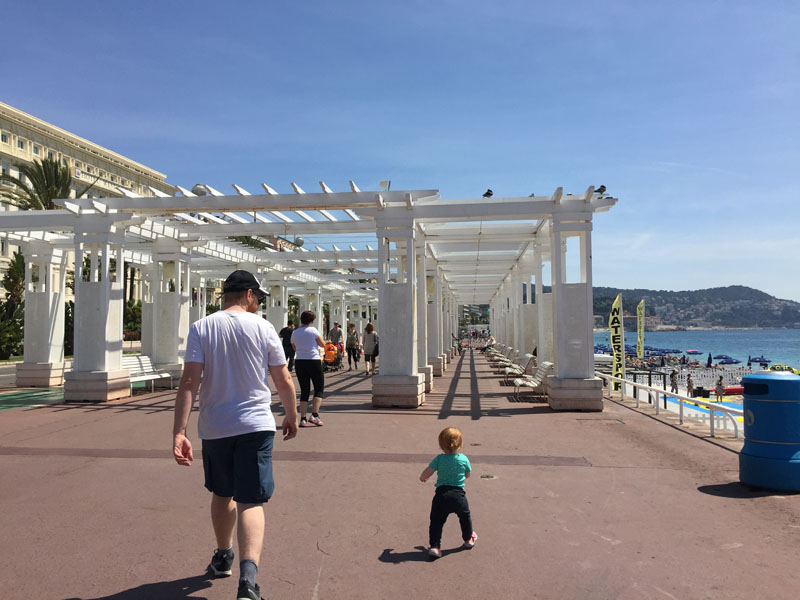 1. Stroll the Promenade Anglais
The English loved Nice so much they named the French named main beachfront Promenade after them. The Promenade Anglais is a lovely wide pedestrian & biked pavement that stretches along the waterfront, running the length of Nice. Elevated from the beach below you can easily and safely stroll along with kids and admire the people, the water and the Belle Époque architecture.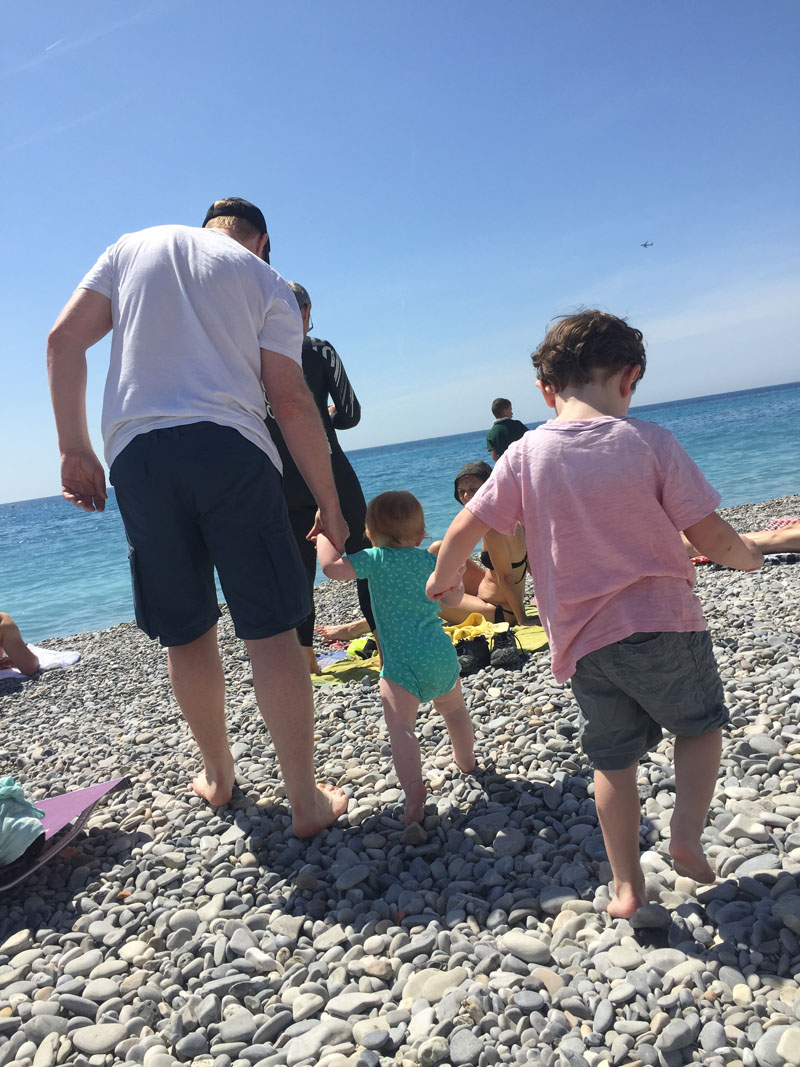 2. Check Out the Beach
Nice's beaches are naturally pebbly so you won't be making any sandcastles. The stones are a little difficult to walk on so bring Crocs or sport sandals. There are lots beachfront eateries to enjoy. Outside of the summer months, the water temperature might be a little fresh for most but it's fine for kids to splash around. Be warned, you'll see lots of topless bathers sunning themselves on the beaches across the French Riviera. If that's a problem for you, then skip the beaches. (But really don't. Boobs are no big deal in Europe.)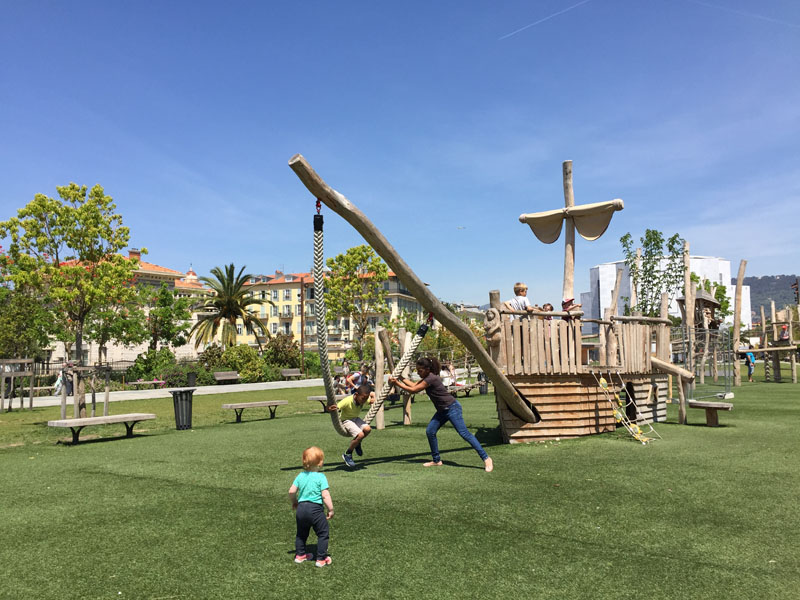 3. Play at the Promenade du Paillon
There is an amazing playground in Nice. In fact, it's one of the best I've ever seen. The Promenade du Paillon is actually a river that was paved over and turned into a lovely park. It runs perpendicular to the Promenade Anglais, for about four or five city blocks and is very easy to find. The playground is wonderful. Lots of different zones, all made from wood and with an aquatic theme. There's a pirate ship, a giant whale, lots of swings and climbing structures. Towards the beach there's also a great mist fountain for splashing in and a carousel.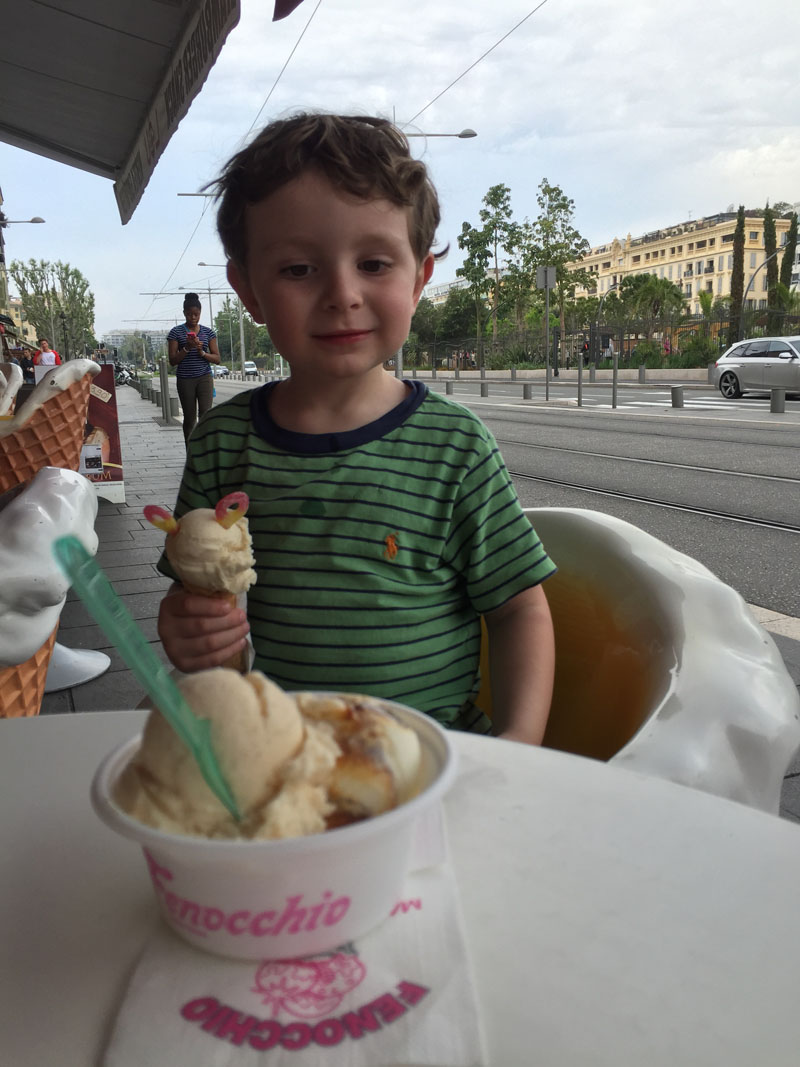 4. Eat Ice Cream at Fennochio
Fennochio offers dozens upon dozens of delicious flavours. There must have been at least 70 or 80 on the day we visited. We sampled a few, for research purposes of course, and they were all amazing. The lavender and Riz au Lait (or rice pudding) flavours were exceptionally good. It's conveniently located right next to the Promenade du Paillon. Look for the ice cream cone shaped seats.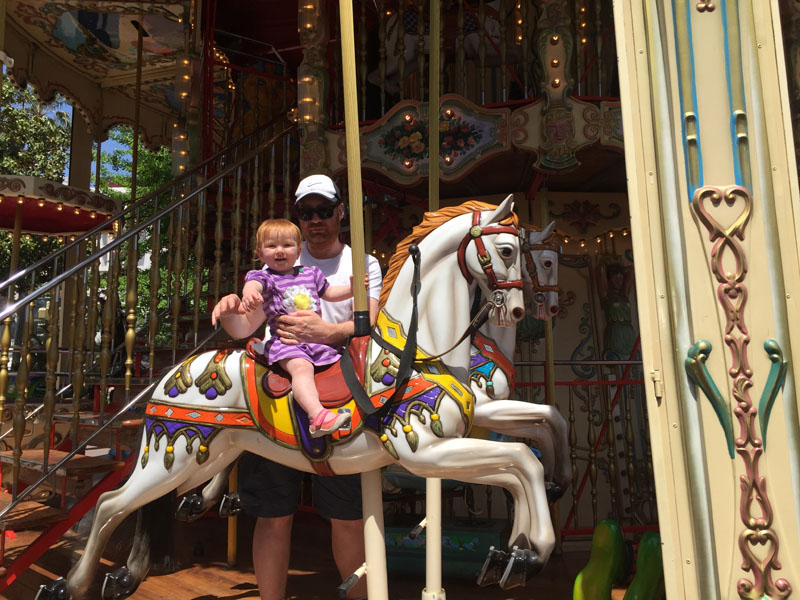 5. Ride the Carousels
You're in France! The home of the carousel. It would be rude not to ride one, right? One of the things I loved about France was that there are carousels everywhere. The always seem to pop up in the best possible places. Just when you're kids are tired from a long walk or bored of waiting in line for a tourist attraction. We found carousels near the beachfront in both Cannes and Nice. Ride are a couple of Euros.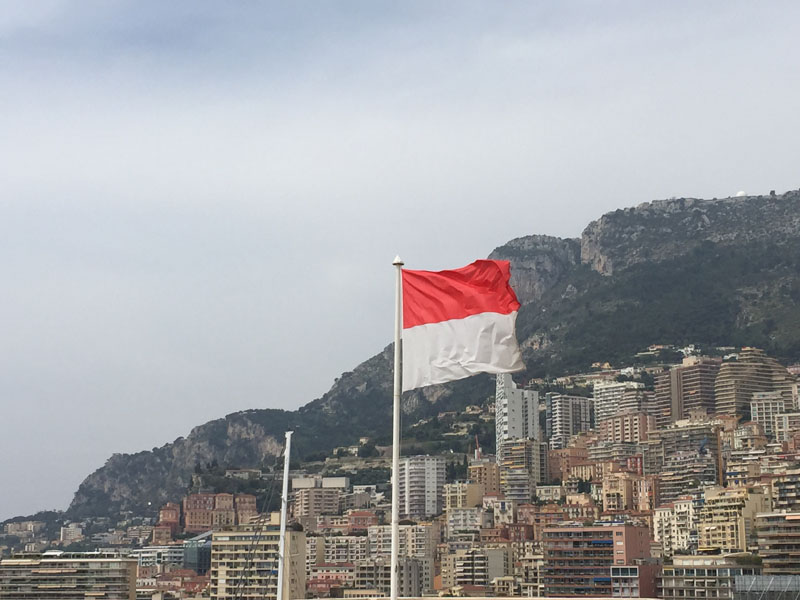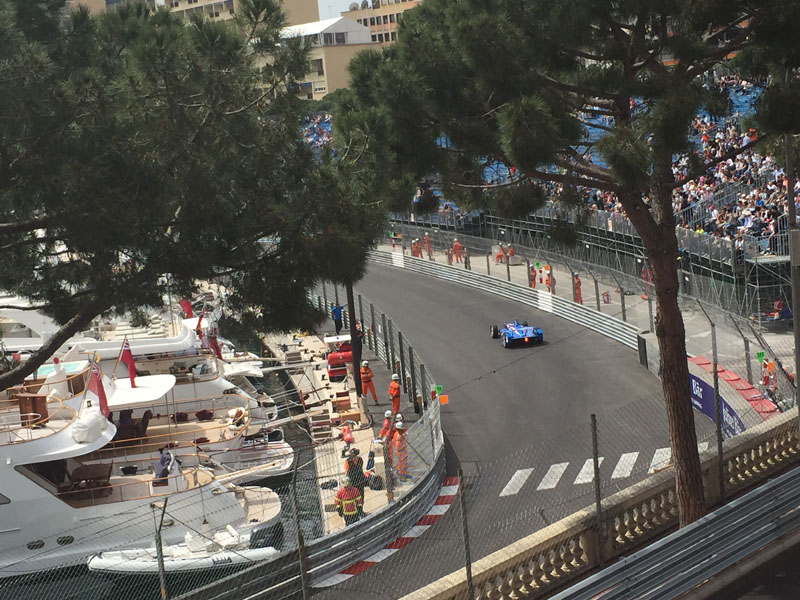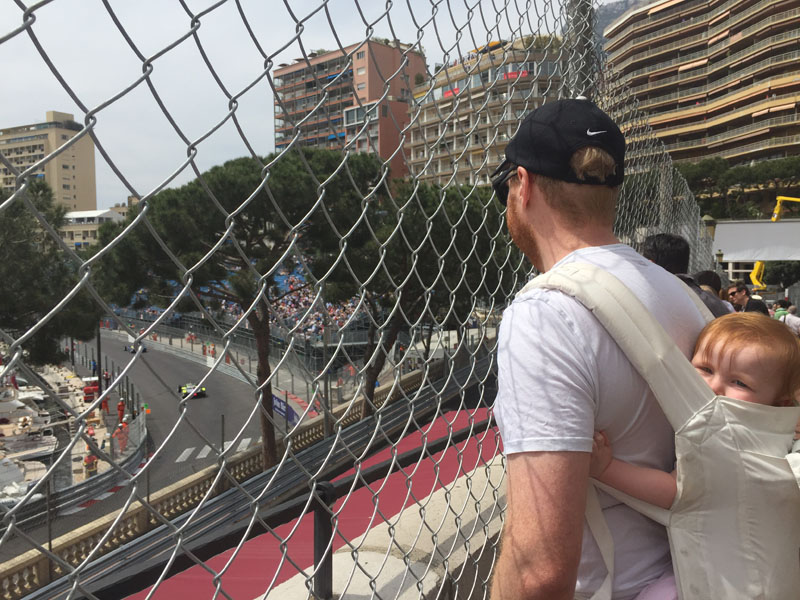 6. Spend a Day in Monaco
The Principality of Monaco is only a short train ride from Nice and is definitely worth a visit. We visited during the ePrix which was a great experience. It gave us a glimpse of what the Grand Prix was like without the crowds and expense. It's a little bit harder to get around in Monaco because it's so hilly so bring an Ergo baby carrier
 instead of a stroller.



7. Check Out Cannes
Cannes is another one of the French Riviera's gems. It's a beautiful town with a much nicer beach than the one in Nice. Spend some time at the beach, eat lunch and play in the area along the beachfront promenade. There are some amusement rides for little kids as well as another carousel. Cannes is easily reached by train from Nice and everything is a short stroll from the train station.
8. Rent an Apartment & Self Cater
One of the downsides to the South of France is the expense. On the upside, the weak Euro means that renting an apartment is quite good value but dining out wasn't cheap. Restaurants certainly didn't feel as child-friendly as in neighbouring Spain or Italy and, frankly, it wasn't worth the cost. We found it much easier to self cater here. We picked a great apartment on Airbnb with a lovely terrace, perfect for eating out. The cost of groceries in France isn't expensive and we enjoyed many meals out on our balcony. It's a much more relaxed way to travel when you have small kids. Want to try out Airbnb? Click here to get a $25 off coupon.

Read our other posts on Europe with kids:
40 Tips for Travelling in Europe with Your Kids
10 Tech Tips for Travelling in Europe
10 Tough Things About Travelling in Europe with Kids (And How to Make It Easier)