This post may contain compensated links. Please refer to my disclaimer here for more information.
Use technology to your advantage when you're travelling in Europe! There are couple of simple tricks that you can do to make travelling in Europe a lot simpler with the right technology. We all use our iPhones and iPads on a daily basis at home and using them to their best ability while you travel can enhance your trip to Europe.
Here are 10 Tech Tips for Travelling in Europe: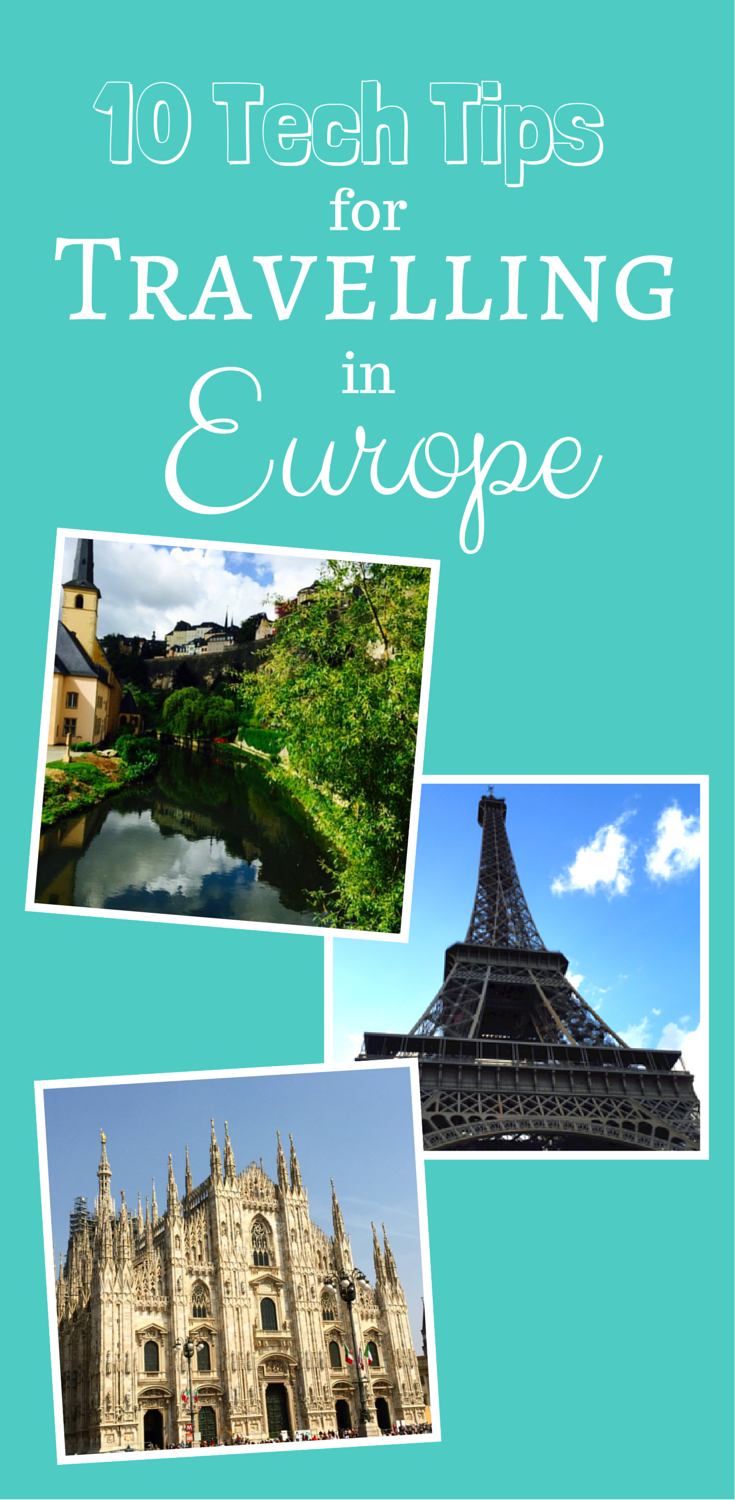 1. Download the app for the local Metro.
This is a really useful tip for travelling in big cities in Europe. Navigating foreign Metro systems can be hard, especailly if you're someone that isn't used to relying on public transport. Downloading the app for the local Metro system will give you offline access to Metro maps in English and a route planner to work out the best was from A to B. Here are some direct links to the Metro apps for Paris, Milan, London, Barcelona and Amsterdam.
2. You have to register for free Wifi.
You'll find free wifi in many places but you'll often have to register for it first. This almost always requires giving your email address or even worse a cellphone number. Don't give your real email address as you'll end up on the receiving end of a tonne of spam emails. (I'm still getting Spanish spam from using the free wifi at Barcelona airport!) Even worse, you'll often find free wifi but you'll have to register and receive a text message to get started. If you don't have a local sim card in your phone this can be a real problem.
3. Get a sim card that covers all of Europe.
I can live without calling and texting but I can't live without data on my phone! I love to Instagram and Facebook on the go, plus use my iPhone for directions, finding good restaurants and checking if something I want to visit is actually open before getting there. If you're just travelling to one country, getting a local sim card is a good idea but if you're travelling through a lot of different countries in Europe, it just isn't practical to buy a sim card in each place.
We found a great solution to this problem! MTX Connect offers a data-only sim card which covers most of Western Europe and a good chunk of Eastern Europe. There are different pricing plans depending on how long you are travelling in Europe. We opted for 1GB plan which was valid for 30 days. MTX Connect kindly provided us free usage but normally this costs $50. It's easy to set up and they'll send you the sim card before you leave home.
4. Find creative ways to charge your devices.
Even experienced travellers can forget things from time to time. We left our travel adapter at home and could not find one anywhere in Paris! If you forget to bring a travel adapter with you, there are creative ways of charging USB devices like iPhones, iPads and Kindles. You can plug your USB cord into other electronic items such as TVs and modems to charge them.
5. There's almost never Wifi on trains.
We had heard that there was Wifi on many of the intercity trains that travel around Europe so were planning on working while we travelled around Europe on our Eurail pass. This just wasn't the case. The only train we found with function Wifi was the French Thalys train. The Wifi was free in first class but in second class you have to pay for it (unless you buy a more expensive second class fare.) We pre-downloaded movies and TV shows to watch onboard without the need for internet. Bring a headphone splitter
 so two people can listen in at the same time. My list of the 11 best travel accessories for Europe will help!
6. Learn how to use maps offline.
No I'm not talking about paper maps! Using maps on your iPhone can eat up a lot of data and if you're roaming this will be very expensive. You can use Apples Maps offline if you preload the destination when you're at your hotel or apartment using the wifi. The GPS will still work without data and direct you as you move along. It should also work in reverse so you can retrace your route home but you won't be able to plan a new route while you're out without switching your phone off flight mode.
7. Snap photos of maps on your iPhone.
Use your iPhone in your hotel room while you're connected to the Wifi to plan out your route and then take a screenshot of it by clicking the home button and the sleep/wake button. (Visual instructions for the technologically challenged are here!)
8. Let Google translate everything for you.
For the times when you just don't know what the heck is going on, you can let Google translate for you. Download the Google Translate app and you can either type text in or use it visually. Just select the language you're translating from and to. Point your iPhone at any mysterious menus or baffling signs and a direct translation of the text will appear on the screen. It's not always perfect but it will help you along the way.
9. Keep your devices in flight mode.
If you're using your phone or iPad as a camera, keep it in flight mode while you're out & about. It will use a lot less battery power while in flight mode and you'll have less chance of being left without a camera at the worst possible moment.
10. Invest in a charging device.
One of the best items I've bought for my travels is a Mighty Purse
. I can't count how many times I've needed it when my phone has been almost out of batteries! It's a very cute leather purse that has a rechargeable battery pack insert which can charge you iPhone, iPad, Kindle or anything other USB device. The battery pack holds two full charges for up to a year and is easily recharged using a USB charger. You can take the battery pack out if you want more room in the purse to use as an evening clutch. I have this exact one in gold
but there are a range of other colours available: