This post may contain compensated links. Please refer to my disclaimer here for more information.
Christine Amorose is a yoga-lover, Francophile and self-confessed beach bum. 
C'est Christine
follows her journeys around the globe, after packing in her job for a life on the road. From Australia to South East Asia to Europe and the US, she manages to look stylish and put together in every single picture she takes.
Her fashion is always location-appropriate yet she manages to stay true to her own sense of style – glamorous yet effortless.
I discovered C'est Christine through a post titled "
How to not look like a backpacker when living out of a backpack
" in which she divulges her style secrets.
Find out more about these in my Flashpacker Fashion interview with her below.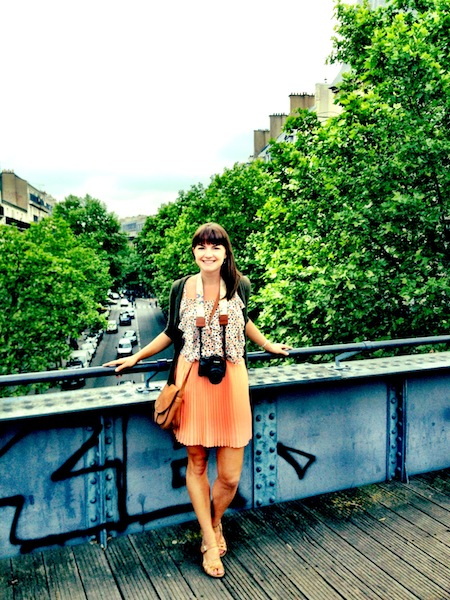 Describe your personal style. How do you keep it up on the road?
Simple and classic, with a twist. I wear a lot of simple pieces and neutral colors, but I love a good unexpected pop of color. Right now, I've got a pair of leopard-print harem pants, a neon yellow asymmetrical top and a gorgeous floral top that are fun to mix with my staples of black jeans and black tops. I also love to dress up a simple look with fun jewelry, bright-colored tights or hot pink lipstick.
You wrote a great post about how to not look like a backpacker. Can you give us a quick summary of your philosophy on keeping it classy while limiting yourself to 15kgs of luggage?
Dresses are a great option because they're an entire outfit in one: pick ones that don't have to be ironed and that can be dressed up with accessories for a night out, but are casual enough to sightsee in. Choose a color scheme: usually, I stick with black bottoms and accessories. Make sure every top can be worn with every bottom: this is pretty easy if you stick to solids and neutrals. Take fewer pairs of shoes: they're a huge space sucker and they're heavy!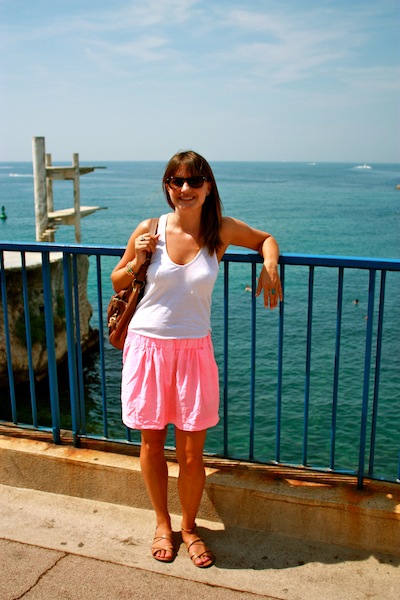 Why is it important to keep your own sense of style on the road and not just give up and dress like a sloppy backpacker?
 One of my college girlfriends used to say "Look good, feel good, do good" when it came to taking exams: if you just show up in pajama pants and a messy bun, you don't feel your best and you're not going to do your best. I think that philosophy is true for travel as well: I always feel much more confident when I've taken the time to put myself together. That doesn't mean I'm in high heels and full makeup every day, but it does mean that I've taken a moment to think about my outfit and put on earrings. I'd also rather blend into a city, rather than stand out as a tourist.
How does what you pack change depending on where you're headed?
I fully admit I'm a massive beach bum: I'm happiest in tropical climates where I can get away with bikinis, sarongs and flipflops most days. When I'm in cities, I like to be a bit more put together with jewelry, purses and scarves. I always make sure I have a sarong or in my bag in Southeast Asia and Europe: to cover up my legs in temples in Asia and to cover my shoulders in churches in Europe.
You're a big fan of scarves and posted this great video from Nordstrom on how to wear them a bunch of different ways. What other accessories don't you leave home without?
I have an awesome travel jewelry case, so I always have my favorite earrings, necklaces and rings with me. Jewelry is so key to dressing up and finishing off an outfit, especially if you're wearing simple clothing. I also love my small cross-body bags for when I'm out sightseeing: forces me to carry less and save my shoulders, and I can keep it in front of my body on crowded public transportation or in dodgy areas.
What's your take on make-up? What do you bring and what can you live without?
My entire make-up bag goes with me: primer, pressed powder, concealer, blush, bronzer, mascara and a couple of neutral eyeshadows. However, my general make-up routine takes no more than 10 minutes: it's just enough to make me look like a better version of myself.
I travel with two boys. Got any travel style tips for men?
Always have a simple button-up and at least one nicer pair of shoes: it's harder for men to "dress up" their every day clothes to meet dress code requirements for certain clubs and restaurants. Make sure every top goes with every bottom by sticking with solids and neutrals. Stop buying beer T-shirts in every country you visit. Keep it simple, shave every once in a while, and you'll look great!
Be sure to check in next week for more Flashpacker Fashion Friday. I'll be interviewing a very stylish Mother & Son travelling duo.
Join the discussion on Twitter every Friday using the hashtag #flashpackerfashion. Share your style secrets, ask a question or tell us what you can't live without in your backpack.
If you liked this interview, use the buttons below to share it on Facebook, Twitter or email it to a friend.