This post may contain compensated links. Please refer to my disclaimer here for more information.
The USA is a wonderful place to travel and, sometimes, the standard 90 day visa waiver just isn't long enough to explore this vast and contrasting country. What's more, the rules for using the visa waiver program can be beyond complicated. If you're on an extended trip or plan on travelling in and out of the US, you may need to thing about getting a B1/B2 visa for the USA.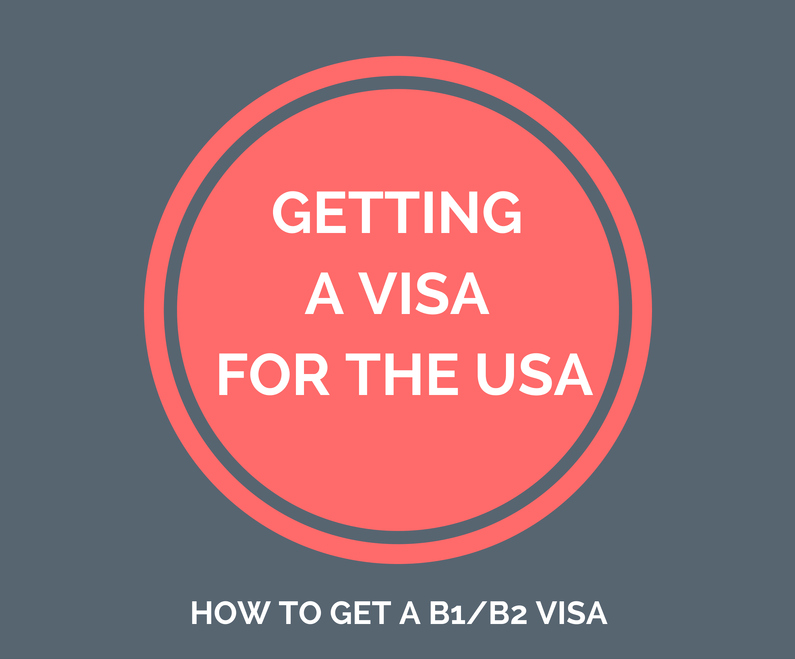 What is a B1/B2 Visa and Why Should I Get One?
A B1/B2 visa for the USA is a non-immigrant visa for tourism and business. You are not allowed to work in the US on a B1/B2 visa. The purpose of this visa is for travel longer than the 90 days given under the Visa Waiver Program, attending conferences or business meetings, participation in amateur sports and medical treatment.
You will need a B1/B2 visa if you plan to travel for more than 90 days total around the US, Canada, Mexico and Caribbean islands as the Visa Waiver Program counts time in these countries towards your VWP time. Read my post on understanding the Visa Waiver Program for the USA for an in-depth explanation of this.
Your B1/B2 visa allows you multiple entries into the US, for up to six months at a time and is valid for 1, 5 or 10 years. (The duration of the visa seems to depend on where you apply for it.) If your passport expires while your visa is still valid you don't need to re-apply for the visa. Just keep your old passport with you to show you have the visa.
Requirements for a B1/B2 Visa for the USA
You'll need to provide supporting documents to show that you do not intend to remain in the US after your legitimate purpose of travel has ended. This may require demonstrating strong social, economic, family and financial ties to your home country. It may be necessary to provide some of the following:
Letters of employment and payslips
Proof of ongoing academic studies
Proof of funds, i.e. bank statements, asset statements
Evidence of ownership of property
If visiting relatives, it is helpful to show that they are themselves in the U.S. in legal status
Basically, you need to show that you do not intend to use this visa to live in the USA.
Process for Getting a B1/B2 Visa for the USA
Fill in the online application form. Allow at least 30 minutes to do so and be prepared to list dates of your last five visits to the US and every country you've been to in the last five years. You need a digital photo which you can take yourself and crop to fit the visa guidelines using a special tool at the end of the application process.
Once your application is complete you will need to print out or email the DS-160 Visa Application form. If you choose to email it to yourself, don't panic, it takes a couple of hours to come through. Do not lose this form! It is essential you bring the DS-160 to your visa interview.
Find out the wait time for an appointment and processing at your nearest consulate using this link. Wait times vary from 1 day to 14 days so plan accordingly! Don't book any travel until you know roughly how long it's going to take to get your visa. 
Book an appointment. This is done via the online booking system for your nearest consulate. You'll need to pay for your visa via credit card in order to book your appointment. Attend the appointment.
Bring along you passport, your DS-160 application confirmation form (this is essential!!) and your supporting documents.
Be polite and respectful and prepare to answer questions such as your purpose for visiting the US, how long you plan on staying, when you plan on returning to your home country and how you plan on paying for your travels. You will be told if your application is successful during the appointment.
Wait for your visa to be processed, added to your passport and sent back to you. We applied in New Zealand, and the application process went very smoothly, taking just over one week to complete from start to finish.
Got Questions??
I've researched the rules for the obtaining a B1/B2 visa ad nauseam so I'm confident I can answer any questions you may have on it. If you're having an issue working it out for your trip, I would be happy to help. Just leave me a comment below and check the box to indicate you would like to receive replied to your comment.