This post may contain compensated links. Please refer to my disclaimer here for more information.
I'm no expert when it comes to skiing or snowboarding – in fact I've only been on the slopes twice in my life. There are plenty of great places to ski in New Zealand so I asked Mike from Nomads on the Road to share them with me. He's the go-to guy when it comes to anything snow related so listen up and learn!
---
Finding great places to ski in New Zealand is not as daunting as you may think. You just need to be realistic about the terrain and quality of snow. As someone who has lived, worked and skied in the French Alps, Colorado, Canada as well as New Zealand, I can tell you New Zealand is right up there for fun on the slopes. New Zealand's ski scene is predominately based in the South Island; there are a splattering of ski hills and club fields in the North Island which is where we will start our round-up of places to ski in New Zealand.
The North Island
Starting in the North Island and the obvious and logical mountain to focus on is the volcanic Mount Ruapehu. Mount Ruapehu is not only a very active volcano, but it also holds the distinction of being the largest ski area in New Zealand. Home to two commercial ski fields, Whakapapa (the largest ski area in New Zealand) to the north and Turoa on the southern slope, Mount Ruapehu is also home to a little club field to the east, Tukino.
Home to New Zealand's largest beginners' area, known as Happy Valley, Whakapapa is proud of the fact they set it away from the rest of the ski hill. Equipped with its own café, rental shop and ski school meeting area, Happy Valley has a long gentile slope accessed by a slow moving chairlift, perfect for learning. With more than 30 groomed intermediate trails, skiers and boarders are offered a nice variety of trails, bumps, chutes, bowls and wide groomers. For those more advanced skiers and boarders Whakapapa offers 24 black and black diamond runs, as well as lift-accessed back country. The back country area is known as Black Magic and each September plays host to the popular 'Extreme Competition'.
The beginners' area at Turoa is known as Alpine Meadow, a superb little learner's hill. With a huge 120m long carpet, Alpine Meadow offers a mellow introduction to skiing and snowboarding. With the Alpine Chalet right next to the beginners' area, guests will be able to recoup with coffee, meals, snacks or even a moral boosting beer after a day on the slopes. The intermediate area at Turoa mainly consists of wide and smooth runs; though for the more adventurous there are a few chutes and bowls. With 12 intermediate groomers linking to one another, skiers and boarders can enjoy long and challenging riding all the way from the top of Australasia's highest lift to the base. Turoa's advanced area consists of 25 black and black diamond runs and two lift-accessed backcountry areas where riders will find a huge variety of terrain. Natural half-pipes and chutes through the Organ Pipes and Solitude backcountry area along with the sweeping terrain of the Triangle and Glacier backcountry area makes skiing and boarding at Turoa very special in New Zealand.
Located on the eastern slopes of Mount Ruapehu, Tukinooffers that rare combination on a ski hill, lack of crowds, friendly faces and superb terrain. The slopes at Tukino are sheltered from the westerly winds and the club often operates with clear skies while the rest of the mountain could be covered in cloud. Snow conditions vary but for those who make it up the hill early will rewarded with fine conditions in the mornings with the sun softening up the snow.
The South Island
Reeling off the list of resorts on New Zealand's South Island is an article in its own right. Treble Cone, Cardrona, Snow Park, The Remarkables, Coronet Peak, Oahu, Roundhill, Mount Hutt, and Porters are all top ski hills. That is before we even mention the excellent club fields of Fox Peak, Mount Dobson, Hanmer Springs Ski Area and the four clubs which make their home on the Craigieburn Range – Broken River, Craigeburn Valley, Mount Cheeseman and Mount Olympus.
Starting with the impressive Treble Cone located in Wanaka, the ski hill overlooks the pristine waters of Lake Wanaka, yet there is more to Treble Cone than just great views. Treble Cone offers the largest ski area and the longest vertical in the South Island, long uncrowded groomed slopes and some of the best off-piste terrain in New Zealand. Heading away from Wanaka and into the Crown Range, skiers and boarders will have two options on opposite sides of the valley.
On the right heading out from Wanaka is Cardrona. With a peak elevation of 1860m, vertical rise of 600m and 345 hectares to play in, Cardrona is a great all-round ski hill. On the opposite side the valley is New Zealand's only dedicated terrain park. Snow Park offers freestyle skiers and snowboarders' world-class park riding. It's not often people call skiing and snowboarding in the Southern Hemisphere world-class but in Snow Park they have a world-class terrain park, presenting a range jibs, jumps, rails, boxes and half pipes for shredders.
Moving on to the Queenstown ski hills, there are two to choose from, The Remarkables and Coronet Peak. The Remarkables certainly live up to their name, maybe not quite for the quality and quantity of snow but for the views. One of the most famous and photographed mountain ranges in the world, thanks to the combination of jagged shapes which rises steeply above the shores of Lake Wakatipu. Coronet Peak is the most popular ski hill in South Island, entirely due to its proximity to Queenstown. This ski hill is perfect for beginners and intermediate skiers and snowboarders. So much so that Powderhound magazine has given Coronet Peak a 'best skiing in New Zealand' award for their intermediate terrain. With only 280 hectares and 481 metres of vertical, the simple fact is Coronet Peak is small. However 30 per cent of its terrain is classed as black, and with various off-piste runs around the edges of the resort and a few chutes, advanced skiers and riders can have some fun too.
Oahu is one of New Zealand's hidden gems, as much we don't like to refer to places in those terms; it's true in this case. This little South Island ski hill has the vibe of a local club field yet is a fully commercial enterprise. No crowds mean fresh lines can be found, when the snow is willing to oblige. Located in the Mackenzie District, 3.5 hours from Christchurch, Oahu overlooks the lake of the same name.
Moving north towards Lake Tekapo and you will find the charming small resort Roundhill. While it retains the vibe of a chill club field, in 2010 the introduction of a ropetow has opened up an incredible adjoining face, which was once hike-only. The lift now gives Roundhill 780 metres of vertical, the longest of any New Zealand ski hill as well as increasing the skiable terrain from 60 hectares to 500 hectares.
Mount Hutt is a ski hill which receives an impressive (by New Zealand standards) four metres of snow on average each year. However the 365 hectares is often closed due to Mount Hutt sitting on the edge a mountain range and therefore exposed to cold and strong winds. The ski area and the steep windy access road are at Mother Nature's mercy.
The closest ski area to Christchurch is Porters and while it is no Vail or Whistler it is a pretty damn fine resort by New Zealand standards. The resort offers a new day lodge, café, shop and ski rental area. But more importantly it offers great views of Lake Coleridge. With plenty of skiable terrain at Porters to appeal to beginners and intermediates, advanced riders may feel left out. Yet the vertical drop is impressive and there is a lot for these riders to enjoy. Easily accessed backcountry bowls means Porters is much bigger than the in-bounds 230 hectares suggests.
South Island Club Fields
With a range of commercial ski hills to choose from, many skiers and boarders like to get away from the crowds – not easy on an island where it seems half the southern hemisphere loved to shred. Yet the abundance of well-run club fields in the South Island means for those wishing to escape the crowds and enjoy some great lines, the option is there.
Fox Peak and Mount Dobson are two club fields in the Lake Tekapo area. Dobson has that unique Kiwi relaxed attitude. The 400 hectares of Mount Dobson terrain is contained within a treeless bowl. No crowds mean powder days at Mount Dobson can be epic.
Fox Peak is a classic club field, run by an old ski club which was established in 1929, and with non-members welcome to visit the hill it still retains that ski bum vibe. With 850 vertical metres and 500 hectares of lift accessed terrain, Fox Peak is a large ski hill by New Zealand standards.
Getting to Hanmer Springs Ski Area is half the fun. But those who succeed will be rewarded with thin or non-existent crowds, cheap accommodation, lifts that spin from sun up to sundown, views to cry over and friendly staff. The ski field, formerly known as Amuri, is basically one wide open bowl with no trees – alpine style.
Four clubs which make their home on the Craigieburn Range – Broken River, Craigeburn Valley, Mount Cheeseman and Mount Olympus. Broken River is a no-frills club field which caters to skiers and snowboarders with an adventurous side. Craigeburn Valley offers some of New Zealand's most challenging terrain, offering steep, narrow chutes to wide-open bowls – no groomers to be found here. Mount Cheeseman is a club field which offers only two T-bar lifts, a learners' tow and 320 metres of vertical. Sitting within an alpine basin the terrain varies from mellow to steep. Mount Olympus sounds like something from ancient Greece and the motto of the Mt Olympus ski area is 'Playground of the Gods'. This club field offers big mountain skiing, slopes which capture powder and of course no crowds. Hike to the best spots and enjoy fresh lines all day.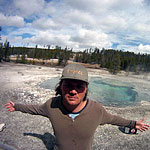 Mike is a writer and wannabe mountain man, if he could grow a big bushy beard he would, but he will settle for writing about all things adventure. Currently living in Fernie, BC. You can also follow Mike on Facebook, Twitter, Google Plus and Pintrest.
What's your favourite place to ski or snowboard in NZ? Let us know in the comments below…