This post may contain compensated links. Please refer to my disclaimer here for more information.
I love hearing personal stories from travellers who have enjoyed New Zealand. As a local, sometimes I just can't appreciate the natural beauty of New Zealand until I see it from an outsider's perspective. In this guest post, Linda from Eco Traveller Guide shares a little slice of unique New Zealand.
---
It wasn't the way I'd imagined seeing a glacier for the first time, but flying side-on, zig-zagging down its path meant the moment was sure to be etched on my memory forever more.
I was on the return flight from a trip to the summit of Mount Cook – the highest peak in New Zealand – and was wearing a cheek-aching grin from sheer exhilaration. This is one experience you do not want to miss when you visit the country's South Island.
Known also by its Maori name of Aoraki, Mt Cook is 3,750 metres high and was established as a national park in 1953. It is also now a UNESCO World Heritage Site. There are three summits in all, imaginatively named Low Peak, Middle Peak and High Peak, with the Tasman Glacier and Hooker Glacier running off from the main peak.
We had waited three days to get a good weather report before the helicopter could visit the summit safely. On the evening before, we had already decided to head on to our next destination if the bad weather didn't lift, so when we peeked out the curtains that morning to see blue skies… and a cloud-covered summit poking its head up over the mountains for the first time, we knew it was going to happen.
Today was the day!
Once we boarded the helicopter and donned the headphones, flashbacks of early Saturday morning shows of Airwolf filled my head… as did the theme tune. Another little pang of excitement helped spread a smile across my face as the blades started to rotate, quickly gaining momentum until they emitted the familiar 'wucca wucca' sound. And we were off.
The deep blue of the sky belied the miserable grey that had hung around for days previously. It was perfect picture taking light, so I pulled out the camera and started clicking away. It was the first digital camera I ever owned; a little black box that threw out the odd crazy, LSD inspired wavy images all on its own, but mostly produced some pretty spectacular shots, I think, considering it had all of 16 MB capacity.
Flying towards Mount Cook, the mountains shrunk back, the clouds became thinner and the most wonderful panoramic scenes of a rugged, jagged landscape of the South Island extended to the horizon all around. I realised after not too long that I was having the usual struggle of wanting to take photographs and being in the moment. I forced myself to put down the camera and, quite literally, enjoy the ride.
Once I'd stopped snapping and dragged my eyes to the front, the vast snowscape of the mountain unfolded before us. Clouds formed and dissipated above the top of the summit, constantly changing, evolving.
Across the white, marshmallow-like landscape, a black speck hovered.
Wondering what it could be up here, I kept an eye on it. Slowly, the speck grew and came into focus. It took me a while to realise it was another helicopter heading our way. It wasn't until now that I appreciated just how big this area just below the summit was, and that we were not 'just below the summit' at all. The snow skewed distance. We were still hundreds of kilometres from the grand peak.
Here, the helicopter landed, and when we stepped out onto the snow, ours were the only footsteps. No one had been here before us; well, not since the last snowfall, anyway. Like skittish kids, my boyfriend and I made fresh marks, looking back to see our tracks after each step. It was impossible to not lie down and make snow angels. He was itching to have a good ski around; I was just completely in awe of my surroundings.
It would have been wonderful to hang around for longer, immerse myself in the natural beauty of this amazing place, but alas we had to leave.
Then, as if he knew we'd be suffering from immediate withdrawals, the helicopter pilot flew twice around Aoraki summit before flying low over the glacier, and back to Mount Cook Village below.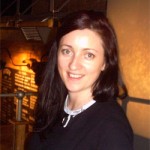 Linda McCormick is the founder and editor of Eco Traveller Guide. Since her first backpacking trip at the age of 13, she's been devising ways of dodging a regular 9 to 5 job to be able to spend more time travelling. Eco Traveller is part of the 'big plan', and is where she shares her passion for ecotourism and responsible travel. She also has a secret life as personal finance writer from time-to-time, but don't hold it against her! You can connect with Linda on Twitter @EcoTraveller or via Eco Traveller's Facebook page.