This post may contain compensated links. Please refer to my disclaimer here for more information.
Utah is primarily known for two things – Mormons and skiing, but The Beehive State has a lot to offer visitors. Salt Lake City, or its suburbs, is a superb base while exploring Utah. When you're ready to head to the southern part of the state, also known as Color Country, plan on staying in Cedar City. However, the state is small enough that one can easily arrive in almost any area of Utah within a few hours.

Blackcomb Powder by Tucker Sherman
Winter Sports
With the low humidity, Utah's snow is often champagne powder. Light, fluffy, and it doesn't stick together well. Not fun for making snowmen, but if you love to ski or snowboard, you can't go wrong here. While the Salt Lake City area boasts the majority of resorts, southern Utah has some great ones as well, and they're usually less expensive and less crowded.
Scuba diving
I know what you're thinking. You think perhaps I've either lost my mind or you have. Utah is landlocked! There's no ocean anywhere nearby. Of course, you would be correct. Utah isn't what some might consider prime scuba territory; however, many of the lakes are diveable, and if you happen to be there during cold weather and find yourself sorely in need of some time underwater, all you have to do is head to Homestead Crater. It is a short drive from Salt Lake City, and the water is about 35 Celsius year round.
Hiking
From day hikes to back country treks, there is something for every skill level. You will find wonderful national and state parks throughout the state. Zion National Park and Bryce Canyon are two of my favorite areas for camping, hiking, or even just doing a scenic drive. If Utah isn't your only planned stop while touring the USA, you may want to consider getting an annual parks pass. This will give you free entrance to all federal parks, as well as roads that are managed by the department.
Mountain Biking
Southern Utah is perhaps world famous for this adrenaline-inducing sport, with Moab wearing the crown. There are trails for every skill level, including beginner to full-grown nutjob. Make sure to bring plenty of water and some snacks so you don't run out of energy.
Historical Sites
Because of the exodus of early Mormons to Utah in the 1800s, this state has an interesting history. The Latter Day Saints Church loves keeping history alive, which means many historical sites throughout the state are well preserved. In Salt Lake City, a visit to Temple Square is an enjoyable time. Not only are the grounds beautiful, but the area was key in the regional development. The Mormon Tabernacle tour is quite fascinating, and you'll be amazed by the demonstration of the famous building's acoustics. Tours are free and mostly focus on the historical nature of the square. During the holidays, the square is extremely festive with gorgeous lighting and caroling.
Zoo
Salt Lake City is home to the Hogle Zoo. It's a very nice attraction, especially if you have younger ones in your party, and is located in the hills above the city, adjacent to some great hiking in Emigration Canyon.
Dinosaurs
What child doesn't enjoy dinosaurs? They can be pretty enjoyable for adults as well. Utah has been the site of many paleontologic discoveries. The city of Vernal, located in the northeast, close to the Colorado border, is the place to visit in Utah. There are even active digs you may be able to witness.
Professional Sports
If you want to catch a game while you're in Utah, the state is home to the Utah Jazz (basketball), the Utah Grizzlies (ice hockey), and Real Salt Lake (soccer). If you like college teams, BYU is located in Provo, Utah, which is about 1 hour away from Salt Lake City.
Getting Around
Larger cities have decent public transportation, but really you'd do better renting a car. Make sure to check aggregate sites like Kayak for the best prices. Also, sign up for Hertz newsletters before your trip since they often have amazing deals that are only available through their newsletter.
No matter how long you plan on spending in Utah, there is more than enough to keep you busy. Especially if you're an outdoors aficionado.
About the Author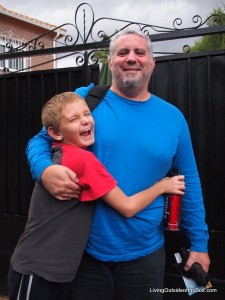 Talon Windwalker is the editor/publisher of 1Dad1Kid.com. He is a single parent who has been traveling the world slowly with his young son since May 2011. They have an adventurous spirit, and you're never just quite sure what they'll do next.
You can also connect with them via Facebook, Twitter, Google+, and Pinterest.
Images sourced under creative commons license. Cover image Walking on the Wave by Jacky CW on 500px.com