This post may contain compensated links. Please refer to my disclaimer here for more information.
We've hit a bump on the road. But… it's the best kind of bump in the world.
A baby bump!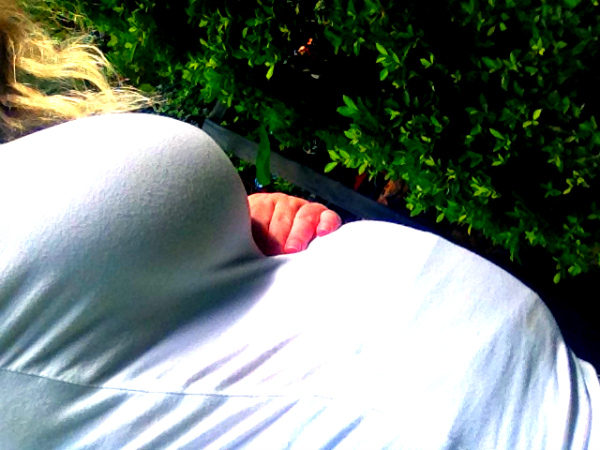 That's right. We're having baby number two!!! And we're having it pretty soon. With only four months to go, his or her due date is on 25 March. We've known since early August but wanted to keep the news to ourselves until we knew exactly how and where we were going to manage adding a new baby to our family.
It's thrown us off  our travel plans a little but we think we've worked our way around it. Pre-bump we were going to head to Canada for the ski season but obviously that idea went right out of the window. It wouldn't be much fun on the slopes being eight months preggo plus would cost us $30,000+ to have a baby in Canada.
So we came to Thailand to investigate having the baby in Bangkok. Lots of expats have their babies in Bangkok and there are plenty of informative blog posts on the topic. We met with a doctor at Samitivej Hospital in Bangkok which came highly recommended. We had an ultrasound and found out that I was a bit further along in the pregnancy than I'd initially thought due to bad calculations on my part. The doctor was nice, spoke good English and the hospital was super swanky but I just couldn't get my head around being nine months pregnant and bouncing around Bangkok in the back of a cab. Or having to make visa runs with a teeny baby. Next idea please.
After working it through, we realised we wanted to have our baby in an English speaking country that we were comfortable in and had full access to healthcare. That narrowed it down to either New Zealand, Australia or the UK. We worked through the options and decided that the UK would be the best place for us to go. We could have the baby there through the NHS as Lee is from the UK. He would be able to work there too as his Dad's business, currently his biggest client, is based in the UK. We were happy with this decision. It still felt like we were moving forward with our travel plans and we'd be able to head to Europe to explore once we'd gotten through the tough newborn months. We were *this* close to booking flights.
Then I ended up in hospital in Koh Samui for a week. It was a scary, lonely time for me and a stressful, busy time for Lee having to visit me and manage Reuben 24 hours a day. We decided we couldn't go through the birth of a new child without family support and that we needed to go home to New Zealand. I had an emergency c-section with Reuben and was in hospital for three nights. It's likely I'll have a scheduled c-section with our #2 so being without family support for Reuben really isn't an option. The last thing I want is to be alone in hospital on the other side of the world again.
So we made the call to go home. Our travel insurance with Travel Insurance Direct only covers pregnant travels up until 26 weeks which gives us until mid-December to make our way back to New Zealand. In early December we're flying from Singapore to Brisbane for another week in Mooloolaba and an early Christmas with Lee's parents. Then we'll fly to Christchurch. Our house is rented out on a short term contract until just before Christmas so it actually times in quite well. I am not looking forward to unpacking all those boxes I spend weeks packing before our departure but luckily we kept all Reuben's baby gear in storage.
Nomadism will have to take a back seat for a bit. While I was initially quite disappointed at the thought of taking a few steps backwards my maternal instincts are kicking in and I have the overwhelming urge to nest for now. Actually I'm craving a bit of home. I want to bake bread, wash baby clothes and set-up a nursery. I'm sure that won't last too long though and once we're comfortable with our new baby we'll be heading out on the road again.