This post may contain compensated links. Please refer to my disclaimer here for more information.
As a foreigner who has been travelling in the US for the past 15 months, I'm often astounded or dumbfounded by things I come across here. I know US culture from TVs & movies and you'd think it's not all that dis-similar to New Zealand being another English-speaking, Western country and all. It's the little things that add up to create a cultural experience that is not like being at home.
Some of these are challenges. Some are just observational oddities. Based on my experiences here are 10 weird things about travelling in America.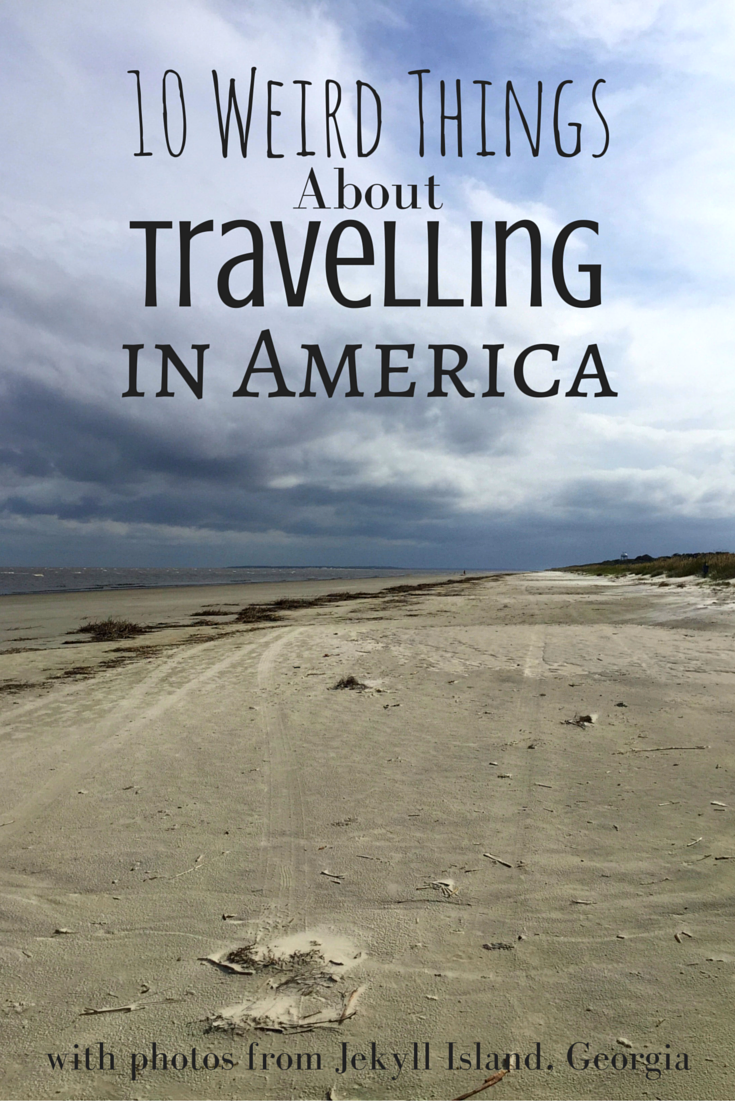 10 Weird Things About Travelling in America
1. Sometimes you can't pay for things with a foreign credit card.
It's like the rest of the world doesn't exist. Or maybe American businesses just assume we're primitive people without plastic money. Recently, I was trying to book a parking garage for our car while we took a week-long cruise in Tampa. There were two options for country on the billing information – USA or Canada. This meant I couldn't use my foreign card because the billing address wouldn't match up. The same often happens when I can't put my four digit, New Zealand zip code. Luckily, I have a friend who let's me put things on her US credit card and then transfer money over to her.
2. Americans often don't know where New Zealand is.
Is geography taught in schools in the US? Why don't Americans know where New Zealand is? I'm not asking them to locate it on a map. (But really, it's not THAT hard!) It's just nice to know that you know roughly where I'm coming from. And no, New Zealand is not in Europe. Also, I love watching people's minds blow when I tell them that the seasons are at opposite times of the year down under. Summer in January? Madness!
3. People camp at Walmart.
Seriously. Walmart camping is a thing. Google it! If you're travelling by car or RV, you can camp overnight in Walmart parking lots.
4. Gas is SO cheap!
Ridiculously cheap. In Mississippi, where we just travelled through, it was $1.75 per gallon… that's 46 cents per litre!!! I'm just going to pause a minute while the rest of the world takes that in.
When I tell Americans that gas costs $8 per gallon in New Zealand they can not believe it. No wonder it's not uncommon to see cars from states on the opposite side of the continent driving past you. It's such a cheap country to drive around. Road tripping is definitely the best way to travel the USA.
5. Portion control is out of control.
Once I ordered pasta at The Cheesecake Factory. I'm not joking when I say that what I was served looked more like a family-style meal for four than an individual portion. In most restaurants is the US, you could easily just order an appetiser and consider it a satisfying meal.
6. And while we're talking about appetisers…
In other English speaking countries appetisers are little nibbly bits you'd pass along at a party on a tray or share on a table with friends. And entrees are the small plate of food served before the main course of a meal. In America, the main course of a meal is called the entree and the small plate of food you have first is an appetiser. Weird.
7. People are SO friendly.
This is not at all a complaint. I love how friendly, open and overt Americans are. It makes for a nice change from New Zealand where you can walk into a grocery store, go about your business, pay for your items and no one will speak to you at all, not even the cashier.
I like that Americans greet each other semi-formally, make pleasant small talk and generally treat each other with respect. I've even been called "ma'am" a few times! I like the way I'm treated here.
8. It's OK to complain.
Complaining is par for the course in the USA. In New Zealand, if your beverage wasn't prepared correctly at Starbucks, you'd just accept it and drink it down begrudgingly. In the US, if something isn't up to your high standards you complain and they make it right. There's a culture of service in the US that you don't find in other countries.
9. Americans don't like the word "toilet".
I don't know what it is about the word "toilet" that is so objectionable to Americans. You get the slight sense they feel it's uncouth. Restroom or even bathroom are a much more palatable word to use. I'm accustomed to asking "Where is the restroom?" now but occasionally the T-word slips out of my mouth and I feel like I've ever so slightly embarrassed both myself and the person I'm asking for directions.
10. One final word about restrooms.
Why on earth is there a gap between the door and the wall of the stall in American bathrooms!? When I'm in the stall, I can clearly see through that gap so I'm sure you can see me while I'm in there. Everywhere else in the world, the door of the stall lines up perfectly so there's no peek-a-boo gap. Why do you have it? What's the purpose!? It's just weird. I do love your paper seat covers though.
What cultural differences have you noticed when travelling in the USA or other countries? Leave me a comment and let me know!