This post may contain compensated links. Please refer to my disclaimer here for more information.
Duffel bags are a great for travel! We've put together a list of the best duffel bags for every type of travel whether you need a smart leather carry on or a large rolling duffel for ski gear.  We have 12 different options to help you pick the best travel duffel bag for your trip. Let us help you find the best duffel bag for travel!
While suitcases and backpacks are solid options for travel luggage, it often makes more sense to carry something lighter, more spacious and more flexible. The best travel duffel bags range from small to medium-sized, soft sided and flexible bags to large rolling duffel bags that can carry a lot more which are very useful for ski or sports gear. You need specific features from your duffel bag, depending on the type of travel you're doing, the length of your trip and even on the destination so we've sorted our list out to help you pick the right bag for your travels.
Best Travel Duffel Bag 2019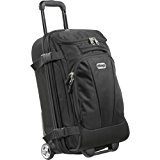 Don't have time to read the whole article? Our top pick for the best travel duffel bag 2019 is the eBags TLS Mother Lode Mini 21″ Wheeled Carry-On Duffel. This is a great carry on sized rolling duffel that has enough capacity for a week long trip. There is also a 29″ version of the Mother Lode duffel which is the perfect rolling duffel for using as checked luggage. You can't go wrong with this bag whether your pick the carry on version or the larger version.

What You'll Find in This Post
Best Duffel Bags 2019
With fresh new items appearing every year, 2019 offers some of the best duffel bags yet. The bags below meet different travelers' needs. In fact, the best duffel bag for travel may differ among each adventurer. Let's explore the possibilities and find your best travel duffel bag 2019!
Travel Duffel Bag Types & Which to Use
How do you know which duffel bag will suit your needs? Here's a quick breakdown:
Weekender – A weekender duffel bag is—as you might expect—just right for a weekend-long trip. These are light and easy to carry with the ability to hold enough for a few days of travel. Weekender duffels may have handles and/or a shoulder strap.
Carry on duffel bags – Duffel bags can be quite large, but a carry on duffel bag is one that fits the specifications of an airline carry on. Check with your airline, but generally, a carry on duffel shouldn't exceed these measurements: (22 x 14 x 9 in) or 115 centimeters (56 x 36 x 23 cm) including handles and wheels.
Wheeled duffel bags – Wheeled duffel bags are great for toting your gear. With the addition of wheels along the bottom, you can more easily lug a heavy duffel through the airport.
Rolling duffel bags – Like wheeled duffel bags, rolling duffels have wheels, but they also possess a full suitcase handle mechanism, meaning they are designed to move in an upright position.
We've searched far and wide to find you the best rated duffel bags. Take a look at these top selections in each category.
Our picks for best rolling duffel bags
Pacsafe Toursafe EXP34
This is one of the best rolling duffel bags on the market. Pacsafe is well known for its high quality anti-theft and security features. You can feel good about the safety of your belongings with this duffel. There are a few different ways to carry this bag–either in hand using the side handle or with the extendable trolley handle, should you choose to roll. There's plenty of room for your stuff in this Extra Large sized bag, and the soft exterior allows it to expand and hold as much as possible. And at only 11 pounds, it's a great choice for best lightweight rolling duffel.
>>>Click here to check prices on the Pacsafe Toursafe EXP34 rolling duffel.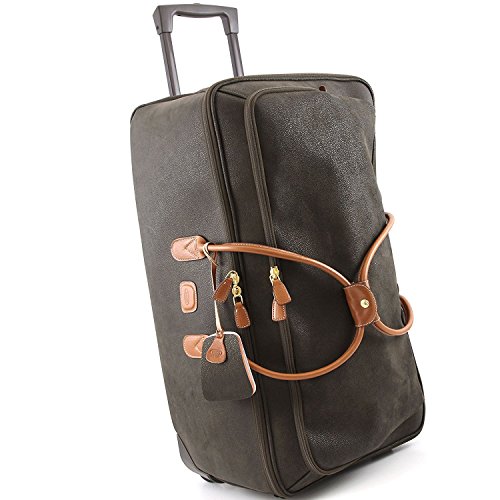 Looking for practicality AND style? This bag meets your needs. At 28" it is large enough to be considered a checked bag but it is only 8 pounds, making it one of the very best lightweight rolling duffel bags. The exterior is gorgeous, an olive green material with a suede-like appearance. This is complemented by tan leather-style accents. A number of compartments of varying sizes make it super easy to pack and find what you need. This bag can also be held in hand with it's double handles, or wheeled along behind you with the suitcase mechanism. If you seek one of best rolling duffel bags for travel, this might be it!
>>>Click here to check prices on the BRIC's Life 28" Rolling Duffel.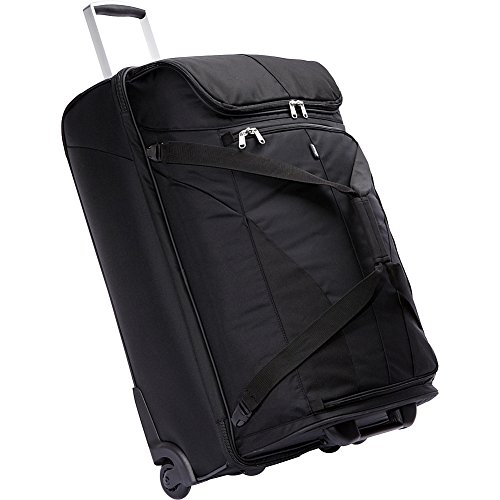 The winner for best duffel bag with wheels just may go to eBags TLS Mother Lode 29″ Wheeled Duffel. This has a compact appearance, but don't let that fool you. It is hiding tons of small compartments for organization and has two spacious main compartments as well. This is a favored model by many travelers; have a look at the thousands of rave reviews. With a design that is "tough, lightweight, and smart," this 12 lb bag has photo reflective zippers (for easy spotting even in the dark). The retractable trolley handle extends to three separate lengths to accommodate your needs. This duffel can certainly go the distance.
>>>Check prices on the eBags TLS Mother Lode 29″ Duffel by clicking here.

Our pick for best wheeled duffel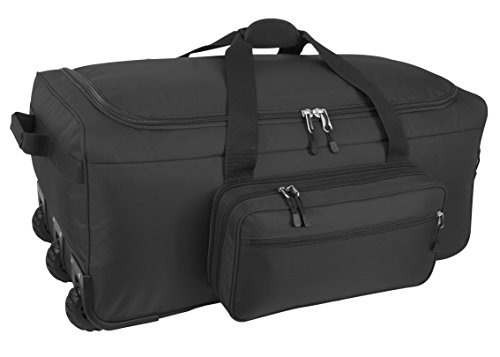 When you're after a solid, spacious piece of luggage, look no further than the Code Alpha Mini Monster. As its name implies, it can handle a lot! This duffel is sturdy and built to last. Known as an excellent choice for a military deployment bag, the Mini Monster can manage tough, heavy gear. With its heavy-duty tractor wheels and reinforced handles, it can be maneuvered with ease. While this bag is sizeable, it still meets standards for airline checked baggage. After unpacking, the bag no longer needs to take up space. You can fold up the duffel and store it under the bed. Throw in the detachable exterior compartment and materials one reviewer called "indestructible", and you've truly found the best travel duffel bag with wheels.
>>>Code Alpha Mini Monster Wheeled Deployment Bag

Our picks for best carry on duffel bags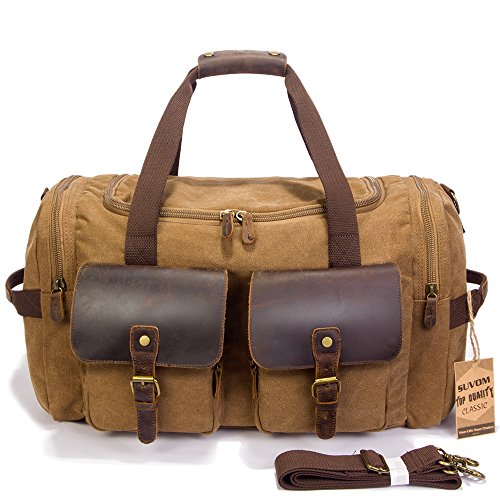 This SUVOM model makes an excellent option for a carry on sized duffel bag. Its dimensions fit the regulations for most airlines, allowing you to carry on a stylish and sturdy duffel. The bag has a high-quality leather handle plus two side straps for easy maneuvering. There is also an adjustable shoulder strap, if you wish to carry the duffel hands free. The SUVOM duffel has a large interior compartment as well as multiple exterior sections, designed to hold all your essentials both for in-flight use and for your final destination. This versatility makes this an extremely convenient bag to use and sets it firmly as the top candidate for best carry on duffel bag.
>>>Click here for prices on the SUVOM Leather Overnight Duffel Bag.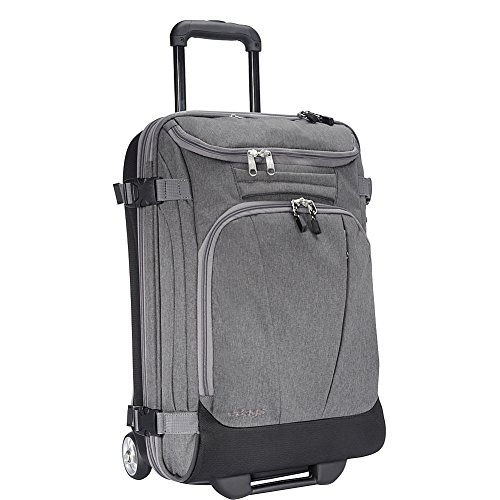 You may want the compact size of a carry on, but desire the efficiency of a wheeled suitcase. The best rolling duffel carry on for you will be the TLS Mother Lode Mini. There's not a lot of bells and whistles on this one: what you can expect is a top quality bag that will fit your items perfectly. If not, make use of the expansion zipper to gain 22.3% more packing space. This wheeled duffel carry on is well-made and durable. The handle extends to 3 different heights, allowing you to find the most comfortable position. Excellent for a weekend or a quick trip, this wheeled duffel carry on will be a great choice.
>>>Click here to look at prices for the eBags TLS Mother Lode Mini 21″ Wheeled Carry-On Duffel.

Our pick for best rolling duffel bag for international travel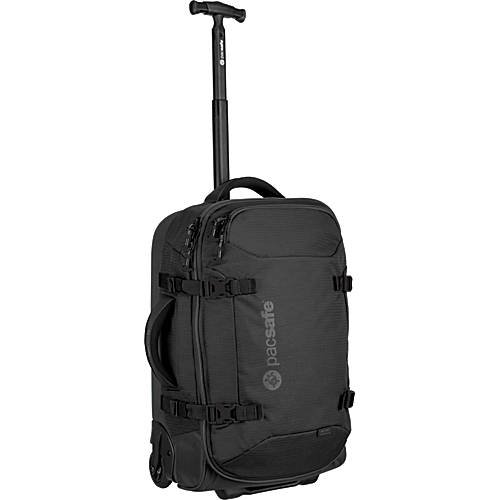 Duffel bags are not just for weekend getaways. They work equally well for trips abroad. You'll want to make sure you find the best duffel bag for international travel. Please say hello to the Toursafe AT21 Wheeled Duffel. You can't get more secure and durable than this bag, which is what makes it so outstanding for international travel. This is a medium sized rolling duffel with features such as eXomesh® slashguard in all soft sided panels, puncture resistant ToughZip™, and lockable, kissable zip sliders for TSA padlock. There are also internal compression straps to help keep your belongings cozy and compact. Pacsafe is a trusted name in luggage, and this is a top quality bag. Any problems? It comes with a 5 year manufacturer warranty against malfunction or defect.
>>>Click here to check out the price of the Pacsafe Toursafe AT21 Duffel.

Our pick for best leather duffel bag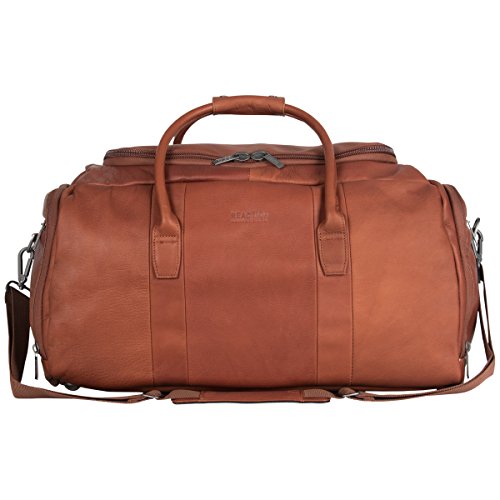 Though leather doesn't discriminate, it finds its way into many of the best men's duffel bags! Leather adds a rugged, masculine touch to a bag, while also providing a feeling of sophistication. The gentleman in your life may adore this duffel. A roomy, U-shaped central compartment will hold the majority of belongings, with side compartments that are an ideal spot for shoes. There's also a full-length zippered compartment along the top for additional storage. At just over 4 lbs, this is a light duffel to carry with you on your travels and the padded shoulder strap (which extends to 60" and is removal) plus the sturdy handles create easy movement. This is definitely a standout for best mens leather duffel bag. It's available in both the cognac-colored leather (as pictured) and black leather.
>>>Check out the price of the Kenneth Cole Reaction Duff Guy Colombian Leather Duffel Bag here.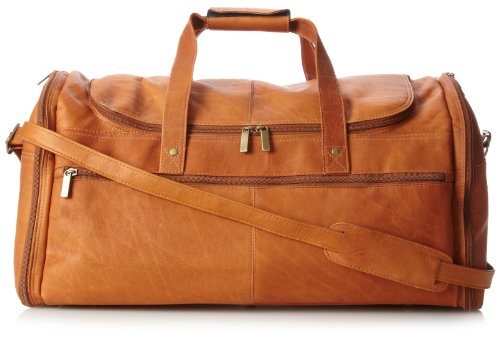 If you are a heavy packer, but still want a classic look, this David King & Co Extra Large Duffel may be the best leather duffel bag for you. The main compartment opens very wide, allowing for easy and quick packing. Additional interior and exterior pockets create extra space for smaller items. Though spacious, this bag is petite enough to be a carry on bag. Currently, the bag is available in 3 beautiful colors, and one reviewer remarked on the soft, but durable leather. A beautiful item and certainly among the best duffel bags for men or women.
>>>Click here to check prices on the David King & Co. Extra Large Multi Pocket Duffel.

Our pick for best waterproof duffel bag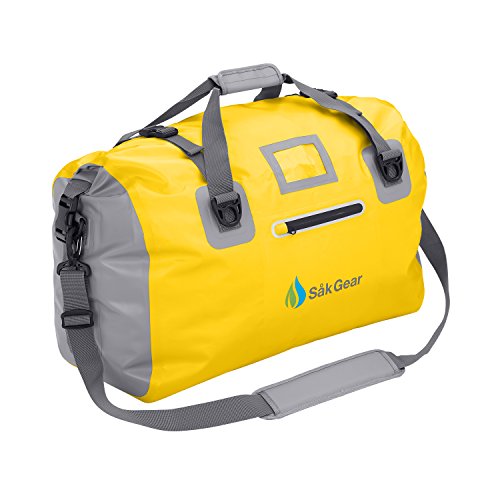 Some travelers need their luggage to be extremely hardcore. Whether you're camping, boating, or going on a chartered yacht, you may need the protection of waterproof gear. For you, the best waterproof duffel bag is without a doubt the DuffelSak. This is one tough duffel. Made of durable 500D PVC it has watertight welded seams and a secure, roll-down top for extra water protection. Moving around at night? Reflective exterior trim will ensure you get seen. This terrific duffel comes in multiple colors and sizes (40L and 60L). With the DuffelSak you will be prepared whatever the weather.
>>>Check prices for the Waterproof Duffel Bag here.

Our pick for best lightweight duffel bag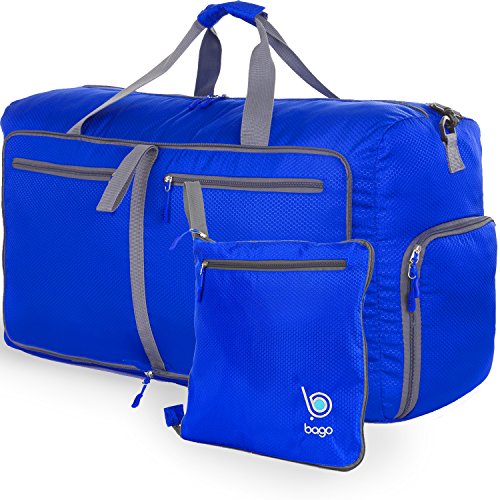 This bag is seriously lightweight. The foldable bag weighs in at 1.5 lbs, but it holds a secret. Once unfolded, this bag is strong enough and large enough to support a capacity of 60L. There's so much space in this duffel! Despite its lightness, it is made from top quality materials that are designed to protect against rips and breakages. So you can feel confident this duffel can take care of your gear. This is best lightweight duffel bag for when you're on the go. It can be used for travel, at the gym, for camping, and much more. It's ideal for popping into your suitcase folded at the start of your trip to bring home any shopping or extras you pick up on your travels. Have a favorite color? This bag comes in dozens of shades, so you can head off in style.
>>>Click here to get the Bago Travel Duffle Bag.

Our pick for best large duffel bag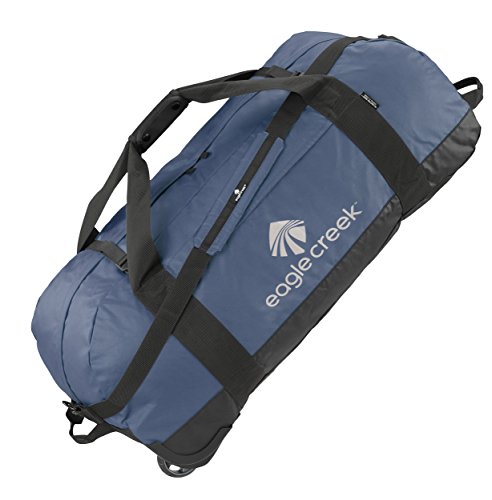 Are you in search of the best large duffel bag for travel? There are many options out there, but when it comes to size the Eagle Creek No Matter What Rolling Duffel XL is what you want to have. Though it is has wheels, it does not have a full suitcase mechanism, but rather a sturdy end haul handle. This feature puts this bag into the wheeled duffel category. The Eagle Creek No Matter What Duffel is very strong and durable, with water-resistant material, Bartack reinforcements on all stress points, and lockable, self-repairing zippers. Should anything happen to this large wheeled duffel bag, Eagle Creek has a No Matter What policy that will get your bag repaired or replaced.
>>>Click here to get the Creek No Matter What XL.

Our pick for best duffel bags for women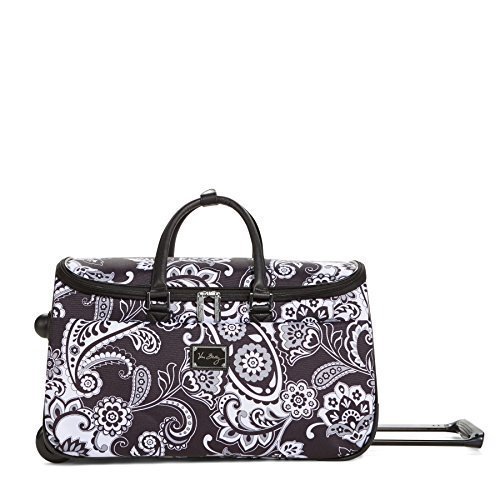 Here is a bag that looks like a handheld duffel, but moves like a suitcase. The Vera Bradley 22" is among the best duffel bags for women. Vera Bradley is a popular designer known for her exciting patterns. But this duffel is more than pretty; it is a solid bag that you'll love to travel with. A well-sized bag that will fit your clothing and other belongings for a few days, this can definitely be used as a carry on sized duffel. Moving through the airport will be easy with the trolley handle and wheels. The double zip-around opening allows for easy access, and a front pocket can store smaller items on-the-go. It comes in lots of different prints and colors. You can get super cute matching tote bags for travel too.
>>>Click here to check out the price and different prints on the Vera Bradley 22″ Rolling Duffel.

Our Guide to Finding Best Travel Duffel Bags 2019
Duffel bags are an excellent option for durable, flexible luggage. Hopefully these top picks will bring you a little closer to selecting an excellent duffel bag for air travel, overland travel, or whatever type of adventure you're embarking on.
If you'd like to ask a question or leave a comment on your picks for the best travel duffel bags 2019, leave a message below. For more packing tips and advice, check out these articles!
Pin this post for later!