This post may contain compensated links. Please refer to my disclaimer here for more information.
Paris is the number one tourist destination in the world… and with good reasons! Fabulous museums, chic shopping and certain "je ne sais quoi" that no other city on the planet has. While I can appreciate museums, art galleries and grand cathedrals, sometimes you need to do more "normal" things in order to get a real sense of a city.
Here are five Paris experiences you shouldn't miss: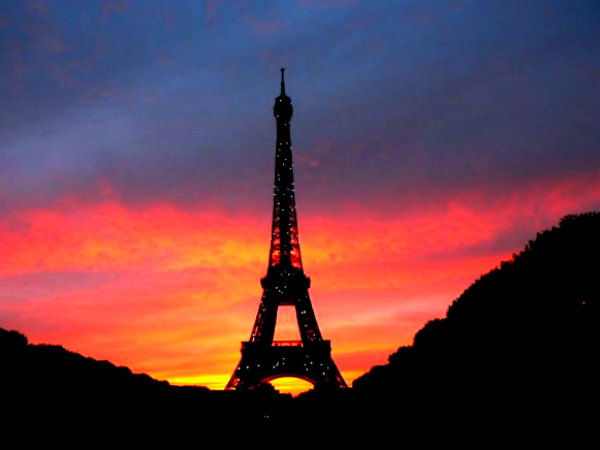 Seeing the Eiffel Tower at Sunset
In the city of love and light there's nowhere more romantic than the Eiffel Tower at sunset. When the sun goes down, the sky goes pink and the city lights up making this the perfect time of day to see the Eiffel Tower.  It doesn't really matter where you are in the city, just kick back and enjoy the view of the most iconic piece of skyline in the world.
Living Like a Local
On my second visit to Paris I did an apartment swap – an American couple with a studio in Paris stayed in my London flat and I stayed in their apartment in the 11th arrondissement. To find your own perfectly Parisian pad you could do an apartment swap or look for a Paris apartment rental. Even if you're just staying for a few days, an apartment rental is still a good idea. Hotels in Paris are très, très expensive so apartments are better value. Not only that, you can wander around markets, pick up a few ingredients and whip up a French feast in your apartment's kitchen. Apartment living lets you stay for longer, get more comfortable and feel more like a local living in a wonderful city.

Cycling in Paris
Bikes are big in Paris. There are 440 km of bike paths & bike lanes across making it a cycle-friendly city. Roads by the River Seine, in the Marais, the Canal Saint Martin, Montmartre as well as roads elsewhere in the city are closed to cars on Sundays making it a peaceful time to bike around. Biking along the Seine on a Sunday afternoon is a wonderful experience! You needn't worry about having your own set of wheels either. Use the bike sharing system,  Vélib', which has 50,000 bikes across the city in strategically places stations. You'll need a credit card to swipe but the system costs very little to use and the first 30 minutes of each trip is free of charge.
People Watching in a Café
Pick a spot in a lovely little Marais café and just watch the world go by. People watching is practically a sport in Paris… it's so interesting! Notice how the seats in Parisian cafés all face outward toward the street and not inwards towards your table-mates? They're designed so you can watch the world go by. If you're into fashion you'll be in street-style heaven. Parisians are stylish and fashionable without having to follow every single little trend as it pops up. They know how to put an outfit together! They're not afraid to show emotion either and you're likely to see some full-on PDAs (public displays of affection) as you sit and sip your coffee or wine.
Pique-Nique in the Park
Paris has a lot of nice green spaces as well as great markets and delis. Put together the two together and create your own Parisian picnic. Visit a boulangerie for your baguette, a fromagerie for some deliciously runny cheese, add in a bottle of wine and you're good to go. A gourmet picnic that won't break the budget!