This post may contain compensated links. Please refer to my disclaimer here for more information.
Our most recent flight had us routed from our home in Christchurch through Auckland and into Brisbane. Normally we'd pick the most direct flight given the option however our Auckland – Brisbane flight was basically free.  We travelled to the US last year and our Air NZ flight originated in Australia.  It was cheaper to have the return ticket to Brisbane than to end in Christchurch so we just purchased separate domestic fares between Auckland and Christchurch and booked the return to Brisbane for later use.  (Return tickets to/from Australia & NZ and the US are almost always cheaper than a one-way.)
It was a great decision as we had to get up later for our domestic flight to Auckland than we would have if we'd been on the international flight from Christchurch (a 4am start instead of 3am).  We got to see the sunrise as we flew along the coast of New Zealand which was pretty spectacular.  The timing meant Reuben napped on both flights and he had a chance to burn off some energy between them.  Goes to show a direct flight isn't always the best option!
What's Auckland Airport like for parents travelling with kids?
Auckland International Airport has a great set-up for kids and parents and is not a bad place to spend a few hours.  We've been through the airport quite a few times over the last few years.
The walk between the domestic and international terminals is an easy 10-15 minutes depending on how much luggage you're pushing and how easy your kids are to wrangle.  It never really gets too cold in Auckland to make the walk but it does rain a lot.  There's a bus every 15 minutes if it's raining.
If you're transferring from an international to a domestic flight there's no need to walk your luggage over to the domestic terminal.  If there is more than an hour between your flights you can check it in at the transfer counter in the international terminal.  It's hard to find so ask someone to direct you.
In the international terminal, all the amenities you'll need are located upstairs before security.  At the back of the food court there is a fantastic kids' corner with a fenced in play area and mechanical rides.  There are plenty of highchairs available for feeding.  The food options are all pretty standard – a cafe, KFC, McDonalds, Subway etc.  There's a swanky parents room with a microwave, changing bays and private feeding areas.  There's also a double toilet stall for parents to pee with their kids!  You could easily set up camp in this area for a few hours between flights.  I'd stay here rather than heading off to the domestic terminal if you're heading on to a domestic flight.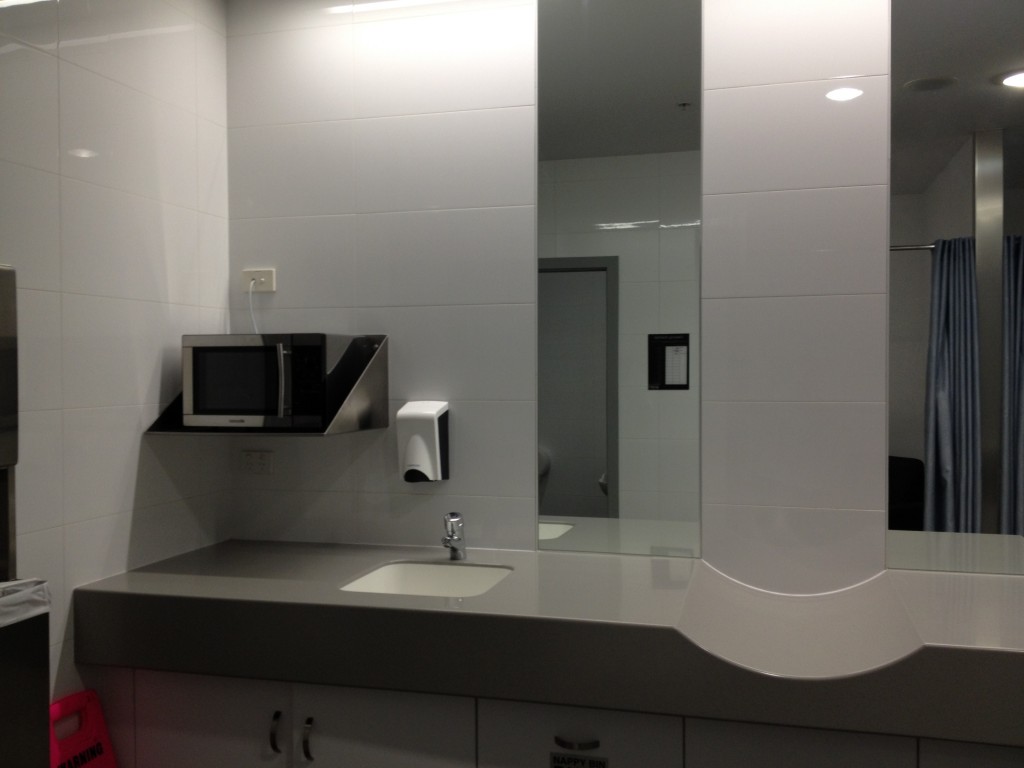 Through security, there are fewer eating options – a bar and a Burger King.  There's a parents room with a microwave and changing table but it's grottier than the one before security.  If you're transiting between international flights this is the only area you'll have access to.  There's not a lot of seating so make your way straight to the boarding gate.
If we've got longer than two hours between flights we usually spring for the Air NZ Koru Lounge which costs NZ$55 per adult with children under 12 free.  We don't consider it too expensive as the cost of food, drink and internet at the airport can really add up so if meal time, you've got a long wait and need a shower, it's money well spent.  There is a kids room which has toys, books and dvds to watch along with video games for older kids.
If you've got a long time between flights during the day you could head out of the airport to Butterfly Creek – a crocodile farm, butterfly farm, petting zoo, miniature train, cafe and playground.  It's 1.5kms from the international terminal though it's not a walkable route so you're best to taxi.