This post may contain compensated links. Please refer to my disclaimer here for more information.
I have a love-hate relationship with Vietnam. I've eluded to it in several posts prior to this so I figured now is the time to elaborate.
Vietnam: Love it? Or hate it?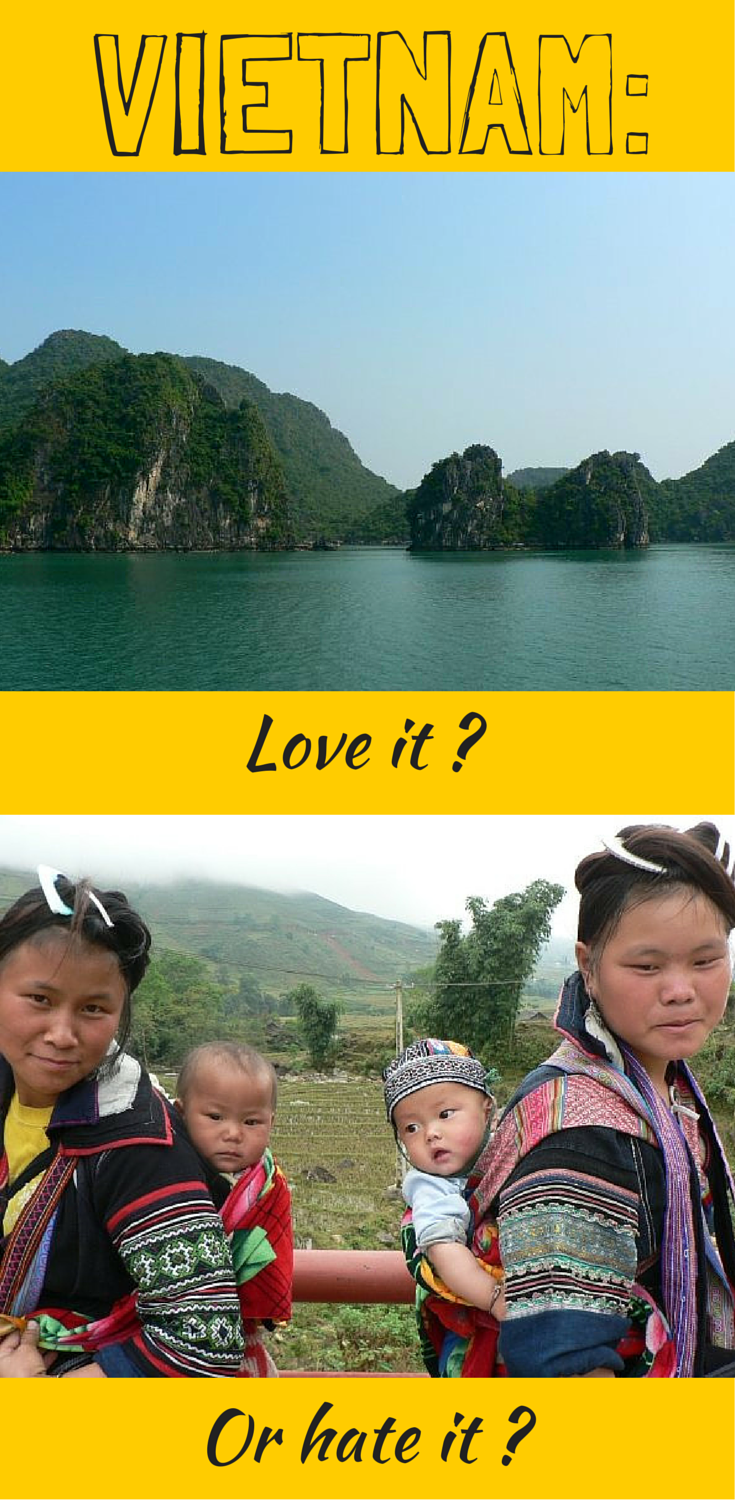 Vietnam – The First Attempt
I first visited Vietnam in 2003 when I'd just turned 21. I'd worked hard to afford the trip, spending 20+ hours a week in a call centre on top of full time study. I'd saved every penny I'd earnt for a whole year. My plan – to spend three weeks in Vietnam followed by three weeks in Thailand with a girl friend. However, things just didn't work out and, after ten days in the country I bailed and came back to New Zealand.
What happened to make me hate Vietnam?
Constant Touting
There's a lot of hassle involved in travelling Vietnam. The biggest one without a doubt is the constant harassment from touts wanting you to look at their hotel room, check out their restaurant menu, visit their tailor shops, ride two blocks on their motorbike. It just never ends. For someone who had never travelled in the developing world, let alone outside of New Zealand or Australia, it was just too much. It's not in my nature to say "no" to people. I'd end up in long conversations with touts, unable to get away and ending up wasting hours of every day.
Rip Offs
Hand in hand with the hassle of the tout comes the endless rip offs. Nothing ever seemed to be the agreed upon price. The $12 hotel room would somehow turn into $15. The soft sleeper train ticket you had in your hand suddenly magicked it's way into being a hard seat when the helpful "train station attendant". The price for that souvenir you want jumps from 10,000 dong to $10.  Part of my problem was I just didn't have the experience or guts to stick up for myself. Had I stood my ground I wouldn't have had nearly the amount of difficulty. I just couldn't. It was too scary. I didn't want to get into an argument or offend anyone… so I just ended up forking out more and more money.
Travelling with a Friend
I learnt the hard way that travelling with friends just doesn't work. I actually did a guest post on my travel partner from hell which goes into all the gory details but, basically, if one person does all the travel planning and then the other person complains about all the plans, the whole damn trip is going to fall apart. Trying to please two or more people from the moment you wake up to the moment you go to bed is almost impossible. Making even the tiniest decisions like whether to walk or take a moto-taxi or gain a consensus on where to eat for dinner become a dreaded chore. Granted we were both mentally spent from the touts and rip offs but I'd still never recommend travelling with a friend for along period of time. Meeting random people and spending a few days together works. Holidaying with your parents or siblings works. Travelling half the year with your husband and child works.
Vietnam – Success the Second Time Around
Now, fast forward five years. I'd been living in London for a few years and had just gone through a break up with a long-term boyfriend. I wanted out. I quit my job and headed for Asia. A friend of mine had met a young woman in Saigon and she offered to show me around the city for a few day. How could I say no? I wanted to go back and give Vietnam another go. So many people rave about it and, in my brief visit, I did see many qualities in Vietnam that I love about a country. Warm weather, great food, plenty of history and wonderful landscapes. So off I went for 30 days, bottom to top. And this time it was a resounding success.
What happened to make me love Vietnam?
Befriending a Local
I spent the first week of my month in Vietnam in Saigon with my new Vietnamese friend. She was a lot younger than me and very different but we still had a fantastic time together. I stayed at the guest house she worked and we did a lot together. We visited the War Remnants Museum – an interesting choice to see through the eyes of a local. We ate ice cream, went for walks, hung out with friends and went to a water park. The very best experience was riding a motorbike out to her home village in Dong Nai and spending the day with her family. We ate lunch together outside, chatted, took photographs and napped in hammocks. It was a wonderful glimpse into life for the everyday Vietnamese.
Ease of Travel
Travel in Vietnam is actually really easy. The country is long and skinny so easy to traverse from bottom to top (or vice versa although I'd always recommend starting in the South as the people are much friendlier.) Travel by train, bus or even plane is cheap. There's so much to see and do in Vietnam it's almost criminal that one only gets a 30-day visa!
A New Mindset
If you go in with the mindset that there will be a few minor hassles and rip offs then you'll be OK. Just expect it, prepare for it and do your best to avoid it. Negotiate with a smile and never get upset (except if a 500m taxi ride in Hanoi costs you $10… then you can get upset!). I'd been to four other countries in South East Asia between my first and second trip to Vietnam. I was wise to the games, the bargaining and the little tricks of the trade. Reflecting back, I can see how I did get ripped off the first time around but I realise a lot of that was due to my own ignorance and lack of experience.
The People
Everywhere you go in Vietnam the local people are curious about you. Kids especially are keen to speak with you, giggle and run away in a mild attempt to practice their English. If you get curious back, even the people you may think are trying to scam you, are interested in a little chit-chat, a laugh or a smile. It's rare to find anyone truly horrible in Vietnam. I did find though, that the further North I went, the more reserved people were. I think that's why I much prefer the South. There's always an exception to every rule and the hilltribe people in Sapa who are by far the friendliest, happiest bunch of folk I've ever encountered.
This Vietnam guide has some more examples of good nature of Vietnamese people. It's not all bad despite what some popular bloggers say.
The Food
I love the flavours of Vietnamese food. It's so fresh and delicious. As you traverse the country, the food on your plate changes along with the landscapes. I was a vegetarian both times I visited Vietnam and there were so many options to please my palate. I can't wait to visit Vietnam again as a meat eater though!
I still don't recommend Vietnam for first time travellers. I do think everyone should go once and then go again to really enjoy it. Who knows what I'll feel on my third visit? I'm yet to find out but I can't wait to experience travel in Vietnam with Lee and Reuben.
What are your thoughts on travel in Vietnam? Have you been? Did you love it? Or hate it? I'd love to hear what you thought.