This post may contain compensated links. Please refer to my disclaimer here for more information.
If you're headed to Japan and are looking for a Peach airlines review, have a read through and see what we thought of this Japanese budget airline.
We recently flew from Osaka, Japan to Seoul, South Korea on Peach Airlines. The price of the airfare was great, roughly a third of what it would have cost us to fly a full service airline on this route.
I was hesitant to book a budget airline in Asia that I've never heard of so I read through a Peach Aviation review online and decided it was worth taking a chance on flying this airline.
Peach Airlines Review
Our Flight Details & Cost
Osaka (Kansai) Terminal 2 departing at 12:30 to Seoul (Incheon) arriving at 14:20. 
The total cost for our fare was ¥30,480 for four people, no checked baggage and smart seat selection.We selected "Smart Seats" at the front of the plane for ¥1,100 each. These smart seats have a bit of extra leg room. At the time this worked out to about $272 USD or $67 per person. That's not bad for a two hour international flight.

Budget Airline Terminal at KIX
Peach flies from Terminal 2 aka the budget terminal at Osaka Kansai which is about 10 minutes by the free terminal transfer bus from the main terminal. We thought we might be cutting it close to check in on time as our airport bus left Osaka a little late but as it's Japan everything was so fast and efficient once we arrived at the main airport terminal.
The budget terminal is very basic and there were limited options for eating there. There is one coffee shop and one restaurant but both had long lines when we were there. It was lunch time too so we opted to wait and hope there was something decent to eat on board.
Check In
Peach check in is all done by automated kiosks so you do need to have a printed copy of your itinerary ready to scan when you arrive at the airport. We printed out boarding passes and were away very quickly. Our carry on luggage was weighed before we left the check in area and we didn't have any bags to drop off so the check in process took less than five minutes.
On Time
Our flight boarded and left Osaka on time! Nothing to complain about here. Traveling with young children meant we got to board first too. We always really appreciate airlines that let us do this. We were the first ones on the plane.
We read a few negative Peach Airlines customer reviews online, mostly to do with on time performance but our flight was bang on time so I can't comment on this.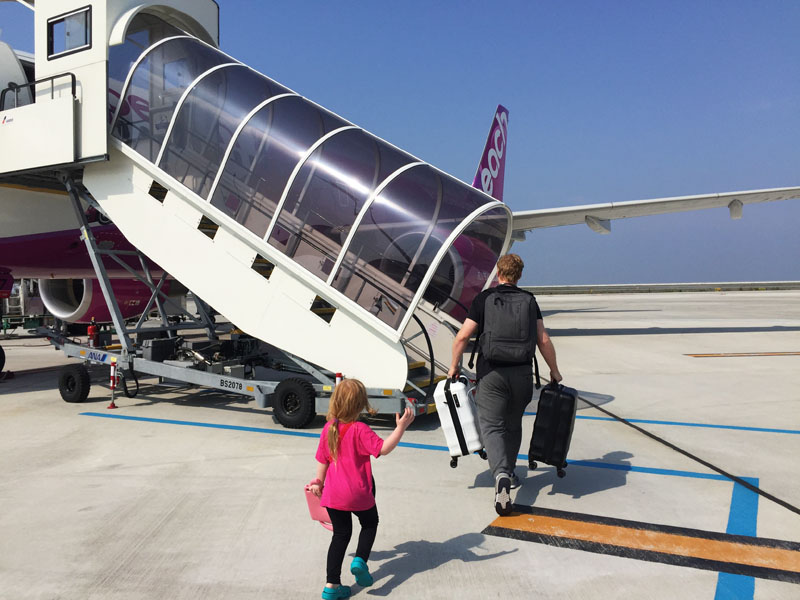 Friendly Crew
The crew onboard were very friendly, speaking a little bit of English. They even came out with stickers for the kids. When one of our kids dropped their packet of snacks, staff quickly helped me clean it up and offered a fresh bag of snacks.

Seat Comfort
The seat on Peach was comfortable. The padded leather seats had plenty of legroom and reclined. There was no IFE so you definitely needed to bring along something to entertain yourself and the kids during the flight.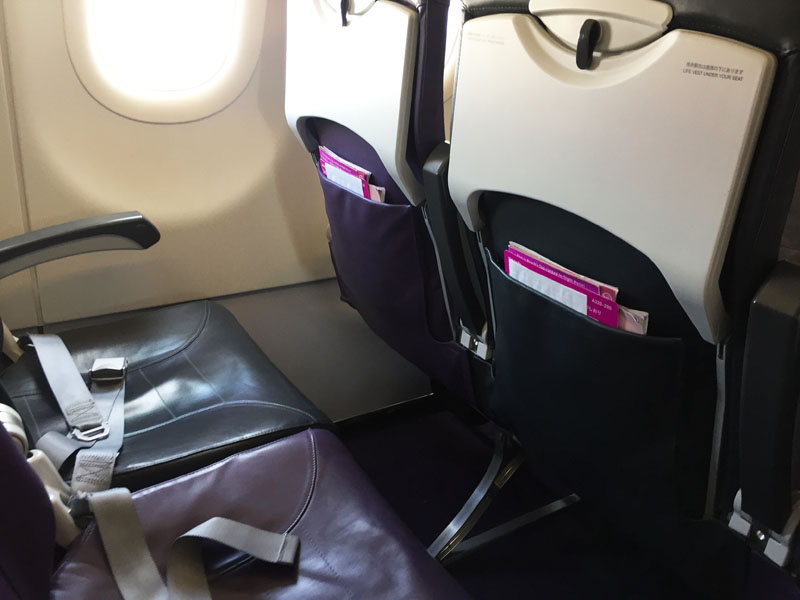 Food On Board
As I mentioned at the start of my Peach flight review, there were not a lot of options for food at the budget airline terminal at Osaka. We ordered food on board and it was surprisingly good and not too expensive.
We paid 1,700 yen for an egg salad sandwich, a curry bun, a pasta cup, two packets of Japanese-style snacks for the kids and a Coke. This is about $15 USD. You could also pay by credit card which was handy as we'd used up most of our yen.
Final Thoughts on What It Was Like to Fly Peach
I wouldn't hesitate to fly Peach Aviation again. It was an affordable price, even when including an extra leg room seat and buying a few snacks on board. The check in and boarding process was efficient. The staff were friendly and the seats were comfortable.
If you've got any questions on my Peach Air review then let me know in the comments below. Hopefully my Peach review will help you decide if you should fly Peach when you visit Japan!
Pin this post for later!