This post may contain compensated links. Please refer to my disclaimer here for more information.
Four months ago, I watched this TEDx talk by Man vs Debt. If you've got 15 minutes, watch it now or after you've read this post… especially if you're wondering how to escape the daily grind and travel full-time.
"Sell your crap. Pay off your debt. Do what you love."  
I knew selling up and hitting the road full time was the dream but I had yet to make any steps to make it a reality. Mentally I was on board but physically we had a lot of work to do to reach the point. We had a house that wouldn't sell, a bunch of shit we didn't need and it all seemed a bit insurmountable.
Our house (a huge debt but also a major asset) just won't sell no matter how hard we try. Over the past three years we've tried to sell it on four different occasions. We've given up and now we're going to rent it out fully furnished.
Downsizing from a five bedroom house to three suitcases hasn't been easy. I've spent the last three weeks working solidly on decluttering the house, deciding what to keep, what to throw away and what we can sell. We've used a couple different methods for selling our stuff – we had a huge garage sale, we've been selling stuff online (like computers, Ninendos etc) and asking on Facebook if friends want particular items (which has worked really well).
We've waited until the last minute to sell our car so we're dropping it at a car auction just before we leave and will have them sell it on our behalf. Going down to one car between us was a huge money saver for us. We did this back in 2011 before a big trip to the US. I highly recommend it if you're a two-car family. It's easier than you think to make it work, it's less stress and a good way to kickstart your savings.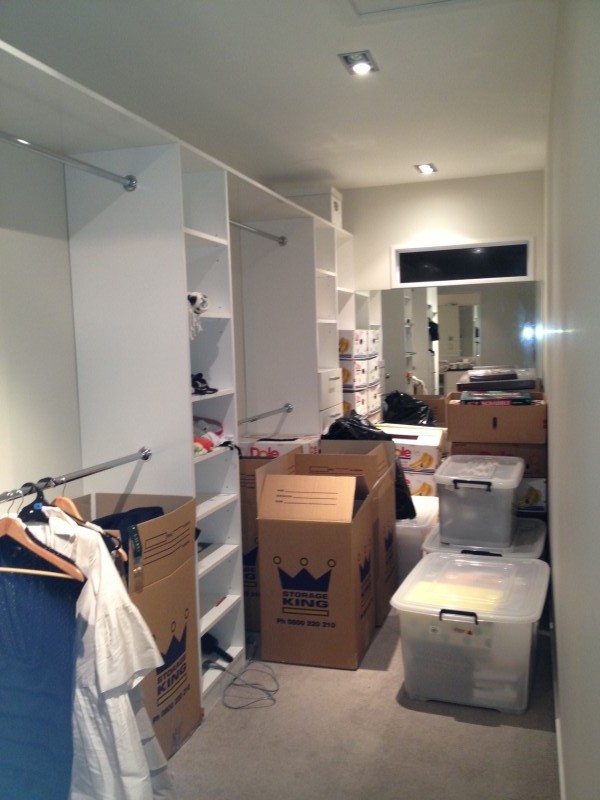 This is all the stuff we're storing… I still feel like we have too much. If I'd had more time I would have sold more of it but, with only four weeks from decision to departure, we simply ran out of time. The thing you realise when you go to sell your stuff is how worthless most of it has become. As soon as you walk out the door with that special something you just had to have, the value of it drops to almost nothing. This realisation has just made it all the more easy for me to get rid of it all.
We're now three days out from our dream life. In a few days we head to Sydney, Australia to begin our permanent, slow travel, RTW trip… Living the dream!
Sell your crap. Check.
Pay off your debt. Check (almost).
Do what you love. Check… and I can't wait!