This post may contain compensated links. Please refer to my disclaimer here for more information.
If you're in the market for a new carry on backpack, you should consider the Standard Luggage backpack. We just tried it and were impressed with several aspects of this bag compared to other luggage we have traveled with in the past. It's the perfect size for carry on only travel, has a great laptop compartment and functions well as a backpack or shoulder bag. It looks smart and not too backpacker-y, a concern as we get older and take more business class flights.
We were offered the Standard Luggage carry on backpack to review so we took it on our recent trip to Australia. Let's take a deep dive into the product with our Standard Luggage carry on backpack review and see what this backpack has to offer!
What You'll Find in This Post
Standard Luggage Carry On Backpack Review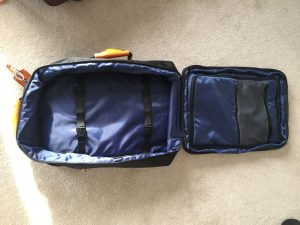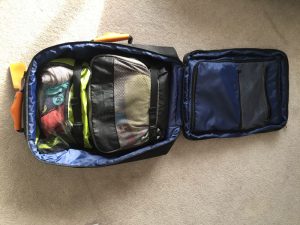 Standard Luggage Carry On Backpack – At a Glance
Dimensions: 21.5″ tall x 13.5″ across x 7.5″ deep (9.5″ deep when expanded)
Volume: 35L (45L when expanded)
Weight: 3.7 pounds
Cost: $179 USD with free shipping worldwide

Works as a Backpack
The Standard Luggage carry on backpack is a comfortable, functional backpack for travel. The comfort level on the shoulder straps was good, they were padded and lined with mesh so felt breathable. There's a chest strap but no hip belt on this backpack.
A rain cover is included although the material of the backpack is water resistant. There's also a safety whistle attached.
You can also switch out the colored leather accents on the backpack's handles, zips and straps. We kept the orange accents on ours but you have the option to switch them out for blue if you fancy as they are included with your purchase. This makes it great if you want to order two bags and easily distinguish yours from your travel partners.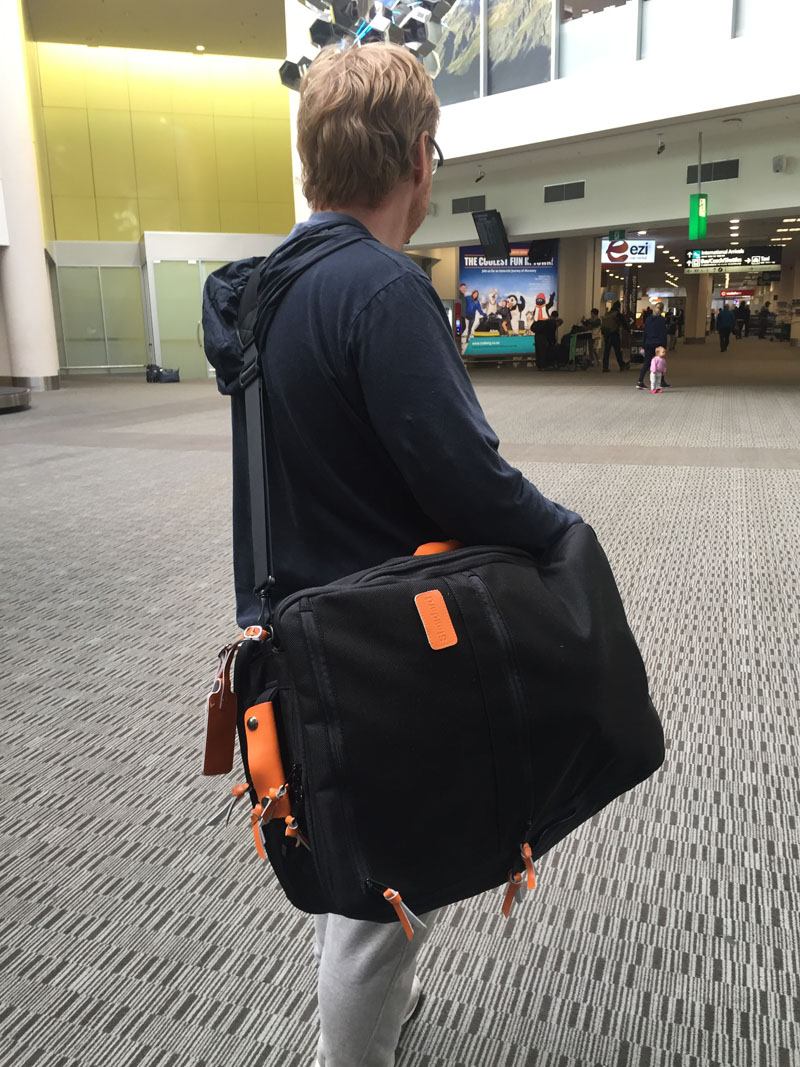 Works as a Shoulder Bag
Being able to conceal the backpack straps and wear it as a simple shoulder bag is a bonus if you're using business class lounges or traveling in nicer hotels and want to look a bit smarter. It also work great if you have a kid's backpack that all of a sudden needs to be carried as well. It was quick and easy to convert the backpack into a shoulder bag.

Works as a Laptop Bag
What we loved about this bag compared to my Kelty Redwing backpack is that the laptop compartment is separate to the main luggage compartment. This made it much easier to whip the laptop out at airport security for screening without having to disturb the contents of the rest of the bag or maneuver packing cubes around.
The laptop compartment also included a detachable neoprene sleeve to protect your laptop. Lee's 15″ Macbook Pro fit comfortably in the sleeve. We could also easily fit my laptop in the compartment too.
The laptop compartment also had good additional pockets for keeping chargers and USB cords tidy and accessible. The function and format of this compartment alone makes the Standard Luggage backpack a real winner for carry on only travel.

Easy to Carry on Top of a Suitcase
If you're also traveling with a rolling suitcase, you can easily loop the backpack over the handle and carry two pieces of luggage at once. This is great for family travelers like us who still want to check a bag when traveling together.

Has Great Organization and Pockets
The clamshell opening makes it easier to pack and find what you need in your luggage without digging through everything as you would with a top-loading backpack. I would definitely recommend looking for this functionality in any backpack you decide to purchase. It's absolutely key for keeping your backpack neat and organized on the road.
Compression straps help keep packing cubes in place in the inside of the backpack. Inner and outer pockets are placed strategically around the bag in the exact places you'd need them. The outer pockets on the front of the bag were useful for items like passports and boarding passes which you need access to in a snap. The inner pockets were useful for keeping things like beach sandals (pictured above) separate from the main clothing compartment.

Perfect Size for Carry On Only Travel
We packed all Lee's clothes, shoes and toiletries for our one week trip to Australia. They fit comfortably in the bag, packed with packing cubes of course. (You can read our guide to using packing cubes here.) We also packed a laptop, charger, headphones, USB cords and chargers into the laptop pocket of the backpack. As you can see it fit comfortably in the overheard locker on our Air New Zealand flight.

Would We Recommend the Standard Luggage Carry On Backpack?
Yes! We both thought this was a great backpack. Size-wise it is perfect for carry on only travel for one person or as a laptop/carry on bag when traveling as a family. We loved the separate laptop compartment and found it much easier to get our laptop out at airport security. Being able to loop it over our suitcase was also a huge bonus and allowed one of us to manage the luggage with ease while the other wrangled the kids.
If you're doing a lot of backpacking with this bag on or you have it loaded with more than 30lbs / 15kgs of gear then you might start to find the shoulder straps a bit uncomfortable. We had about 22lbs / 10kgs in our backpack on our travel day and it was fine. If I was traveling with it for longer though, wearing it walking around a city a lot or holding a lot more weight, I would rather have a backpack with a hip belt to distribute the weight away from my shoulders a bit more. That is my only real criticism of this backpack though!
Where to Buy the Standard Luggage Carry On Backpack
The Standard Luggage carry on backpack is available for purchase through the company's own website. The backpack has a lifetime warranty for any defects in materials or workmanship. They offer free shipping worldwide and they take Paypal which you know I love!
>>>Click here to purchase your Standard Luggage carry on backpack.<<<
Pin this post for later!