This post may contain compensated links. Please refer to my disclaimer here for more information.
Swimming with sea turtles in Hawaii would have to go down as one of the most beautiful and incredible experiences we've had together as a family. Taking a swim with sea turtles was an almost surreal treat and one that I would encourage you to add to your Big Island itinerary.
When we decided to go to Hawaii, I asked my friend Mary who lives on the Big Island… "Where can I swim with sea turtles?" As a local, I knew she would have the answer and she promptly gave me a list of where to see sea turtles in Hawaii. We saw a couple of Hawaii sea turtles sitting on the beach at Punalu'u on our way around the Big Island. We also stood right next to a sea turtle swimming in the lagoon at the Hilton Waikoloa Village. But the best experience by far was swimming with them over in Hilo!
Swimming with Sea Turtles in Hawaii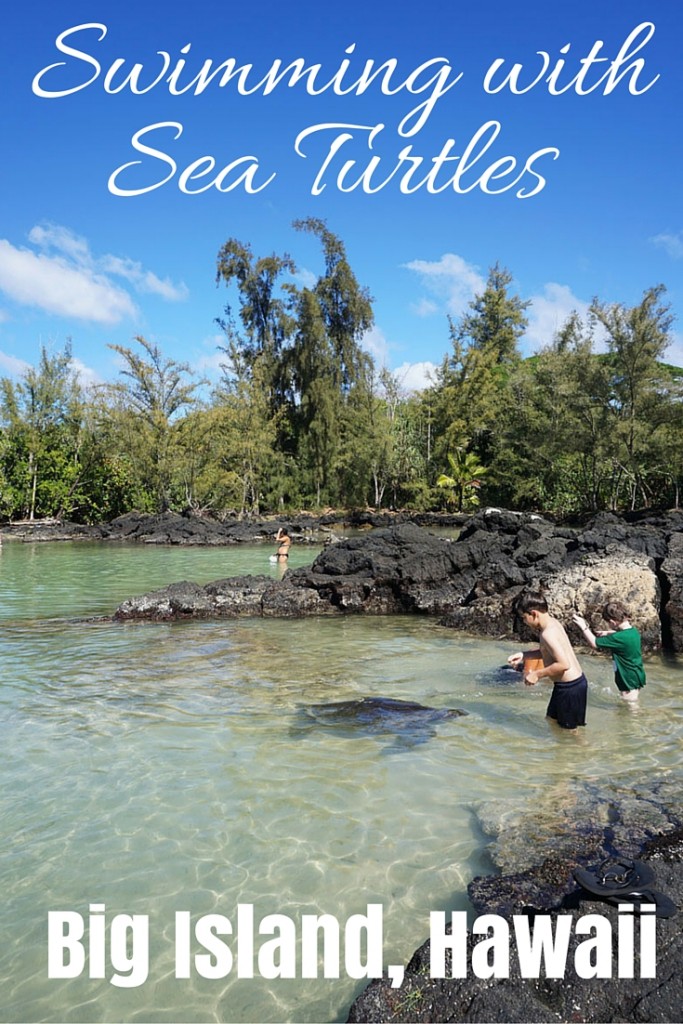 Where to Swim with Sea Turtles on the Big Island
The best place to swim with sea turtles in Hawaii's Big Island is at Carl Smith Beach Park. Carl Smith Beach Park is on the east coast of the Big Island in Hilo town. This is not a sandy beach, rather a grassy park with rocks leading down to the water. There are plenty of spots where you can step into the water from the rocks or by climbing down the stairs.
The Hawaiian word for turtle is "honu" and you'll quickly learn it as there is plenty of signage around about respecting the honu when you're at the beach park. See below for my paragraph on how to swim with turtles safely and respectfully.
There is limited parking at the beach park and it was very busy the weekend we visited. Mostly with locals, rather than tourists, many of whom were picnicking in the park or having birthday parties under the gazebos. I can imagine that visiting during the week would be much less crowded. There are restrooms, showers and drinking fountains as well.
The lava rock and surrounding reef make the water very, very calm and easy for kids to swim in. The water was a lovely temperature when we visited in January, very easy to jump straight into the water.
The Carl Smith Beach Park is by far the best place to see turtles in Hawaii that we encountered on our travels. We did see turtles on the beach in a couple of other locations on the Big Island but the weren't nearly as active or interested in humans.
Pictures of Swimming with Turtles in Hawaii
Here are some pictures of us swimming with sea turtles in Hawaii. As you can see I could not stop taking photos of Reuben and his friend T swimming with the turtles. It was such a beautiful experience! Being in Hawaii swimming with turtles is an absolute must-add item for your bucket list.
What's It Like to Swim with Sea Turtles Hawaii
Swimming with the turtles in hawaii was a dream experience. The turtles were just so friendly. We actually couldn't believe how easy going they were and how interested in the children. The two turtles we saw seemed to have no reservations about swimming up and around us as we stood and waded in the shallow water.  Swimming with turtles wasn't at all scary despite the surprising size of the Hawaiian turtles when you are up this close to them. Five-year old Reuben was completely comfortable in the water with this amazing sea creatures. Along with his friend T, the two of them probably spent close to one hour in the water with the turtles.
I think this photo says it all… pure joy!
Personal Safety and Respect for the Hawaiian Sea Turtles
Hawaii is one of the best places to swim with sea turtles in the world. This is in part due the the fact that Hawaiian green sea turtles are respected by the Hawaiian people and protected by both state and federal laws.  Please note take of all of the following guidelines for your own personal safety and the safety of the honu.
You should NOT touch the turtles.  I shouldn't have to spell this out but no touching also means do not try to sit on or ride the turtles. Apparently it has happened before.
Let the turtles swim around you and near you at their leisure.
Don't box the turtles in. Make sure the turtle has a clear path to swim away if it chooses.
Don't chase the turtles.
Don't feed the turtles anything they're not already eating.
Do not disturb or approach turtles that are basking on the beach. 6 to 10 feet is a respectful distance.
If you see other tourists acting in a manner that is not appropriate, be sure to tell them to stop!
Read more:
My friend Mary who lives in Hawaii has a couple of informative posts on sea turtles in Hawaii that you might like to read.