This post may contain compensated links. Please refer to my disclaimer here for more information.
It doesn't get much cooler than Nashville: Finger lickin' BBQ joints, the home of the country music industry and a burgeoning fashion scene (think hipsters but in cowboy boots). Nashville holds a lot to offer for any visitor and families are no exception. There is so many fun things to do in Nashville with kids! Whether you're seeking music, arts, science or entertainment, Nashville does it all with it's own special brand of Southern charm and flair.
We spent a week exploring all the things to do with kids in Nashville TN. There are so many family activities in Nashville that it was easy for us to fill a week. If you have a week to spare like us… great! But if not, don't worry. Cherry pick from my list of things for kids to do in Nashville or send me a quick email or Facebook message for an idea of what would be best for your family. Add a Nashville family vacation to your US bucket-list. You won't regret it!
Wondering what to do in Nashville with kids? Check out my list below of the top ten things to do in Nashville TN with kids. See the end of this post for where to stay in Nashville with kids.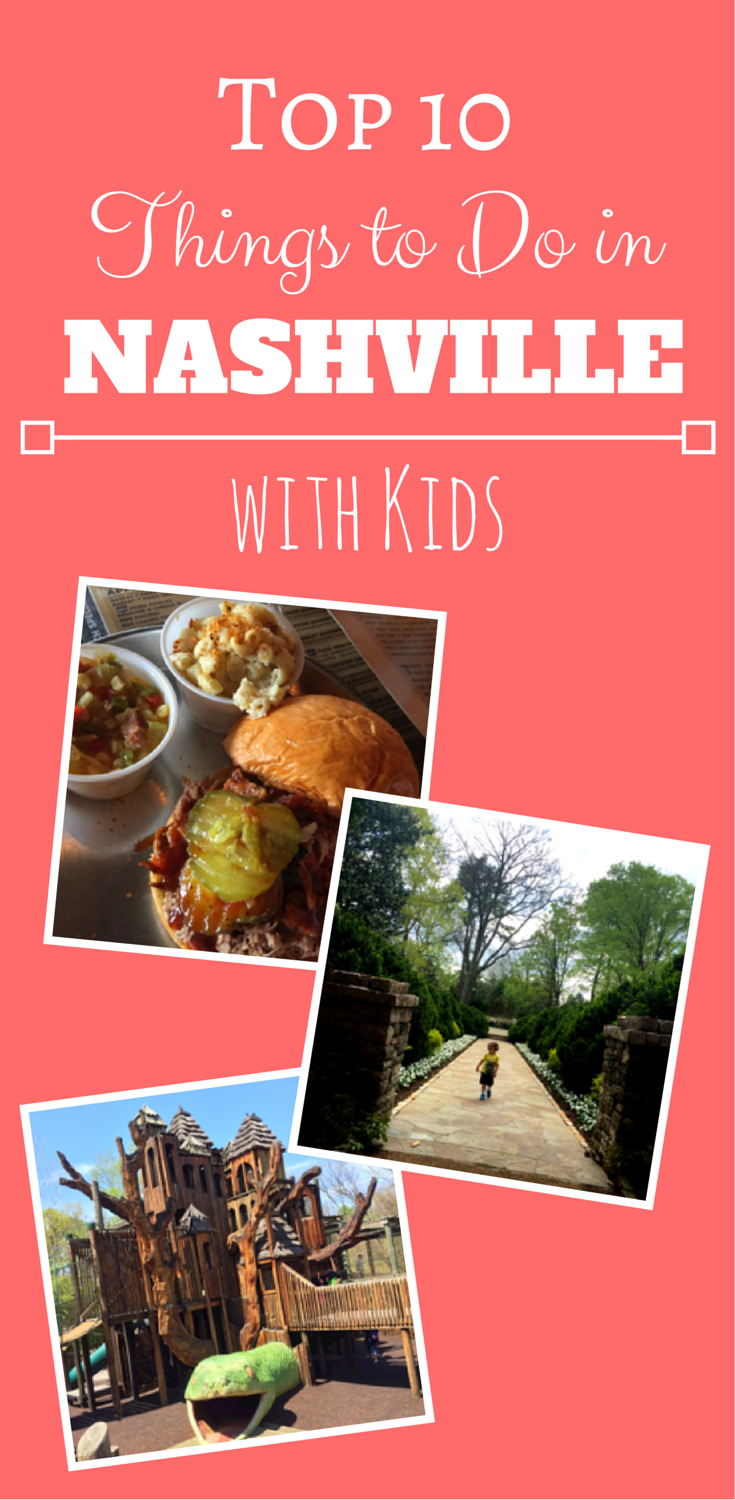 Here's my list of the
Top 10 Things to Do in Nashville with Kids: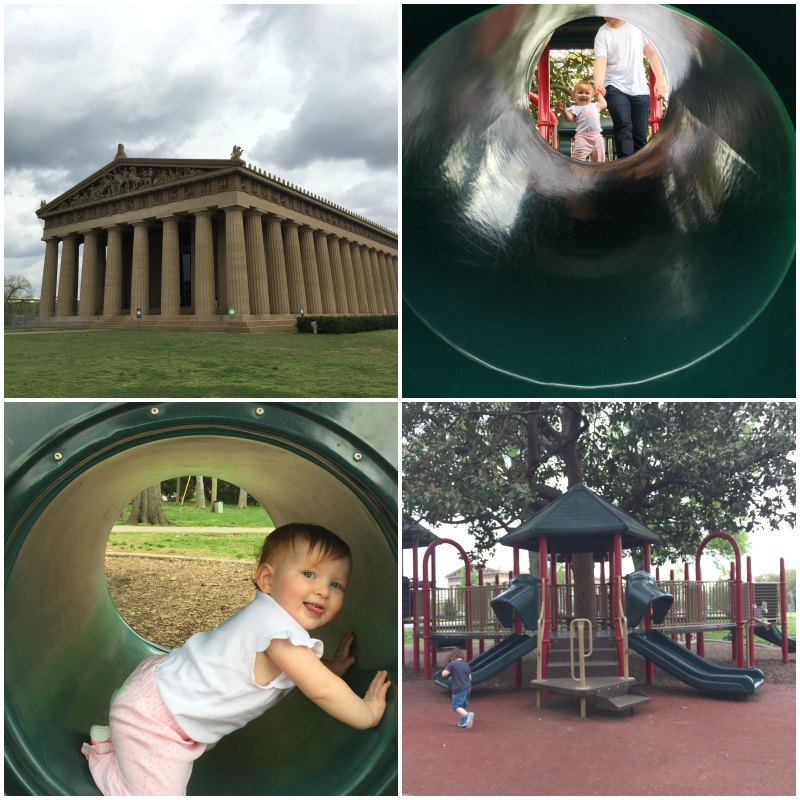 1. Explore The Parthenon & Centennial Park
Prepare for some Nashville family fun outdoors! To celebrate Tennessee's centenary in 1897, the city built a replica of the Greek parthenon which remains to this day. The Parthenon in Nashville currently houses a small museum and art gallery which is interesting but if you're travelling with small kids, stick to the outside. Explore the pillars and climb the stairs before heading over the children's playground in Centennial Park. If your kids like to run and explore then this is a great idea for family things to do in Nashville TN.
Cost: $7 for adults and $5 for children aged 4-17 to enter The Parthenon
Open: Tuesday to Sunday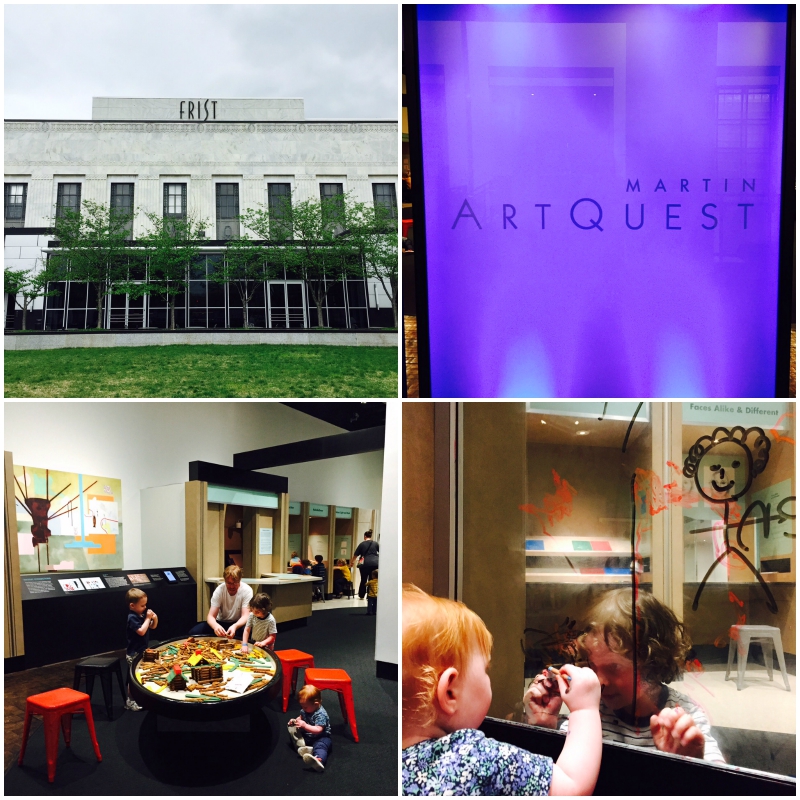 2. Create Hands-On at The Frist Center for the Visual Arts
One of the best things to do in Nashville for kids. The Frist Center for the Visual Arts is housed in a magnificent Art Deco building in downtown Nashville. What was a former post office is now an art gallery. While there are some interesting exhibits downstairs, the best bit about the Frist is the Martin ArtQuest upstairs. ArtQuest space set up for children to get hands on and create art in it's many forms. Painting by watercolour, sketching still life, life drawings, etchings – there is a lot to occupy busy minds and hands here.  If it's raining and you're looking for some indoors things to do for kids in Nashville then this is one of the best ideas.
Cost: $12 for adults, free for children under 18
Open: 7 days (but only afternoons on Sunday)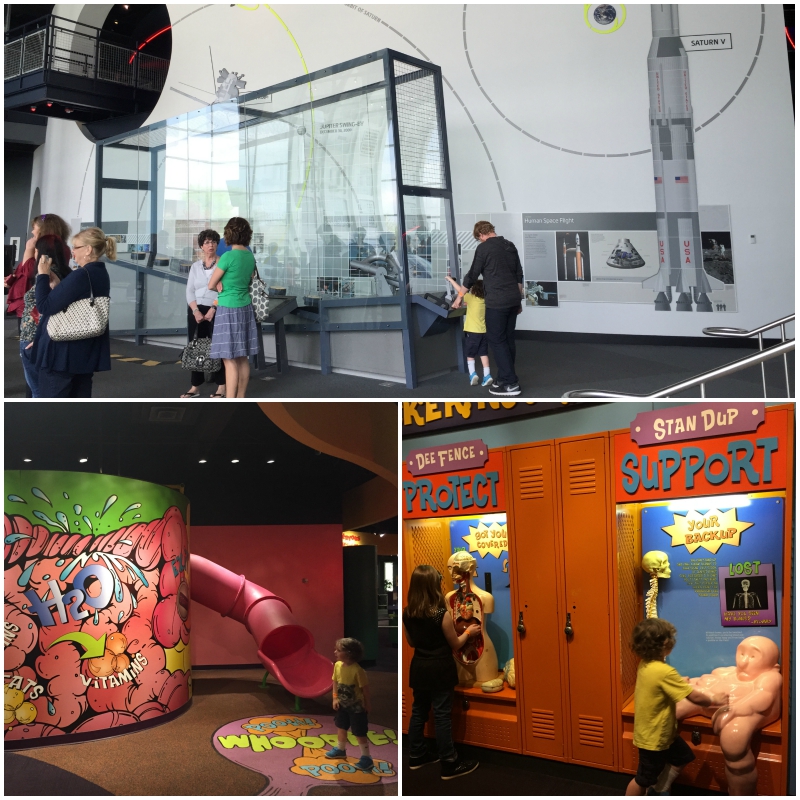 3. Learn & Play at The Adventure Science Center
Seeking educational Nashville attractions for families? The Adventure Science Center in Nashville is amazing! Any kids over the age of three, right up unto the teens, is sure to have a good time here. There's an amazing human body exhibit where you can explore the digestive system in depth (including a slide through the small intestine, ending in a fart), get inside the brain, learn about the lungs and operate a giant animatronic hand.
A huge play structure runs down the center of the building, covering several stories. There is also a strong focus on space with a 3D mapa of our solar system, a space walk and rockets to launch. You'll definitely want to add this to your list of family things to do in Nashville.
Cost: $13 for adults and $11 for kids 2-12. Optional extras such as Planaterium ($6), BlueMax Theatre ($5.50) and laser shows ($8)
Open: 7 Days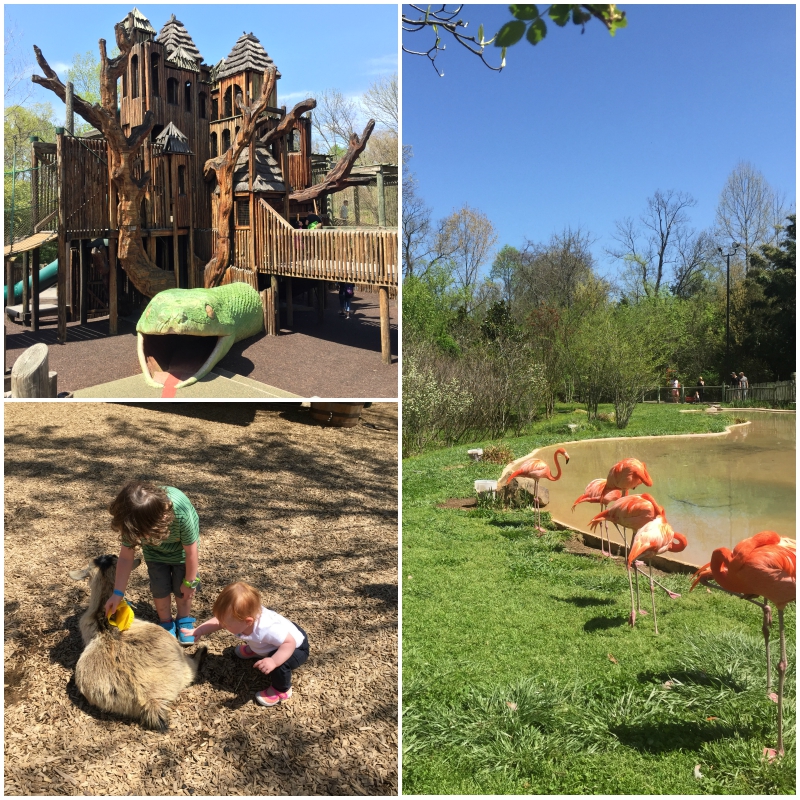 4. Visit The Nashville Zoo at Grassmere
The Nashville Zoo at Grassmere is a good city zoo and will provide a whole day of family fun in Nashville. While it doesn't have a huge number of exhibits, and there are some expansions works going on at the moment, it is still definitely worth a visit. There's a petting zoo where you can brush goats, a toy train, a carousel and lots of animals to see of course.
Perhaps the best part is the Jungle Gym playground is one of the world's best playgrounds and it doesn't disappoint. It has to be one of the best Nashville attractions for kids. It's a huge sprawling, treehouse structure with lots of stairs, narrow passageways, rope bridges and long, twisty slides. Your kids could easily spend an hour in the playground alone so account for that when planning your visit. There is a smaller, padded play area for babies and lots of shaded seating for parents.
Cost: $15 for adults, $10 for children 2-12
Open: 7 days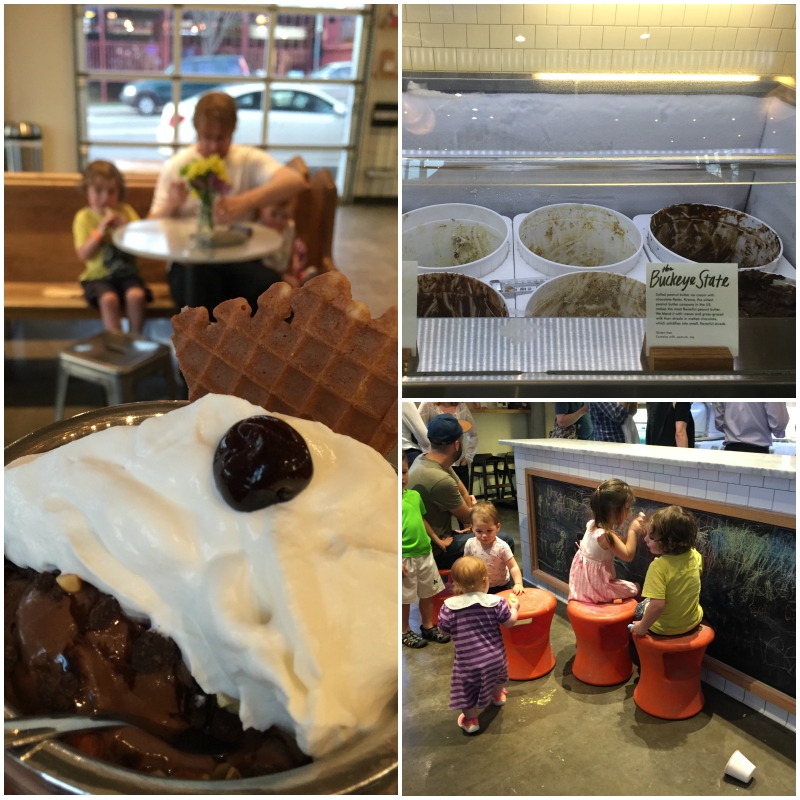 5. Indulge at Jeni's Splendid Ice Cream
Holy moly! If you like good ice cream, you're going to love Jeni's Splendid Ice Cream. Family fun in Nashville TN wouldn't be complete without ice cream! There are a couple of locations across Nashville and it is definitely worth seeking out one of them. The one in East Nashville has a chalkboard for kids to play on while you enjoy your sundae. There ice cream is some of the best you will ever have! Lots of inventive flavours and fun toppings that you and your kids will enjoy. Allow for at least one visit when planning things for kids to do in Nashville TN. It's definitely on the most fun places to eat in Nashville for kids!
Cost: $5 & up
Open: 7 days
6. Get Into Music at the Country Music Hall of Fame
Give your kids an intro to the country music scene by visiting the Country Music Hall of Fame. One of the best country music Nashville family attractions. Wander the halls and exhibits chronicling the lives and careers of your favourite country music stars. Hello Taylor Swift fans! You'll love it here. Kids five & up will have the most fun at the Musical Petting Zoo. A chance to play and experiment with drums, banjoes and electric harps. Make room for this on your itinerary of things to do in Nashville TN for kids.
Cost: $24.95 for adults, $14.95 for kids 6-12
Open: 7 days
7. Gain Some Historical Perspective at The Belle Meade Plantation
Enjoy a stroll around the grounds of the beautiful Belle Meade Plantation and a step back in time. Touring the inside of the mansion requires a ticket and guided tour which occur at regular intervals. This might be on of the  attractions in Nashville TN for family which best reserved for older children, who you feel comfortable with opening up a discussion about the South's past of plantations and slavery. You can turn this into a talking point to discuss the more challenging aspects of American history in the South.
The grounds & outbuildings are free to explore however. There's bocce ball, croquet and horseshoes to play with just outside the carriage house, which will keep the smaller kids in your family amused while you experience the rest of the plantation. Even if you don't plan on taking the guided tour, a plantation visit is still a good suggestion for things to do for kids in Nashville TN.
Cost: $18 for adults, $10 for kids 6-12 and $12 for teens 13-18
Open: 7 days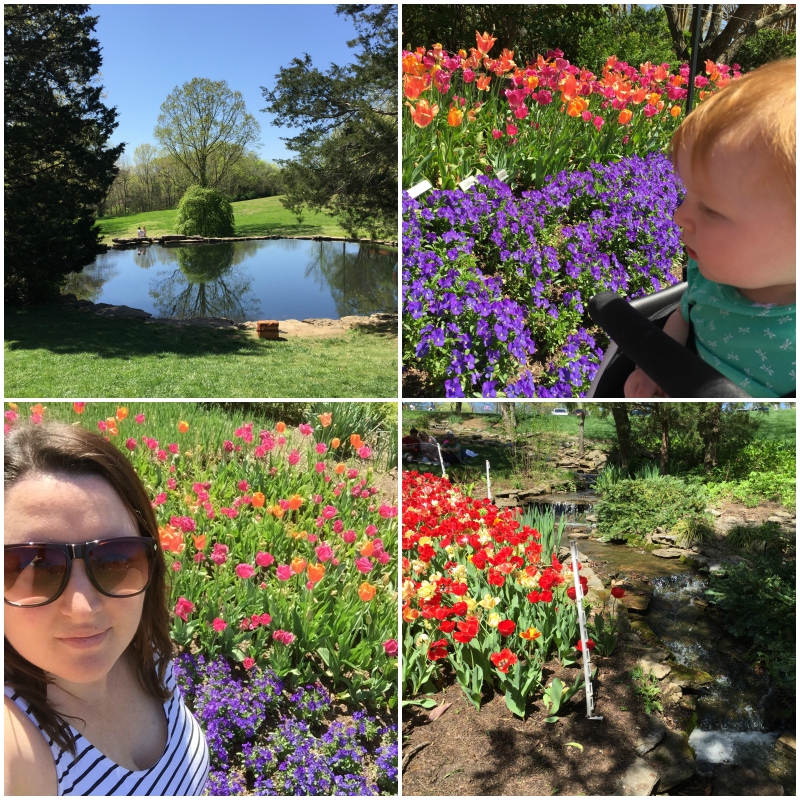 8. Wander Around The Cheekwood Botanical Garden
The Cheekwood Botanical Garden & Museum of Art is a great way to spend a morning or afternoon, especially in Spring when the tulips are in bloom. Not only is it a fun family things to do in Nashville, it's also a stunning place to take photos of your children enjoying the beautiful surroundings. While there are some paths that are stroller accessible, the majority have steps or rough gravel so it's better to bring a baby carrier instead. Weekend activities include art studios and family music events. One the best Nashville family activities for outdoor lovers.
Cost: $14 for adults, $7 for kids 3-17
Open: Tuesday to Sunday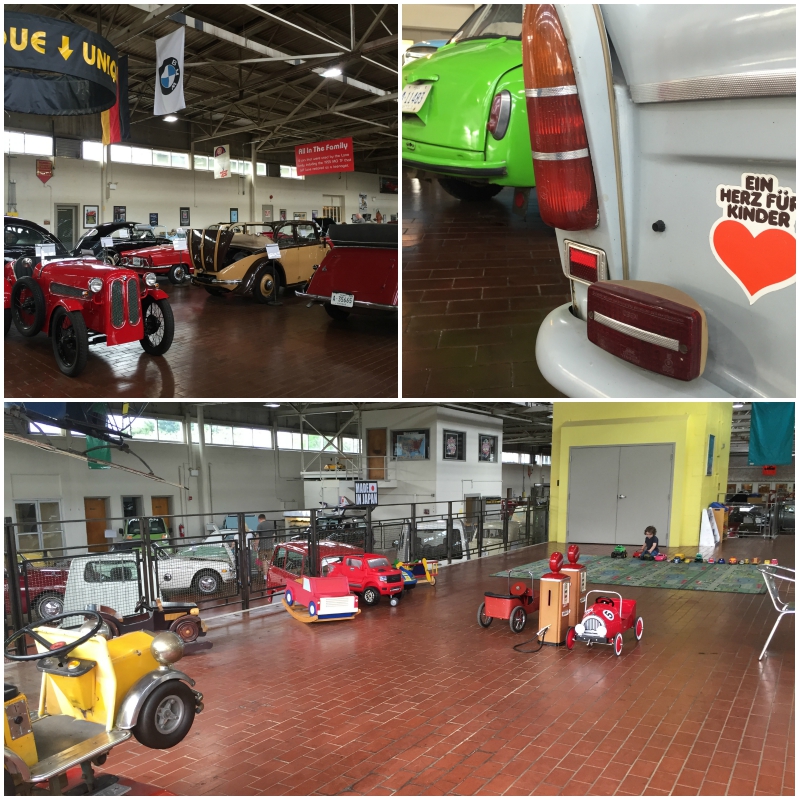 9. Check out The Lane Motor Museum
Got a car lover in the family? This is the place to bring them. One of the more unexpected, fun things to do in Nashville for kids that we found on our travels. The Lane Motor Museum is home to scores of whacky cars from the past 100 years of motoring. Kids will love the three-wheelers and microcars especially. There is a fun play area where you can race toy cars, ride in pedal cars and colour which is fun for even the littlest visitors. If you have the time, build this into your list of family fun activities in Nashville TN.
Cost: $9 for adults and $3 for kids 6-17
Open: Thursday to Monday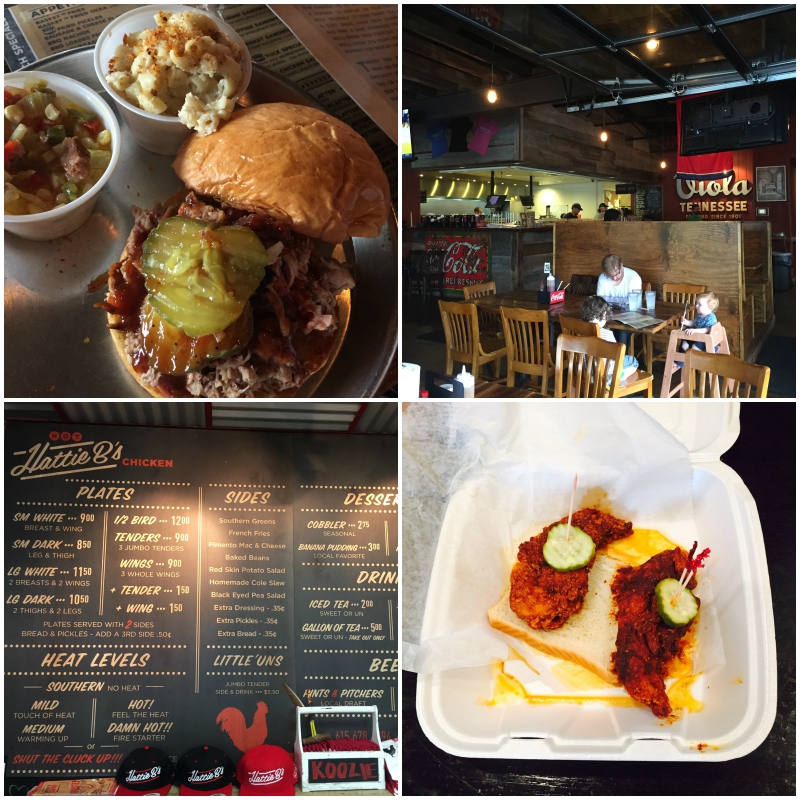 10. Get Your Fix of Southern Food
Nashville is a foodie town. If you're not from the South, you should definitely try to experience some Southern cuisine while you're in Nashville. Believe me, the food is good here! Southern Food is pretty kid friendly too, despite being a bit spicy at times.
You should definitely check out Hattie B's Hot Chicken for a fried chicken fix. You can go as spicy as you want, or not at all for the kids. Another favourite was Edley's Bar-B-Que out in East Nashville. Delicious ribs, get them "wet" for lots of saucey goodness, plus yummy sides like mac n' cheese and baked beans. These are my picks for the two best family restaurants in Nashville.
Cost: Kids meals from $3.25 at Edley's and $5.50 at Hattie B's.
Open: Both open 7 days.
What do you think of my list of things for kids in Nashville?
Come to the Music City and enjoy some Nashville fun for families! There are so many great Nashville kids activities that you could easily fill a week in this fine city.
What's on your list of family activities in Nashville TN? If you've got suggestions for Nashville kids attractions that I haven't included in my post, I'd love to hear them!
Where to Stay in Nashville with Kids
Wondering where to stay in Nashville with kids? We spent over a week in Nashville on our recent road trip from Las Vegas to Toronto. In fact, we loved it so much we extended our stay. We just couldn't get enough of Music City. If you're looking for a great, family friendly place to stay check out the Airbnb house we stayed in during our time in here. It's a great place to stay in Nashville with kids and we highly recommend it. Want to try out Airbnb? Click here to get a $20 off coupon.
If you're looking for a family friendly Nashville hotel, check out some of the options below. It's advisable to book ahead in Nashville as hotel demand often exceeds supply, especially during events and holiday weekends.
Places to stay in Nashville TN with kids:
Visit Music City kindly provided us with a tourism pass to experience many of the great things to do in Nashville.