This post may contain compensated links. Please refer to my disclaimer here for more information.
Ottawa will surprise you! There are so many great things to do in Ottawa with kids. It might not be the coolest city in Canada but this charming capital city has plenty on offer for visiting families. The home of the Canadian parliament and all the government employees that go along with it, Ottawa feels like it's a city who receives a lot of funding for public spaces. Art galleries, museums, green spaces and public sculptures abound. Even with a week, you'll struggle to scratch the surface of what Ottawa offers. With that in mind, here's what I recommend you cover if you're travelling with kids.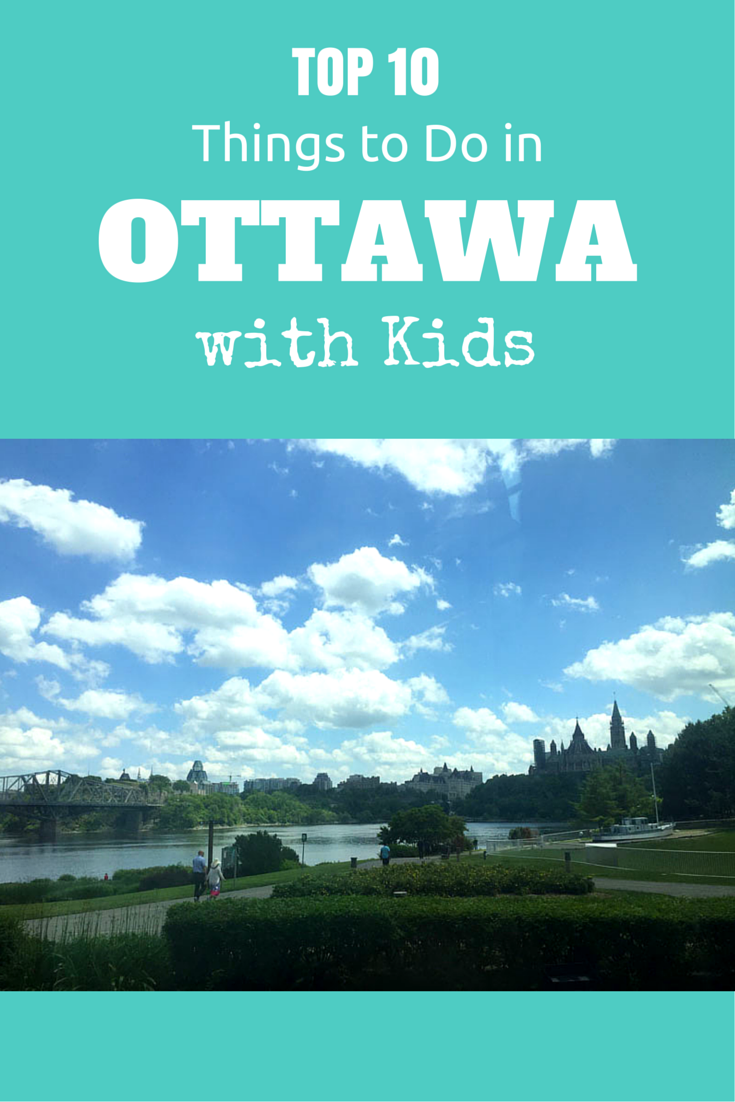 Top 10 Things to Do in Ottawa with Kids
Parliament Buildings
Canada might just have the prettiest parliament buildings I've seen. Right in the centre of downtown Ottawa, along the banks of the river. You can take a free tour of the buildings by picking up tickets in advance or just enjoy them from the outside as we did.
ByWard Market
The ByWard Market is a great way to experience the food culture of Canada. Lots of maple products, of course, but you're not limited to just syrup. There's maple butter, maple sugar and, our favourite, maple candy. Fresh produce is in abundance in the market but there are also plenty of local eateries to take your fancy. Don't leave until you have tried a beaver tail! Wholemeal dough is stretched, flattened and deep fried then topped with sweet and sickly toppings. Maple butter and chocolate, apple and cinnamon or classic cinnamon sugar with a squeeze of lemon.
Ottawa Pirate Adventures
Want to treat your kids to something purely for the joy of it? Take them on a Pirate Adventure in Ottawa! The Grey Ghost will sail you up and down the Rideau Canal all the while entertaining your troop with stories of pirates, games and a treasure hunt. It's part theatre, part children's party but 100% fun. You'll dress up onshore, get your pirate name and head out for an hour and a half cruise along the picturesque canal.
Canadian Museum of Nature
The Canadian Museum of Nature will captivate your kids at any age. Every kid loves dinosaurs and there is a great dino exhibit here, including a short film on the mass extinction of dinosaurs during the cretaceous period. Further upstairs you'll find several different zones. The bird exhibit has lots of stuffed creatures to look at, as well as a play bird rescue centre. A blue whale skeleton runs the length of the water zone and is sure to wow. A special exhibit running until September 20 2015 called "Animal Inside Out" shows whole animals, plastinated and stripped of their skins, to uncover the inner workings of nerves, muscles and bones.
Canadian Museum of History
To learn a little about the culture of Canada and it's indigenous people, pay a visit to the Canadian Museum of History. Kids might not be able to dig deep into the history but the totem poles, carvings and handicrafts are all eye-catching to look at. There are some somewhat scary re-enactments of different indigenous archetypes that might interest your kids, or frighten them! The Great Hall affords a grand view across the river to the city. Keep your eyes peeled for groundhogs playing around in the grass. And, while you're watching, don't forget to look up at the gorgeous painted ceiling.
Canadian Children's Museum
In the same building as the Museum of History, you'll find the Canadian Children's Museum. Like many children's museums, there are lots of activities for little ones to participate in but here they are themes by countries. You'll journey through a Mexican market, a building zone in Amsterdam, a pyramid in Egypt, a puppet show in Indonesia. Your kids could spend hours here if you let them, stamping their passport as they make there way through the various zones.
Eco-Odysee
Eco-Odysee is your just to get up close and experience Canadian nature. It's across the river so technically in Quebec. One of the great things about Ottawa is that French Canada is just a bridge away! It's only a 35 minutes drive from downtown Ottawa though but you'll feel like you've travelled much further from the capital as it's incredibly beautiful and green out here. Eco-Odysee offers self-guided paddle boat tours through an eco-habitiat full of beavers, birds and other native species. Be sure to call in advance. We drove all the way out and found it was unexpectably closed despite having checked online that they were open.
Valley View Little Animal Farm
Tiny tots will love the Valley View Little Animal Farm. A simple petting zoo with all your furry favourites – goats, pigs, donkeys and alpacas just waiting to be petted. There are also some fun play structures including one crafted from an old tractor. A tractor train takes you around one of the farm fields to look at soy and corn crops growing.
Brewer Park
Kids need to get outdoors? Head to Brewer Park, a great playground with multiple play structures and lots of swings set in a large green space. There is a splash zone with water fountains and a slide in the summer.
Fun Haven
If you're looking for an indoor play space to burn of some energy when it's cold outside, check out Fun Haven. You'll find video games, a jungle gym, climbing wall, bumper cars and a laser maze. There's no admission fee but it's "pay to play" meaning you pick and choose the activities you want to pay for as you go
* Note that there are a few activities here that are summer-only. In winter you can switch them out for ice skating on the Rideau canal, sipping hot cocoa and enjoying the Winterlude festivities.
Where to Stay in Ottawa with Kids
Looking for a family-friendly hotel in Ottawa? Click here for some recommendations.
Want to try out Airbnb? Click here to get a $25 off coupon.
More Things to Do in Canada with Kids
If you're looking for more family-friendly things to do in Canada. Here are some recommendations for other cities:
Ottawa Tourism kindly provided us with complimentary entrance to many of the attractions listed above.