This post may contain compensated links. Please refer to my disclaimer here for more information.
New Zealand isn't renowned for a particular type of cuisine. Eating out is expensive compared to every else in the world (with the exception of Australia). There are we Kiwis do really well. We're great at not destroying our food. You won't find over-processed, over-fried food here. The focus of most meals is fresh, honest ingredients prepared with care and a little Kiwi flair. With our abundance of coastline and farm land, seafood and meat are what we do best. Some of the foods we love are our own creations and some we've borrowed from our cultural influences.
When you come to New Zealand, what would I suggest you eat and drink?
If you were my guest here's what we'd have!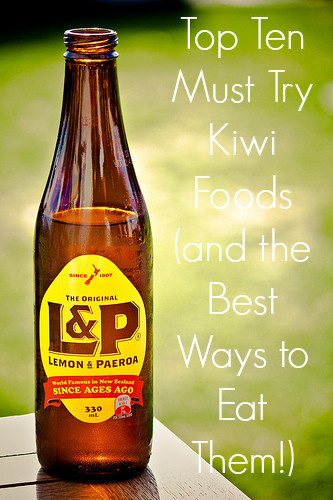 Flat white
New Zealand's signature coffee, the flat white is a single or double shot of espresso topped with flat, foamy milk from the bottom of the steaming jug. Think latte, only smaller with a higher proportion of coffee than milk. Coffee afficiandos will have a great time in New Zealand's small, independent cafes. Kiwis love to support the little guy (being that we're little ourselves) and funky, offbeat cafes are much more popular the Starbucks.
Hokey Pokey Ice Cream
What is a hokey pokey? Crunchy, butterscotch-like deliciousness, that's what. Every Kiwi kid loves Hokey Pokey ice cream – hokey pokey balls generously dotted through a mildly butterscotch flavoured ice cream . You can get a scoop from a dairy (a corner store) for as little as $2.
Fish & Chips
Whether you have them wrapped in paper while sitting on the beach or off a plate in a pub or cafe, Kiwis do a mean "fush & chups". New Zealand's favourite fast food, even the smallest town will have a fish and chip shop. Generally the fish served is shark, which tastes pretty good, but most outlets now serve a choice of fishes – Hoki, Gurnard and Blue Cod are all good choices. If you're gluten-free, don't fret. Many shops now advertise a gluten-free option when battering or crumbing your fillet.
L&P
Wash down your fush and chups with New Zealand's own fizzy drink. L&P, short for Lemon and Paeroa, is an unexplicably tasty beverage that's been brewed in New Zealand since, well, ages ago! The drink itself is impossibleto describe, it's lemony and Paeroa-y. Paeroa isn't a flavour, it's the town in which L&P is made.The mineral water in Paeroa has a high magensium bicarbonate content which gives the drink it's unique taste. Lemon and magenesium bicarbonate doesn't quite have the same ring to it!
Mussels
If you love seafood, the first meal you have when you get off the plane should be a big bowl of New Zealand green-lipped mussels. They're bigger, fatter and juicer than other varieties found worldwide. Mildy fishy and very delicious you'll see them on almost every cafe or pub menu. Best served in a bowl with a creamy white wine sauce and crusty bread to soak up the juices.
Fergburger
Probably more famous worldwide than in New Zealand itself, Fergburger and it's tasty gourmet hamburgers have grown to legendary status amongst the backpacker and snowboarder set. Located in Queenstown, Fergburger serves humongous burgers with out-of-the-box fillings like slow roasted pork belly (pictured above), wild deer, ribeye steak and blue cod. Vegetarians are catered for with either a satay tofu or falafel burger. The only catch? You'll wait about 45 minutes for your order and most likely have to eat standing up on the street. They're that good!
Vegemite or Marmite
This thick, black yeast paste is a staple for Kiwi kids, though you'd be forgiven for not trying it! It is an acquired taste but the main problem tourists have with vegemite and marmite is spreading it on their toast too thickly. Go in with a heavy hand as if spreading peanut butter or nutella and you're in for a nasty surprise. Less is more when it comes to Vegemite or Marmite. It goes best on hot toast with lots of butter.
Lamb
New Zealand lamb is the best of the world and is exported around the globe. Still, the best place to try it is here in New Zealand. It's not cheap here and will most likely be the most expensive item on the restaurant menu. In summer go for barbequed lamb rack or chops with mint sauce. In winter eat it roasted with root veges or in a tasty stew.
Hangi
A hāngi is a traditional Maori method of cooking. Hot stones from the fire are placed in a pit, on goes the food covered in tin foil and is then buried for several hours. Meat and root vegetables are slow cooked in the hāngi producing a tender, flavourful meal. You won't find it on any restaurant menu though. Look for hāngi as part of cultural park experiences or put the word out in the towns you visit as hāngi's are often used as a community fundraising method.
Kiwifruit
New Zealand's national fruit, the Kiwifruit or Kiwi (if you're a foreigner) grows in abundance in the North Island of the country. Cut in half, scoop out the tangy, acidic flesh with a spoon and eat, pips and all. Only the brave will eat the furry brown skin.
All photos sourced under creative commons.