This post may contain compensated links. Please refer to my disclaimer here for more information.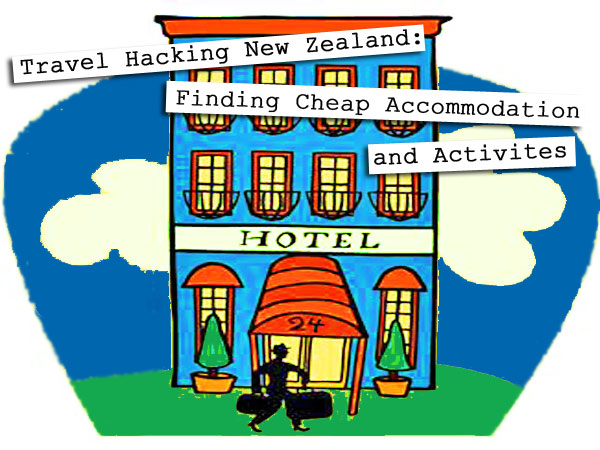 New Zealand isn't a cheap place to visit. Some might argue that it's even prohibitvley expensive especially given the cost involved in getting all the way down here. The Kiwi dollar is strong making it painful to buy when you're coming in from the US or Europe. Tourist activities, accommodation and eating out are a lot dearer here than in North America.
You want to visit New Zealand but don't want to bust the budget, right? Let me show you all my sources for finding cheap accommodation in New Zealand and fun activities that won't send your credit card bill through the roof.
The secret? Group booking sites.
We've all heard of Groupon. Business sell bulk coupons for massively discounted prices. We use it at home for things like restaurants, spa services and city breaks. So, why not use it on the road? Group booking sites are incredibly popular in New Zealand. There are lots of local alternatives to Groupon that have a better hold on the Kiwi market. If you weren't a local, you mightn't hear about them but I'm here to give you the skinny and help stretch your tourist dollar as far as possible.
The best way to use these group booking sites is to sign up for email alerts and keep an eye on the sites every day. If you start a month or two out from your trip you're bound to find cheap accommoation or activities in every town you want to visit. If you have specific dates in mind, check with the hotel if they're available before you buy your coupon.
Cheap Accommodation in New Zealand
Grabone Escapes – Use Grabone Escapes to find accommodation all over New Zealand from top to bottom. In general deals will be for one or two night stays in hotels, motels, B&Bs, lodges, villas and sometimes even campgrounds and hostels. Not only will you get 50% or more off the rack rate but you'll also find lots of optional extras like bottles of wine, breakfast or late checkouts thrown in. Each day there are anywhere between 10 and 20 accommodation options on Grabone.
Groupon Getaways – Similar to Grabone but not quite as many deals. Don't just check the Kiwi version. Keep an eye on the Australian site as different deals appear for the market targeted at Aussie holidaymakers.
On both Grabone and Groupon, deals also pop up for resorts in Fiji and the Pacific Islands, tourist spots in Australia and sometimes as far as Thailand. If your travels stretch beyond New Zealand then you may find something else inspiring to book!
Treatme Travel – The same principle as the other two sites, Treatme is only just branching out into accommodation deals so only has one deal per day.
Outside of group booking sites, Wotif.com is a great place to search for discounted accommodation as it includes motels in all the smaller towns of New Zealand as well as major hotels. Wofi has mystery hotels with deep discounts – you won't find out the name of your hotel until after your book but it's hard to go wrong with these. If you check the location and amenities you can pretty much narrow down what hotels you could get.
Cheap Activities in New Zealand
Tourist activities can be really overpriced in New Zealand. Honestly, I don't know how operators get away with charging so much for activites and attractions that come in about one third cheaper in North America. That said, you're not coming to New Zealand just to sit in your car and stare out the window. You want to get out and do things! You might not get everything you want for a bargain but take the little wins!
Grabone -Has plenty of daily deals across the country. Many are for locals services like restaurants and massages but the odd tourist activity pops up so keep an eye out in those emails.
Bookme – Bookme has got to be the best website in the country for finding things to do at a discount. In each centre, there are literally dozens of great activities discounted between 20 to 70%. Unlike Grabone where the vouchers can be used for a few months from date of purchase, the deals on Bookme are filling spaces on tours or activites for specific dates over the coming week. Before you head out for the day's siteseeing, check what's on Bookme and you might come up with something fabulous to do! Here's an example of what I've been able to find on Bookme today:
Wine and beer tour of Waiheke Island for less than $30
Black water cave tubing through the Waitomo caves for $100
Helicopter flight over the Franz Josef glacier for $100
Punting on the Avon River in Christchurch for $12
Entrance to the hot springs at Tekapo for $10
Dolphin watching tour in Kaikoura for $45
Ride the Shotover Jet in Queenstown for $1… that's 99% discount!!!!!
 So, what are you waiting for? There should be no excuse not to visit New Zealand now!
Want more travel hacking tips for New Zealand?
Catch up on my travel hacking tips from last week on finding cheap flights in New Zealand. Next week I'm covering getting the best deals on car hire, campers, trains and buses.