This post may contain compensated links. Please refer to my disclaimer here for more information.
Key West is a unique destination sitting at the Southernmost tip of the continental USA. It's charming, historical and old-fashioned. Some might think it's a little too touristy, or a party destination, but there are a lot of great things to do in Key West with kids.
Key West is small so you can get to know it in just a couple of days. We enjoyed two nights in Key West in November 2014 and had glorious weather. With year-round warmth and sun, Key West is a great spot to escape the winter. If you have a few days to spare on a trip to Florida, Key West is easily accessible and will delight any type of visitor.
I've put together this guide on Key West for kids for you to help plan your trip to Florida.
Things to Do in Key West with Kids: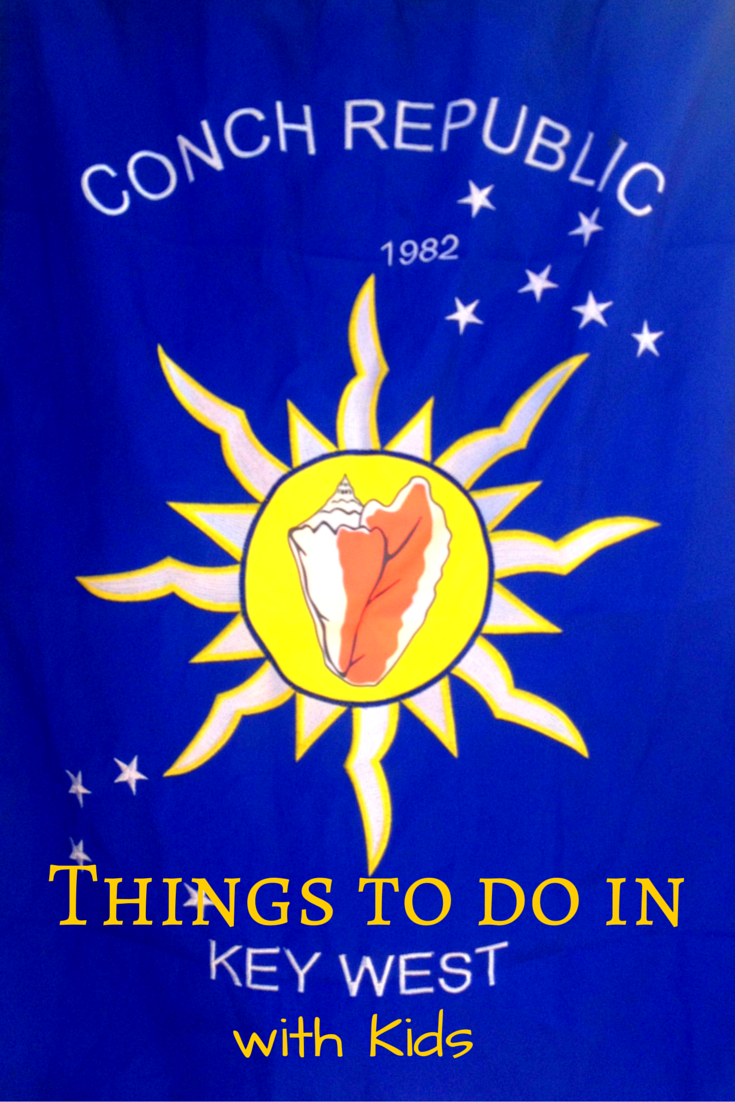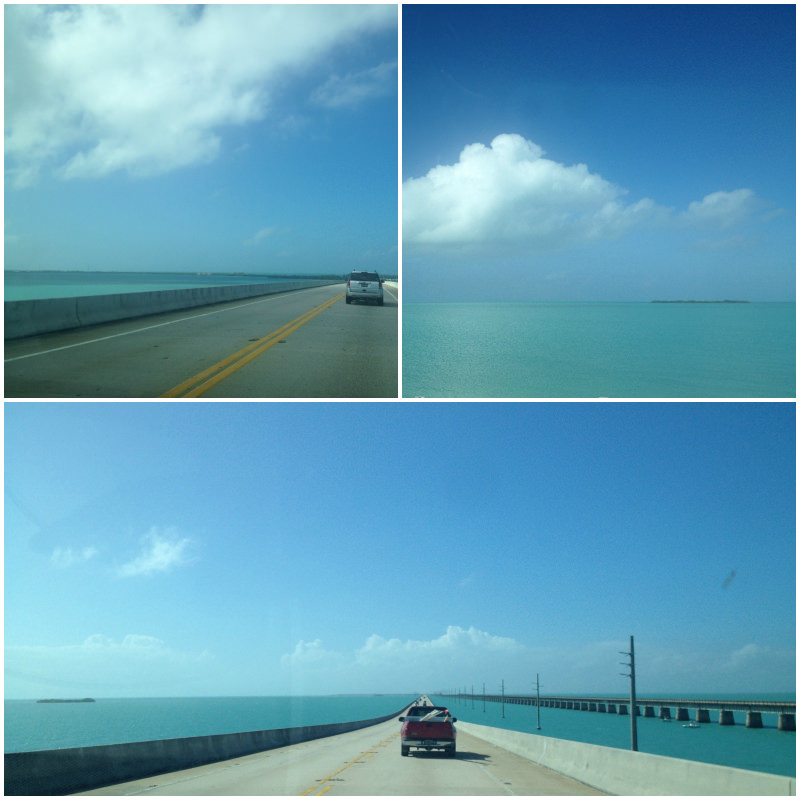 Things to Do in Key West with kids
Drive the Overseas Highway.
If you're heading down to the Florida keys with kids, make sure you drive. Getting to the Florida Keys is half the fun! Driving in the Overseas Highway is nothing short of spectacular. It would be a shame to fly into Key West and miss out on travelling over the 113 mile highway that spans the Florida Keys using 42 bridges.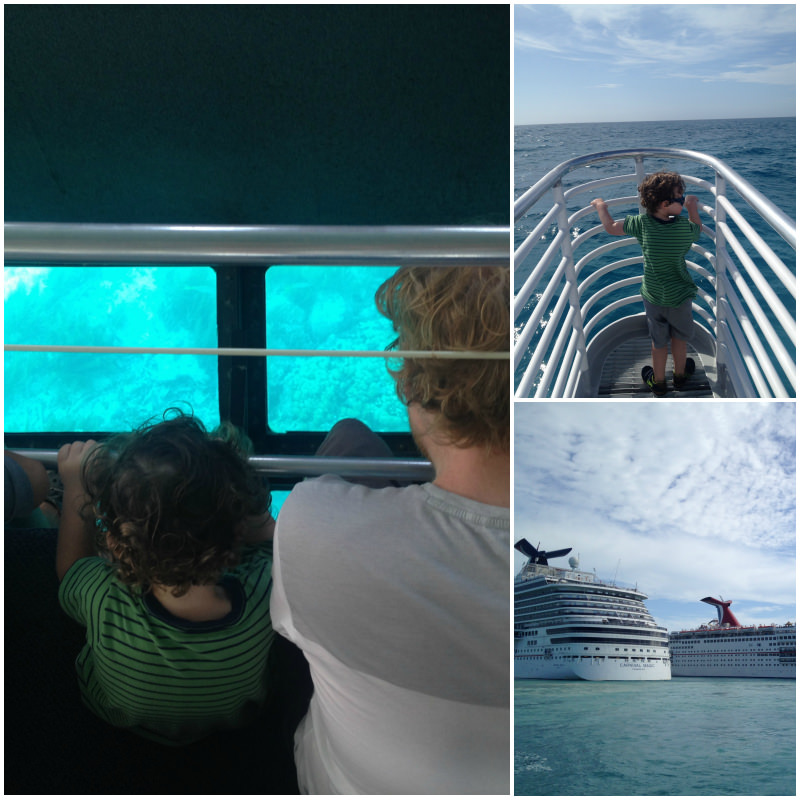 Go on a Glass-Bottom Boat Tour. Fury Cat offer glass-bottom boat tours from Key West out to the Florida Reef which is the only living coral reef in the continental US and the third largest coral barrier reef in the world. The boat ride out to the reef is breath-taking and offers are really great view back towards Key West and the many cruise ships docked in it's port.
Once out at the reef the Fury Cat's informative guides spend about 45 minutes showing you the wonders of the reef through the boat's glass-bottom windows. You'll see coral of all kinds, both soft and hard, as well as fish and other sea life. The glass bottom has plenty of space for everyone on board to get a good look at the undersea life. They also have a trip that offers snorkelling on the reef. Adult tickets are $40.95, kids 6-12 years are $20.95 and 1-5 years are free. There are three tours a day at 12pm, 2pm and 4pm.
Tip: Cruise ship passengers should go for the 12pm sailing. You'll still have a little time to enjoy one or two of the other attractions in Key West below if you get off the ship early enough.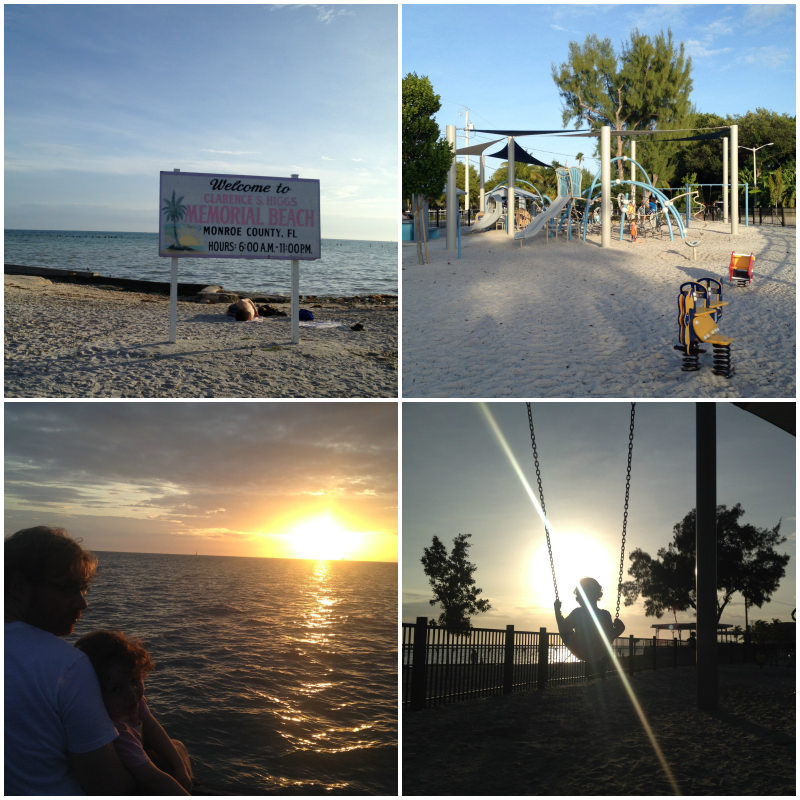 Watch the Sun Go Down at Sunset Pier. Mallory Square is a popular place to watch the sun go down in Key West. We preferred Sunset Pier as there was a lovely sandy beach to play on, complete with fun playground. It was also very peaceful, hardly anyone was there despite it being a fantastic location to watch the sun sink into the ocean. One of the best things to do in Key West with kids!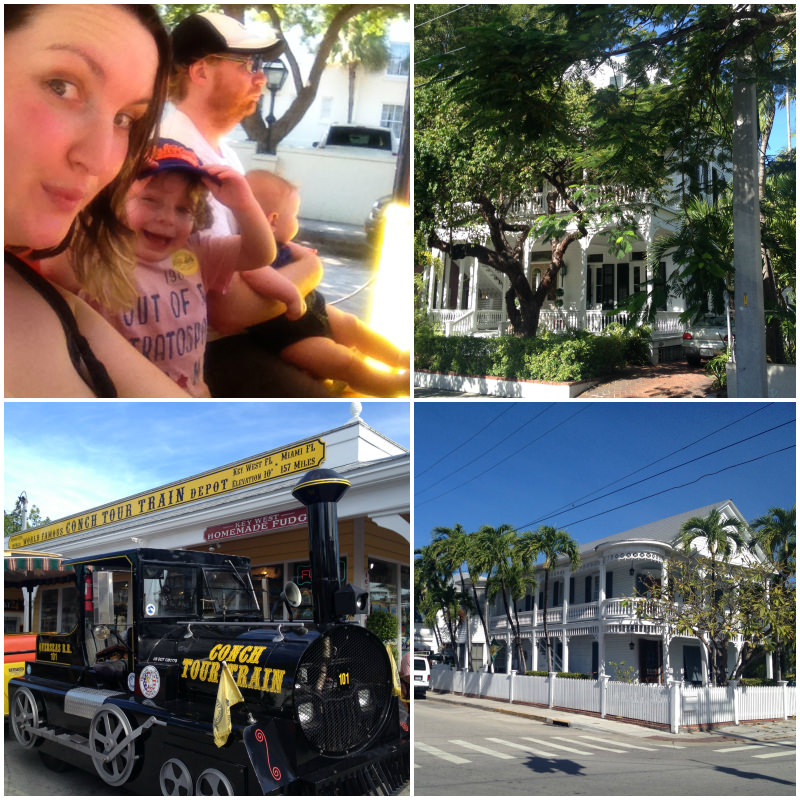 Jump on the Conch Train. If you want to get a great overview of the history of Key West, jump on the Conch Train! You'll see these little motorised trains on the road all over Key West. The go constantly throughout the day in two different loops. The entire tour lasts 90 mins but stops for a break back at the station halfway. For our small children, the first loop was enough and still provided us with a fantastic insight into the history of Key West while zipping past all it's beautiful old houses and historical landmarks. You can get off at the halfway point and resume your ride later in the day. Tickets are $30.45 for adults and kids under 12 are free.
Tip: Buy a package ticket that includes the Conch Train and either the Shipwreck Museum or Aquarium or both. See prices here.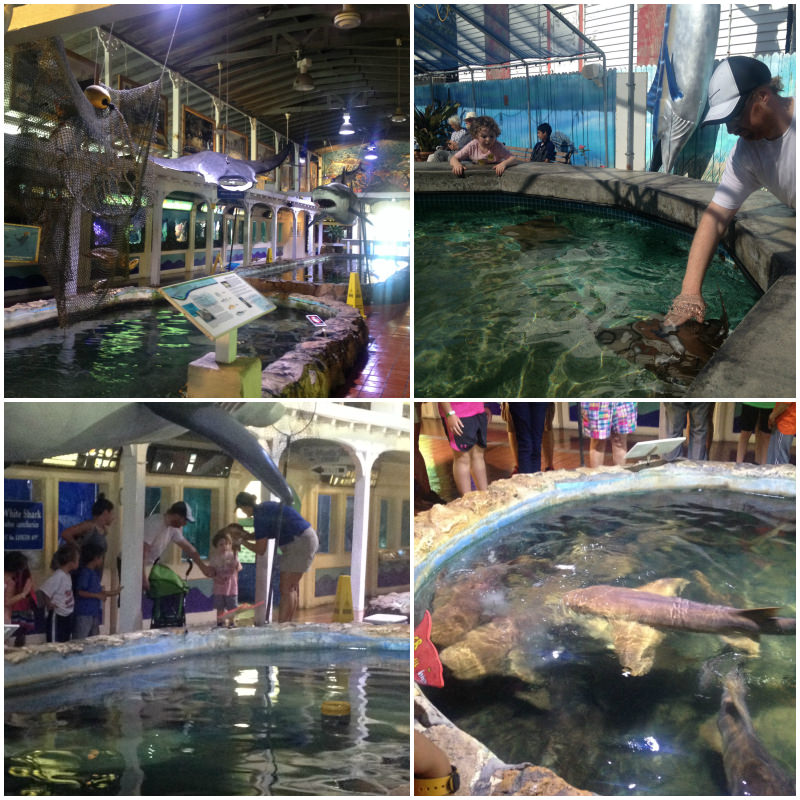 Stop by the Aquarium. Key West has a small aquarium which has a variety of sealife including many sharks, rays and turtles. Time your visit so you can join one of the guided tours which include feeding of the sharks. You may even get the opportunity to pet a baby nurse shark. Tours are at 11am, 1pm, 3pm and 4.30pm. There are plenty of touch tanks for little kids to enjoy. Tickets are $15.04 for adults and $8.59 for kids aged 4-12 years.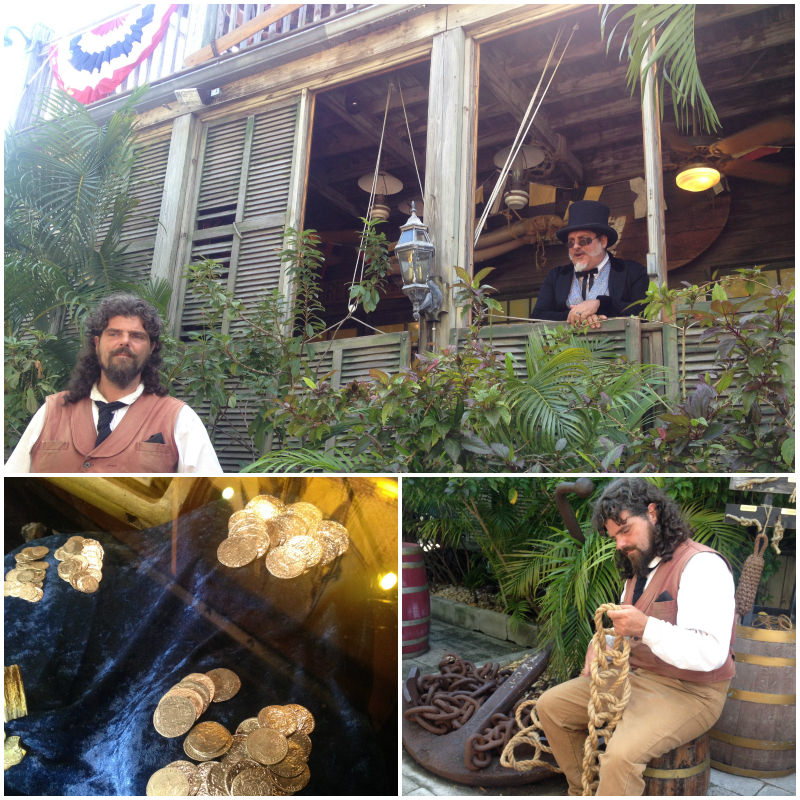 Discover the Key West Shipwreck Treasure Museum. The Key West Shipwreck Treasure Museum will delight everyone in the family, especially those pirate lovers amongst you. Beginning with a fun interactive introductions, complete with cast members acting out old Key West professions, you'll start outside and learn some knot tying techniques, learn about the history of shipwrecking and salvage, before heading inside to see some of the treasures drug up from the bottom of the ocean. Tickets are $15.04 for adults and $8.59 for kids. Under threes are free.
Tip: If you're a cruise ship passenger, you can easily do the Conch Train, Aquarium and Shipwreck Museum in a day.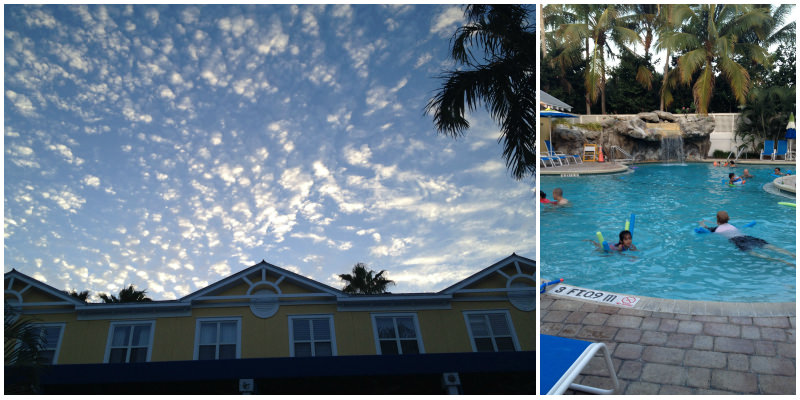 Where to Stay in Key West with Kids
Hotels and vacation rentals in Key West are expensive! If you can, choose to visit Key West during the week rather than at weekends. It will help your budget dramatically as weekend rates are a lot higher. We booked the Sheraton Suites using Priceline's Name Your Own Price deals and got a great room for $145 a night (plus a $25 a night resort fee). The room was very large with a kitchenette, dining table and fold-out couch in one room with a separate sleeping area with king bed.
Tip: Parking in Key West can be difficult and expensive. Choose a hotel that has a shuttle service into town. (Sheraton Suites does.)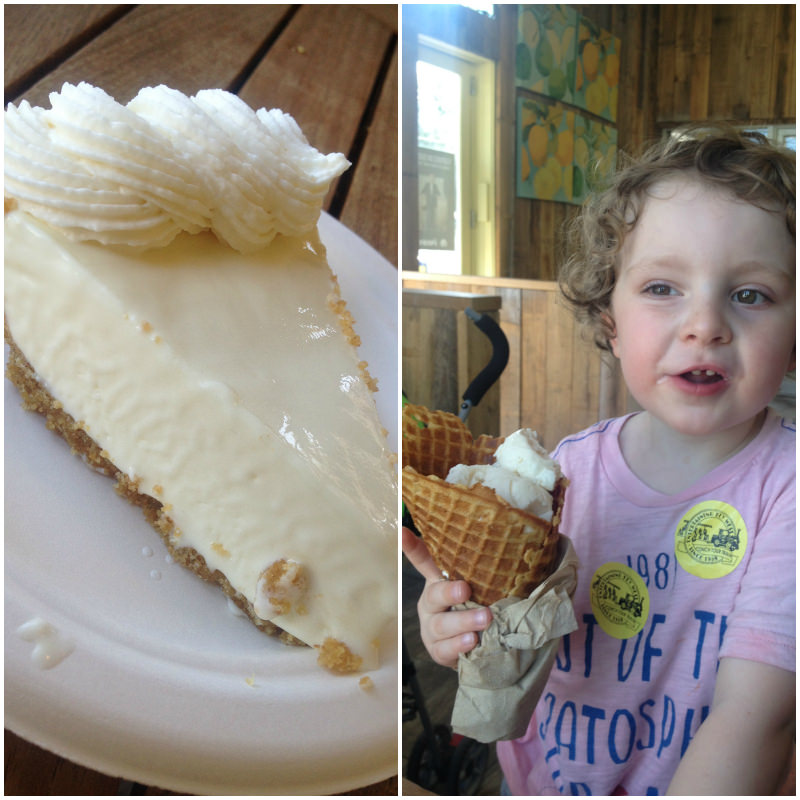 Where to Eat in Key West with Kids
Much of the restaurants in Key Wests are the same – burgers, fish sandwiches and salads. There are a couple of more unique eating establishments you should try such as Charlie Mac's for some good BBQ or Bagatelle for a delicious southern fried chicken sandwich.
Don't miss out on a slice (or six!) of Key Lime Pie! As seen on Lee's favourite TV show "The Profit", The Key Lime Pie Co sells key lime pies made from scratch with all natural ingredients. The best part is that the store has a window where you can watch the pies being made. There's also seating to sit down and eat your purchases.
Got any questions on Key West for kids?
Please let me know if you have any thoughts or questions on things to do with kids in Key West. You can leave me a comment below.