This post may contain compensated links. Please refer to my disclaimer here for more information.
Visitors to Mexico who focus only the wonderful beaches on the Riviera Maya are missing out! Head inland, just an hour or so from Cancun or Playa del Carmen and you'll come across a charming, colonial town. Perfectly preserved, Valladolid offers a cultural escape from the high-rises of Cancun and the lazy beach days along the coast of Quintana Roo and the Yucatan.
We spent five days in Valladolid in December and would highly recommend it to anyone headed to this part of Mexico. It's an easy excursion from Playa del Carmen too. Valladolid is bursting with charm, lovely courtyard restaurants and has a surprising number of things to do. The surrounding area also has lots to offer. Valladolid makes a great base for exploring cenotes and Mayan ruins.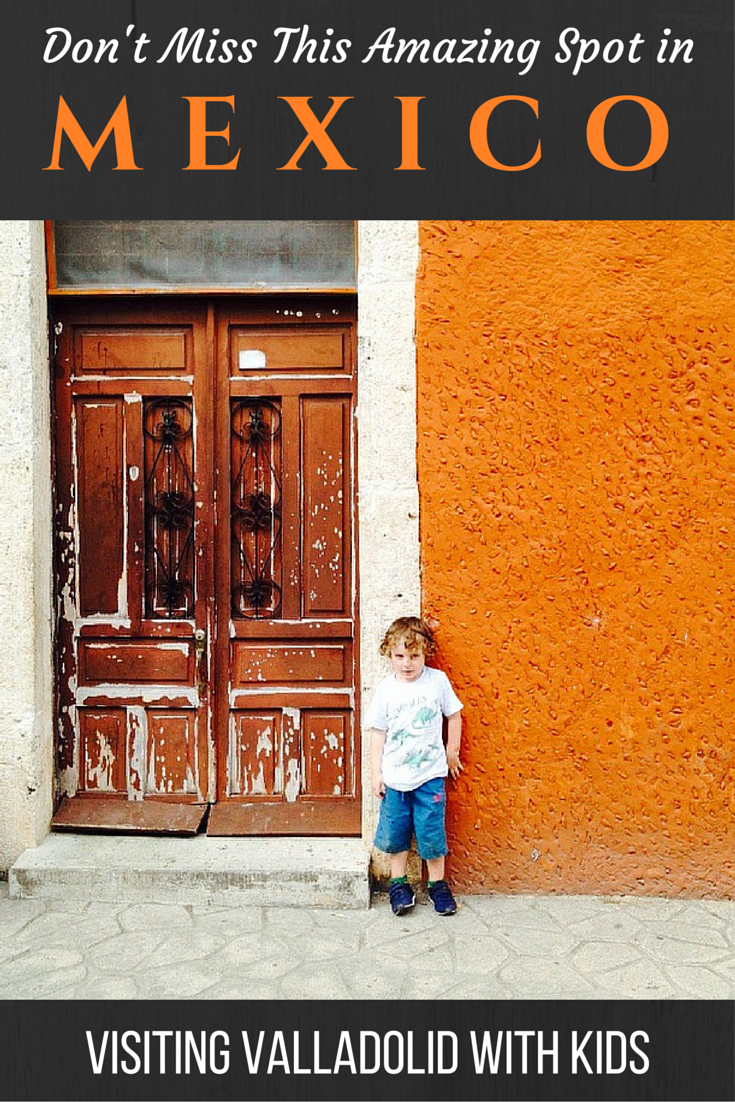 Here's what we recommend when visiting Valladolid, Mexico with kids:
Things to Do in Valladolid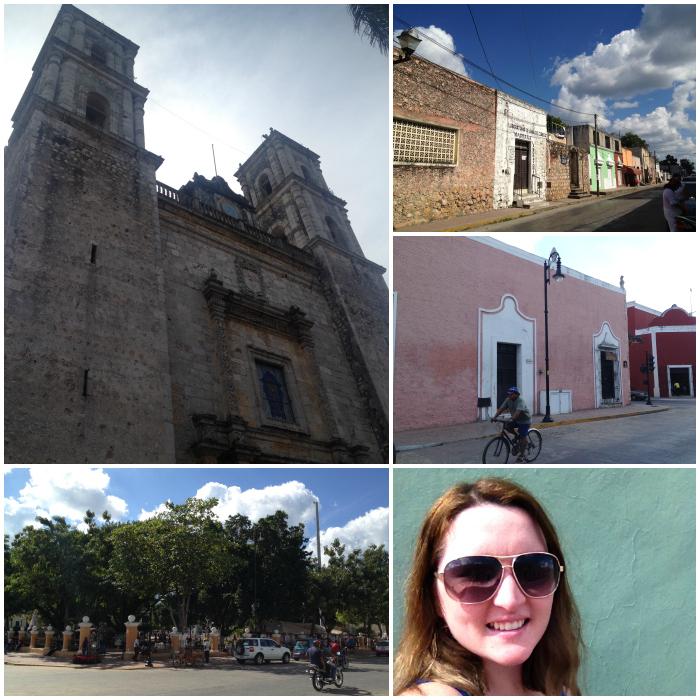 Visit the Main Square and Wander the Streets
Valladolid's charm lies in it's squares and streets. Colourful, colonial and just preserved enough. Stroll around Valladolid's leafy main square. Buy a ballon or an ice cream from one of the street vendors. Take a peak into the shops and restaurans that line the square and you'll find lots of interesting souvenirs and lovely courtyards. The main church is quite beautiful. Other areas that are great for wandering are Candelaria and Los Frailes.
Taste Some Authentic Mayan Chocolate
Cacao is a fun place to visit for a little Mayan culture and chocolate. I wouldn't call this a chocolate factory. More a chocolate experience. There is a short tour where you can see traditional chocolate making equipment and photographs, watch chocolate being made Mayan-style, and then sample the various flavours on offer. There are some great flavours. We loved the tequila and vanilla. The tours are free and chocolate is available for purchase at the end. While not cheap it does make a nice gift.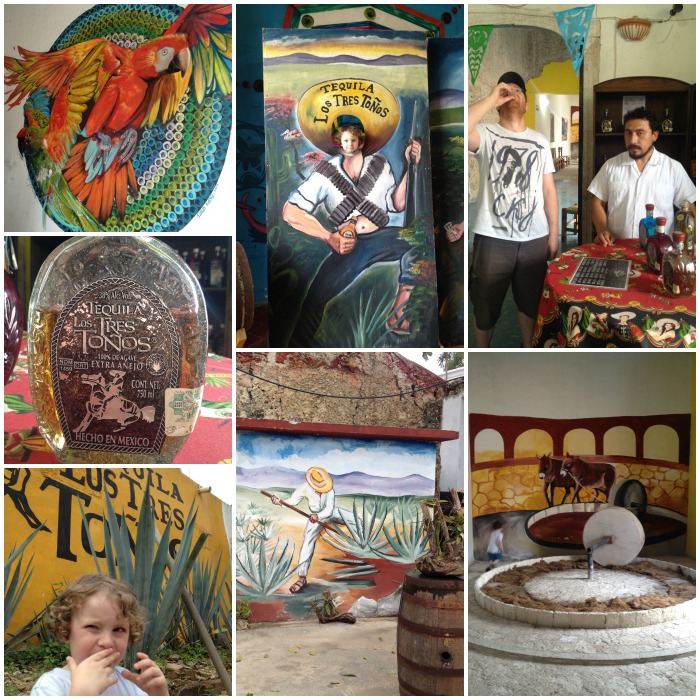 See How Tequila is Made
Another free tour on offer. You can see how tequila is made according to traditional methodology at Tequila Los Tres Toños, just down the street from Cacao. It's a short walk through with a guide followed by a tasting of three different tequilas. There are some beautiful bright murals inside the courtyard. It's fine to bring kids along.
Go to Chitchen Itza
Chitchen Itza should not be missed! It really is the highlight of the Yucatan Peninsula. You could easily spend half a day wandering the ruins if you have the stamina.
Get there early. Not only does it get hot, but it also gets busy. We had to queue for 45 minutes to get in at 8.30am but if we'd arrived 30 minutes earlier there wouldn't have been a queue. Entrance is 204 pesos for adults and free for children under 12. Hiring a guide (750 pesos) is a good way to skip the queue and get an overview of the history, customs and symbolism of the ruins. Lee's parents hired a guide but we decided our kids were too small to get anything out of it and keep pace with a guide.
Getting to Chitchen Itza from Valladolid is easy. It takes about 40 minutes in a taxi and costs 350 pesos. There are plenty of taxis waiting to bring you back for the same price.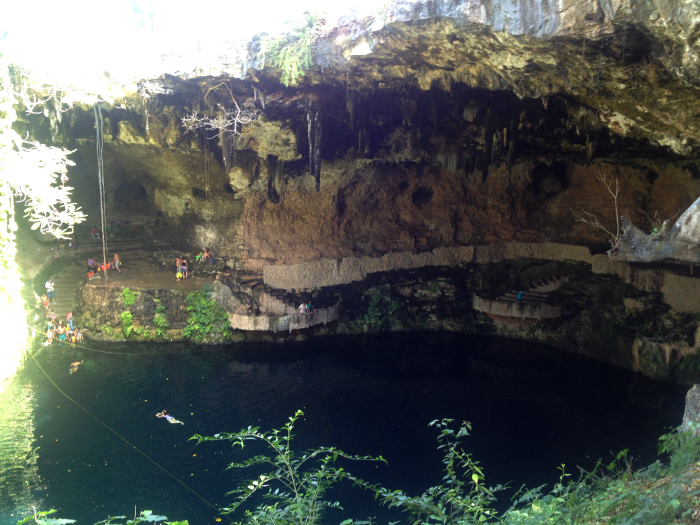 Swim in a Cenote
Centoes are one of the most unique natural wonders in this part of Mexico. Cenotes are large underground pools of water, some fully covered and some partially covered by caves dripping of stalactites. Swimming and even diving is a great way to explore a cenote.
In Valladolid town, you'll find Cenote Zaci (pictured above) – a large partially covered cenote. If you don't have time to explore the surrounding area, this is a good one to visit. Whilst we were there, people were swimming, floating in life vests and jumping off the rocks. We chose not to enter the water here as we'd heard (and could see) it isn't very clean.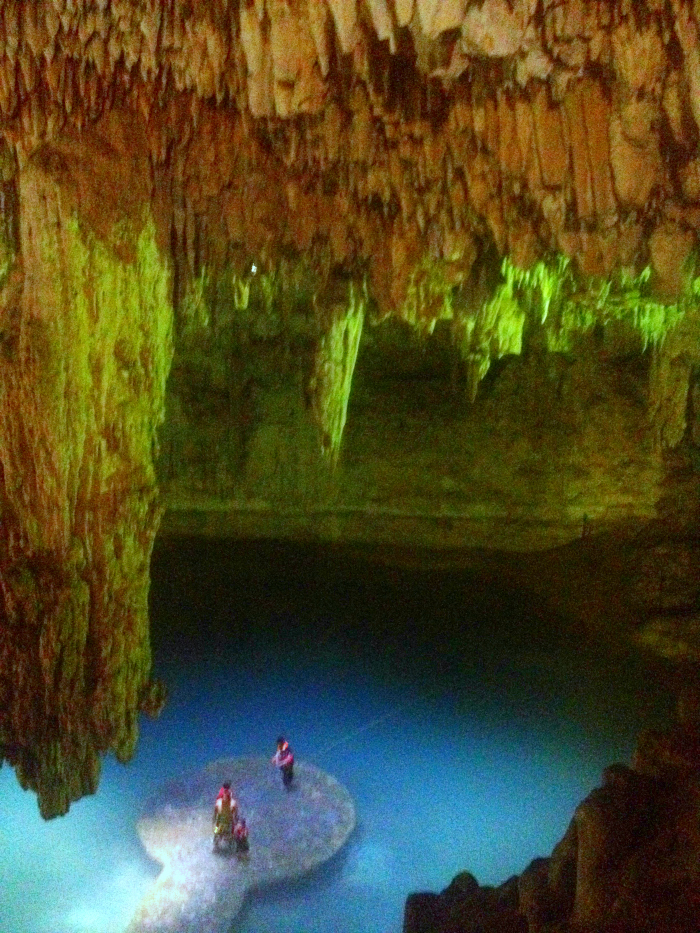 Just out of town, you'll find Cenote Suytun (pictured above) which is a great choice for those travelling with little children as there is a raised platform in the middle of the cenote for paddling in waist high water. There's also lots of fish in the water here. It's almost fully covered bar a tiny peep hole in the roof that lets a beam of light into the cave. There's mood lighting to help you see. The walk into this cenote is quite steep but there is a rope and railing to hold onto. You'll be surprised at just how warm the water is!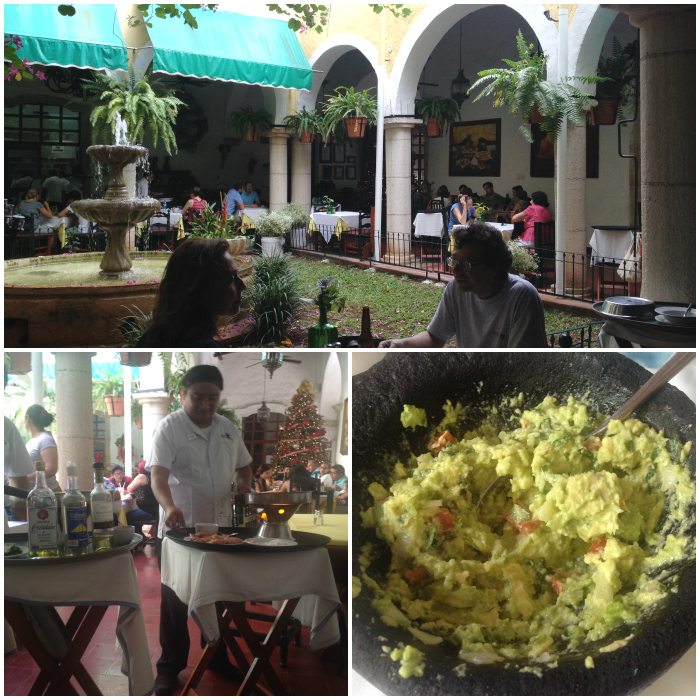 Where to Eat in Valladolid
Valladolid has a surprising number of wonderful restaurants for such a small town. We ate at many of them but the following were our favourites:
Naino – Just around the corner from the square at Candelaria you'll find this little gem of a restaurant. It's more like eating in someone's home than a restaurant as there are only a few tables and you can see right into the kitchen. There's no menu – the chef simply prepares what is good. The emphasis is on lots of fresh vegetables and meat with some fusion of Mediterranean, Portuguese and Belgium cuisines thanks to the chef/owner's background. The chef was also happy to prepare simple food for kids. Did I mention it's also incredibly cheap? Under $10 will get you four courses!
Casa Italia – Craving Italian? This is the place to come. Wonderful, stretchy thing pizza bases, homemade pastas and a really lovely courtyard. You can also sit outside and eat while your kids are playing in the playground a few feet away in the square at Candelaria. Prices are pretty reasonable and there's good wine on offer.
El Meson del Marques (Pictured above) – This became our "go to" restaurant in Valladolid for breakfast, lunch and dinner. The menu is quite extensive serving Mexican food and regional Yucatan cuisine. We loved that some of the dishes were flambéed right at the table with local liquors. The table made guacamole was also amazing. The courtyard restaurant area is a lovely cool place to sit when it's hot outside. They also do a wonderful array of fresh juices with interesting ingredients.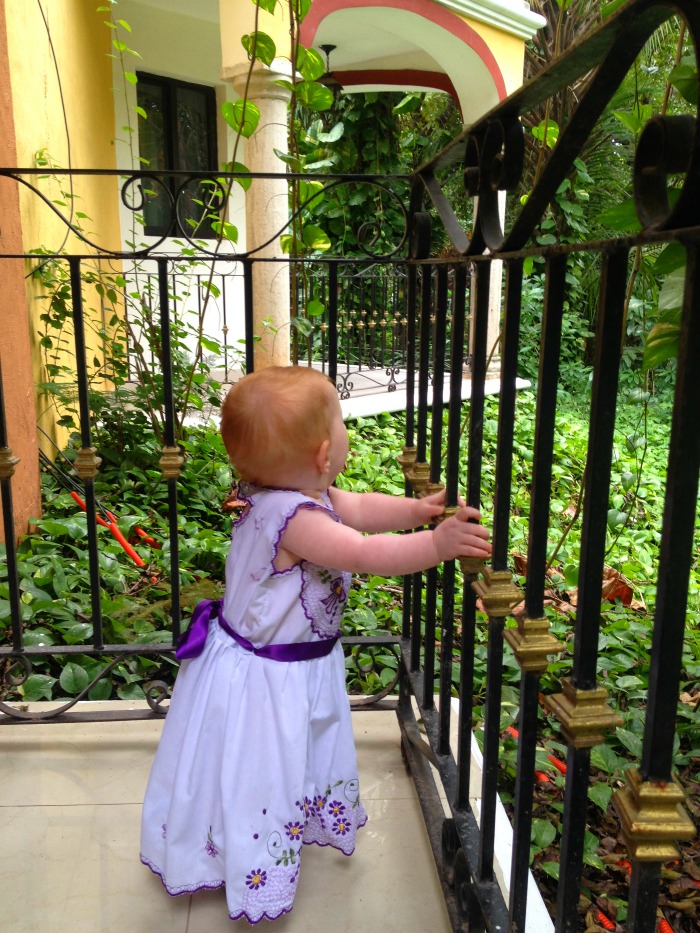 Where to Stay in Valladolid
I couldn't recommend the place that we stayed in Valladolid. Hotel Quinta Reggia was OK on the surface, and might suffice for a night or two, but our stay of five days was plagued with problems. We were constantly locked out of our room due to faulty keycards and sometimes had to ask up to four times to be let into our room. We had issues problems with our freezing cold air-conditioning not turning on and off. Cleaning staff didn't lock balcony doors after servicing rooms. There were a lot of mosquitos in the outdoor corridors and rooms. The pool was dirty. The restaurant food inedible. The staff seemed ambivalent to needs of their guests and were rude & surely when you asked them to do anything.
I could go on and on… but I won't! Instead I'd recommend you to stay where I wish we'd stayed – El Meson del Marques. We actually couldn't get a room here as it was Christmas and they were booked out a month in advance when I was looking for somewhere to stay. We heard excellent things from guests who were staying here. We ate at the restaurant almost every day. The food was outstanding and the staff very pleasant. Plus it's the best location in town right on the main square.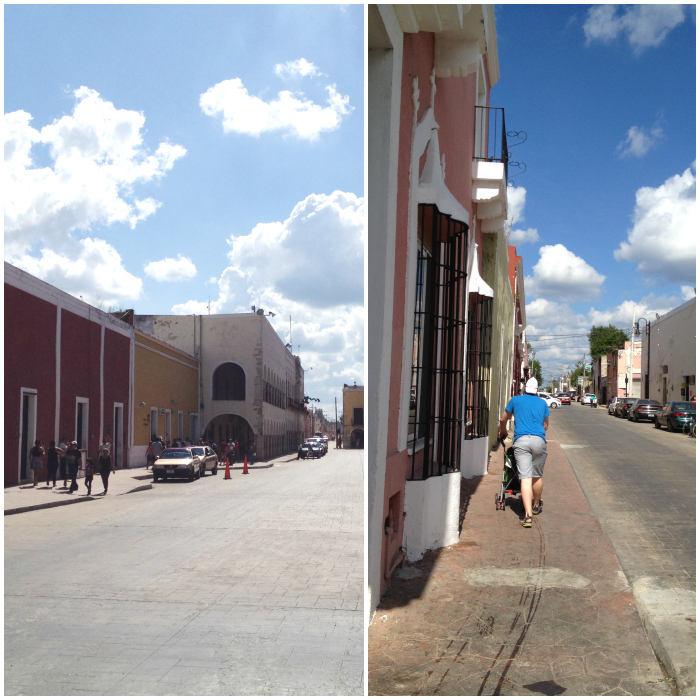 Tips for Getting Around
Valladolid is a small-ish town with little traffic and quite walkable if you're not with small children. Taxis are plentiful and cheap. No meters but prices seem to be fixed and we only ever spent 20-40 pesos for short rides around town. Be prepared to practice your Spanish as many drivers don't speak English.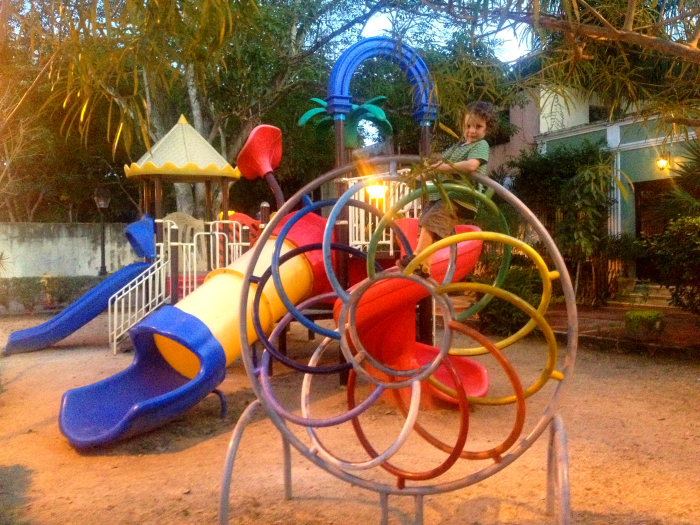 Visiting Valladolid with Kids
Valladolid is a great town to visit with kids. You could definitely drag them from the beach for a couple of days and still keep them happy. Here are some tips for visiting Vallodolid with small children:
While it might be a small town to walk around, the pavements are not easily walkable and you're better off in a taxi.
Bring a folding umbrella stroller. Something you can quickly fold and throw in the back of a taxi.
The main square has lots of stalls selling beautiful children's clothing. You'll also find snack stalls and balloons for sale.
Valladolid is full of little squares which are popular with families, especially in the evenings, for hanging out, playing football and running around. There are a number of good playgrounds in some of them, particularly at Candelaria, opposite Casa Italia.
If you're visiting Chitchen Itza on a day trip, start early. It get very hot! See this post for more details on visiting Chitchen Itza with little kids.