This post may contain compensated links. Please refer to my disclaimer here for more information.
3 days in Los Angeles is the perfect amount of time for first time visitors to the City of Angels. With 3 days in LA you can actually accomplish quite a lot! The beauty of Los Angeles is that there is such a breadth of things to do. You'll enjoy this city whether you come for the beach, the celebrity culture, the theme parks or just the fine California sun. My list of what to do in Los Angeles for 3 days is, by no means, exhaustive and you are of course free to pick & choose what you want to take from the itinerary I have provided. But, if you want to visit Los Angeles in 3 days, these are the main highlights. Three perfect days in Los Angeles are coming your way.
3 Days in Los Angeles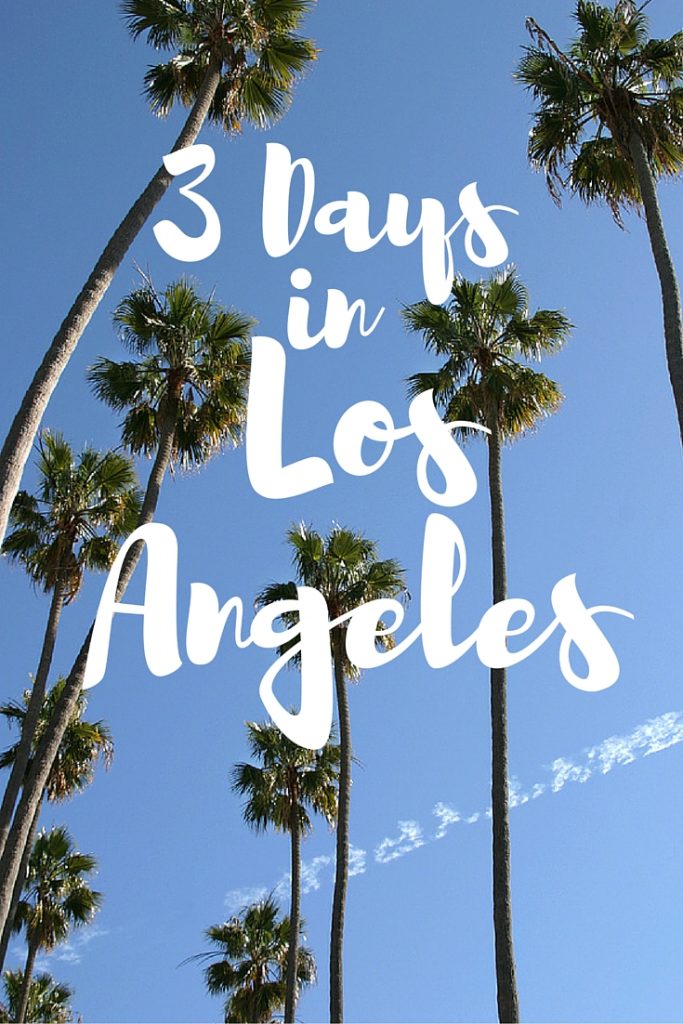 Welcome to Hollywood! What's your dream? Everybody comes here; this is Hollywood, land of dreams. Some dreams come true, some don't; but keep on dreamin' — this is Hollywood. Always time to dream, so keep on dreamin. – Pretty Woman
Day One – Hollywood and Beverly Hills
Start your three days in Los Angeles over in Beverly Hills! Did you know you can actually have Breakfast at Tiffanys on Rodeo Drive? Well, not exactly IN Tiffany & Co but at a patio restaurant right outside the store on Via Rodeo. It's definitely worth dining at 208 Rodeo for the novelty factor but the breakfast offerings are also healthy and delicious. Just what you'd expect from LA. Not only that, the restaurant sits opposite the Beverly-Wilshire Hotel, setting of the film Pretty Woman. You're ticking all your dream LA boxes by brunching here! After brunch, go for a wander up and down Rodeo Drive to soak up some of the opulence and excess that is Beverly Hills.
After Beverly Hills, move on down to Hollywood and do the tousity sites. The Hollywood Walk of Fame is fun to wander up and down in search of your favourite celeb's star. If you want to see and learn more then a walking tour of Hollywood is a great idea! If you don't want to walk, an open top bus tour is a fun idea.
If you want to do a spot of celeb spotting, cruise over to Robertson Boulevard. Hollywood execs and stars lunch on the patio in front of The Ivy and frequent the Starbucks and Coffee Bean & Tea Leaf just down the road. Here's a map to show you where to wander for maximum chance of seeing a celebrity! The Grove is another great spot to search for celebrities. Keep lunch light an healthy and visit Veggie Grill at The Grove while you're there. This veggieful vegan West Coast chain restaurant serves delicious salads, bowls and sandwiches.
Continue your quest for celebrities with a drive around in search of star homes! You can take yourself on a little self-drive trip if you're hiring a car. Look online for a guide to star homes and program the addresses in your GPS or just pick up one of those star maps you see for sale on Hollywood Boulevard.
Grab a late dinner. Rock Sugar Pan Asian Kitchen in Century City has amazing dishes with inspiration coming from across Asia's. Definitely one of my favourite restaurants in the world! If you need to do a little shopping on your trip to LA, the stores here at Century City are open until 9pm (or 7pm on Sundays). With only three days in LA this is your best chance to squeeze in some time buying a few nice things to take home.
Day Two – LAs Beaches
No list of what to do in Los Angeles in 3 days would be complete without seeing this city's gorgeous coastline so it's time to soak up some famous Californian sun and visit one of LA's fantastic beaches. If you're looking for some inspiration on which beach to choose, check out this post on the most beautiful beaches in LA. You'll find the beaches in LA easy to get out to if you're travelling by car and a wonderful way to spend the day. Watch street performers and people parade up & down the sidewalk on Venice Beach. Walk the pier at Santa Monica Beach. Take a cheesy shot of yourself next to one of LAs famous lifeguard stations a la Baywatch.  Pick a spot for a late brunch on the beach, Malibu has lots of wonderful restaurants if you fancy driving out a little further otherwise just grab something locally.
After you've had your fill of the sun and sand, spend a little time admiring the arts. The Getty Villa in Malibu is a fantastic spot to soak up some ancient culture with hundreds of antiquities from Greece and Rome lining the galleries inside this very pretty villa. Allow at least an hour to wander about. It's closed Tuesdays so plan accordingly.
LA has some of the best Korean food in the US so, for dinner, head down to Koreatown and take your pick of the many restaurants on offer. Depending on how late you like to be out, have dinner before or after heading up to the Griffith Observatory.  The park closes at 10pm. Admission to the Observatory building, grounds, telescopes, and parking is free but you'll pay $7 to visit the planetarium.
Day Three – Do Disney!
A theme park is a must for your 3 days in Los Angeles itinerary . If you're travelling with kids or if you're just a big kid yourself, this is the day to take them to Disneyland. Located in Anaheim, 30 to 60 minutes drive from Los Angeles, Disneyland's original theme park will delight kids and adults of any age. You can either drive out to Disneyland or catch an Uber which will set you back about $50.
Disneyland requires a full day of exploring so come prepared with water, snacks, comfy shoes and sunblock. Don't forget to make use of your Fastpass by booking times for the rides you really want to go on without having to wait in line.
Los Angeles 3 Days? Not Enough?
Got a little more time up your sleeves or you don't like something on my Los Angeles 3 day itinerary? If my list of what to see in Los Angeles in 3 days isn't enough, here are a few more ideas:
Universal Studios Hollywood
The Getty Center
Los Angeles County Museum of Art
La Brea Tar Pits
Natural History Museum of Los Angeles
Petersen Automotive Museum
Hike Runyon Canyon
California African American Museum
Japanese American National Museum
Where to Stay in Los Angeles
We recommend staying in the Beverly Hills or Hollywood area to make the most of your Los Angeles itinerary 3 days. Here are some suggestions on where to stay if you want to explore LA in 3 days:
Of course if all of these hotels are out of your budget you should try a Priceline Express Deal to get an amazing rate. We only paid $130 a night for the Beverly Hilton by using the tricks I mention in this post on using Priceline Express Deals.
Getting to Los Angeles
Airports – Los Angeles is served by three airports. You'll most likely be coming into LAX if you're visiting from abroad. Flights from within the US also land at Burbank and Long Beach if you're flying on Southwest. Private jet charter is also an option when flying into LA.
By Car – If you're road tripping around the US then you'll be arriving into LA by car. Be warned that driving on LA's freeways is an intense and quite scary experience if you're not used to it. You'll also need to allow yourself plenty of time to get into the city and make sure you avoid rush hour at all costs!
Getting Around Los Angeles
LA is not a walkable city and the public transport isn't great. You'll need to get around by car whether that's hiring one or making use of Lyft or Uber. Traffic can be immensely frustrating in LA so allow yourself plenty of time to get between destinations and out to the airport when you leave.
Parking can also be a pain in LA. Some hotels only have compulsory valet parking and the prices can be high, think $35 a night. You'll need to factor this into your budget when you're calculating if it's worth it to rent a car or whether you can make do with Ubering about the city.
I hope you like my 3 day Los Angeles itinerary!
Los Angeles in three days is a great little trip! If you're visiting for the first time or on a stop over to somewhere else in the United States or abroad then make a little time to explore. You can definitely see the best of LA in three days if you plan your time wisely. With my LA 3 day itinerary at your side you're sure to have fantastic 3 day trip to Los Angeles.
Pin it for later!