This post may contain compensated links. Please refer to my disclaimer here for more information.
So you want to know a little secret? Almost every hotel we stay at on our travels is booked using Priceline Express Deals. When you travel as much as we do, you have to be efficient with your spending.
For those that don't know, Express Deals are like a mystery hotel. You know a lot of the details of the hotel, it's amenities and general location prior to booking but you don't find out the name until after you've paid.
For some that might seem risky or scary, but the reward outweighs the risk. Acutally, there is almost NO risk involved in using Priceline Express Deals if you are smart about it. I have an almost foolproof way of establishing which hotel we are going to get before we book.
We regularly get 30-60% off the nightly rate for hotels using this method.
Let me show you how I do it… This is an actual booking I made today.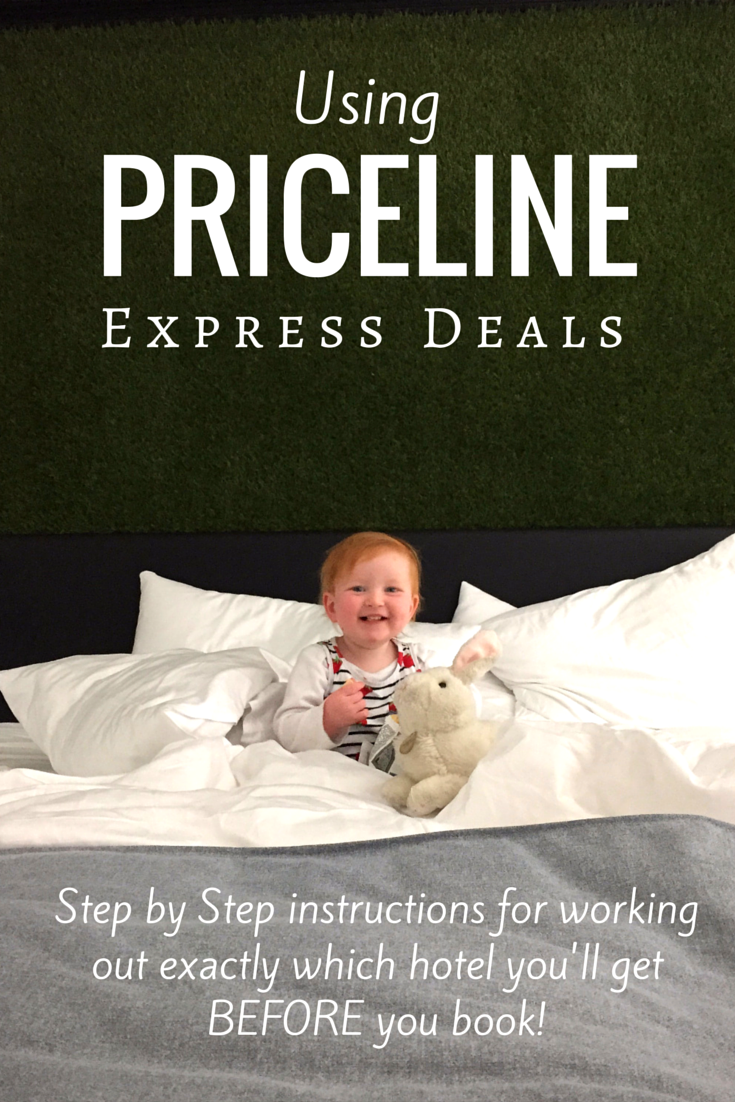 1. Search your location and date
I'm looking at going to Providence, Rhode Island in about two weeks time. (If you're wondering what the ShopAtHome.com bar is, read this post to see how you can use cash back rewards to save more money when using Priceline.)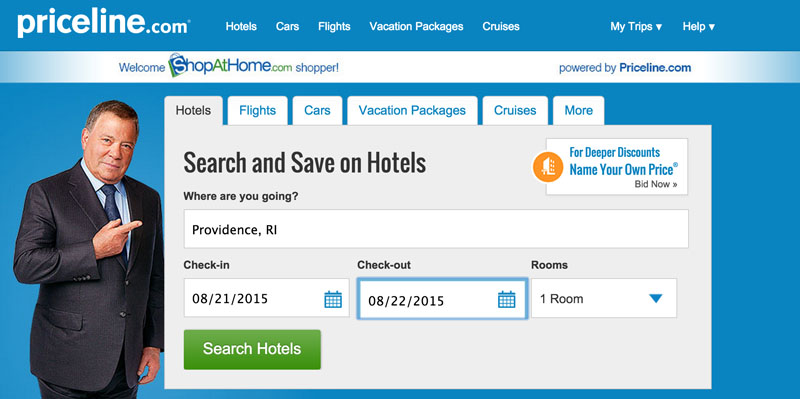 Here's what the results look like: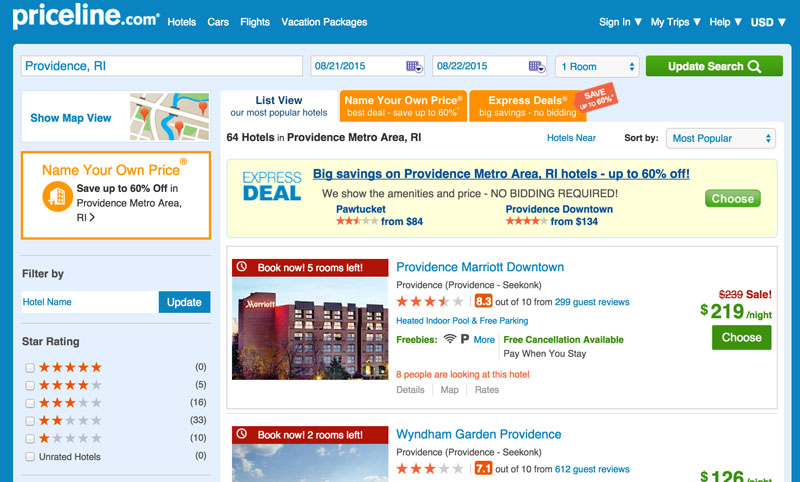 2. Open up the Express Deals in a new browser tab
Right click on the orange Express Deals section at the top of the page and open it up in a new tab on your browser. You need to be able to flick back and forth between the Express Deals search and the regular hotel search you opened in step one.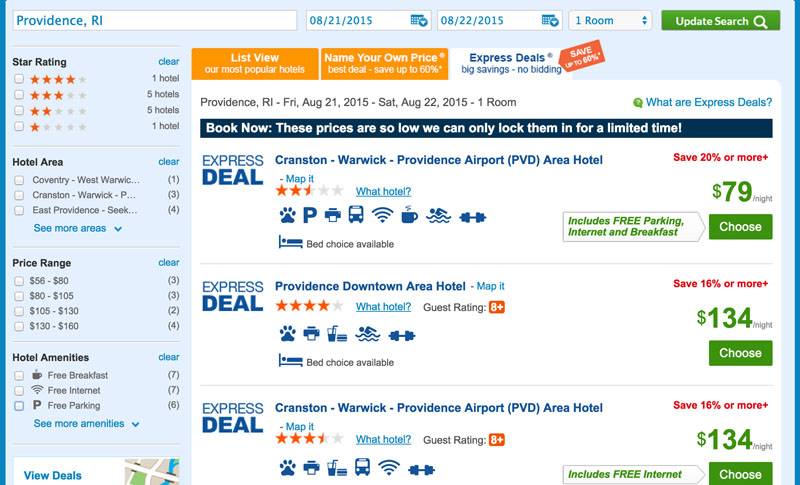 3. Identify the Express Deal you want
What Express Deal you choose to go for will depend on your price range and the number of stars you want. We usually go for 2.5 to 4 star hotels and our budget is $100/night or less. This one is a really good discount so I'm willing to stretch the budget a little as it's in a good location and gets an 8+ rating from previous guests.
Priceline will show you the rough location of the hotel and a list of amenities that the hotel has. It will also display the review score from previous guests either 7+, 8+ or 9+. If it's a review score of under 7 a score will not be displayed. Avoid any hotels that don't have a review score.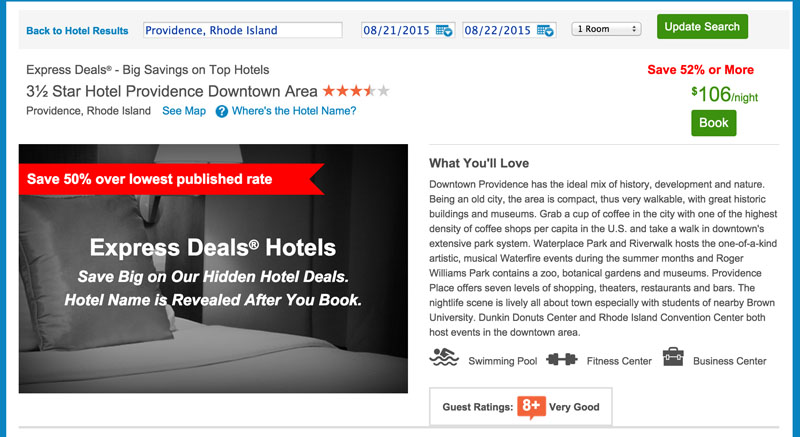 4. Establish which hotel you're most likely to get
Go back to the first hotel listings tab you have open in your browser and filter the search results with the location, star rating and amenities. This will help you establish the exact hotel you'll get.
So for the listing we found in step 3, we check the star rating, amenities and location as listed below. This narrows the results down to only TWO hotels!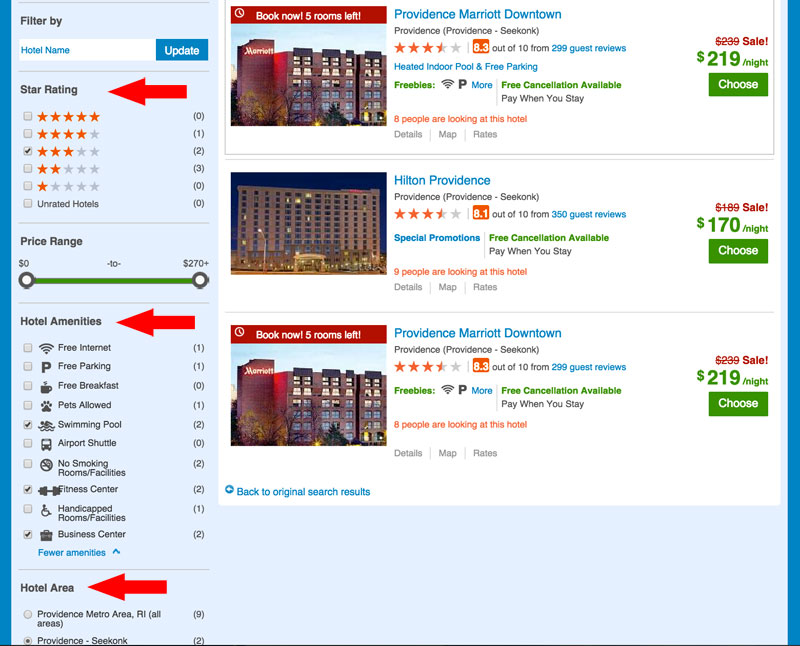 5. Compare prices to double check
To double check exactly what hotel I'm getting I use some simple math! Here is the formula:
Express Deal price x 100 / (100% – X% discount) = Original hotel price
So, in this case, the Express deal is $106 and we're getting a 52% discount to reach that price:
$106 x 100 / 48% = $220
For the two hotels we've narrowed it down to in step 4, based on the math, it must be the Marriott Providence Downtown. Let's check out that hotel and see if it looks good!
6. Book it!
Now you know exactly which hotel you're going to get when you complete your express deal. Once you've had a look through the pictures, read the reviews and checked the exact location of the hotel you can book it with confidence!
Don't forget that Priceline add in taxes and hotel fees. And don't worry about purchasing trip protection from them if you already have travel insurance.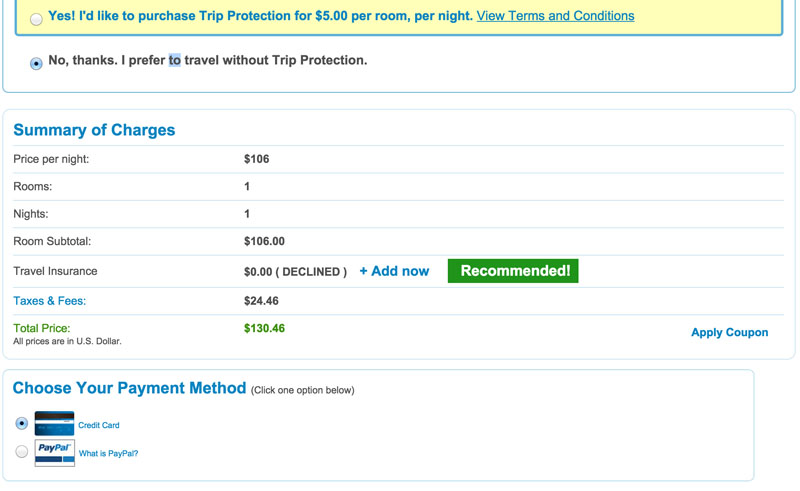 Notice you can pay for your hotel on Priceline using Paypal. Here's a handy list of other places online you can pay for travel with Paypal.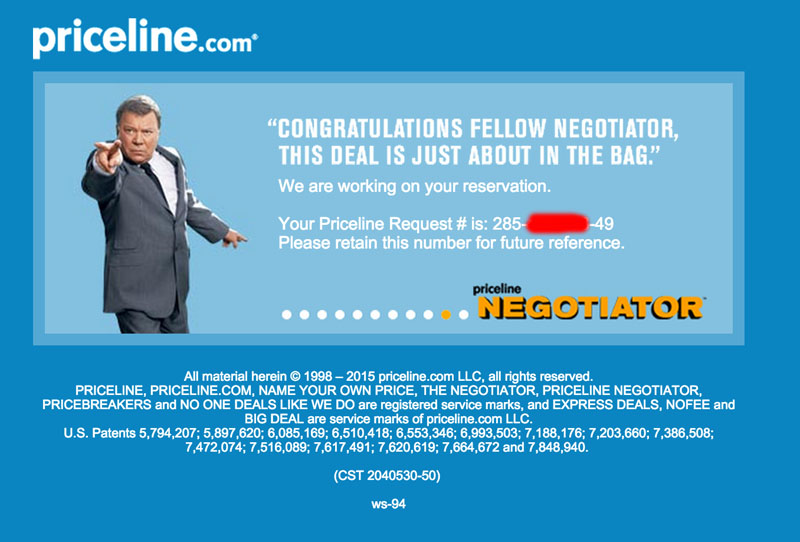 Sometimes it takes a few seconds for your deal to process. You'll see a screen like the one above. It's worth taking a screenshot of it to capture the Priceline request number in case something happens, your internet drops out or your computer freezes mid-booking.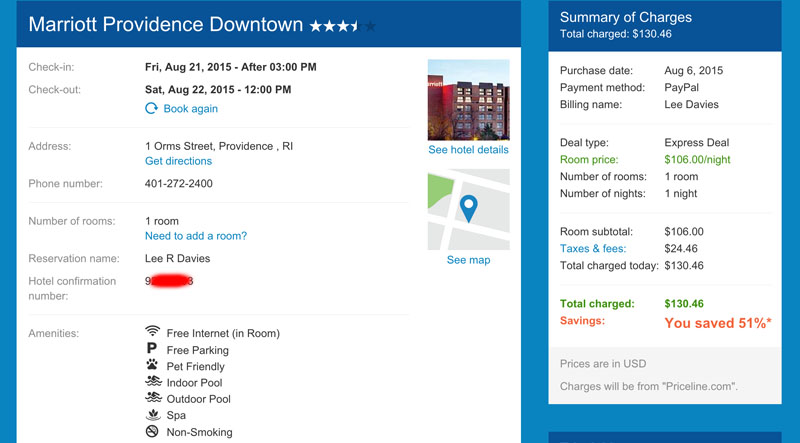 And voila! On this screen you find out exactly what you've booked! Just as I deduced, it's the Marriott Providence Downtown. What a saving too!
Let me know what you think of my handy instructions for using Priceline Express Deals.
Are you willing to give it a go now that you know you can work out which hotel you'll be staying at before you pay? If you have any further questions, let me know! I'm happy to help you get started so email me or send me a message on Facebook.